SHORT ANSWER TYPE QUESTIONS
Q.1. Animals of colder regions and fishes of cold water have thicker layer of subcutaneous fat. Describe why.
Ans: The subcutaneous fat acts as insulator of body for thermoregulation. It also functions as reserve food during period of scarcity.

Q.2. Match the column (A) with the column (B).



Ans: (a) - (v);
(b) - (iv);
(c) - (iii);
(d) - (i);
(e) - (ii);
(f) —(vi)

Q.3. Match the column (A) with the column (B).



Ans: (a) - (i);
(b) - (ii);
(c) - (iv);
(d) - (iii);
(e) - (v)

Q.4. If a potted plant is covered with a glass jar, water vapours appear on the wall of glass jar Explain why.
Ans: The plant lose water vapour by transpiratior from leaves and stems. When a potted plam is placed inside a glass jar, the water vapour; condense on the wall of glass jar as they cannot escape and remain inside.

Q.5. Name the different components of xylem anti draw its living component.
Ans: The different components of xylem are tracheids vessels, xylem parenchyma and xylem fibres.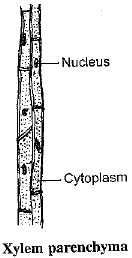 Q.6. Write true (T) or false (F):
(a) Epithelial tissue is protective tissue in animal body.
(b) The lining of blood vessels, lung alveoli and kidney tubules are all made up of epithelial tissue.
(c) Epithelial cells have a lot of intercellular spaces.
(d) Epithelial layer is permeable layer.
(e) Epithelial layer does not allow regulation of materials between body and external environment.
Ans:(a) - T
(b) - T
(c) - F
(d) - T
(e) - F

Q.7. Differentiate the following activities on the basis of voluntary (V) or involuntary (IV) muscles.
(a) Jumping of frog
(b) Pumping of the heart
(c) Writing with hand
(d) Movement of chocolate in your intestine
Ans: (a) - V,
(b) - IV,
(c) - V,
(d) - IV

Q.8. Fill in the banks
(a) Lining of blood vessels is made up of________.
(b) Lining of small intestine is made up of_______.
(c) Lining of kidney tubules is made up of______.
(d) Epithelial cells with cilia are found in_______of our body.
Ans: (a) squamous epithelium
(b) columnar epithelium
(c) cuboidal epithelium
(d) respiratory tract

Q.9. Water hyacinth float on water surface. Explain.
Ans: Due to aerenchyma present in the swollen petiole which encloses a lot of air making the plant lighter than water, thus enabling the water.

Q.10. Which structure protects the plant body against the invasion of parasites?
Ans: Epidermis having thick cuticle and waxy substance protects the plant body against the invasion of parasites.

Q.11. Fill in the blanks:
(a) Cork cells possesses ______ on their walk that makes it impervious to gases and water.
(b)_______have tubular cells with perforate walls and are living in nature.
(c)_______Bone possesses a hard matrix composed of________and______.
Ans: (a) suberin
(b) sieve tubes
(c) calcium and phosphorus

Q.12. Why is epidermis important for the plants?
Ans: Epidermis is important for plants due to the following reasons:
(i) it gives protection
(ii) helps in gaseous exchange
(iii) checks water loss
(iv) root hairs arising from epidermis helps ir absorption of water and minerals.

Q.13. Fill in the blanks:
(a)_______are forms of complex tissue.
(b)_______have guard cells.
(c) Cells of cork contain a chemical called_______.
(d) Husk of coconut is made of______tissue.
(e)_____ gives flexibility in plants.
(f) _____ and______are both conducting tissues.
(g) Xylem transports______and_____from soil.
(h) Phloem transport_______from______ to other parts of the plant.
Ans: (a) Xylem and phloem
(b) Stomata
(c) suberin
(d) sclerenchyma
(e) Collenchyma
(f) Xylem; phloem
(g) water; minerals
(h) food; leaf
LONG ANSWER TYPE QUESTIONS
Q.14. Draw well-labelled diagrams of various types of muscles found in human body.
Ans: Different types of muscle fibres:
(a) Single striated muscle fibres
(b) Smooth muscle fibres
(c) Cardiac muscle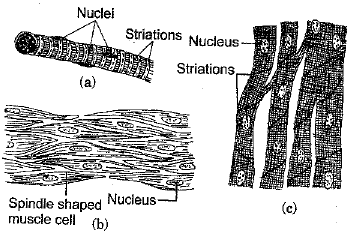 Q.15. Give reasons for
(a) Meristematic cells have a prominent nucleus and dense cytoplasm but the lack vacuole.
(b) Intercellular spaces are absent in sclereiichphatdus tissues.
(c) We get a crunchy and granular feeling when we chew pear fruit.
(d) Branches of a tree move and bend freely in high wind velocity.
(e) It is difficult to pull out the husk of a coconut tree.
Ans: (a) Meristematic cells undergo cell divisions and there is no need of vacuole for storage.
(b) Because they are lignified and form bundles for mechanical function.
(c) Because of the presence of stone cells (sclerenchyma) or sclereids.
(d) Because of the presence of collenchyma that provides flexibility to the branches of a tree.
(e) Because sclerenchvma fibres are closely packed.

Q.16. List the characteristics of cork. How is it formed? Mention its roles.
Ans: Characteristics of Cork:
(i) It is the outermost protective tissue of older stems and roots.
(ii) It is formed by a secondary lateral meristem called cork cambium.
(iii) Cork cells are rectangular in shape, these are dead cells.
(iv) The cells are arranged compactly without intercellular spaces.
(v) Cork cells hiave thick walls, which are impermeable.
Formation of Cork: As plants grow older, a strip of secondary meristem replaces the epidermis of the stem. Cells thus left on the outer side by this meristem are called cork. Cork is formed from a secondary lateral meristem called cork cambium.
Roles of Cork:
(i) Cork prevents loss of water by evaporation.
(ii) It protects the interior of plant from the entry of harmful microorganisms.
(iii) It provides protection against mechanical injury, extremes of temperature, fire, etc.
(iv) It is commercially used in manufacture of stoppers for bottles, insulation boards, shock absorbers, sports goods, etc.

Q.17. (a) Differentiate between meristematic and permanent tissues in plants.
(b) Define the process of differentiation.
(c) Name any two simple and two complex permanent tissues in plants.
Ans: Differences: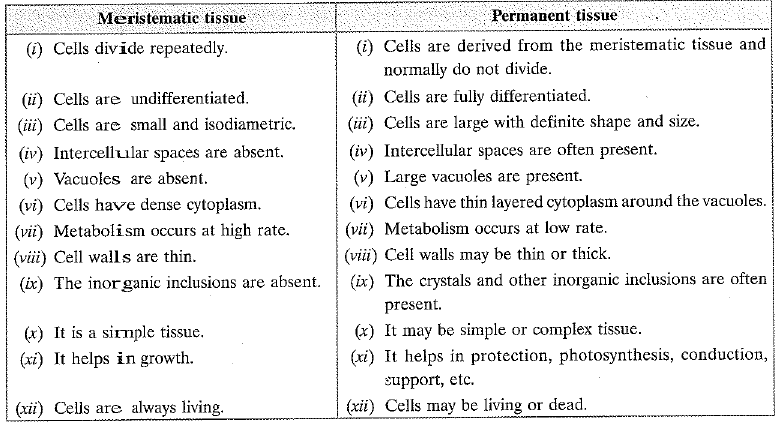 (b) The loss of ability of the cells to divide by taking up a permanent shape, size and function is called differentiation.
(c) Simple permanent tissue: Parenchyma, Collenchyma and Sclerenchyma.
Complex permanent tissue: Xylem and Phloem.