ANS -: Media plays an important role in a democracy because it provides information to the citizens and enables them to take action.
Q.2: Can you give this diagram a title? What do you understand about the link between media and big business from this diagram?
ANS -: The diagram can be titled 'The media-corporate nexus'. From this diagram, we get to know that media owned by big corporate organisations, helps their economic growth by advertising their products.
Q.3: You have read about the ways in which the media 'sets the agenda'. What kind of effect does this have in a democracy? Provide two examples to support your point of view.
ANS -: By 'setting agendas', the media influences the way we think and makes us aware of issues which it thinks is important. One instance of this would be the raising of awareness about the levels of pesticides in colas. Another is the Fashion Week, which was at the front of headlines while several slums were being demolished in Mumbai.
ANS -: Media refers to various ways through which we can communicate in society. It includes TV, radio, newspapers, telephones, internet ...etc.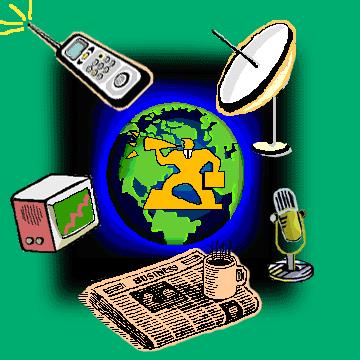 Fig: Media
Q.5: What is the mass media?
ANS -: The form of media that reaches millions of people (or the masses) is known as Mass media.