Nucleic Acid
(a) These are special type of acids which are present in nucleus & cytoplasm.
(b) Control the metabolic activities of cell.
(c) They are also found in Mitochondria, centriole and chloroplast.
Types → These are of 2 types:
DNA-Deoxyribonucleic acid
RNA- Ribonucleic acid
(d) Fischer discovered Nitrogen bases in 1888.

(e) Levan found sugar.



Deoxyribonucleic Acid (D.N.A.):
(a) It is found in Nucleus.
(b) They are on pneumococcus bacteria.
(c) DNA made up of 3 units-

(i) Thymine (i) Adenine
(ii) Cytosine (ii) Guanine
(d) Nucleoside
When nitrogen base is combined with deoxyribose sugar, it constitutes a nucleoside.

Deoxyribonucleoside:
Adenine Deoxyribose → Deoxyadenosine
Guanine Deoxyribose → Deoxyguanosine
Cytosine Deoxyribose → Deoxycytidine
Thymine Deoxyribose → Deoxythymidine
(i) Nucleotide
(a) Nitrogen base Sugar Phosphate → Nucleotide.
(b) Nucleotide is a unit of DNA.
(c) All nucleotides combined and form a chain called polynucleotides by which RNA and DNA are formed.
Structure of DNA-
(a) Double Helical model of DNA was proposed by biochemist J.D.Watson, British chemist FHC Crick in 1953.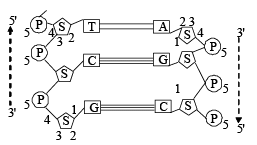 (b) DNA in double stranded structure is made up of two chains of polynucleotides.
(c) DNA is a polymer of Nucleotide.
(d) Nucleotide are joined by 3' → 5' phosphodiester bonds.
(e) Sugar and phosphorous are alternately arranged.
(f) In both chains, in between A and T, 2 Hydrogen bonds are present while in C and G, 3H bonds are present. (A = T) (C º G)
(g) A always attaches with T while C always attaches with G.
(h) Purine and pyrimidine are found in ratio 1 : 1 cells.
(i) DNA is attached with histone protein.
(j) In prokaryotic cell and mitochondria, circular DNA is present.

Function of DNA:
(i) Self - Replication or self -Duplication
DNA has the property of self - replication. It is therefore a reproducing molecule. This unique property of DNA is at the root of all reproduction. Through its replication, DNA acts as the key to heredity. In the replication of DNA, the two strands of a double helix unwind and separate as a template for the formation of a new complementary strand.
(ii) Protein Synthesis
The specific sequence of base pair in DNA represents coded information for the manufacture of specific proteins. These coded instructions first are transcribed into the matching nitrogen-base sequences within mRNA and the instructions in such RNA subsequently are translated into particular sequence of amino acid units within the polypeptide chains and proteins.
The major steps in the utilization of the genetic information can be represented as :
D N A
D N A

R N A

Protein

Ribonucleic Acid (RNA):
⇒ Found in cytoplasm as well as in nucleus.
Cytoplasm → In the ribosome (higher amount).

Chemical Nature:
⇒ Ribonucleic acid is a polymer of purine and pyrimidine ribonucleotides linked by 3' → 5' phosphodiester bridges. The number of nucleotides in RNA ranges from as few as 75 to many thousands. Although sharing many features with DNA, RNA possesses several specific differences.
⇒ As indicated by its name, sugar in RNA to which the phosphate and nitrogen- bases are attached is ribose rather than the deoxyribose of DNA.
⇒ Although RNA contains the ribonucleotides of adenine, guanine, and cytosine, it does not posses thymine. Instead of thymine, RNA contains the ribonucleotides of uracil. Thus, the pyrimidine components of RNA differs from those of DNA.
⇒ RNA exists basically as a single-stranded molecule rather than as a double -stranded helical molecule, as does DNA. However the single strand of RNA is capable of folding back on itself like a hairpin and thus acquiring double-stranded characteristics. In these regions, A pairs with U and G pairs with C.
Thus a given segment of a long RNA molecule might, for example, be represented as follows:

⇒ where R stands for ribose ; A, U, G, and C for Adenine, Uracil, Guanine and Cytosine respectively.

Types of RNA and their Functions:
There are 3 main types of RNA molecules:
(i) Messenger RNA (mRNA)
(ii) Transfer RNA (tRNA)
(iii) Ribosomal RNA (rRNA)
(i) Messenger RNA (mRNA)
⇒ This type of RNA consists of single strand of variable length and serves as a template for protein synthesis. Code is in the chromosomes.
⇒ mRNA forms complementary copy of DNA as it carries chemical messages in the form of nitrogen-base sequence from the nucleus to the ribosomes, i.e. from DNA to cytoplasm where proteins are synthesized. Therefore, it is called messenger RNA or mRNA.
⇒ mRNA is sythesised from DNA in the nucleus.
⇒ It is called transcription.
(ii) Ribosomal RNA
⇒ A ribosome is a cytoplasmic nucleoprotein structure which serves as the organellar machinery for protein synthesis from mRNA templates.
⇒ On the ribosome, the mRNA and tRNA molecules interact to translate into a specific protein molecule the information transcribed from the DNA.
⇒ rRNA constitutes the largest part of total RNA (Highest) - 80%
(iii) Transfer RNA (RNA)
⇒ These are also called Soluble RNA.
⇒ Single stranded.
⇒ 10-15% of the total RNA.
⇒ Size - Smallest: 75 - 80 nucleotides only.
⇒ Synthesis - Within nucleus from DNA.
Function- It transports amino acid from cytoplasm to the site of protein synthesis.