Parthenogenesis or Virginal Development
The development of an embryo without fertilization is called parthenogenesis.
The animals which are formed by unfertilized eggs are called parthenotes.
The discovery of parthenogenesis was done by Charles Bonnet in the eggs of sea-urchins.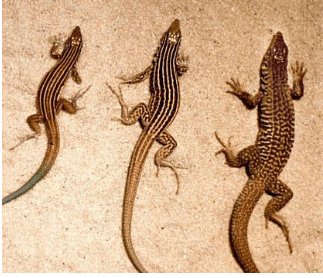 The asexual, all-female whiptail species Aspidoscelis neomexicanus (center), which reproduces via parthenogenesis
Parthenogenesis is of two types
➤ Natural parthenogenesis
Some animals show parthenogenesis by nature e.g. Honey bees, wasps, ants, grasshoppers, ticks, mites, and sea-urchins. Natural parthenogenesis is of 2 types
(i) Haploid parthenogenesis or Arrhenotoky: In this case, eggs are formed by meiosis. Eggs are haploid, they have the power of fertilization sometimes male animals are developed by unfertilized eggs.
In Honeybees, unfertilized eggs develop into males (drones), and fertilized eggs develop into queen and soldiers. Thus male honey bees are always haploid and queens along with soldiers are always diploid.
(ii) Diploid parthenogenesis or Thelytoky: In this case, eggs are formed without meiosis division.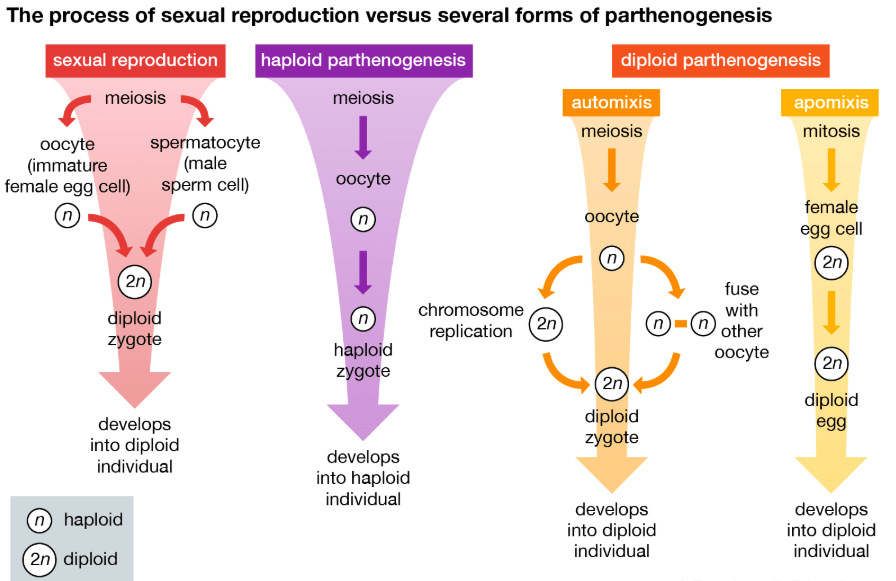 Eggs are diploid they do not have the power of fertilization.
Diploid eggs give rise to the female generation only. Male members are absent in these species.
Examples: Lacerta Saxicola Armeniaca (lizard), Carassius auratus gibelio(Fish).
Diploid parthenogenesis may also be divided into two types
Ameiotic Thelytoky: In this type of parthenogenesis, during oogenesis first meiotic division does not take place but the second meiotic division occurs as usual. In this situation, the ovum still remains diploid.
These ova, when reproduce parthenogenetically give rise to diploid offsprings. For example, Trichoniscus, Daphnia Pulex, etc.
Meiotic thelytoky: If the eggs are formed by normal oogenesis process, but by one or other reasons the eggs retain their diploid chromosomal number, then the parthenogenesis is called meiotic thelytoky.
It may happen because of auto-fertilization. Some species of the order
Lepidoptera exhibit this type of parthenogenesis.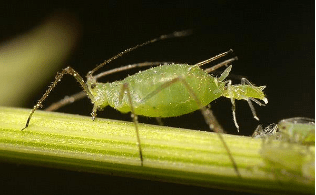 In some animals, parthenogenesis alternates with the normal sexual reproductive cycle. This is called cyclic parthenogenesis. Example, Honey bee.
In some animals, the development of animals is always by parthenogenesis and sexual reproduction is absent in these species. This is called complete parthenogenesis. Males are absent.
Example - Lacerta Saxicola Armeniaca (lizard)
Artificial parthenogenesis
This type of parthenogenesis is done by artificial methods. Artificial parthenogenesis is done by putting eggs in different atmospheres or by giving special stimulus to the eggs. Different artificial methods used for this purpose are as follows -
If we place eggs in brine or salt solution, KCl solution. Then eggs show parthenogenesis e.g. eggs of sea urchins.
By short exposure of radiations on eggs or exposure of silk insect egg to sunlight.
If eggs are given shocks of temperature.
If eggs are pierced by a needle dipped in the blood of some animal. The eggs of frog show parthenogenesis by this method.