NYLON
Nylon is used as a general name for all synthetic fibres forming polyamides, i.e., having a protein like structure. A number is usually suffixed with the name `nylon' which refers to the number of carbon atoms present in the monomers.
(1) NYLON -66 (Nylon six, six):
It is obtained by the condensation polymerization of hexamethylenediamine (a diamine with six carbon atoms) and adipic acid (a dibasic acid having 6 carbon atoms).

(2) NYON-6, 10 (Nylon six, ten):
It is obtained by condensation polymerization of hexamethylenediamine (six carbon atoms) and sebacic acid (a dibasic acid with 10 carbon atoms).
Nylon fibres are stronger than natural fibres and so are used in making cords and ropes. The fibres are elastic, light, very strong and flexible. They have drip dry property and retain creases. It is inert towards chemicals and biological agents. It can be blended with wool. Nylon fibres are used in making garments, carpets, fabrics, tyre cords, ropes etc.
(3) NYON-6 (Perlon L):
A polyamide closely related to nylon is known as Perlon L (Germany) or Nylon-6 (USA). It is prepared by prolonged heating of caprolactum at 260o-270oC. It is formed by self condensation of a large number of molecules of amino caproic acid. Since, caprolactum is more easily available, it is used for polymerization, which is carried out in the presence of H2O that first hydrolyses the lactam to amino acid. Subsequently, the amino acid can react with the lactam and the process goes on and into form the polyamide polymer.
Carpolactam is obtained by Backmann rearrangement of cyclohexanone oxime.


(4) NYON-2 - NYLON-6
It is in alternating polyamide copolymer of glycine and amino caproic acid and is biodegradable.
POLYETHYLENE
Polyethylene is of two types:
(a) Low Density Poly Ethylene (LDPE) : It is manufactured by heating ethylene at 200oC under a pressure of 1500 atmospheres and in the presence of traces of oxygen. This polymerisation is a free radical polymerisation.

The polyethylene produced has a molecular mass of about 20,000 and has a branched structure. Due to this, polyethylene has a low density (0.92) and low melting point (110oC). That is why polyethylene prepared by free radical polymerisation is called low density polyethylene. It is a transparent polymer of moderate tensile strength and high toughness. It is widely used as a packing material and as insulation for electrical wires and cables.
(b) High Density Poly Ethylene (HDPE) : It is prepared by the use of Zieglar - Natta catalyst at 160ºC under pressure of 6 to 7 atmosphere.
The polymer is linear chain, hence it has high density (0.97) and has high melting point (130oC). That is why it is called high density polyethylene. It is a translucent polymer. It has greater toughness, hardness and tensile strength greater than low density polyethylene. It is used in the manufacture of containers (buckets, tubes), house wares, bottles and toys.
PLASTICIZER
A plasticizer is an organic compound that dissolves in the polymer and allows the polymer chains to slide past one another. This makes polymer more flexible. Dibutylphthalate is a commonly use plasticizer.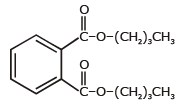 MELAMINE - FORMALDEHYDE RESIN
This resin is formed by condensation polymerization of melamine and formaldehyde.


It is a quite hard polymer and is used widely for making plastic crockery under the name melamine. The articles made from this polymer do not break even when dropped from considerable height.
BAKELITE
Phenol-formaldehyde resins are obtained by the reaction of phenol and formaldehyde in the presence of either an acid or a basic catalyst. The reaction starts with the initial formation of ortho and para-hydroxymethyl phenol derivatives, which further react with phenol to form compounds where rings are joined to each other with -CH2 groups. The reaction involves the formation of methylene bridges in ortho, para or both ortho and para positions. Linear or cross - linked materials are obtained depending on the conditions of the reaction.



POLYESTERS
Dacron is a common polyester, prepared using ethylene glycol and terephthalic acid. The reaction is carried out at 140o to 180o C in the presence of zinc acetate and Sb2O3 as catalyst.
nHOCH2CH2OH + nHO2C →
The terylene fibre (Dacron) is crease resistant and has low moisture absorption. It has high tensile strength. It is mainly used in making wash and wear garments, in blending with wood to provide better crease and wrinkle resistance.