What is the Position of Hydrogen in the Periodic Table?
It was discovered by Henry Cavendish in 1766 by the action of dilute H2O4 on iron. It was named 'inflammable air', Lavoisier gave it the name hydrogen (Creek: Hydra = water, gennas = producer]. It occurs in free state as well as in a combined state.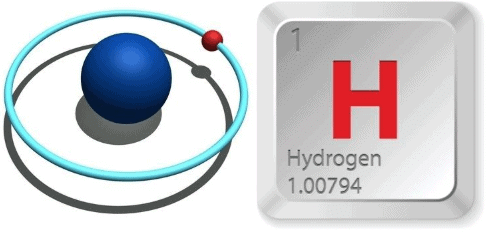 Hydrogen resembles alkali metals (group I) as well as halogens (group 17), At the same time, it differs from both in certain characteristics. That is why hydrogen is called a "rogue element".
However, it has been placed in group 1 on the basis of its configuration 1s1, which is the basis of the modern classification of elements.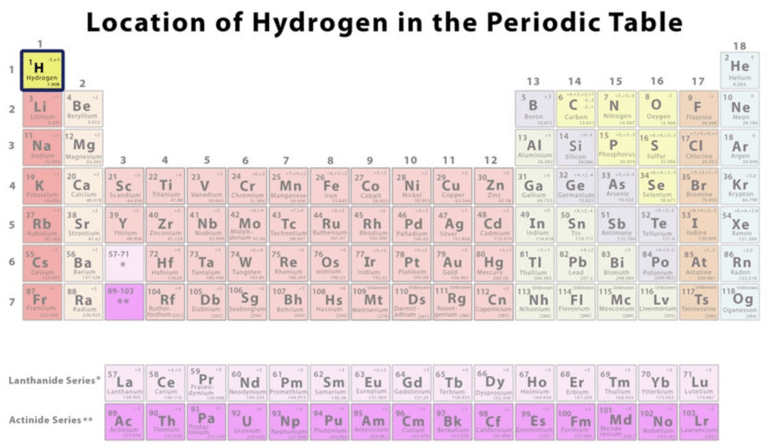 Try yourself:The element that is known as Rogue element is ________
Resemblance of Hydrogen with Alkali Metals:
Electronic Configuration:
Hydrogen has one electron in its valence shell-like alkali metals.

Both hydrogen and alkali metals form unipositive ions.
For example,
Na → Na+ + e–
H → H+ + e–
Hydrogen and alkali metals both shows a +1 oxidation state.
Hydrogen, as well as other alkali metals, acts as reducing agents.
Both have an affinity for electronegative element.
For example, Na2O, NaCl, H2O, HCl.
Resemblance with Halogens:
Electronic configuration: Hydrogen and halogen family both require one electron to fulfil the inert gas configuration

The ionisation energy of hydrogen is almost similar to halogens.
Hydrogen, as well as halogens, are Diatomic in nature.
Many compounds of hydrogen as well as of halogens are of covalent nature.
For example, CH4, SiH4, CCl4, SiCl4
Try yourself:Which of the following is hydrogen's electronic configuration?
What are the Isotopes of Hydrogen?
Three naturally existing isotopes of hydrogen are tritium, deuterium, and protium.
Each isotope comprehends unique properties. These isotopes are in commonly used to date. 4H to 7H are nuclei isotopes that are incorporated in the laboratory. One of the least stable isotopes of hydrogen is 7H and the most stable isotope is 5H. The most stable radioisotope of hydrogen is tritium.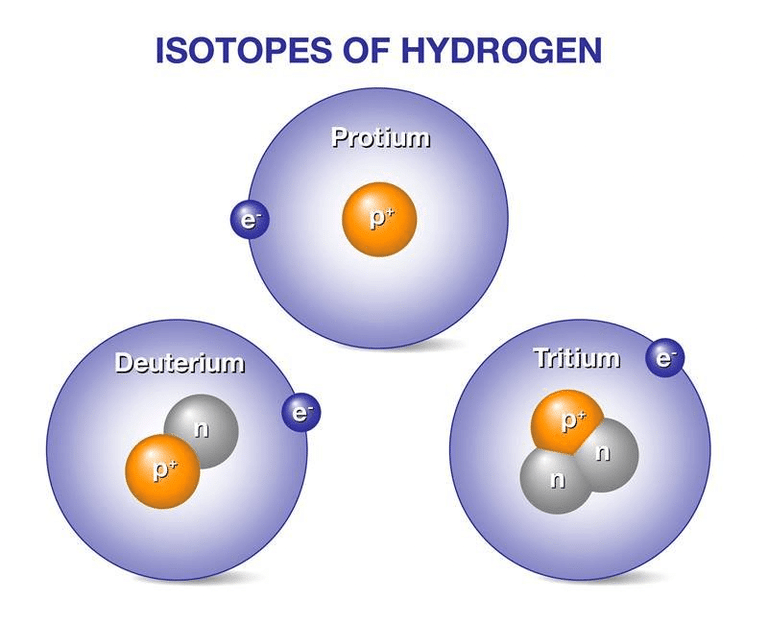 Hydrogen has three isotopes:
Protium 1H1 or H,
Deuterium 2H1 or D &
Tritium 3H1 or T.
These all differ from each other in respect of the number of neutrons present in the nucleus. Protium does not contain any neutron, Deuterium (also known as heavy hydrogen) contains one neutron while the number of neutrons in the nucleus of tritium is 2. Tritium is radioactive and emits low energy β- particles.

1. Protium (1H )
It is one of the common isotopes of hydrogen. It is plenty in nature with an abundance of 99.98%.
One of the reasons for this is that the nucleus of this isotope consists of a single proton and this proton at no time, has been reported to be decayed.
The mass of protium is 1.007825 amu. Hydrogen generally combines with other atoms in compounds and are usually found in H2 ( diatomic hydrogen gas).
2. Deuterium (2H)
It comprises 1 proton and 1 neutron in its nucleus.
The nucleus of hydrogen 2 is termed as deuteron. It is not radioactive. Its compounds are used in chemical analysis and solvents for hydrogen 1.
Heavy water is enriched with molecules consisting of deuterium instead of protium. It used as a coolant and a neutron moderator.
Hydrogen 2 is also used as a fuel in nuclear fusion (commercial). It occurs naturally as deuterium gas.
Applications of Deuterium
Drugs
Nuclear weapons
Contrast properties
Tracing
NMR spectroscopy
Nuclear reactors and Nuclear Power Plants
3. Tritium (3H )
It comprises 2 neutrons and 1 proton in its nucleus. Small traces of hydrogen 3 or tritium occurs in nature due to the synergy of cosmic rays with atmospheric gases. They are also released in a small amount at the time of nuclear weapons tests. It is radioactive, it decays into helium 3 through beta decay. Hydrogen 3 as an atomic mass of 3.0160492 u.
Applications of Tritium
Analytical chemistry
Controlled nuclear fusion
Tritium in hydrogen bomb secondaries
Boosting
Neutron initiator
Nuclear weapons
Self-powered lighting
Used as an oceanic transient tracer
4. Hydrogen-4
It comprises 1 proton and 3 neutrons in its nucleus. Hydrogen-4 is a highly unstable isotope of hydrogen. It is incorporated in laboratories bombarding tritium with fast-moving deuterium nuclei. Its atomic mass is 4.02781 ± 0.00011.
5. Hydrogen-5
It comprises 4 neutrons and 1 proton. Hydrogen-5 is a highly unstable isotope of hydrogen. It has been incorporated in the laboratory by bombarding tritium with fast-moving tritium nuclei.
6. Hydrogen-6
It has a half-life of 290 yoctoseconds. It decays through triple neutron emission into hydrogen-3.
7. Hydrogen-7
It comprises 6 neutrons and 1 proton. It has a half-life of 23 yoctoseconds.
Physical Properties Of Hydrogen
It is a gas with no colour and odour and has the lowest density of all gases. It is seen as the clean fuel of the future which is generated from water and returned to water when oxidized.
It is present in water and in almost all molecules in living things. It remains bonded with carbon and oxygen atoms. It can be said that it is the most abundant element in the universe.
It is present as a gas in the atmosphere in one part per million volume. Hydrogen is spotless and is not toxic and safe to produce from various different sources, transport, and store in large amounts.
It is named as energy carrier because it stores energy which is first created somewhere else.
This element was artificially produced in the 16th century. It was named as hydrogen whose Greek name is 'water-former'
Chemical properties of Hydrogen:
Chemical properties are largely determined by the bond disassociation enthalpy. Hydrogen molecule forms H-H bond, and this single bond has the highest bond enthalpy between two atoms of an element.
Hydrogen is inert at room temperature due to its high bond enthalpy and, therefore, it is prepared at very high temperatures in an electric arc or under ultraviolet radiations.
Hydrogen has an electronic configuration of 1s1, and so it can react either by losing an electron and forming an H+ ion, or gaining an electron and forming an H– ion. Hydrogen shares electrons with other elements and forms a covalent bond.
Uses of Hydrogen
Ammonia synthesis is the most significant use of hydrogen.
A large amount of hydrogen is consumed in the catalytic hydrogenation of vegetable oils to extract solid fat.
It is also consumed as a rocket fuel when combined with oxygen, and as a rocket propellant by nuclear energy.
Hydrogen is burnt as a fuel to burn in internal combustion engines.
Try yourself:Hydrogen is a ___________________