It was discovered by Henry Cavendish in 1766 by the action of dilute H2O4 on iron. It was named 'inflammable air', Lavoisier gave it the name hydrogen (Creek: Hydra = water, gennas = producer]. It occurs in free state as well as in combined state.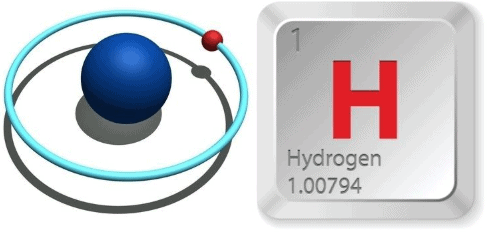 POSITION OF HYDROGEN IN THE PERIODIC TABLE

Hydrogen resembles with alkali metals (group I) as well as halogens (group 17), At the same time, it differs from both in certain characteristics. That is why hydrogen is called "rogue element".
However, it has been placed in group 1 on the basis of its configuration 1s1, which is the basis of modern classification of elements.
The resemblance of Hydrogen with Alkali Metals:
(i) Electronic Configuration: Hydrogen has one electron in its valence shell-like alkali metals.



(ii) Both hydrogen and alkali metals form unipositive ions.
For example,
Na → Na+ + e–
H → H+ + e–
(iii) Hydrogen and alkali metals both shows +1 oxidation state.
(iv) Hydrogen, as well as other alkali metals, acts as reducing agents.
(v) Both have an affinity for electronegative elemen.t For example, Na2O, NaCl, H2O, HCl.
The resemblance with Halogens:
(i) Electronic configuration: Hydrogen and halogen family both require one electron to fulfil the inert gas configuration



(ii) Ionisation energy of hydrogen is almost similar to halogens.
(iii) Hydrogen as well as halogens are Diatomic in nature.
(iv) Many compounds of hydrogen as well as of halogens are of covalent nature.
For example, CH4, SiH4, CCl4, SiCl4
ISOTOPES OF HYDROGEN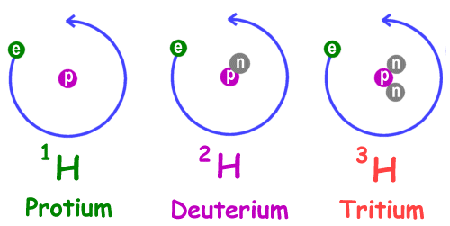 Fig: Isotopes of hydrogen
Hydrogen has three isotopes: Protium 1H1 or H , Deuterium 2H1 or D & Tritium 3H1 or T. These all differ from each other in respect of number of neutrons present in the nucleus. Protium does not contain any neutron, Deutrium (also known as heavy hydrogen) contains one neutron while the number of neutrons in the nucleus of tritium is 2. Tritium is radioactive and emits low energy β- particles.


PREPARATION OF DIHYDROGEN (H2)
Methods of Preparation:
(a) Lab methods:

Metals which have reduction potential lesser than H can liberate H2 from acids.
Pure zinc is not used because it reacts slowly. The presence of some impurities increases the rate of reaction due to the formation of electrochemical couples. Conc. sulphuric acid is also not used because it oxidises, H2 formed into H2O.
Zn + 2H2SO4(conc.) → ZnSO4 + SO2 + 2H2O
(ii) It can also be prepared by the reaction of zinc with aqueous alkali.

(b) Commercial production of dihydrogen:
(i) By the electrolysis of acidified water using platinum electrodes.


(ii) From water gas (Bosch process):
The maximum quantity of commercial dihydrogen is prepared by Bosch's method. It involves the following steps:
(a) Preparation of water gas:
It is prepared by the action of steam with red hot coke as:
C(coke) + H2O (steam) → CO(g) + H2(g)
Water gas can also be obtained by the action of steam on hydrocarbons in the presence of a catalyst. This process is also called steam reforming of hydrocarbons.
(b) Separation of Hydrogen:
In order to obtain dihydrogen in the pure form, the water gas formed by any of the above methods is mixed with steam and is passed over heated Fe2O3 and Cr2O3 at 770K when CO is oxidized to CO2. A gaseous mixture of CO2 and H2 is then bubbled into cold water under pressure when CO2 dissolves while leaving behind dihydrogen gas which escapes out. This reaction is called water-gas-shift reaction.
CO(g) + H2O(g) → CO2(g) + H2(g)
(iii) From steam (Lane's process):
In this process, Water Gas (a mixture of carbon monoxide and hydrogen) and steam are alternatively passed over iron at very high temperature up to 800°C. The iron is first oxidized, releasing hydrogen and is replaced with fresh metal. The iron then reduces the water gas back to metal. The reactions are as follows
3Fe + 4H2O → Fe3O4 + 4H2
Fe3O4 + 4CO → 3Fe + 4CO2
The net reaction is CO + H2O → CO2 + H2
(iv) Highly pure (> 99.95%) dihydrogen is obtained by electrolysing warm aqueous barium hydroxide solution between nickel electrodes.
(v) From hydrocarbons by partial oxidation:
During the partial oxidation of hydrocarbons, the crude hydrocarbon, CnH2n+2 is mixed with steam. The mixture is passed through the finely divided nickel catalyst heated at 1270K.
CnH2n+2 + nH2O(steam) → nCO + (2n+1) H2
(vi) It is also obtained as a by-product in the manufacture of NaOH and chlorine by the electrolysis of brine solution.
During electrolysis, the reactions that take place are:
Anode: 2Cl-(aq) → Cl2(g) + 2e-
Cathode: 2H2O(l) + 2e- → H2(g) + OH-(aq)
Overall reaction: 2Cl-(aq) + 2H2O (l) → Cl2(g) + H2(g) + OH-(aq)