Prepositions are words which show the relationship between a noun or a pronoun object and some other words in the sentence. They are always followed by nouns or pronouns. They are called "the biggest little words" in English because they have very important functions.
Three Groups of Prepositions:
a. Prepositions of place, position and direction.
b. Prepositions of time.
c. Prepositions for other relationships.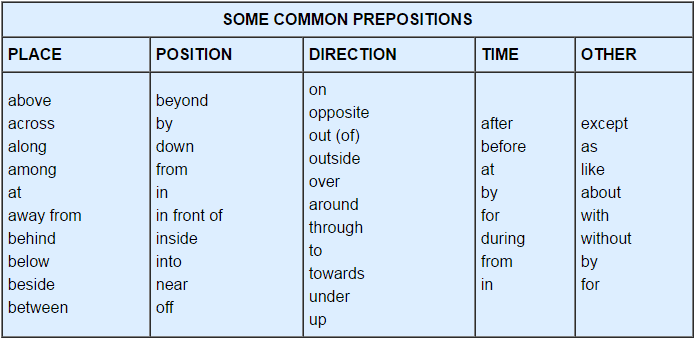 Although prepositions are hard to generalize with separate rules, there is one simple rule about them. And, unlike most rules, this rule has no exceptions.


Rule:

They are always followed by a "noun", never followed by a verb.
By "noun" we include:

Noun (dog, money, love)
Proper Noun (name) (London, Mary)
Pronoun (you, him, us)
Noun Group (my first car)
Gerund (swimming)

If we want to follow with a verb, we must use the "-ing" form which is really a gerund or verb in noun form.


Prepositions of Time / Place at, in, on
At for a PRECISE TIME
In for MONTHS, YEARS, CENTURIES and LONG PERIODS
On for DAYS and Dates




Notice that use of the prepositions of time in and on in these common expressions:
In the morning /On Monday morning
In the mornings / On Sunday mornings
In the afternoon(s) / On Sunday afternoons
In the evening(s) / On Friday evenings


When we say next, last, this, every we do not use at, in, on.

I went to New York last June (not in last June)
She is coming back next Monday. (not on next Monday)
I go home every Easter . (not at every Easter)
We'll call you this afternoon. (not in this afternoon)


Place: at, in, on

In General:

At for a POINT (dog, money, love)
In for an ENCLOSED SPACE
On for a SURFACE




Some other common uses of at / on / in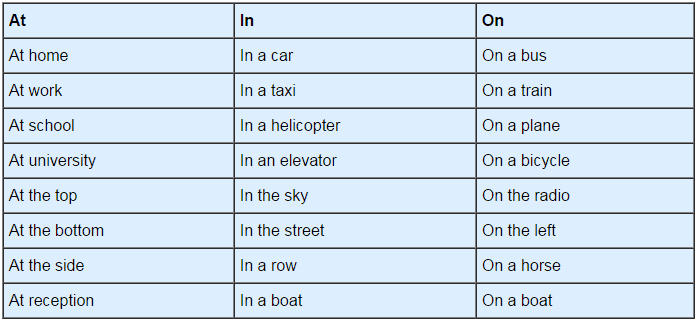 Notice how we can use on a boat or in a boat depending on the type and the size of the particular boat/ship.

More Prepositions