Q.1. Describe the three cropping seasons of India.
OR
Describe any three main features of Rabi crop season and Kharif crop season. [CBSE Delhi 2019]
Ans. (1) Rabi season:
(a) Crops sown in winters and harvested in summers.
(b) Some of the important rabi crops are wheat, barley, peas, gram and mustard.
(c) States growing rabi crops are: Punjab, Haryana, Himachal, Jammu and Kashmir, Uttarakhand and Uttar Pradesh.
(2) Kharif season:
(a) Crops grown with the onset of monsoons and harvested in September or October.
(b) Important Kharif growing states are: Assam, West Bengal, coastal regions of Odisha, Andhra Pradesh, Tamil Nadu, Kerala and Maharashtra.
(c) Crops grown during this season are: rice, maize, jowar, bajra, tur, moong, urad, cotton, jute, groundnut and soyabean.
(3) Zaid season:
(a) It falls in between the rabi and kharif seasons.
(b) It's a short season during the summer months.
(c) Major crops grown are: watermelon, muskmelon, cucumbers, vegetables and fodder crops.

Q.2. What geographical conditions are needed for the second most important cereal crop of India? Name some regions where it is grown. [CBSE 2019]
Ans. Wheat is the second most important cereal crop of India. It is the main food crop in north and north-western parts of the country. This rabi crop requires a cool growing season and a bright sunshine at the time of ripening. It requires 50 to 75 cms of annual rainfall evenly distributed over the growing season. There are two important wheat-growing zones in the country:
(i) The Ganga-Satluj plains in the north-west.
(ii) The black soil region of the Deccan.
The major wheat producing states are Punjab, Haryana, Uttar Pradesh, Bihar, Rajasthan and parts of Madhya Pradesh

Q.3. Give some main characteristics of coffee crop. [CBSE 2019]
Ans. • India produces about 4 per cent of the world's coffee production.
• Indian coffee is known in the world for its good quality.
• The Arabica variety, initially brought from Yemen, is produced in the country.
• Initially, its cultivation was introduced on the Baba Budan Hills in Karnataka and even today its cultivation is confined to Nilgiri in Karnataka, Kerala and Tamil Nadu. Indian coffee variety is in great demand all over the world.

Q.4. "Irrigation has changed the cropping pattern of many regions in India." Analyse the statement. [CBSE 2019,32/2/3]
Ans. (i) Well-developed irrigation facilities have lessened the dependency of peasants on monsoon by ensuring regular supply of water.
(ii) Major shift- The development of proper irrigation facility has enabled peasants to grow the water-intensive and commercial crop.
(iii) The development of tube wells, irrigation pumps in the farming land has enabled peasants to irrigate a large plot of land.
The following are the effects of developing proper irrigation facilities:
(i) This has resulted in brininess of the earth.
(ii) It has increased productivity.
(iii) The development of irrigation facilities has resulted and aided in changing the cropping pattern, for instance, rice, which was earlier grown in Northeastern India because heavy rainfall favourably helped the production of rice.Now production of rice can be seen in the areas of low rainfall such as Punjab, Haryana and parts of Rajasthan.

Q.5. Name the two most important cereal crops in India. Describe the conditions required to grow these two crops. [CBSE 2019, 32/2/3]
Ans. Rice and Wheat
1. Rice:
(i) Temperature: It is a kharif crop which requires high temperature, and high humidity. This means monthly temperature of about 25° C with minor variation during the sowing, growing and harvesting season, is suitable for the growth of the plant.
(ii) Rainfall: Rice needs abundant rainfall, i.e., more than 100 cm. It can grow in areas with less rainfall, but with assured irrigation. Rice is grown in Panjab and Haryana with the help of irrigation.
(iii) Soil: Rice can grow in a variety of soils including silts, loams and gravels, but it is grown best in alluvial soil with a sub-soil of impervious clay. Areas of production: Rice is cultivated in almost all the states of India, but most of its cultivation is concentrated in the river valleys, deltas of rivers and the coastal plains.
The main rice producing states are West Bengal, Andhra Pradesh, Uttar Pradesh, Bihar, Panjab, Odisha, Karnataka, Assam and Maharashtra.
2. Wheat:
(i) Temperature: Cool and moist weather is required during growth, and warm and dry climate during ripening is needed.
(ii) Rainfall: 50-70 cm rainfall is required. Rainfall is necessary and beneficial, 15 days after sowing, and 15 days before ripening. A few winter showers or assured irrigation ensures a bumper harvest
(iii) Soil: Light loamy soil is required. It can also be grown in black soil. Important producers: Panjab, Haryana, Western Uttar Pradesh and Madhya Pradesh are the main producers of wheat.

Q.6. Compare 'intensive subsistence farming' with that of 'commercial farming' practiced in India. [CBSE 2018]
Ans.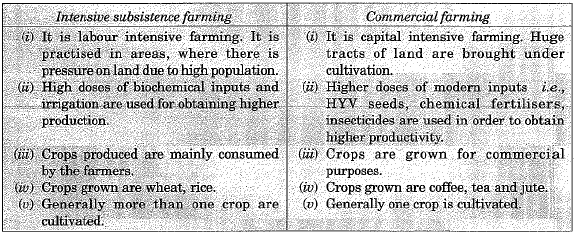 Q.7. Mohan owns a farm in Uttar Pradesh; he wishes to cultivate either Jute or Sugarcane. He shall cultivate which crop out of these two keeping in mind the conditions required for their growth ? Explain. [CBSE 2016-17,2018]
Ans. Mohan should keep in mind the conditions required for the growth of sugarcane as mentioned below :
(i) Sugarcane grows well in hot and humid climate. It is tropical as well as a sub-tropical crop.
(ii) Requires a temperature of 21 °C to 27 °C.
(iii) Needs annual rainfall between 75 cm and 100 cm.
(iv) Irrigation is required in the regions of low rainfall.
(v) It can be grown on a variety of soils and needs manual labour from sowing to harvesting. All these conditions are available in Uttar Pradesh.

Q.8. What are rabi crops ? In which period of the year are they sown and harvested in India ? Explain necessary conditions for its growth. Name the states where these are grown. [CBSE 2017]
Ans. (a) Rabi crops are wheat, barley, peas, gram and mustard.
(b) Rabi crops are sown in winter from October to December. These are harvested in summer from April to June.
(c) Availability of precipitation during winter months due to the western temperate cyclones help in the success of these crops.
(d) The success of the green revolution in Punjab, Haryana, western Uttar Pradesh and parts of Rajasthan has also been an important factor in the growth of rabi crops.
(e) Though these crops are grown in large parts of India, states from the north and northwestern parts such as Punjab, Haryana, Himachal Pradesh, Jammu and Kashmir, Uttarakhand and Uttar Pradesh are important for the production of wheat and other rabi crops.

Q.9. Mention any two geographical conditions required for the growth of maize crops in India. Describe any three factors which have contributed to increase the maize production. [CBSE 2016-17]
Or
Give a brief description of the maize crop in India.
Ans. (a) (i) Maize is used both as food and fodder.
(ii) It is a kharif crop but in Bihar it is grown in rabi season too.
(b) Geographical conditions :
(i) It requires temperature between 21 °C to 27 °C.
(ii) It grows well in old alluvial soil.
(c) Factors to increase the production :
(i) Use of HYV seeds.
(ii) Fertilisers.
(iii) Irrigation facilities.
(d) Producing states are Karnataka, Uttar Pradesh, Bihar, Andhra Pradesh, Telangana and Madhya Pradesh.

Q.10. What are the uses of sugarcane ? What is position of India in the production of sugarcane in the world ? Name the sugarcane producing states of north India. [CBSE 2016-17]
Ans. (a) Uses : It is the main source of sugar, gur, khandsari and molasses.
(b) India is the second largest producer of sugarcane after Brazil.
(c) The major sugarcane producing states are Uttar Pradesh, Maharashtra, Karnataka, Tamil Nadu, Andhra Pradesh, Bihar, Punjab and Haryana.