Properties of Alkali Metals:
S-BLOCK
The elements in which the last electron enters the outermost s-orbital are called s-block elements. The group 1 and 2 of periodic table belong to the s-block.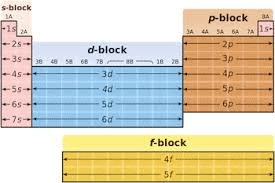 Fig: Location of s-block in periodic table
Group-I Elements: (Alkali Metals)
(1) The Elements: The elements are Li, Na, K, Rb, Cs Fr (Radioactive: t1/2 of Fr233 = 21 minutes)
Group-I elements are called alkali metals because they form hydroxides on reaction with water, which are alkaline in nature.
(2) Outer Electronic configuration: ns1
(3) Atomic and Ionic radii
Li < Na < K < Rb < Cs.
Increase down the group, because value of n(principal quantum number) increases.
(4) Density
Li < K < Na < Rb < Cs.
(5) Ionization Energy
Li > Na > K > Rb > Cs.
As size increases, I. E. decreases down the group (so Cs have lowest I. P. )
(6) Hardness and melting points/boiling points
These metals are very soft and can be cut with a knife. Lithium is harder than any other alkali metal.
The hardness depends upon cohesive energy.
M.P.- Li > Na > K > Rb > Cs
B.P.- Li > Na > K > Cs > Rb
(7) Electropositive character or metallic character:
Alkali metals are strongly electropositive and metallic. Down the group electropositive nature increase so metallic nature also increases.
i.e., M → M+ + e–
Metallic Nature: Electropositive character


Li < Na < K < Rb < Cs.
(8) Oxidation state:
Show +1 oxidation state because by loosing one electron they get stable noble gas configuration.
(9) Photoelectric effect:
The phenomenon of emission of electrons when electromagnetic rays strikes against them is called photoelectric effect; Alkali metals have low I.P. so show photoelectric effect.
*Cs and K are used in photoelectric cells.
Chemical Properties:
(1) Reactions with air-
The alkali metals tarnish in dry air due to the formation of their oxides on their surface, which in turn react with water to form hydroxides.
4M + O2 → 2M2O
M2O + H2O →2MO
They react vigorously in oxygen forming following oxides.
4 Li + O2 → 2 Li2O (Monoxide)
2 Na + O2 → Na2O2(Peroxide)
M + O2 → MO2(Superoxide) where M = K, Rb, Cs
(2) Solution in liquid NH3
Alkali metals dissolve in liquid ammonia (high conc. 5 M) and give blue solution which is conducting, reducing and paramagnetic in nature.
Reason:
On dissolving Metal in NH3:


M+ + x(NH3) → [M(NH3)x]+ Ammoniated cation
e– + y(NH3) → [e(NH3)y]– Ammoniated electron
The blue colour is due to Ammoniated electron
The paramagnetic nature is due to → Ammoniated electron
The conducting nature is due to → Ammoniated M+ + Ammoniated electron
* On standing the colour fades due to formation of amide,



In the absence of impurities like Fe, Pt, Zn etc, the solutions are stable.
* In concentrated solution, the blue colour changes to bronze colour and diamagnetic due to the formation of metal clusters and ammoniated electrons also associate to form electron pairs.
2 e–(NH3)y → [e–(NH3)4]2
(3) Reducing Nature
Reducing agent is electron donor.
Alkali metals are strong reducing agents with lithium being the strongest and sodium the least powerful reducing agent. Na < K < Rb < Cs < Li
Note : Lithium is expected to be least reducing agent due to it's very high IE. However it is strongest. (due to high hydration energy).
(4) Reaction with H2O
The reaction with water to form the hydroxides having the formula MOH:
2M + 2H2O → 2MOH + H2
(Highly Reactive)
(5) Reaction with H2
They react with H2 forming metal hydrides with formula MH which are of ionic nature. Stability of hydride decreases down the group.
(6) Reaction with N2
Only Lithium reacts with N2 to form ionic lithium nitride Li3N.
3Li + 3/2N2 → Li3N
(7) Reaction with halogens X2
The alkali metals react vigoriously with halogens to form ionic halides, M+X-
2M + X2 → 2MX
(8) Sulphides
All metals react with S forming sulphides such as Na2S and Na2Sn(n = 2,3,4,5 or 6). The polysulphide ions are made from zig-zag chains of sulphur atoms.

(9) Crown Ethers and Cryptands: