Drugs:
Analgesics
Description - Relieve or decreases the pain without causing unconsciousness. These are also known as "Pain Killers".
Examples - Asprin, Analgin, seridon etc.
Tranquizers/ Antidepressants
Description - These are used for treatment of mental diseases.
Examples - Equanil, Calmpose, Tofranil, Barbituric Acid, Cocaine and Iproniazids etc.
Antiseptics
Description - They are applied on living tissues to kill or prevent the growth of micro-organisms.
Examples - Dettol, Savlon and Acriflavin etc.
Disinfectants
Description - These are applied on floor, instruments or wall etc. to kill microorganisms but are not safe for application on living tissues.
Examples - Phenol
Antimicrobial
Description - These are use to either kill (bactericidal) or stop the growth of diseases causing microorganisms. (bacteriostatic).
Examples - Salvarsan, Prontosil, Sulphanilamide, Bacteriostatic Drugs: Erythromycin, Tetracycline, Chloramphenicol Bactericidal Drugs: Ofloxacin, Aminoglycosides.
Antipyretics
Description - These drugs bring down the body temperature during fever.
Examples - Paracetamol, Analgin and Novalgin.
Antifertility Drugs
Description - Prevent pregnancy in women by controlling menstrual cycle and ovulation.
Examples - Norethindrone & Mestranol
Antacids
Description - Used for the treatment of acidity. Metal hydroxides are generally used as antacids.
Examples - Eno, & Milk of magnesia [Mg(OH)2]
Antibiotics
Description - These are the chemical substances which are produced by micro –organisms like bacteria and fungi and are able to kill or stop the growth of pathogenic microorganisms.
Examples - Penicillin, Amoxicillin and Ampicillin.
Antihistamins
Description - These drugs compete with histamine for finding sites of receptors and thus interfere with the natural action of histamine.
Examples - Brompheniramine & Terfenadine
Artificial Sweetening Agents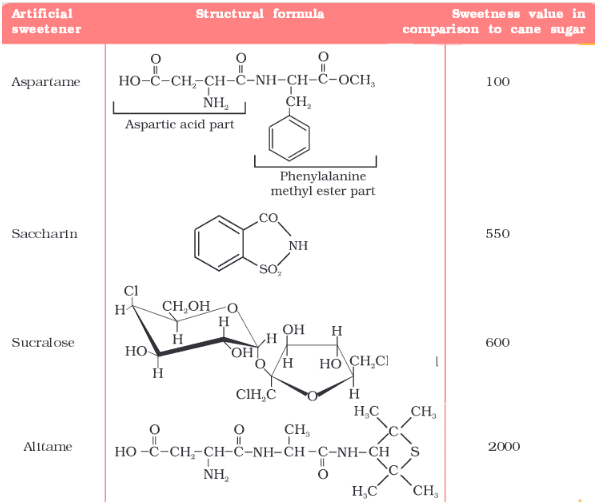 Food preservatives:
These are the chemical substances which prevent undesirable changes in flavor, colour, texture of the food during processing and storage of food.
Examples: Table salt, sugar, vegetable oils, sodium benzoate (C6H5COONa) etc.
Cleansing Agents
Soaps:
Sodium or potassium salts of fatty acids.



Soaps do not work with hard water as it forms insoluble salts with calcium and magnesium ions present in hard water.
Detergents:
Sodium or potassium salts of sulphonic acids. These can work with hard water also.
Anionic Detergents: Sodium Slats of sulphonated long chain alcohols or hydrocarbons



Cationic Detergents: Quaternary ammonium salts of ammines with acetates, chlorates or bromates.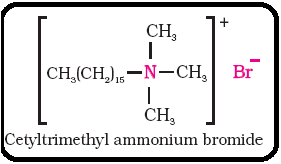 Non-Ionic Detergents: Do not contain any ion.