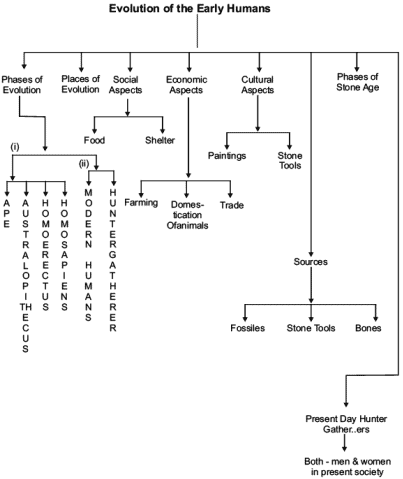 Phases of Evolution
Ape - Primates-Subgroupofalargergroupofmammals-include-monkeys and humans [240 Million yrs. ago]
Australopithecus - Huminids are further subdivided into branches, known as 'genus' of which Australopithecus and ' Homo' are important. [56 Million yrs. ago]
Hono-erectus - 'Up - right man'- Upright walking was also restricted, over time, as tool making and long distance walking increased, many human characteristics also developed, [56m yrs. ago]
Hono-Sapiens - Literally— 'Thinking man'or'Wise-man'
The remains of early humans have been classified into different species. These are often distinguished from one another on the basis of differences in bone structure. For instance species of early humans are differentiated in terms of their skull size and distinctivejaws.
Tool-Making-
Comparison:
Modern Human:
The scholars who feel that ethnographic data can not be used for under standing past societies.
They have not applied directly the specific data from present day hunter - gather societies to interpret the archaeological remains of the post.
They have the ideas:
Present day hunter-gatherer societies pursues several other economic activities along with hunting and gathering.
These include engaging in exchange and trade in minor forest produce or working as paid labourers in the fields of neighbouring farmers.
More over, these societies are totally - marginalised to all senses geographically, politically and socially.
The conditions in which they live are very different from those of early humans.
There are tremendous variation amongst living hunter-gatherer societies.
There are conflicting data on many issues such as the 'relative, importance of hunting and gathering, group sizes or the movement from place to place.
Both women and men are contributing to the food supply.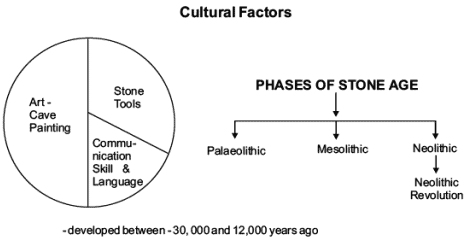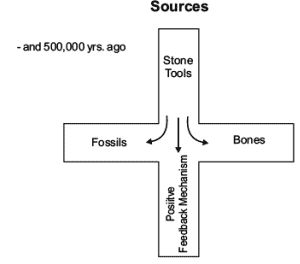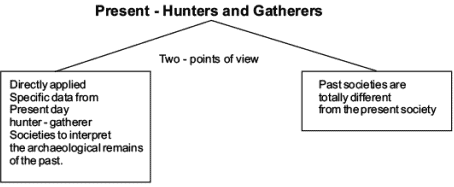 KeyWords : Fossils, Species, Primates, Hominoids Artefacts, Anthropology, Ethnograph