Japan
Political System
1. Centre of Power Kyoto- Power to Shoguns -at Edo
2. Divided country into 250domains underdaimyo- stayed at Edo to avert any rebel
3. Samurai served the shogun and daimyo
4. 16th Century-Three Changes-
(a) Peasantry disarmed to end Frequent War
(b) Anatomy to daimyo
(c) land measurementfor productivity and revenue
5. Growth of a commercial economy and a vibrant culture
6. Increased use of money and creation of stock market led the economy in new ways.
7. Social and intellectual changes - Chinese influence was questioned and study of ancient Japanese literature promoted.
The Meiji Restoration
1.Trade and diplomatic relation with USA.
2. IN 1868, a movement removed Shogun and brought Emperorto Edo (TOKYO).
3. Learn new ideas from Europe or Exclude European. Some favoured gradual and limited opening to the outer world.
4. Rich country & strong army-Asense of nationhood and to transform subjects into citizens
5. Emperor System - King, bureaucracy and military descendant fo sun, birth day - national holiday western style military uniforms.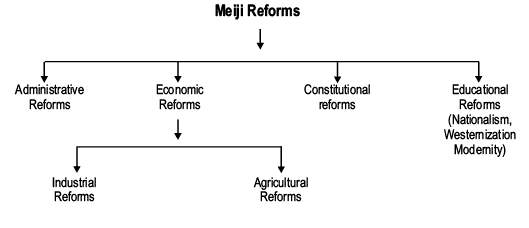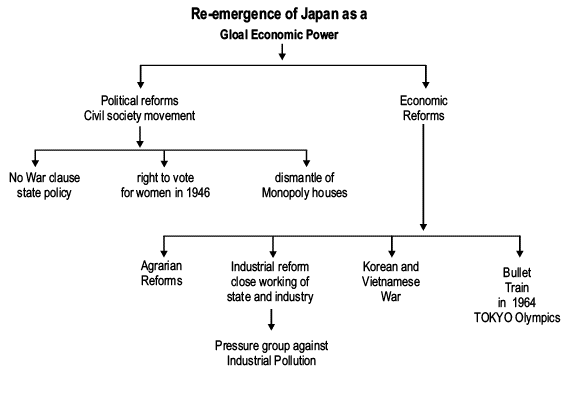 China
Modern History of China revolved around their issues
a) How to regain Sovereignty
b) End the humiliation of Foreign Occupation
c) Bring out equality and development

Establishing the Republic
1. Manchu dynasty over thrown and a republic established in 1911 under Sun-Yat-Sen.
2. Three Principles - nationalism, democracy and socialism
3. Revolutionaries asked for - driving out the foreigners to control natural resources, to remove inequalities, reduce poverty.
4. Advocated reforms - use of simple language, abolish foot binding and Female subordination, equality in marriage and economic development.
5. Four great needs-clothing food, housing and transportation.
6. Chiang - Kai - Shek ( 1887 - 1975) military campaign to control the warlords and eliminate the communists.
7. Women to cultivate four virtue - Chastity, appearance, speech and work and confined to the household.
8. Sun-Yat-Sen's Programme - regulating capital and equalizing land never carried out. Imposed military order ratherthan address the problem of Peasantry.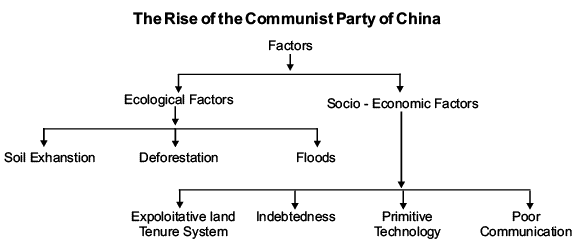 Establishing the New Democracy 1949 - 65
1. Economy under govt, control.
2. Private enterprise and Private ownership of land abolished.
3. The great leap forward movement in 1958
4. Creating a socialist man and five love - father land, People, labour, science and Public property.
5. Commune system modified and backyard furnace was unusable industrially.
Great Proletarian cultural Revolution
1. Conflict between the concept of'socialist man' and expertise.
2. Red guards (students and army) used against old culture, old customs and old habits
3. Students and professionals were sent to village to learn from masses
4. Ideology and slogan replaced rational debate
5. The cultural revolution weakened the party disrupted economy and educational system
6. In 1975 the party once again laid emphasis on greater social discipline and build an industrial economy.
Reforms of 1978 Deng Xiaoping
1. Deng Xiaoping kept party control strong while introducing a socialist market economy
2. Four modernisation - Science, industry, agriculture and defence.
3. The Fifth modernisation - Democracy.
4. May Fourth movement-Tiananmen square
5. Emergence of debates on ways to develop china
6. growing revival of traditional ideas of Confucianism.
The Story of Taiwan
1. Taiwan a Japanese colony since 1894- 95 war with Japan. The Cairo (1943) and Portsdom Proclamation (1949) restored to China.
2. GMD under Chiangkai - Shek established a repressive govt. Freedom of speech, Political opposition banned.
3. Excluded local people from position of power
4. Land reforms to increase agricultural productivity and modernise the economy.
5.Transformation ofTaiwan into a democracy after the death of Chiang in 1975. Martial law lifted in 1987.
6. Free elections- local Taiwanese to power.
7. Re-unification with China - a Contentious issue China - a semi autonomous Taiwan may be acceptable to China.