PointsTo Remember
Social change refers to changes in structure and culture of the society.
Changes can be both intensive and extensive.

Darwin proposed the theory of evolution and emphasized on the 'survival of the fittest'.
Darwin's theory of evolution has been adapted to the social world and termed as 'social Darwinism', a theory that emphasised the importance of adaptive change.
In contract to evolution, revolutionary change is quick, sudden and overthrows the existing system. Example French Revolution.
Changes in values and beliefs can also lead to social change.
On the basis of pace social change may be Evolutionary(Darwin's theory) or Revolutionary (French revolution)
Changes in ideas, values and beliefs also lead to social change
Industrialization and urbanization have led to change in the structure of the society.
Sanskritisation and Westernization have brought change in its culture.
Causes of Social Change

Five broad types of sources of causes of social change: Change are environmental, technological, economic, political and cultural.
(a) Environment: Nature, ecology and the physical environment and its influence on the structure and shape of society.
(b) Technology and economy : Technology along with economic change has been responsible for immense social changes, for e.g., Industrial revolution.
(c) Politics : Political forces have been the most important causes of social change, fore.g., history of warfare. - India's struggle for Independence. - Nepal's rejections of monarchy. - Biggest political change of history: universal adultfranchise.
(d) Culture : Ideas, values beliefs are important in shaping people's life. Changes in their beliefs help to transform society.
Women's struggle for equality.
No single factor can account for social change. Causes of social change are often inter-related. Pace of change in modern and contemporary times is much faster than before.

Counter culture : Counter are protests against or refusal to conform to prevalent social norms. Eg - Youth rebellion The content of this protest may involve anything from hairstyles and clothing fashions to language or lifestyle.
Social order: refers to active maintenance and reproduction of particular pattern of social relations and of values and norms.
Ways of achieving order:
(a) When people spontaneously wish to abide by a set of rules & norms.
(b) When people are compelled in various ways to obey norms.
Authority : is defined by Max Weber as legitimate power - that is, power considered to be justified or proper, e.g. authority of a teacher, a police officer, etc.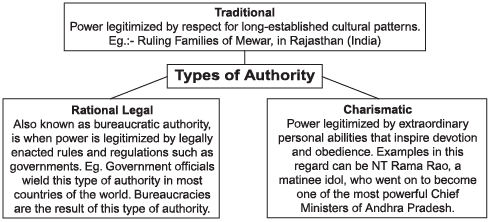 Law : is an explicity codified norm or rule. It is usually written down, and there are laws that specify how laws are to be made or changed. Laws apply to all citizens of a country.
Contestation : refers to board forms of insistent disagreement. It includes dissent or protest against laws or lawful authorities.
Crime: is an act that violates an existing law. The moral worth of the act is not determined solely by the fact that it violates existing law. If the existing law is believed to be unjust, e.g. a person may claim to be breaking moral reason, e.g. when Mahatma Gandhi broke the salt law, he was committing a crime.
Violence : is the enemy of social order, and an extreme form of contestation that transgresses not only the law, but important social norms. Violence in society is the product of social tensions. It is also a challenge to the authority of the state.
Social Order and Social Change in villages.Town and City:
Villages emerged as part of the major changes in social structure brought about by the transition form nomadic ways of life based on hunting, gathering food and transient agriculture to a more settled form of life.
Investment in land and technological innovations in agriculture created the possibility of producing surplus.
Advanced division of labour created the need for occupational specialisation.
All these changes together shaped the emergence of the village as a population settlement based on a particularform of social organisation.
Distinction between villages and cities:
Villages - significant proportion of its population is involved in agriculture activities, low density of population as compared to cities and towns.
City - Majority of people engaged in non-agriculture pursuits. Population density i.e. (the number of persons per unit over, such as square km) is higher than villages.
Social order and social Change in Rural Areas:
Change is slower to arrive in villages than in towns because of personalised relationships and as traditional social practices are stronger.
New modes of communication has accelerated the pace of change in villages.
Land reforms have altered the structure of land ownership.
Changes in the technological organisation of agriculture also has a large and immediate impact on rural society.
Sudden fluctuations in agricultural prices, droughts or floods can cause havoc in rural society.
Large scale development programmes aimed at the rural people can also have an enormous impact e.g. National Rural Employment Gurantee Act of2005.

Social Order and Social Change in Urban Areas:
Urbanism as a way of life for large segments of the population is a modern Phenomenon.
City life and modernity go very well together.
City fosters the development of group identities, based on factors like race, religion, ethnicity etc.
High population density places a great premium on SPACE and creates very complex problems of logistics.
City life presents formidable challenges of planning, implementation and maintenance.
Shortage of housing for the poor leads to homelessness and the phenomenon of 'street people'. It is also the leading cause for the emergence of slums.
People live in cities is based on socio-cultural identities. Creation of ghettoes through the conversion of mixed composition neighourhoods into single community neighbourhoods (ghettosiation) is common in cities all over the world.
City centres are experiencing a revival in many major western cities as attempts are made to regenerate community life. A related phenomenon 'gentrification' which refers to the conversion of a previously lower class neighbourhood into a middle and upper class one.
Changes in modes of mass transport may also bring about significant social change in cities.