Q.1 Which chlorine containing compound is used for treatment of typhoid fever?
Answer: Chloramphenicol is used for treatment of typhoid fever.
Q.2 Name the hormone, deficiency of which causes goitre.
Answer: Thyroxin deficiency causes goitre.
Q.3 In which disease chloroquine is used?
Answer: Chloroquine is used in malaria.
Q.4 What is the use of halothane?
Answer: Halothane is used as anesthetic during surgery.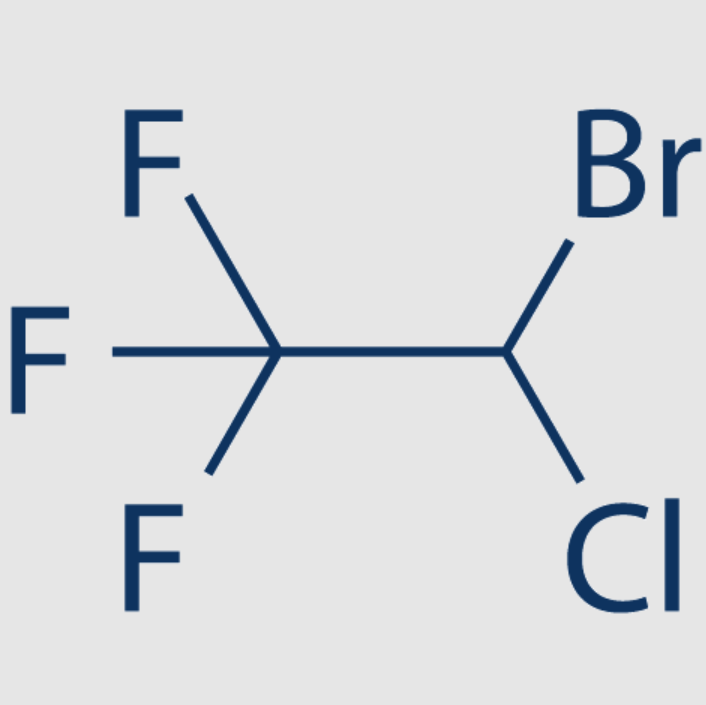 HalothaneQ.5 Which type of halo compounds are used as blood substitute in surgery?
Answer: Fully fluorinated compounds are used as blood substitute.
Q.6 Name the hybridisation of carbon atom with which halogen atom is bonded in the following compounds. (i) Alkyl halide (ii) Allylic halide (in) Vinylic halide (iv) Aryl halide (v) Benzylic halides.
Answer: (i) sp3 (ii) sp3 (ii) sp2 (iv) sp2 (v) sp3
Q.7 Arrange the 1°, 2°, 3° alcohols in the order of reactivity towards given halo acids.
Answer: Increasing reactivity towards haloacids : 3° > 2° > 1°.
Q.8 What is the effect of branching on the boiling point of isomeric haloalkanes?
Answer: With increasing branching, boiling point decreases.
Q.9 Which class of organic reactions are common for alkyl halides?
Answer: Nucleophilic substitution is common for alkyl halides.
Q.10 What is ambient nucleophile?
Answer: Molecules or ions having two nucleophilic centres are called ambident nucleophiles.
Q.11 What is inversion of configuration?
Answer: Inversion of configuration means reversal of configuration of compound.
Q.12 What do you mean by chiral molecule?
Answer: The molecule which is non-super imposable on its mirror image is called chiral molecule.
Q.13 What is chirality?
Answer: The property of a molecule due to which it is non- super imposable on its mirror image is called chirality.
Q.14 What is asymmetric carbon?
Answer: The carbon which has all the four substituent's different are called asymmetric carbon.
Q.15 Define the term racemisation.
Answer: The equimolar mixture of d-form and l-form, which is optically inactive is known as racemic mixture and the process of its formation is called racemisation.
Q.16 What are enantiomers?
Answer: Optically active compounds which are mirror images of each other are called enantiomers.
Q.17 What are organometallic compounds?
Answer: Compounds containing carbon-metal bond are called organ metallic compounds e.g. RMgX.
Q.18 What is Grignard's reagent?
Answer: Alkyl magnesium halide is known as Grignard's reagen (RMgX).
Q.19 Write the full form of D.D.T.
Answer: Dichlorodiphenyltrichloro ethane.
Q.20 Name two haloalkanes responsible for depletion of ozone layer.
Answer: Freon and tetrachloromethane are responsible for depletion of ozone layer.
Q.21 Name two haloalkanes used as refrigerants.
Answer: Freon and chloroform are used as refrigerants.
Q.22 What is halo form?
Answer: Trihalogen derivatives of methane are called haloform. e.g. CHCl chloroform.
Q.23 Which is better nucleophile, a bromide ion or an iodide ion?
Answer: An iodide ion.
Q.24 What is the hybridisation of carbon of benzne bonded to halogen in aryl halide?
Answer: sp2.
Q.25 How are ortho and para isomers of aryl halides separated from each other?
Answer: Due to large difference in their melting points they are separated by fractional distillation method.
Q.26 The boiling point of alkyl halides are higher than those, the hydrocarbons of comparable molecular mass. Explain.
Answer: Molecules of organic halogen compounds are generally polar. Due to greater polarity as well as higher molecular mass as compared to parent hydrocarbon, the intermolecular forces of attraction (dipole-dipole interaction and Van der Waals force) are stronger and have higher boiling point than hydrocarbons of comparable molecular masses.
Q.27 Why the boiling points of isomeric halo alkanes decrease with increasing branching?
Answer: As the branching increases molecule tends to acquire spherical shape i.e. its surface area decreases, correspondingly the magnitude of van der Waals force also decreases. So, boiling point also decreases.
Q.28 Haloalkanes are only slightly soluble in water. Why?
Answer: Alkyl halides though polar due to presence of electronegative halogen atom are insoluble in water since they do not form hydrogen bonds. The energy required to break intermolecular H-bonds of water is much higher than the energy released by interaction between water and halide molecules.
Q.29 Haloalkanes are more soluble in organic solvents. Why ?
Answer: Haloalkanes tend to dissolve in organic solvent because new intermolecular attraction between haloalkanes and solvent molecules have much the same strength as the ones being broken in separating haloalkane and solvent molecules.
Q.30 The use of DDT is banned in some countries, why?
Answer: Many countries banned the use of DDT due to following reasons: (i) Many insects developed resistance to DDT and it was also found to have high toxicity towards fish. (ii) DDT is not metabolised very rapidly by animals, instead it is deposited and stored in fatty tissues.
Q.31 What are the disadvantages of using freons?
Answer: In stratosphere, freons are able to initiate radical chain reactions that can upset the natural ozone balance.
Q.32 Why is iodoform antiseptic?
Answer: landform behaves as antiseptic due to liberation of free iodine.
Q.33 Name three halogen containing organic compounds used in medicine.
Answer: Chloramphenicol, chloroquine, halothane.
Q.34 Aryl halides cannot be prepared by the reaction of hydrogen halide on phenol. Why?
Answer: Due to resonance, in phenol molecule C-O bond has some double bond character due to which it is difficult to break it. Hence, aryl halide cannot be prepared by reaction of hydrogen halide on phenol.
Q.35 Why ortho andpara halo toluene can be separated easily?
Answer: Due to their large difference in boiling points, they can be separated easily by fractional distillation.
Q.36 Reactions of arene with iodine is carried out in the presence of an oxidising agent. Why?
Answer: Reactions of arene with iodine are reversible in nature and require the presence of an oxidising agent to oxidise the HI formed during the reaction and shift the reaction towards right.
Q.37 Explain why no effect on reactivity of haloarene is observed by the presence of electron withdrawing group at meta position?
Answer: The presence of electron withdrawing group increases the reactivity of haloarenes. The effect is more pronounced at ortho and para position. From resonance structure of chlorobenzene we see that electron density is maximum only at o/p-position. So, it does not affect much at w-position.
Q.38 Electrophilic substitution reactions in haloarenes occur slowly and require more drastic conditions.
Answer: Due to ?I effect halogen withdraws electron towards it and overall deactivation takes place and for better yield drastic conditions are required.
Q.39 Chlorine is electron withdrawing but ortho, para directing in electrophilic aromatic substitution reactions. Why?
Answer: Even though chlorine is electron withdrawing the electron density is maximum at ortho and para positions.
Q.40 Classify the following as alkyl, alkyl and vinyl halides (i) H2CH=CFCH2CH3 (ii) (CH3)2CClCH3 (iii) CH2=CHCH2I (iv)

Answer: (i) Vinyl fluoride (ii) Alkyl chloride (iii) Allyl iodide (iv) Vinyl chloride and alkyl bromide.
Q.41 What is the decreasing order of reactivity of the following in SN2 reaction? 1-Bromo-2-methylbutane, 1-Bromo-2-2-dimethylpropane, 1-Bromopentane.
Answer: All are primary alkyl halides and their structural formulae are: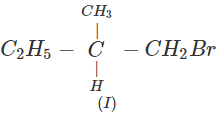 The order of reactivity is: (III) > (I) > (II) Explanation: The SN2 reactions are sensitive to steric hindrance. Greater the steric hindrance to the attacking nucleophile, lesser will be the reactivity. In the light of this, the reactivity order is justified.
Q.42 What happens when chlorine is passed through boiling toluene?
Answer: The hydrogen atoms of the −CH3 group are replaced one after the other with chlorine atoms.



Q.43 What is the difference between hexachlorobenzene and benzene hexachloride?
Answer: Hexachlorobenzene is a substituted compound obtained by replacing all the hydrogen atoms in benzene with chlorineatoms. On the other hand, benzene hexachloride is an addition compound formed when three moles of chlorine add on one mole of benzene under reaction conditions.




Q.44 Out of Br− and I− ions which is a better nucleophile?
Answer: Iodide ion (I−) is a better nucleophile than bromide ion (Br−) because iodine is less electronegative and therefore, electron pair can be more readily released by I− ion than by Br− ion.
Q.45 Arrange the following halides in order of increasing SN2 reactivity: H3Cl,CH3Br,CH3CH2Cl2,(CH3)2CHCl.
Answer: The reactivity of alkyl halides towards SN2 reaction decreases (i) with the increase in the size of alkyl group (ii) in the order C−I>C−Br>C−Cl. Therefore, the increasing order of the reactivity of the listed alkyl halides is: (CH3)2CHCl<CH3CH2Cl<CH3Cl<CH3Br.
Q.46 The reaction of primary alkyl halide with nitrite salt produces both RNO2 and RONO. Account for this behaviour.
Answer: Nitrite ion is an ambident nucleophile [O−−N=O]. Therefore, it can attack as nucleophile through both oxygen andnitrogen atoms and leads to the formation of two compounds.



Q.47 The hydrocarbon styrene (C6H5CH=CH2) can be prepared by the dehydrohalogenation of either 1-bromo-2-phenylethane or 1-bromo-1-phenylethane using alcoholic KOH. Which alkyl halide will take part in the reaction?
Answer: 1-bromo-1-phenylethane is a secondary alkyl halide while the other is of primary nature. The alkene is expected to be formed by E2 elimination reaction. In this reaction, secondary alkyl halide is expected to give the desired alkene.




Q.48 Among the aromatic compounds with molecular formula C7H7Cl, how many isomers are possible? Which of these is maximum reactive in nature?
Answer: Four isomers are possible as shown below:


Out of these, the cleavage of C−Cl bond can easily take place in benzyl chloride to form a benzyl carbocation that is resonance stabilised. Therefore, benzyl chloride is maximum reactive in nature.



Q.49 Why is halogen atom attached to benzene ring ortho and para directing but deactivating in nature?
Answer: The lone electron pairs on the halogen atom are in conjugation or resonance with the pi-electron pairs of the ring (+ M effect). As a result, the ortho and para positions in the ring are the points of high electron density or negatively charged. The electrophilic substitution takes place at these positions. However, due to -Ieffect, the halogen atom deactivates the ring to some extent. For more details, consult Section 11.14.
Q.50 A compound is formed by the substitution of two chlorine atoms by two hydrogen atoms in propane. What is the number of structural isomers possible?
Answer: Four structural isomers are possible. These are: