Q.1. What is deforestation? Why is it considered harmful?
Ans. The disappearance of forests is referred to as deforestation. Forests are cleared for industrial uses, cultivation, pastures and fuel wood. Clearing of forests is harmful as forests give us many things like paper, wood that makes our desks, tables, doors and windows, dyes that colour our clothes, spices in our food, gum, honey, coffee, tea and rubber. They are the home of animals and birds. Forests check soil erosion and denudation, sand dunes. They preserve our ecological diversity and life support systems.
Q.2. Describe scientific forestry.
Ans. In scientific forestry, natural forests which had lots of different types of trees were cut down. In their place one type of tree was planted in straight rows. This is called a plantation. Forest officials surveyed the forests, estimated the area under different types of trees and made working plans for forest management. They planned how much of the plantation area to cut every year. The area cut was then to be replanted so that it was ready to be cut again in some years.
Q.3. Mention the various uses of forests.
(CBSE 2010)
Ans. Forests give us a mixture of things to satisfy our different needs — fuel, fodder, leaves, trees suitable for building ships or railways, trees that can provide hard wood. Forest products like roots, fruits, tubers, herbs are used for medicinal purposes, wood for agricultural implements like yokes, ploughs etc. Forests provide shelter to animals and birds. They also add moisture to atmosphere. Rainfall is trapped in forest lands.
Q.4. What is shifting agriculture? Why was it regarded as harmful by the British?
(CBSE 2010)
Ans. Shifting agriculture or swidden agriculture is a traditional agricultural practice in many parts of Asia, Africa and South America. It has many local names such as 'lading' in South-East Asia, 'milpa' in central America, 'chitemene' or 'tavy' in Africa, 'chena' in Sril Lanka, dhya, penda, bewar, nevad, jhum, podu, khandad and kumri in India. In shifting cultivation, parts of a forest are cut and burnt in rotation, seeds are sown in ashes after the first monsoon rains and the crop is harvested by October-November. Such plots are cultivated for a couple of years and then left fallow for 12 to 18 years for the forest to grow back. It was regarded as harmful by the British for the forests. They felt that land which was used for cultivation every few years could not grow trees for railway timber. When the forest wasburnt there was the danger of the flames spreading and burning valuable timber.
Q.5. Explain why did the Dutch adopt the 'scorched earth policy' during the war.
(CBSE 2010)
Ans. The First World War and Second World War had a major impact on forests. In India, working places were abandoned and trees were cut freely to meet British demand for war needs. In Java, just before the Japanese occupied the region, the Dutch followed the 'scorched earth policy' destroying saw mills, burning huge piles of giant teak logs so that they could not fall into Japanese hands.
Q.6. How did the forest rules affect cultivation?
(CBSE 2010)
Ans. One of the major impacts of European colonialism was on the practice of shifting cultivation or swidden cultivation. In shifting cultivation, a clearing is made in the forest, usually on the slopes of the hills. After the trees are cut, they are burnt to provide ashes. The seeds are then scattered in the area, and left to be irrigated by the rain. Shifting cultivation was harmful for forests and the land both. It also made it harder for the government to calculate taxes. Therefore, the government decided to ban shifting cultivation. As a result many communities were forcibly displaced.
Q.7. Why did land under cultivation increase during colonial rule?
(CBSE 2010)
Ans. During the British domination of India, the British encouraged the cultivation of cash crops such as jute, indigo, cotton, etc. Food crops were also required to be grown for food. Both things were important. Secondly, the forests were considered unproductive by the British government and hence large areas of forests were cleared for agriculture. Now this forest land could be cultivated to enhance the income of this state.
Q.8. What did Dietrich Brandis suggest for the improvement of forests in India?
Ans. Dietrich Brandis suggested that a proper system had to be followed. Felling of trees and grazing land had to be protected. Rules about use of forests should be made. Anyone who broke rules needed to be punished. Brandis set up in 1864 the Indian Forest Service. He also helped to formulate the Indian Forest Act of 1865.
Q.9. What was taught at the Imperial Forest Research Institute? How was this system carried out?
Ans. Scientific forestry was taught at the Imperial Forest Research Institute. In this system, natural forests which had a variety of trees were cut down and, instead, one type of tree was planted. Appointed forest officials managed these forests. They planned and assessed how much of the planted area had to be cut down and how much had to be replanted.
Q.10. Differentiate between the customary practice of hunting and hunting as a sport in India, after the Forest Acts were passed.
Ans. Before the laws were passed, people who depended on forests hunted birds and small animals for food. After the laws were passed, hunting of big game became a sport. Under colonial rule the scale of hunting increased so much that many species became extinct. Rewards were given for killing tigers, wolves, etc., on the pretext that they were a threat to human life. Certain areas of the forests were reserved for hunting.
Q.11. With the help of an example, show how new opportunities of work did not always mean improved condition of the people during colonial times.
Ans. New opportunities in Assam was on tea estates. Certain forest communities such as the anthals and Oraons from Jharkhand and Gonds from Chhattisgarh had lost their means of livelihood. They were recruited to work on tea plantations. Their condition was miserable in these tea plantations. They were given a low salary and the work conditions were severe. They were in a dilemma as they could not even return back to their villages as there was no support for them there.
Q.12. How did the spread of railways from the 1850s in India, create a new demand for timber?
OR
Why was the railway network spread by the British in India from 1850s onwards? Why was there a need for forest timber spread for railways?
(CBSE 2010)
Ans. Wood was required as fuel to run locomotives and to lay railway lines. Sleepers were essential to hold the tracks together. From the 1860s, the railway network expanded rapidly. The length of the railway tracks increased tremendously. As railway tracks increased, the need of timber also increased. More and more trees were felled. Contracts were given to individuals to supply timber. These contractors cut down trees indiscriminately. Railway tracks were soon devoid of forests.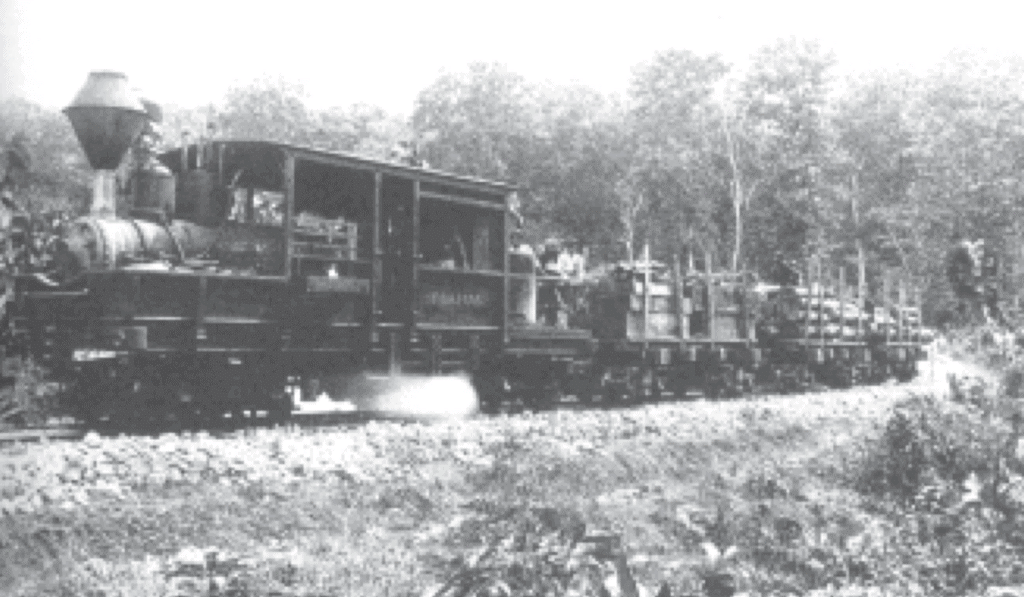 Train transporting teak out of the forest
Q.13. Why were the people of Bastar dissatisfied with the forest policies of the British?
(CBSE 2010)
Ans. The people of Bastar were dissatisfied because of the following —
2/3 of forest land being declared reserved area
ban on shifting cultivation, hunting and gathering of forest products
people of many villages were displaced without notice or compensation
increased rent and frequent demand of free labour and goods by colonial officials
the terrible famines.
Q.14. Who were the Kalangs? Why did they attack the Dutch forts at Joana?
Ans. The Kalangs were a community of Java. They were skilled forests cutters and shifting cultivators. They were so valuable that teak could not be harvested without them, nor could kings build their palaces. When the Mataram Kingdom of Java split, the families of the Kalang community were divided equally between the two kingdoms. When the Dutch colonised Java they forced the Kalangs to work under them. The Kalangs reacted by attacking the Dutch fort at Joana.

Q.15. What were the consequences of the forest laws which the Dutch enacted in Java?
Ans. These laws restricted villagers' access to forests. After these Acts were imposed, wood could only be cut for specified purposes such as making river boats or constructing houses and that too only from specific forests and under close supervision. Those villagers who grazed cattle in young stands, transported wood without permit or travelled on forest lands with horse carts or cattle were punished.

Q.16. Discuss the link between war and deforestation.
OR
Give three ways in which forests in India and Java were affected by the first and second world wars.
(CBSE 2010)
Ans. Both the world wars had a major impact on the forests. In India, the forest department cut the forests indiscriminately to meet the needs of the war. In Java, the Dutch followed the 'scorched earth' policy. Before the Japanese occupied this region, the Dutch destroyed all the saw mills, burnt huge piles of giant teak logs so that they did not fall into Japanese hands. When the Japanese occupied this area they used the forests recklessly. Forest villagers were forced to cut down forests. Many villagers expanded cultivation during this time.
Q.17. Mention any three causes of deforestation in India under the colonial rule.
Ans. (i) In the colonial period, cultivation expanded rapidly for various reasons. First the British encouraged the production of commercial crops like jute, sugar, wheat and cotton. The demand for these crops increased in the 19th century and forests were cleared to meet the foodgrains and raw materials needed for industrial growth in Europe.
(ii) The spread of railways from 1850 created a new demand. To run locomotives, wood was needed as fuel and to lay railway lines sleepers were necessary to hold the tracks together. The government gave out contracts to individuals and the contractors began cutting the trees rapidly. Forests around the tracks disappeared.
(iii) Large areas of natural forests were cleared for tea, coffee and rubber plantations. Forests were cleared for them.
Q.18. What were the three categories of the forest that were divided after the amendment of Forest Act in 1878 in India?
Ans. The three categories of forests were :
(i) reserved,
(ii) protected and
(iii) village forests.
The best forests were called "reserved forests". Villagers could not take anything from these forests, even for their own use. For house building or fuels they could take wood from protected or village forests.
Q.19. Discuss in brief the Saminist movement of Indonesia.
(CBSE 2010)
Ans. Around 1890, Surontiko Samin of Randublatung village challenged state ownership of forests. He argued that the state had not created the wind, water, earth and wood, so it could not own it. A widespread movement started soon and by 1907, 3000 families were following Samin's ideas. Some refused to pay taxes, fines or perform labour and some lay down on their land when the Dutch came to survey it.
Q.20. What was the impact of regulation of trade in forest products by the British government in India?
Ans. Trade in forest products was completely regulated by the government. Grazing and hunting by local people were restricted. In the process many nomadic and pastoralist communities like the Korava, Caracha and Yorukula of the Madras Presidency lost their livelihoods. Some of them began to be called "criminal tribes" and were forced to work in factories, mines, plantations. In Assam, both men and women from forest communities like the Santhals and Oraons from Jharkhand, and Gonds from Chhattisgarh were forced to work on tea plantations on low wages and very bad conditions of work.
Q.21. Why was the Bastar rebellion organised?
Ans. Refer to Question 3, Long Answer Type Questions.
Q.22. Name one great leader of a forest community who led a rebellion against the British. Give four examples to show that the people of Bastar participated whole-heartedly in the rebellion against the British policy of reservation of forests.
Ans. Gunda Dhur, from village Nethanar, was an important leader. Refer to Question 3, Long Answer Type Questions.
Q.23. Write any four examples to show that villagers used forests in a variety of ways. How did the Forest Act of 1878 affect the villagers in India?
Ans. Refer to Question 2, Long Answer Type Questions.
Q.24. Name two communities that live in Bastar. What are some of the beliefs regarding nature of the communities of Bastar?
Ans. Refer to Question 9, Long Answer Type Questions.
Q.25. In what ways did the development of railways and shipbuilding during colonial rule affect the forests in India?
Ans. Railways — Railways contributed significantly to the decline of forests in India. Whereever railway tracks had to be laid land had to be cleared. This land was forest land. Apart from clearing area for tracks, railway locomotives required timber for fuel and sleepers. For all these needs forests had to be cut down. The British government gave contracts to individuals to supply the required quantity of timber. These individuals cut down trees indiscriminately.