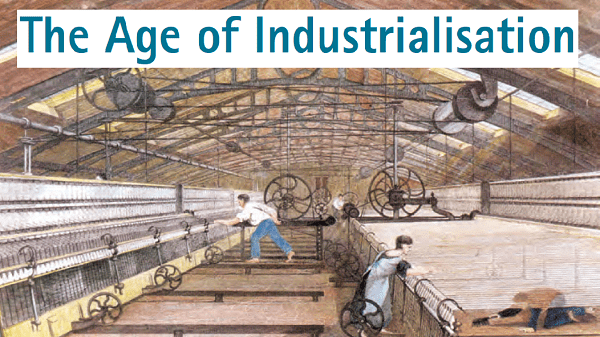 Q1. What factors were responsible for increasing demand for goods? Give an example.
Expansion of trade and acquisition of colonies in the seventeenth and eighteenth centuries led to the increasing demand for goods. For example, acquisition of colonies was an important activity undertaken by Europeans in the eighteenth and nineteenth centuries. When colonies were established, they had more resources and markets for their products and the volume of trade increased.
Q2. What were the first symbols of industrialisation?
Cotton and metal (iron and steel) production were the first symbols of industrialisation. Factories in England emerged as early as the 1730s and their number increased steadily. It was due to changes in the production process of carding (the process of preparing cotton or wool fibres prior to spinning), twisting, spinning and rolling.
Q3. Write a short note on trade guilds.
Trade guilds were associations of producers that trained craft persons and artists. They exercised control over production through regulated competition and prices. They also restricted the entry of new people into the trade. Most of them were granted the right to produce specific products by their rulers.
Q4. What other sectors of production benefited from ordinary inventions?
Cotton and metal were steam-powered industries. Some small and ordinary inventions contributed in many non-mechanised sectors like food processing, building, pottery, glasswork, tanning, furniture-making and production of implements.
Q5. What is the most recent views regarding industrial revolution of the eighteenth and mid-nineteenth centuries?
Modern historians have now recognised the important role of the traditional craftspersons and labourers of the mid-nineteenth century in recent years. Technological changes were slow and expensive. They were not as effective as claimed because merchants and manufacturers were cautious in using them for their cost and maintenance.
Q6. Write a short note on the condition of a labour's life in Victorian Britain.
Victorian Britain was a period when there was no shortage of labour. Poor peasants and vagrants moved to the cities in large numbers in search of work. Their wages were thus low and they were exploited by the producers.
Q7. Explain why machines did not necessarily affect the employment of labours.
Machines required large capital investments. The introduction of machines did not necessarily affect the traditional process of production for a long time. The need for machines varied according to available labour. Where there was plenty of labour, wages were low.
Q8. What were the limits of machine-made products?
Machines were limited by their inability to produce a variety of products. Machines produced the only uniform, standardised products meant for mass markets. However, demands in European markets were mainly for intricate and specific designs.
Q9. Who invented the Spinning Jenny? How did it work?
The spinning jenny was devised by James Hargreaves in 1764. It speeded up the spinning process and reduced the labour demand. One single turning of the wheel could set in motion a number of spindles and spin several threads of yarn.
Q10. What is the monopoly of trade?
The monopoly of trade is the practice in which a country develops a system of management and control, eliminating competition, control costs, ensure regulated supply of products. For example, British colonisers used to monopolise products such as silk and cotton in India.
Q11. How did the Indian weavers react to the monopoly of cotton production?
The increasing dependence on income generated from the sale of raw cotton and their loss of independence for sale and bargaining power led many weavers to take extreme action. Desertion and migration by farmers of Carnatic and Bengal weavers were common. Some joined the traders in revolting against officials.
Q12. Discuss the impact of the Indian national movement on Indian entrepreneurs. (2010)
During the period of the Indian national movement in the early twentieth century, Swadeshi activists mobilised people not to use foreign goods. They boycotted and burned foreign goods which affected their sale. Indigenous industrialists organised themselves to demand tariff protection and grants from the Government which led to the establishment of certain regulations. Indian industries benefited, especially during the wartime, as it was able to diversify the products into war goods, steel and iron, etc.