Question 43:
(a) Define an ecosystem. Give examples of any two ecosystems.
(b) List the biotic and abiotic components of an ecosystem.
Solution :
(a) An eco system is a self contained unit of living things(plants, animals and decomposers), and their non living environment (soil, air and water). Example – a grassland and a forest.
(b)
Biotic component – The biotic components of the ecosystem is a community of organisms which is made up of many different inter-dependent populations. It includes – producers, consumers and decomposers.
Abiotic components – The abiotic components of the ecosystem (non living components) include the physical environment like soil, water and air alongwith the in organic substances like carbon dioxide, nitrogen, water and phosphorous.
Question 44:
(a) What is a food chain ? Give one example of a simple food chain.
(b) What is a 'food web' ? Show its formation.
Solution :
(a) The sequence of living organisms in a community in which one organism consumes other organisms to transfer food energy is called a food chain. The simple food chain operating in grass land is:
Plants ---> Deer ---> Lion
(Producer) (Herbivorse) (Carnivorse)
b) The interconnected food chains operating in an ecosystem which establish a network of relationships between various species is called a food web.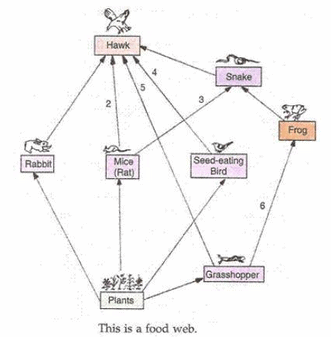 In this food web, we can see a network of numerous pathways along which the food flows within grass land community. This food web starts from the plants which is producer and end in top carnivore hawk.
Question 45:
(a) What is meant by 'environment' ?
(b) What type of substances are the major pollutants of the environment ? Name two such substances.
(c) Name the organisms whose uncontrolled activities are damaging the environment.
(d) Explain why, it is better to use paper bags than plastic bags.
Solution :
(a)The physical and biological world together is called environment.
(b) The non- biodegradable wastes pollutes the environment like plastic and polythene bags.
(c) Human beings are the only organisms which change the natural environment to fulfill their needs. The uncontrolled activities of human beings are damaging the balanced and healthy environment.
(d) Paper bags should be used for shopping because these are biodegradable whereas plastic bags are non- biodegradable.