Introduction:
In Robert Frost's poem "Fire and Ice," he uses symbols to represent desire and hatred. The poem suggests that humanity will eventually face its end. Frost presents two different beliefs about how the world will end: some think it will burn in fire, while others believe it will freeze. Frost leans towards the idea that uncontrolled desires can be destructive, while also highlighting the damaging effects of hatred.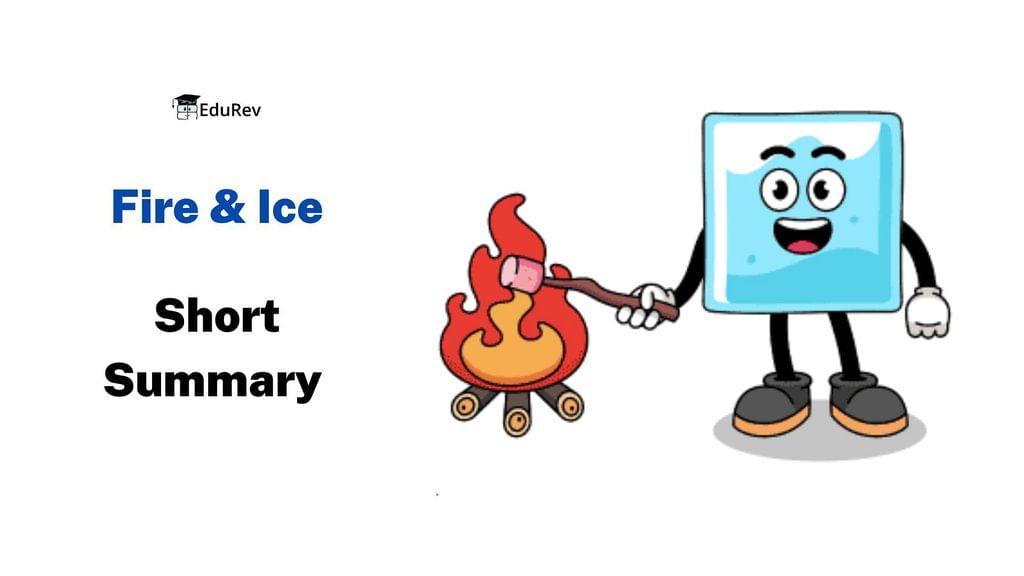 Belief 1: Fire as Desire:
Frost compares fire to uncontrolled desires. He believes that strong and persistent desires can destroy both individuals and the world. Just like a raging fire, unchecked desires can consume everything in their path. Frost warns about the dangers of letting desires go unchecked, as they have the power to lead to humanity's downfall.
Belief 2: Ice as Hatred:
Frost portrays ice as a symbol of hatred. He suggests that hatred can numb people's empathy and turn them cold towards others. This emotional ice can lead to cruelty and indifference. Frost argues that this silent and often unnoticed hatred can be more responsible for the destruction of humanity and the world than desires alone.
Contrasting Views: Fire vs. Ice:
Frost highlights the contrast between desire and hatred. While desires are often seen as more noticeable and intense, he points out that hatred, like ice, can silently destroy. Both desires and hatred possess destructive potential, and Frost urges us to recognize their power and the need for balance.
Question for Short Summary: Fire & Ice
Try yourself:
What does Frost compare fire to in his poem "Fire and Ice"?
Reflection and Conclusion:
Frost's "Fire and Ice" prompts us to reflect on the destructive nature of human emotions. It serves as a reminder that uncontrolled desires and hidden hatred can lead to the downfall of humanity. The poem emphasizes the importance of finding a balance, fostering empathy, and maintaining harmonious relationships to prevent the catastrophic consequences of these destructive forces.