Note:

There were no questions in NEET 2020 from this chapter.
Question 1:Select the correctly written scientific name of Mango, which was first described by Carolus Linnaeus.
[2019]
Question 2:Which of the following is against the rules of ICBN?
[2019]
Question 3:Match the items given in Column I with those in column II and select the correct option given below.
[2018]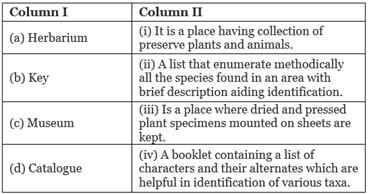 Question 4:The label of a herbarium sheet does not carry information on
[2016]
Question 5:Match column I with column II for housefly classification and select the correct option using the codes given below.
[2016]

Question 6:Study the four statements (A - D) given below and select the two correct ones out of them.
(A)
Definition of biological species was given by Ernst Mayr.
(B)
Photoperiod does not affect reproduction in plants.
(C)
Binomial nomenclature system was given by R.H. Whittaker.
(D)
In unicellular organisms, reproduction is synonymous with the growth.
The two correct statements are:
[2016]
Question 7:Nomenclature is governed by certain universal rules. Which one of the following is contrary to the rules of nomenclature?
[2016]
Question 8:It is much easier for a small animal to run uphill than for a large animal, because
[2016]