Transport in India
Water Transport in India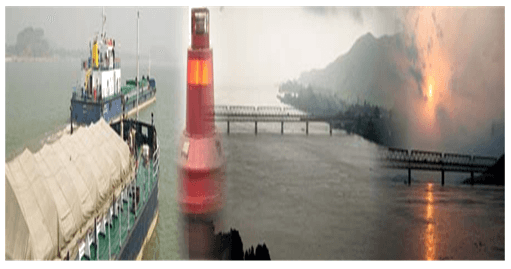 Water Transport in India
Most efficient, least costly and environment friendly means of transportation.
Water transport is of two types:

Inland waterways
Oceanic waterways
Inland waterways
The total length of navigable waterways in India comprising rivers, canals, backwaters, etc.
India has 14,500 km of navigable waterways out of which 3700 km is navigable by mechanised boats.
It contributes 1% of the country's transportation.
Inland Waterways Authority
For the development, maintenance and regulation of national waterways in the country, the Inland Waterways Authority was set up in 1986.
The authority has declared 4 inland waterways as National Waterways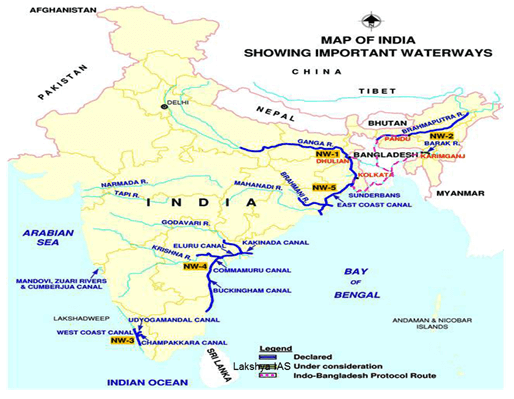 National Waterways of India
NW 1: Allahabad to Haldia – 1,620 km
NW 2: Sadia to Dhubari (on Brahmaputra river) – 891 km
NW 3: Kottapuram-Kollam stretch of the West Coast Canal, Champakara Canal and Udyogmandal Canal – 205 km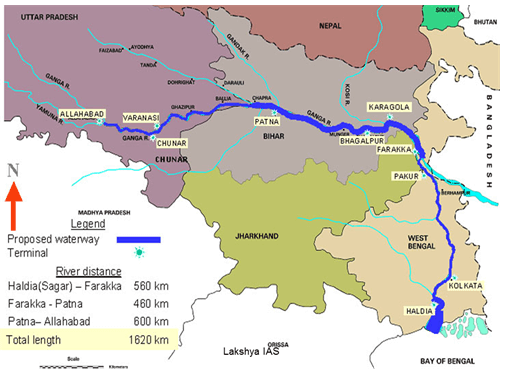 NW 4: Kakinada to puducherry stretch of Canals and the Kaluvelly Tank, Bhadrachalam – Rajahmundry stretch of River Godavari and Wazirabad – Vijayawada stretch of River Krishna– 1,095 km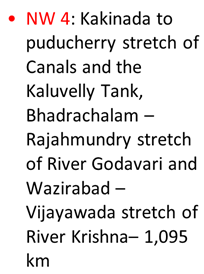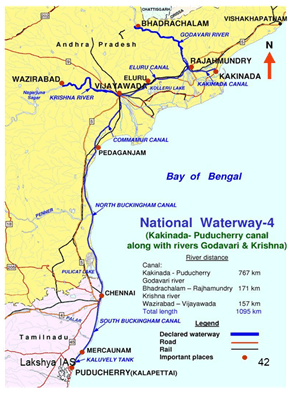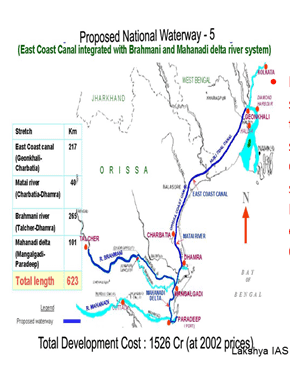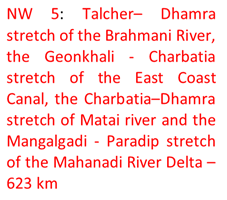 Ports in India
The Waterways Authority in India divides Indian ports into three categories, major, minor and intermediate.
India has about 190 ports in all, with 12 major and the rest intermediate and minor.
All these ports are administered by the respective Port Trusts, except the newly constructed Ennore port which is under the Ennore Port Ltd. Company.
| | |
| --- | --- |
| Port | State |
| Kolkata (including Haldia) | West Bengal |
| Paradip | Orissa |
| Vishakhapatnam | Andhra Pradesh |
| Chennai | Tamil Nadu |
| Ennore | Tamil Nadu |
| Tuticorin | Tamil Nadu |
| Cochin | Kerala |
| New Mangalore | Karnataka |
| Mormugao | Goa |
| Jawaharlal Nehru | Maharashtra |
| Mumbai | Maharashtra |
| Kandla | Gujarat |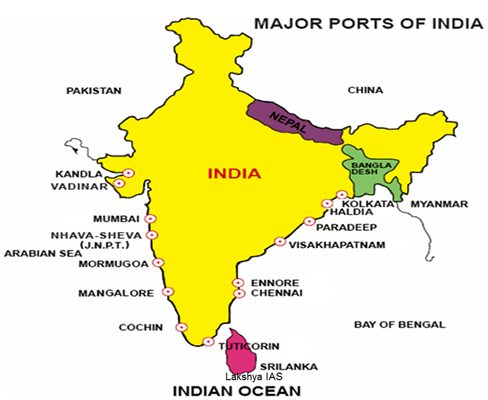 Salient Features :
Kolkata Port (including Haldia) :
Kolkata is a riverine port, located about 128 km from the Bay of Bengal on the banks of river Hooghly.
Haldia was developed because excessive silting prevented the entry of large marine vessels in Kolkata.
Paradip Port :
Located on the Orissa coast along the Bay of Bengal.
India exports raw iron to Japan from here.
Vishakhapatnam Port :
The deepest port, located in Andhra Pradesh.
It serves the Bhilai and Rourkela steel plants.


Tuticorin Port :
It came into existence during the reign of Pandya kings.
It has an artificial deep sea harbour.
Cochin Port :
A fine natural harbour located on Kerala coast.
Handles the export of tea, cofee and spices and import of petroleum and fertilisers.
New Mangalore Port :
The 'Gateway of Karnataka'.
Handles the export of iron-ore of Kudremukh.
Marmugao Port :
It has a naval base.
India's leading iron-ore port.
Mumbai Port :
A natural port, India's busiest.
A new port, Nhava Sheva, developed near Mumbai port.
Jawaharlal Nehru Port :
Occupies the 5th position in the world's faster growing ports.
Kandla Port :
Called the 'offspring of partition' as it was developed after the partition as a substitute of Karachi port.
It is a tidal port and a free trade zone located in the Rann of Kachchh.
Air Transport
It is the fastest means of movement
Air transport made a beginning in 1911 when airmail operation commenced over a little distance of 10 km between Allahabad and Naini
Its real development took place in post-independence period
Airport Authority of India
Airport Authority of India is responsible for providing safe, efficient air traffic and aeronautical communication services in the Indian air space.
The authority manages 126 airports including 12 International airports
The air transport in India is managed by two corporations, Air India and Indian Airlines after nationalisation
In 1953, all the private Airline companies were nationalised and Indian Airlines and Air India came into existence.
Air India administers international flights while Indian Airlines caters to the domestic circuit.
Indian Airlines is now known by the name of 'Indian'.
Vayudoot Limited started in 1981 as a private air carrier and later on it merged with Indian Airlines.
Pawan Hans Limited operates helicopter support services to oil sector, hill stations and remote areas.
Indian Airlines is now known by the name of 'Indian'.
Vayudoot Limited started in 1981 as a private air carrier and later on it merged with Indian Airlines.
Pawan Hans Limited operates helicopter support services to oil sector, hill stations and remote areas.
A number of private airlines also operates is India.
They are Jet Airways, Sahara, etc.
The Civil Aviation Centre in Fursatganj near Allahabad provided, among other things, ground training to the pilots.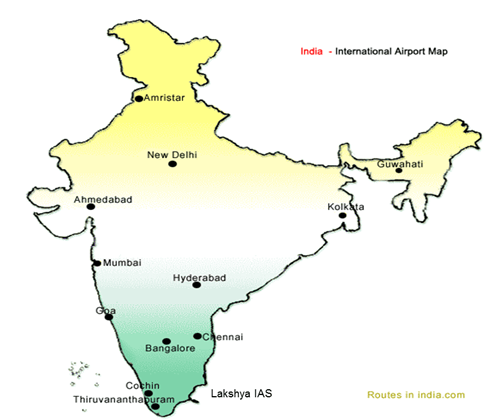 Airports in India :
There are 12 International Airports in India :

Begumpet Airport, Hyderabad
Calicut International Airport, Calicut
Chatrapati Shivaji International Airport, Mumbai
Chennai International Airport, Chennai
HAL Airport, Bangalore
Goa Airport in Vasco da Gama city, Goa
Lokpriya Gopinath Bordolio International Airport, Guwahati
Indira Gandhi International Airport, Delhi
Netaji Subhash Chandra Bose International Airport, Kolkata
Rja Sansi International Airport, Amritsar
Sardar Vallabhbhai Patel International Airport, Ahmedabad
Thiruvananathapuram International Airport, Thiruvananathapuram


Pipeline Transport
Pipelines are the most convenient and efficient mode of transporting liquids, gases over long distances
Even solids can be transported by pipelines after converting them into slurry
Merits & Demerits
Merits
1. Pipelines are laid through water as well difficult and different type of terrains.
2. The operational and maintenance cost of pipelines is very less.
Demerits
detection of leakage, repairing, safety and security of the pipelines.
Pipelines
Asia's first cross country pipeline covering a distance of 1157 km was constructed by Oil India limited from Naharkatiya oilfields in Assam to Barauni refinery in Bihar.
It was further extended up to kanpur in 1966
Some other important pipelines are:
Ankaleshwar- koyali
Mumbai High- koyali
Hajira- Vijaipur- Jagdishpur
Salaya- Mathura
Numaligarh – Siliguri
Paradip-Haldia-Barauni
Haldia - Barauni Pipeline
Mathura-Delhi Pipeline
Panipat-Ambala-Jalandhar Pipeline (PAJPL)
Panipat-Delhi Pipeline (PDPL)
Panipat-Bhatinda Pipeline