VERY SHORT ANSWER TYPE QUESTIONS
Q.1. India is a ______ country.
Ans. Democratic

Q.2. Name the key feature of democratic government.
Ans. Equality

Q.3. Irrespective of their wealth and communities each and every adult in the country has right to give one vote. True/False
Ans. True

Q.4. In India the caste system is the most common form of inequality. True/False
Ans. True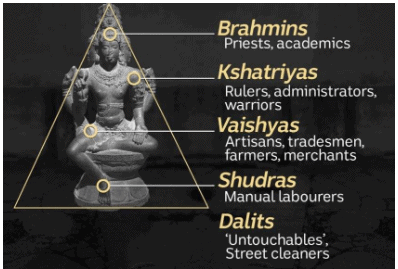 Fig: The Caste System in India

Q.5. Which was the first state in India to introduce midday meal scheme?
Ans. Tamil Nadu was the first state in India to introduce this scheme.

Q.6. Mention some factors on the basis of which inequality is being practiced in India.
Ans. Caste, religion, the class background, sex whether male or female etc.

Q.7. When persons are treated unequally their _____ is violated.
Ans. Dignity

Q.8. Every person is equal before the law. True/False
Ans. True

Q.9. Same crime is committed by chief minister of a state and a private company employer. Both will be awarded same kind of punishment by law or different? Give a reason for your answer.
Ans. Both will be given same kind of punishment because every person is equal before the law.

Q.10. The rich persons can only use publicly available bathing ghats and well. (True/False)
Ans. False

Q.11. Every person has access to all public places like malls, playground, and markets. What do you understand by this?
Ans. This means that the right to equality has been given by the constitution.

Q.12. According to the provision of constitution "Untouchability has been abolished". (True/ False.)
Ans. True

Q.13. List two ways by which the government has tried to implement equality guaranteed in the constitution.
Ans. By law and by government programmes or schemes.

Q.14. Name the government scheme which includes to provide children with cooked lunch.
Ans. Midday meal scheme

Q.15. Which state started midday meal scheme for the first time.
Ans. Tamil Nadu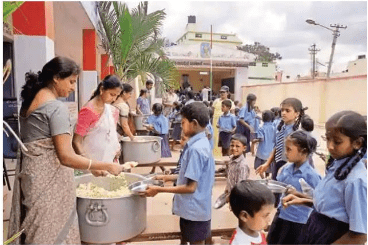 Fig: The Midday Meal

Q.16. Establishing equality in a democratic society is a continuous struggle. True/ False.
Ans. True

Q.17. What is Civil Rights Movement.
Ans. The civil rights movement refers to movement that began in USA in 1950s , in which African- American people demanded for equality before the law.

Q.18. What do you mean by dignity?
Ans. Dignity refers to the thinking of oneself and other persons as worthy of respect.

Q.19. Can a state discriminate against any citizen on the ground of caste and religion?
Ans. No

Q.20. What do you mean by disabilities Act?
Ans. According to disabilities Act A person with disabilities have equal rights and the government should make possible their full participation in society.

Q.21. What is Joothan?
Ans. Joothan is autobiography of a famous Dalit writer Omprakash Valmiki.

Q.22. Why do you think the Ansaris were being treated unequally?
Ans. Ansaris is being treated unequally on the basis of differences of religion.

Q.23. Why is Kanta happy?
Ans. Kanta is happy and excited to vote because this makes her equal to others. Everyone has one vote.