A. Label the parts of the tree.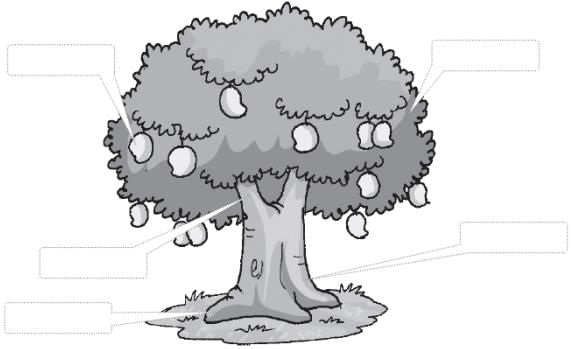 B. Complete the given table about a tree. Choose describing words from the box below.


| | |
| --- | --- |
| Tree | Describing words |
| Shape | |
| Size of trunk | |
| Taste of fruit | |
| Texture of leaves | |

Comprehension 3
Read the passage given below. Answer the questions that follow.
Rachit was a seven-year old boy. He was obedient, but disliked eating cabbage. Whenever he had to eat it he would complain—of a stomachache or say he was not hungry. One day, his mother decided to send Rachit to the market to buy a cabbage! So Rachit, not so happily, set out to the vegetable market. Every cabbage that he saw appeared enormous to him. He chose the smallest cabbage. On the way back to his house, his paper bag tore and the cabbage slipped. It rolled through the vegetable market. It rolled through the tea gardens. It rolled through the narrow lanes of his quiet hill town. Rachit chased it and rolled along. He could only grab it when it stopped near his house. Was he complaining? No, he was not, because he had fun rolling with it. That evening his mother served Rachit some shredded cabbage with rice. She was surprised when he willingly ate the cabbage. Before his mother could ask anything, he said without raising his head 'I had fun walking back with the cabbage Ma, so I thought let me try having some too.' His mother ruffled his little head fondly. He looked up, smiled and said, 'The noodles are delicious Ma!'
A. Answer the following questions.
Q.1. Where did Rachit live?
Ans. ___________
Q.2. What excuses did Rachit give for not eating cabbage?
Ans. ___________
Q.3. Why was Rachit's mother surprised?
Ans. ___________

B. Write opposites of the following words.
1. Like _________
2. Largest _________
3. Noisy _________
4. Tiny _________

C. Match the following columns.
| | | |
| --- | --- | --- |
| 1. | Market | Narrow |
| 2. | Garden | Vegetables |
| 3. | Hill town | Tea |
| 4. | Lanes | Quiet |