MCQs
Question 1: Name the planet closest to the Sun.
(a) Mercury
(b) Earth
(c) Venus
(d) None of them
Question 2: Many years ago, a huge ball of fire was created. This theory is known as
(a) Big Bang
(b) Solar system
(c) Earthquake
(d) None of these
Question 3: What is the name of the earth's galaxy?
(a) Milky Way
(b) Comets
(c) Orbit
(d) None of them
Fill in the blanks
Question 4:
(a) _________ is the fourth nearest planet to the Sun.
(b) While the planet revolves, it also rotates on its __________.
(c) The universe contains thousands of ____________.
(d) We live on the planet _____________.
Answer the following questions
Question 5: How many stars are there in the earth's galaxy?
Question 6: What is Milky Way?
Question 7: Describe the Big Bang theory.
Question 8: What do you mean by the solar system?
Match the following
Question 9: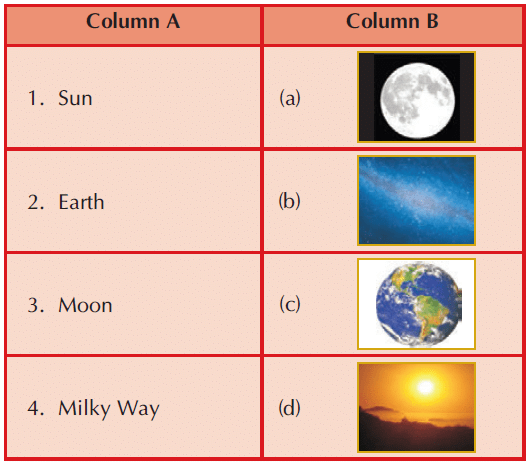 True & False
Question 10:
(a) There are billions of galaxies in the universe.
(b) The earth is the third planet in the solar system.
(c) The moon is an artificial satellite of the earth.