PROTECTED AREAS (PA)
The adoption of a National Policy for Wildlife Conservation in 1970 and the enactment of the Wildlife (Protection) Act in 1972 lead to a significant growth in the protected areas

Geographical Area of India = 32,87,263 km2
Forest cover of India (FSI, 2015) = 7,01,673 km2
Percentage Area under Forest cover = 21.34 % of Geographical Area of India

WILD LIFE SANCTUARY (WLS)
The Wild Life (Protection) Act of 1972 provided for the declaration of certain areas by the State Government as wildlife sanctuaries if the area was thought to be of adequate ecological, geo morphological and natural significance.
There are over 500 wildlife sanctuaries in the country, of Which Tiger Reserves are governed by Project Tiger.
The Central Government may also declare a sanctuary under certain conditions
National Park (NP)
The Wild Life (Protection) Act (WPA) of 1972 provided for the declaration of National Parks by the State Government are declared in areas that are considered to be of adequate ecological, geo morphological and natural significance although within the law,
The difference in conservation value of a National Park from that of a sanctuary is not specified in the WPA 1972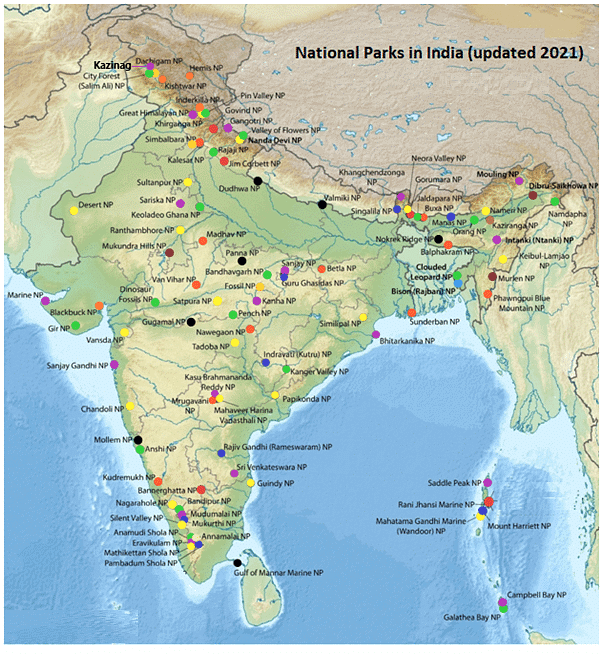 Difference between the two
National Parks enjoy a greater degree of protection than sanctuaries. Certain activities which are regulated in sanctuaries, such as grazing of livestock, are prohibited in National Parks.
Wildlife sanctuary can be created for a particular species (for e.g. grizzled giant squirrel w.l.s in srivalliputhur) whereas the national park is not primarily focused on a particular species,
CONSERVATION RESERVE AND COMMUNITY RESERVES
Outcome of Amendments to the Wild life protection act in 2003 compromising the community needs.
It provides for a flexible system wherein the wildlife conservation is achieved without
(i) Conservation Reserves
It is an area owned by the State Government adjacent to National Parks and sanctuaries for protecting the landscape, seascape and habitat of fauna and flora. It is managed through a Conservation Reserve Management Committee
State Government may, after having consultations with the local communities; declare any area owned by the Government-as conservation reserve.
Tiruppadaimarathur conservation reserve in Tirunelveli, tamilnadu is the first conservation reserve established in the Country.
(ii) Community Reserve
State Govt may notify any community land or private land as a Community Reserve, provided that the members of that community or concerned are agreeable to offer such area for protecting the fauna and flora, as well as their traditions, cultures and practices.
The declaration of such an area is aimed at improving 'the socio-economic conditions of the living in such areas as well as conserving The Reserve is managed through a Reserve Management Committee No change in the land use pattern shall be made within the Community Reserve, except in according with a resolution passed by the management Committee and approval of same by the State Government
COASTAL PROTECTED AREAS
It aims to protect and conserve the natural marine ecosystems in their pristine condition
Marine Protected Area (MPA), as "any area of intertidal or sub tidal terrain, together with its overlaying water and Associated flora, fauna, historical and cultural features, which has been reserved bylaw or other effective means to protect part or all of the enclosed environment"- IUCN.
The MPAs in marine environment in India, are primarily classified, into following three categories:
Category-1: This covers National Parks and Sanctuaries and having entire areas in intertidal/sub-tidal or mangroves, coral reefs, creeks, seagrass beds, algal beds, estuaries, lagoons.
Category-11: This includes Islands, which have major parts in marine ecosystem and some part in terrestrial ecosystem.
Category-1IA: This includes sandy beaches beyond intertidal line but occasionally interacting with the seawater.
Category-MB: This includes ever green or semi ever green forests of Islands
SACRED GROVES OF INDIA
Sacred groves comprise of patches of forests or natural vegetation from a few trees to forests of several acres that are usually dedicated to local folk deities.
In India, sacred groves are found all over the country and abundantly along the western ghats in the states of Kerala and Karnataka
THE MAN AND BIOSPHERE
The Man and the Biosphere (MAB) Programme is an Intergovernmental Scientific Programme aiming to set a scientific basis for the improvement of the relationships between people and their environment globally.
Launched in the early 1970s, it proposes an interdisciplinary research agenda and capacity building that target the ecological, social and economic dimensions of biodiversity loss and the reduction of this loss.
Identify and assess the changes in the biosphere resulting from human and natural activities and the effects of these changes on humans and the environment, in particular in the context of climate change; study and compare the dynamic interrelationships between natural/near-natural ecosystems and socio-economic processes
promote the exchange and transfer of knowledge on environmental problems and solutions, and to foster environmental education for sustainable development ensure basic human welfare and a liveable environment in the context of rapid urbanization and energy consumption as drivers of environmental change
(i) BIOSPHERE RESERVE (BR)
The International coordinating council (ICC) of UNESCO, November, 1971, introduced the designation Biosphere Reserve' for natural areas.
Biosphere Reserve (BR) is an international designation by UNESCO for representative parts of natural and cultural landscape's extending over large area of terrestrial or coastal/marine ecosystems or a combination thereof.
(ii) Biosphere Reserves: an Indian approach
National Biosphere Reserve Programme. Initiated in 1986.

(iii) Objectives
To conserve the diversity integrity of plants and animals within natural ecosystems;
To safeguard genetic diversity of species on which their continuing evolution depend
To provide areas for multi-faceted research and monitoring;
To provide facilities for education and training; To ensure sustainable use of natural resources through most appropriate technology for improvement of economic well-being of the local people.
BIODIVERSITY HOT SPOTS
Biodiversity hot spot concept was put forth by Norman Myers in 1988 To qualify as a hot spot, a region must meet two strict criteria:
Species endemism - it must contain at least 1,500 species of vascular plants (>0.5% of the world's total) as endemics, and
Degree of threat-it has to have lost at least 70% of its original habitat.
(i) Indian Biodiversity Hot Spots
The Eastern Himalayas
Indo-Burma and
The western Ghats & Sri Lanka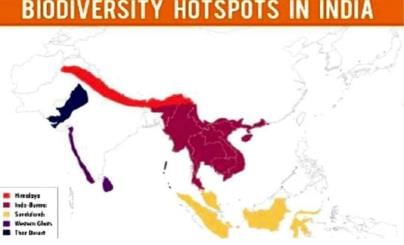 (ii) Eastern Himalayas Hot Spot:
The region encompassing Bhutan, north-eastern India, and southern, central, and eastern Nepal. The region is geologically young and shows high altitudinal variation, has nearly 163 globally threatened species (both flora and fauna) including the One horned- Rhinoceros, the Wild Asian Water buffalo.
A plant species Ermania Himalayans s was found at an altitude of 6300 meters in north-western Himalayas.
A few threatened endemic bird species such as the Himalaya Quail, Cheer pheasant, Western tragopan are found here, along with some of Asia's largest and most endangered birds such as the Himalayan vulture and White-bellied heron.
Endemic Mammals like the Golden langur, The Himalayan tahr, the pygmy hog, Langurs, Asiatic wild dogs, sloth bears, Gaurs, Muntjac, Sambar, Snow leopard, Mack bear, Blue sheep, Takin, the gangetic dolphin, wild water buffalo, swamp deer call the Himalayan ranged their home.
(iii) Western Ghats and Sri Lanka:
Western Ghats, also known as the "Sahyadri Hills" encompasses the mountain forests in the South western parts of India and highlands of southwestern Sri Lanka.
The important populations include Asian elephant, Niligiri tahr, Indian tigers, lion tailed macaque, Giant squirrel; etc.
WORLD HERITAGE SITES
The sites are designated as having outstanding universal value under the Convention concerning the Protection of the World. Cultural and Natural "Heritage.
Until the end of 2004, there were six criteria for cultural heritage and four criteria for natural heritage. In 2005 this was modified so that there is only one set of ten criteria. Nominated sites must be of "outstanding universal value" and meet at least one of the ten criteria.
The United Nations proclaimed May 22 as The International Day for Biological Diversity (IDB) to increase understanding and awareness of biodiversity issues.