Others- Government Schemes
J.1. BETI BACHAO BETI PADHAO
Joint Initiative of Ministry of Women and Child Development, Ministry of Health and Family Welfare and Ministry of Human Resource Development
Objective

Intended beneficiary

Salient features

 Prevent gender biased sex selective elimination

 Ensure survival & protection of the girl child

 Ensure education of the girl child

 Pre-natal girl child

 Infant girls and

 girl children

 100% central assistance.

 New Kasturba Gandhi Bal Vidhyalay ~50 more by 2015.

 Celebrate girl child day on 24th January

 Panchayat Gudda-Guddi boards

 Enforcement of ( PC&PNDT) act, awareness and advocacy campaign and multi-sectoral action in select 100 districts which are low on child sex-ratio (CSR).

 A sustained social mobilization and communication campaign to create equal value for the girl child & promote her education.

 Enable inter-sectoral and inter-institutional convergence at district/block/grassroot levels.

 Sukanya samruddi Yojana is a sub-component of Beti Bachao Beti Padhao.

 Implemented under the overall guidance and supervision of concerned District Magistrate/Deputy Commission Rs.
J.2. STAND UP INDIA SCHEME
Ministry of Commerce and Industry
Objective

Intended beneficiary

Salient features

 To leverage the institutional credit structure to reach out to these underserved sectors of the population by facilitating bank loans in the non-farm sector.

 To facilitate at least two such projects per bank branch (scheduled commercial bank) on an average one for each category of entrepreneur.

 Entrepreneurs from sc and st backgrounds and

 Women entrepreneurs

 Composite loan between Rs. 10 lakhs and upto Rs.100 lakhs, inclusive of working capital component for setting up any new enterprise. Ii. Debit card (RUPAY) for drawal of working capital. Iii. Credit history of borrower to be developed. Iv. Refinance window through small industries development bank of India (SIDBI) with an initial amount of Rs.10,000 crore. V. Creation of a corpus of Rs. 5,000 crore for credit guarantee through NCGTC. Vi. Handholding support for borrowers with comprehensive support for pre loan training needs, facilitating loan, factoring, marketing etc. Vii. Web portal for online registration and support services.
J.3. PRADHAN MANTRI KAUSHAL VIKAS YOJANA
Ministry of Skill Development and Entrepreneurship
Objective

Intended beneficiary

Salient features

 Imparting skill training to youth, focussing on improved curricula, better pedagogy and trained instructors. The training includes soft skills, personal grooming, behavioural change

 to cover 24 lakhs persons with training of 14 lakhs fresh entrants and certification of 10 lakhs persons under recognition of prior learning (rpl).

 To make industrial training institutes (itis) to start skill development training under the scheme

 Any candidate of Indian nationality who undergoes a skill development training in an eligible sector by an eligible training provider.

 Implemented through the national skill development corporation (NSDC). Public private partnership (PPP) entity,

 Skill training would be done based on the national skill qualification framework (NSQF) and industry led standards.

 A monetary reward is given to trainees on assessment and certification by third party assessment bodies.

 The average monetary reward would be around Rs.8000 per trainee.

 Mobilization would be done through skill Melas organized at the local level with participation of the state governments, municipal bodies, Pachayati Rai institutions and community based organizations.

 The target for skilling would be aligned to demand from other flagship programmes launched in recent times such as make in India, digital India, national solar mission and Swachh Bharat abhiyan.
J.4. PRADHAN MANTRI UJJWALA YOJANA
Ministry of Petroleum and Natural Gas
Objective

Intended beneficiary

Salient features

 Providing free LPG connections to women from BPL households

 Any Below Poverty Line (BPL) family, whose information is included in the district BPL list prepared by the State government.

 Financial support of Rs 1600 for each LPG connection to the BPL households.

 The poor have limited access to cooking gas (LPG).

 According to who estimates about 5 lakhs deaths in India alone due to unclean cooking fuels.

 Most of these premature deaths were due to non-communicable diseases such as heart disease, stroke, chronic obstructive pulmonary disease and lung cancer. Indoor air pollution is also responsible for a significant number of acute respiratory illnesses in young children. According to experts, having an open fire in the kitchen is like burning 400 cigarettes an hour.
J.5. PAHAL
Ministry of Petroleum
Objective

Intended beneficiary

Salient features

 To reduce diversion and eliminate duplicate or bogus LPG connections.

 Introduce Direct cash transfer for subsidies.

 Consumers using LPG cylinders.

 Government due to reduced leakages

 Oil marketing companies – as intermediaries are eliminated.

 It is the world's largest cash subsidy under the Direct Benefit Transfer Scheme

 In the PAHAL (DBTL) district(s), domestic LPG cylinders will be sold to CTC domestic LPG consumers at Market Determined Price (does not include subsidy) from the date of launch of the scheme.

 Amount transferred to consumer : The total cash applicable on LPG cylinder will then be transferred to the CTC (Cash Transfer Compliant) consumer for each subsidized cylinder delivered (up to the cap) as per his entitlement.

 Consumers needs to have a bank account to receive his subsidy. This is facilitated by Jan Dhan. Also seeding with AADHAAR is expected to bring better monitoring.
J.6. FOREST RIGHTS ACT, 2006
Implemented by Ministry of Tribal Affairs
Objective

Intended beneficiary

Salient features

 To recognize forest rights of beneficiaries

 And vest the forest rights and

 Occupation of forest l

 Forest dwelling scheduled tribes and other traditional forest dwellers

 Titles distributed to forest dwelling scheduled tribes/other traditional forest dwellers

 Implement FRA in a "campaign mode" and states have been given detailed advisory to complete the process of recognition and vesting of forest rights in a time bound manner.

 Forest rights committee by the gram sabha

 Conflicting claims adjudicated by the gram sabha, sub-divisional level committee and the district level committee

Forest rights

 Rights to hold and live in the forest land under the individual or common occupation for habitation or for self-cultivation for livelihood,

 Rights to ensure their control over forest resources which, inter-alia, include right of ownership, access to collect, use and dispose of minor forest produce,

 Community rights such as nistar;

 Habitat rights for primitive tribal groups and pre-agricultural communities;

 right to protect, regenerate or conserve or manage any community forest resource which they have been traditionally protecting and conserving for sustainable use
J.7. NATIONAL CHILD LABOUR PROJECT
Ministry of Labour and Employment
Objective

Intended beneficiary

Salient features

 To rehabilitate the children withdrawn from work

 Enforcement of child labour laws and protect children rights

 Children who have been working as child labour

 Rescued child labour to be enrolled in special schools, where they are provided education, vocational training, nutrition, stipend, health care.

 Project societies at the district level are to be fully funded for opening up of special school/rehabilitation centers for the rehabilitation of child labour.

 Creating awareness of the harmful effects of child labour

 Linking child labour elimination with sarva shiksha abhiyan to ensure child's right to education.
J.8. DEENDAYAL UPADHYAY SHRAMEV JAYATE KARYAKRAM
Ministry of Labour & Employment
Objective

Intended beneficiary

Salient features

 To improve the labour laws, improve compliance

 Improve condition of labour in India

 To harness India's demographic dividend, and facilitate ease of doing business in the country.

 Organised Labour force

 Apprentices

 Organized manufacturing units

 Economy in general

 A dedicated Shram Suvidha Portal:

o To allot Labour Identification Number (LIN) to nearly 6 lakhs units and allow them to file online compliance for 16 out of 44 labour laws

 An all-new Random Inspection Scheme:

o Utilizing technology to eliminate human discretion in selection of units for Inspection

 Universal Account Number:

o Provident Fund account is portable and universally accessible

 Apprentice Protsahan Yojana:

o Reimbursing 50% of the stipend paid to apprentices during first two years of their training

 Revamped Rashtriya Swasthya Bima Yojana:

o Introducing a Smart Card for the workers in the unorganized sector seeded with details of two more social security schemes.
J.9. MEGA FOOD PARK
Ministry of Food processing Industries
Objective

Intended beneficiary

Salient features

 To reduce wastage of perishables;

 To raise processing of food items from 6% to 20%

 To raise India's share in Food Processing Industry from 1.5% to 3%.

 Around 5 Lakh farmers.

 Employment through the value chains

 Government provides Financial Assistance up to Rs. 50 Crore to set up modern infrastructure facilities for food processing called Mega Food Parks.

 Hub and spoke architecture comprising Collection Centers (CCs) and Primary Processing Centers (PPCs) as spokes linked to a Central Processing Centre as hub.

 Cluster based approach.

 Demand driven with focus on strong backward and forward integration

 Enabling Infrastructure Creation along the supply chain and technology

 Implementation through Stakeholder participation with private led initiative through Special Purpose Vehicle (SPV)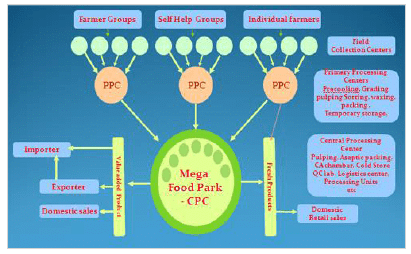 J.10. NATIONAL AYUSH MISSION
Ministry of AYUSH
Objective

Intended beneficiary

Salient features

 To provide cost effective and equitable AYUSH health care.

 To revitalize and strengthen the AYUSH systems

 To improve educational institutions capable of imparting quality AYUSH education

 To promote the adoption of Quality standards of AYUSH drugs and making available the sustained supply of AYUSH raw-materials.

 Patients due to low cost medicine and increased access.

 Components of the Mission

o Mandatory Components (80% of the Resource pool)

§ AYUSH Services

§ AYUSH Educational Institutions

§ Quality Control of ASU &H Drugs

§ Medicinal Plants

o Flexible Components (20% of resource pool)

§ AYUSH Wellness Centres including Yoga & Naturopathy

§ IEC activities

§ Tele-medicine

 Monitoring and Evaluation

o Dedicated MIS monitoring and evaluation cell would be established at Centre/ State level.
J.11. NAMAMI GANGA YOJANA
Water Resources Ministry
To clean and protect the Ganga river in a comprehensive manner.

 Watershed management of Ganga river basin and reducing runoff and pollution

 To develop the villages located along the main stem of river Ganga which have historic, cultural, and religious and/or tourist importance

 River Front Management

 Conservation of Aquatic life

 Creating co-ordination between different ministries involved

 Ecology and Aquatic life-forms of Ganga river.

 Livelihoods for fishermen and others directly dependent on river

 Economy of local area due to Increase in tourism

 Cultural benefits

 Will cover 8 states, 47 towns & 12 rivers under the project.

 Establishment of Clean Ganga Fund.

 Under the aegis of National Mission for Clean Ganga (NMCG) & State Programme Management Groups (SPMGs) States and ULBs and PRIs will be involved in this project.

 Setting river centric urban planning process to facilitate better citizen connects, through interventions at Ghats and River fronts.

 Entry-level activities : river surface cleaning to address the floating solid wastes; rural sanitation to arrest the pollution (solid & liquid) entering through rural sewage drains and construction of toilets

 Medium-term activities:

o Expansion of coverage of sewerage infrastructure in 118 urban habitations on banks of Ganga.

o Pollution will be checked through Treatment of waste water in drains by applying bio-remediation method, in-situ treatment, municipal sewage & effluent treatment plants

o Managing the industrial pollution.

o Biodiversity conservation, Afforestation, and water quality monitoring

 Long term activities: determination of ecological-flow, increased water-use efficiency, and improved efficiency of surface irrigation
Recognizing the multi-sectoral, multi-dimensional and multi-stakeholder nature of the Ganga Rejuvenation challenge, the key Ministries comprising of (a) WR, RD&GR, (b) Environment, Forests & Climate Change, (c) Shipping, (d) Tourism, (e) Urban Development, (f) Drinking Water and Sanitation and Rural Development have been working together since June, 2014 to arrive at an action plan.
J.12. JAN AUSHADI STORES
Department of Pharma, ministry of chemicals and fertilizers
Objective

Intended beneficiary

Salient features

 Make low priced quality medicines available for all through dedicated stores.

 Reduce unit cost of treatment per person

 Encourage doctors, more specifically in government hospitals, to prescribe generic medicines.

 Poor : due to reduced out of pocket expenditure and indebtedness.

 Bureau of Pharma PSUs of India (BPPI) is the implementation agency for Jan Aushadhi.

 Affordability, quality and easy availability of generic medicines at affordable prices to all, especially the poor, throughout the country, through outlets known as Jan Aushadhi Stores (JASs).

Any NGO/Charitable Society / Institution / Self Help Group with experience of minimum 3 years of successful operation in welfare activities, can also open the Jan Aushadhi store outside the hospital premises.

 Will provide a stimulus to the generic pharma in specific and pharmaceutical industry as a whole