Addition Reaction


Fig: Addition reaction
All unsaturated hydrocarbons reacts with molecules like H2, X2, H2O etc. to form another saturated compounds are called addition reactions.
Unsaturated hydrocarbons add hydrogen in the presence of catalysts such as nickel or palladium to give saturated hydrocarbons.
Note: Catalysts are substances that cause a reaction to occur or proceed at a different rate without the reaction itself being affected.
Addition of hydrogen to ethene:
Addition of hydrogen to ethyne:

Fig: Addition of hydrogen to ethyne

Addition of hydrogen to an unsaturated carbon compound is called hydrogenation reaction.
Certain vegetable oils such as ground nut oil, cotton seed oil and mustard oil, contain double bonds (C = C) and are liquids at room temperature. Because of the unsaturation, the vegetable oils undergo hydrogenation, like alkenes, to form saturated products called vanaspati ghee, which is semi-solid at room temperature.
Vegetable oils (Unsaturated oil) + Hydrogen
Vanaspati Ghee (Saturated ghee)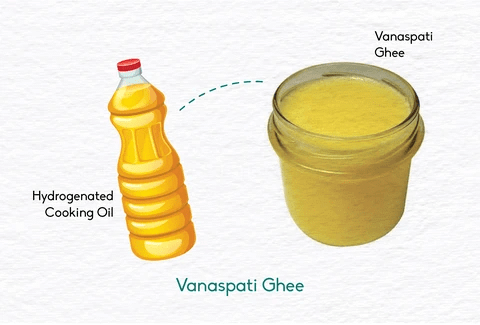 Substitution Reactions

The reactions in which one or more hydrogen atoms of a hydrocarbon are replaced by some other atoms or groups are called substitution reactions.
Example:
Methane reacts with chlorine (or bromine) in the presence of sunlight and undergoes substitution reaction. It is called photochemical reaction because it takes place in the presence of sunlight.




Some Important Carbon Compounds
Ethanol (Ethyl alcohol, C2H5OH)
Ethanol is the second member of the homologous series of alcohols.
Preparation
By the fermentation of carbohydrates (sugar or starch).
Ethanol is prepared on commercial scale by fermentation of sugar (molasses). Fermentation is allowed to take place at 298- 303 K in the absence of air. Ethanol (ethyl alcohol) gets oxidised to form ethanoic acid (acetic acid) in the presence of air.


Physical Properties
Chemical Properties
Combustion (or burning): Ethanol is highly inflammable liquid and readily burns in air with blue flame to form water vapour, carbon dioxide and evolving heat. Thus, combustion of ethanol is an exothermic reaction.

Reaction with sodium metal: Ethanol reacts with sodium metal to produce sodium ethoxide and hydrogen gas is evolved.

Reaction with ethanoic acid (Esterification reaction):
The reaction in which an alcohol reacts with acetic acid in the presence of conc. H2SO4 to form an ester is called esterification.

Note: Ester are sweet-smelling compounds and are used for making perfumes.
Note: The concentrated sulphuric acid can be regarded as a dehydrating agent which removes water from ethanol.
Uses
Ethanol is present in alcoholic beverages such as beer, wine, whisky.

As a solvent for paints, varnishes-dyes, cosmetics, perfumes, soaps and synthetic rubber etc.
Fig: Ethanol in paint
Ethanol is used in cough syrups, digestive syrups and tonics.

A mixture of 80% rectified spirit and 20% petrol is called power alcohol. It is used as fuel in cars and aeroplanes.
A mixture of ethanol and water has lower freezing point than water. This mixture is known as antifreeze and is used in radiators of vehicles in cold countries and at hill stations.

As an antiseptic to sterilize wounds and syringes in hospitals.

For the manufacture of terylene and polythene.

As a preservative for biological specimens.

Ethyl alcohol is used as hypnotic (induces-sleep).
Harmful Effects of Alcohols
Consumption of small quantities of dilute ethanol causes drunkenness. Even though this practice is condemned, it is a socially widespread practice. However, intake of even a small quantity of pure ethanol (called absolute alcohol) can be lethal. Also long-term consumption of alcohol leads to many health problems.

When large quantities of ethanol are consumed, it tends to slow metabolic processes and to depress the central nervous system. This results in lack of coordination, mental confusion, drowsiness, lowering of normal inhibitions and finally stupor (unconscious state of wild).

Drinking of alcohol over a long period of time damages liver.
Denatured Alcohol
Ethanol to which certain poisonous and nauseating substances like methyl alcohol, pyridine, copper sulphate etc. have been added is termed denatured alcohol.
Note: To prevent the misuse of ethanol (Alcohol), industrial alcohol is coloured blue so that it can be recognised easily.
Harmful effects of denatured alcohol:
Methanol is highly poisonous compound for human beings. Methanol when taken, even in small amount, can cause death.

Methanol gets oxidised to methanal in the liver, which causes coagulation of protoplasm.

Methanol also effects the optic nerve and cause blindness.
Ethanoic acid (acetic acid) CH3COOH

Ethanoic acid is commonly called acetic acid and belongs to the homologous series of carboxylic acid and is represented as CH3COOH.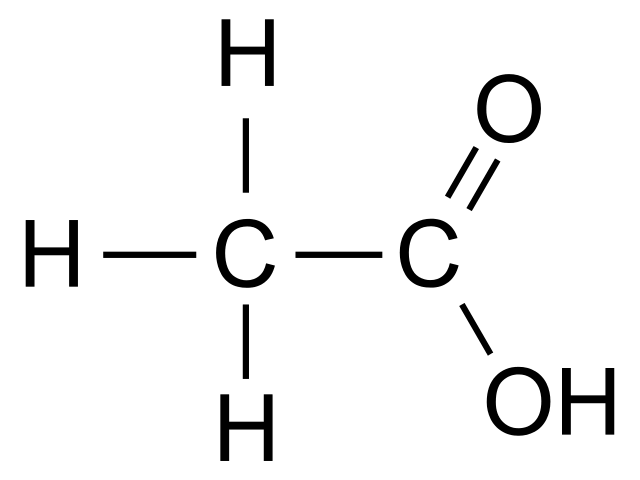 Fig: Ethanoic acid
5-8% solution of acetic acid in water is called vinegar and is used for preserving foods like sausage, pickles.
Physical Properties
At ordinary temperature, ethanoic acid is a colourless liquid with a strong pungent smell and sour taste.

Its boiling point is 391 K and its density at 273 K is 1.08 (heavier than water).

It is miscible with water due to the formation of hydrogen bonds with water molecules.

On cooling at 289.6 K, it turns in to ice-like crystals, hence named as glacial acetic acid.

It dissolves sulphur, iodine and many other organic compounds.

It dimerises when dissolved in benzene.
Chemical Properties
Reaction with alcohols (Esterification reaction):
Ethanoic acid reacts with ethanol in the presence of conc. H2SO4 to form ethyl ethanoate which is an ester.

The reaction of carboxylic acid with an alcohol to form an ester is called "esterification reaction".
Note: Ester can be hydrolysed in the presence of an acid or a base to give back the parent carboxylic acid and the alcohol.
Example:
(i) Ethyl ethanoate on acid hydrolysis gives ethanoic acid and ethanol.
CH3COOC2H5(l) + H2O(l) → CH3COOH(aq.) + C2H5OH
(ii) Hydrolysis of ester in the presence of base (alkali) is called "Saponification reaction".
Note: Alkaline hydrolysis of higher esters is used in the manufacture of soaps.
Note: Reactions of ethanoic acid with NaOH, NaHCO3, Na2CO3 and active metals show that the hydrogen present in the carboxyl (COOH) group is acidic in nature.
Uses
Ethanoic acid is used in the manufacture of various dyes, perfumes and rayon.

It is used for making vinegar.

It is used for making white lead [2PbCO3 . Pb(OH)2] which is used in white paints.

Its 5% solution is bactericidal (destroys bacteria).

It is used in preparation of cellulose acetate which is used for making photographic film.

It is used for coagulation of the latex.

It is used for preparation of 2, 4-dichloro phenoxy ethanoic acid which is used as herbicide.

Aluminium acetate and chromium acetate are used as mordants in dyeing and water proofing of fabrics.