The filling of electrons into the orbitals of different atoms take place on the basis of 3 principles :
Aufbau Principle:
The electrons are added progressively to Various orbitals in the order of increasing energy, starting with the orbital of lowest energy.
The energy of Orbitals: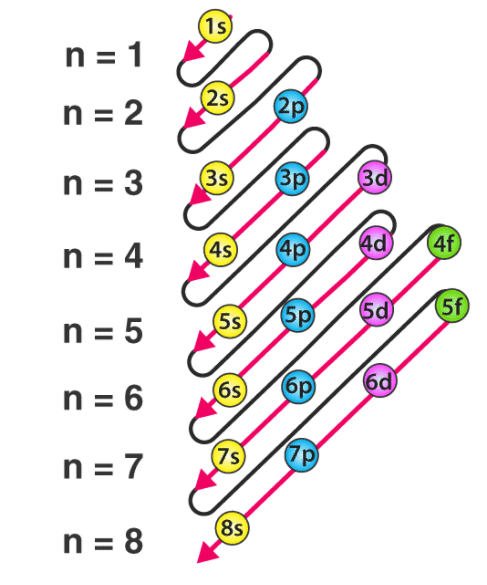 (i) Hydrogen atom: In case of hydrogen atom, energy of orbital is mainly determined by principle quantum number.


For H atom
1s < 2s = 2p < 3s = 3p = 3d < 4s = 4p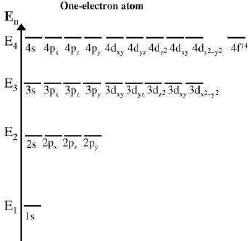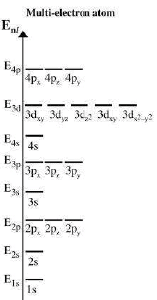 (ii) Multi-electronic atoms: In case of multi-electronic atoms, energy of orbitals depends upon both n and l and hence energy of orbitals is compared on the basis of (n + l) rules generally.
⇒ n + l rule:
(iii) As the value (n + l) increases the total energy of orbitals also increases.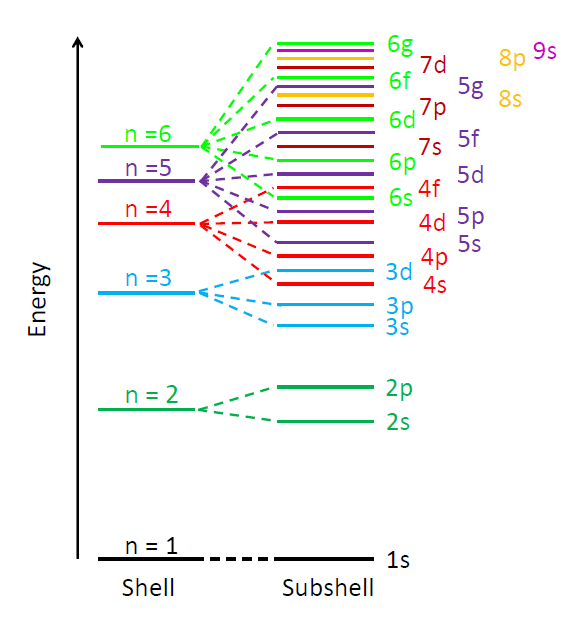 Fig: energy levels.
(iv) If value of (n + l) is same or different orbital then the orbital with lower value of n, have lower energy.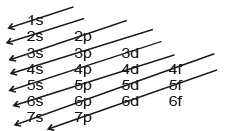 1s < 2s < 2p < 3s < 3p < 4s < 3d < 4p < 5s < 4d < 5p < 6s < 4f < 5d < 6p < 7s
Pauli Exclusion Principle:
The principle states that no two electrons in an atom can have same set of all 4 quantum no.
Therefore spin quantum No. have only two values therefore it can also be commented that orbital can have maximum two electrons with opposite spin.
Hund's Rule of Maximum Multiplicity:
While filing the orbitals of same energy (i.e. orbitals of same subshell) pairing of electron start only when each orbital have got 1 electron that too with same spin or parallel spin.
Multiplicity is expressed as 2|s| + 1 where s represent total spin.


2|s| + 1 = 2


, 2|s| + 1 = 2


, 2

+ 1 = 4 (It has maximum multiplicity)