KEY CONCEPTS
Molecular / Addition Compound
Molecular / Addition compounds are formed when stoichiometric amounts of two or more simple compounds join together. Molecular / Addition compounds are of two types.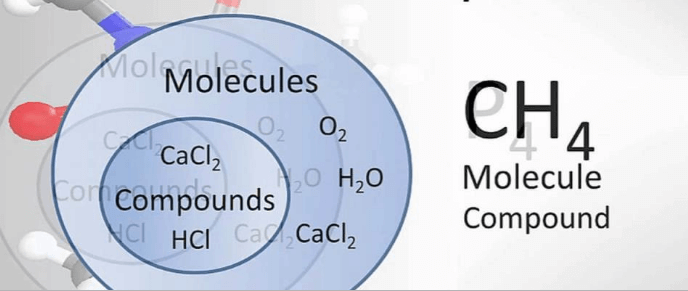 Fig: Molecular compound
Double salts
Those which retain their identity in solutions are called double salts. For example.



Complex compounds
Those which loose their identity in solution (complexes). For example.

When crystals of carnallite are dissolved in water, the solution shows properties of K+ , Mg2+ and Cl- ions. In a similar way, a solution of potassium alum shows the properties of K+ , Al3+ and SO42- ions. These are both examples of double salts which exist only in the crystalline state. When the other two examples of coordination compounds are dissolved they do not form simple ions, Cu2+ ,Fe2+ and CN-, but instead their complex ions are formed.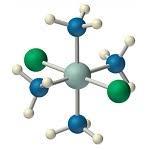 Fig: Complex Compounds
Representation of Complex Ion

when
M = Central Metal atom /ion (usually of d-block)
L = Ligand
x = No. of ligands

= charge on coordination
Outside region apart from coordination sphere is called ionisation sphere.

1. Central metal atom/ion: Central ion acts as an acceptor (Lewis acid) and has to accommodate electron pairs donated by the donor atom of the ligand, it must have empty orbitals. This explains why the transition metals having empty d-orbitals form co-ordination compounds readily. Thus, in complexes [Ni(NH3)6]2 and [Fe(CN)6]3-, Ni2 and Fe3 respectively are the central metal ions.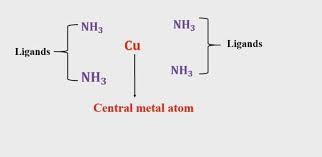 Fig: Central Metal Atom
2. Ligands: Species which are directly linked with the central metal atom/ ion in a complex ion are called ligands. The ligands are attached to the central metal atom /ion through co-ordinate or dative bond free ligands have at least one lone pair.

The lignads are thus Lewis bases and the central metal ions and n atoms are Lewis acids.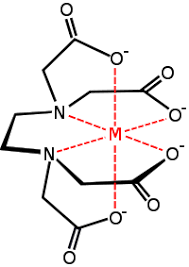 Fig: Ligands
Ligands can be of following types depending on the number of donor atoms pesent in them.
(i) Mono / Unidentate Ligands They have one donor atom, i.e., they can donate only one electron pair to the central metal atom /ion eg., F-, Cl-, Br-, H2O, NH3, CN-,NO2-, OH-,
CO etc.

Fig: Unidentate Ligands
(ii) Bidentate Ligands Ligands which have two donor atoms and have the ability to link with the central metal atom /ion at two position are called bidentate ligands e.g.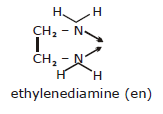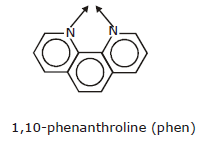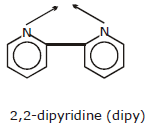 (iii) Tridentate Ligands Ligands having three donor atoms are called tridentate ligands. Examples are

diethylene triamine (dien)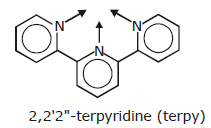 (iv) Tetradentate Ligands These ligands possess four donor atoms. Examples are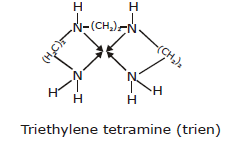 (v) Pentadentate Ligands They have five donor atoms. For example, ethylenediamine triacetate ion.
(vi) Hexadentate Ligands They have six donor atoms. The most important example is ethylenediamine tetraacetate ion.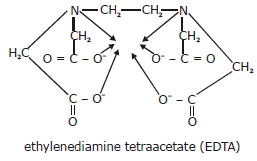 (Vii) Ambidentate ligands: There are certain ligands which have two or more donor atoms but in forming complexes, only one donor atom is attached to the metal / ion. Such ligands are called ambidentate ligands. Some examples of such ligands are
M

NO2- M

ONO-
nitrite - N nitrite -O
M

CN- M

NC-
cyanide isocyanide
M

SCN- M

NCS-
thiocyanide isothiocyanide
(Viii) Ligands having more than two donor atoms are called polydentate or multidentate ligands. Multidentate ligands are known as a chelating ligands, it results in the formation of a stable cyclic ring thus, the complexes formed are also called chelates. Chelating ligands are usually organic compounds.

3. Co-ordination sphere The central metal atom and the ligands directly attached to it are collectively termed as the co-ordination sphere. Co-ordination sphere is written inside square brackets, for examples, [Co(NH3)6]3+ . Remember that the central metal atom and the ligands inside the square brackets, behave as a single entity.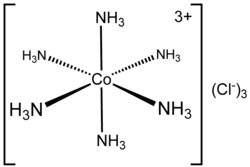 Fig: Co-ordinate Sphere

4. Co-ordination number (CN) The co-ordination number (CN) of a metal atom /ion in a complex is the total number of e- pairs accepted by central metal atom /ion from ligands through coordinate bond. Some common co-ordination numbers of metal ions are summarised in the following Table (1) and examples of complexes of various co-ordination number are given in Table (2).
Table (1) Co-ordination number of metal ion
| | |
| --- | --- |
| Metal ion | Co-ordination number |
| Ag+ | 2,4 |
| Cu+ | 2,4 |
| Cu2+ | 4,6 |
| Au+ | 2,4 |
| Ca2+ | 4,6 |
| Fe2+ | 4,6 |
| Fe3+ | 6 |
| Co2+ | 4,6 |
| Co+3 | 6 |
| Ni2+ | 4,6 |
| Zn2+ | 4 |
| Al3+ | 4,6 |
| Sc3+ | 6 |
| Cr3+ | 6 |
| Pd2+,Pt2+ | 4 |
| Pd4+, Pt4+ | 6 |
Table (2) Examples of complexes of various co-ordination numbers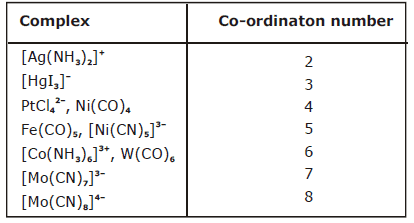 5. Oxidation number/oxidation state (O.S.) of central metal ion It is a number(numerical value) which represents the electric charge on the central metal atom of a complex ion. for example the oxidation number of Fe, CO and Ni in [Fe(CN)6]4-, [Co(NH3)6]3 and Ni(CO)4 are 2, 3 and zero, respectively. Let us take a few examples to illustrate this.
(i) Potassium Ferrocyanide, K4[Fe(CN)6] Since the complex has four monovalent cations outside the coordination sphere, the complex ion must carry four negative charges, i.e., it is [Fe(CN)6]4-. The number of CN- ion (univalent ion), that is 6 represents the co-ordination number of Fe cation. The oxidation state of iron can be determined easily as below, knowing that cyanids ions is unidentate and the complex on the whole carries -4 charge.
[Fe(CN)6]-4
x + (-6) = -4
Therefore, x = 2
Thus, here iron is present as Fe2+ or Fe(II).
(ii) [Cr(C2O4)3]3- Note that here the oxalate ligand is denegative ion, that is it is bidentate. Therefore three oxalate ligands carry a total charges of -6 and co-ordination number of Cr is 6. Now since the complex carries -3 charge, therefore the oxidation state of Cr is 3.
(iii) Ni(CO)4 Here the co-ordination number of Ni is 4 since carbonyl group is unidentate. Further since the complex as well as the ligands has no charge, nickel atom must also be neutral ,that is it is in zero oxidation state.

6. Effective atomic number - EAN (Sidgwick Theory and EAN Rule) : Total no. of electrons present on central metal atom /ion. after accepting electron pairs from donar atom of ligands through coordinate bond is called E.A.N. of central metal atom /ion.

Sidgwick also suggested that the metal ion will continue accepting electron pairs till the total number of electrons in the metal ion and those donated by ligands is equal to that
of nearest noble gas. This total number of electrons is called effective atomic number (EAN) of the metal /ion. This will become clear by taking the example of hexamminecobalt (III) ion [Co(NH3)6]3
Atomic number of cobalt = 27
In the present complex, cobalt is present in the oxidation state of 3.
Therefore, E.A.N. of Co3+ = Z - O.S. + 2 × C.N.
= 27 - 3 + 2 × 6 = 36
In the above example since the number 36 corresponds to the atomic number of krypton, according to Sidgwick, the complex will be stable. Though EAN rule (which states that those complexes are stable whose EAN is the same as the atomic number of the next noble gas) is applicable in many metal carbonyl complexes, however there are several examples in which EAN rule is not obeyed.