Blood pressure
• Definition: Blood pressure is the pressure exerted by the flowing blood on the walls of blood vessel.
• Types: Blood pressure is of two types.
(i) Systolic blood pressure (ii) Diastolic blood pressure
| | | |
| --- | --- | --- |
| Characters | Systolic blood pressure | Diastolic blood pressure |
| 1. Definition | Blood pressure at the time of maximum contraction of ventricles | Blood pressure at the time of maximum relaxation of ventricles. |
| 2. Value | 120 mm Hg. | 80 mm Hg. |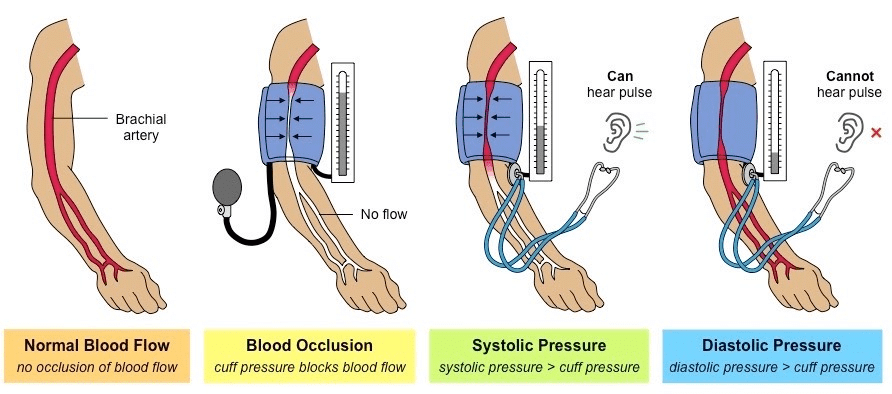 Fig: Measuring Blood Pressure Using a Sphygmomanometer
• Hypertension: A persistent increase in blood pressure is called hypertension or high blood pressure.
It is caused by narrowing of arterial lumen and reduced elasticity of arterial walls.
• The instrument by which we can measure B.P. is called "sphygmomanometer".
• In humans, B.P. is measured in the branchial artery of arm.
• Normal B.P. of a healthy person is 120/80 mm Hg.
Question for Transportation in Human Beings: Blood Pressure & Lymphatic System
Try yourself:What is the definition of blood pressure?

Double circulation
In double circulation, the blood passes twice through the heart to supply once to the body.
(i) Systemic circulation:
In this, blood completes its circulation from left ventricle to right auricle through the body organs.
(systemic organs)
(ii) Pulmonary circulation:
In this, blood completes its circulation from right ventricle to left auricle through the lungs.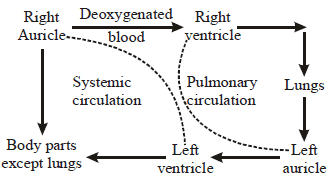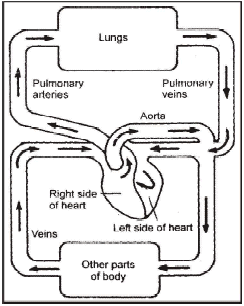 The right portion of heart is known as pulmonary heart and it has deoxygenated blood. The left portion of heart is known as systemic heart and it has oxygenated blood.
The separation of the right side and the left side of the heart is useful to keep oxygenated and de-oxygenated blood from mixing.
Such separation allows a highly efficient supply of oxygen to the body. This is useful in animals who have high energy needs (e.g. birds and mammals) which constantly use energy to maintain their body temperature. In animals who do not use energy for this purpose, the body temperature depends on the temperature of environment. (e.g. fishes, frogs)
Single circulation:
In this, the blood passes once through the heart to supply once to the body.
It is found in fishes which have two-chambered heart, one auricle and one ventricle. The heart receives only deoxygenated blood, which is first pumped to the gills for oxygenation and then oxygenated blood is supplied to rest of the body parts by various arteries.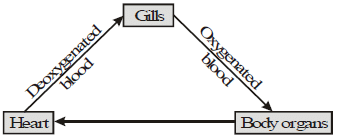 Question for Transportation in Human Beings: Blood Pressure & Lymphatic System
Try yourself:What is the purpose of double circulation in animals?
Lymphatic system
It consists of lymph, lymphatic capillaries, lymph vessels, lymph nodes and lymphoid organs (spleen thymus and tonsils).
Lymph: When blood flows into thin capaillaries some amount of plasma filters out of thin capillaries. This fluid is called interstital fluid or tissue fluid or lymph. Lymph is also called extracellular fluid.
It is colourless and contains lymphocyte cells. Unlike blood, lymph does not contain red blood corpuscles, but contains less plasma protein. Lymph flows only in one direction, that is from tissues to heart.
The functions of lymph are as under:
It transports fatty acids and glycerols from small intestine to blood.

Lymphocytes present in it which destroy harmful pathogens.

It drains excess tissue fluid from intercellular spaces back into the blood.

Lymph nodes localize the infection and prevent it from spreading to other body parts.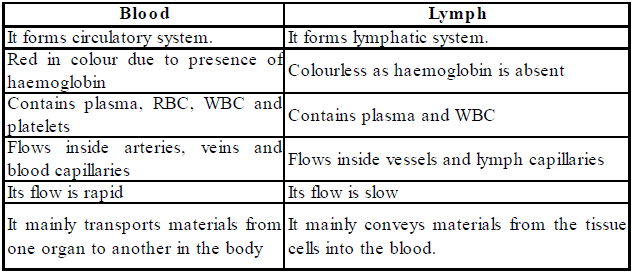 Circulatory diseases:
• Thrombosis:- Thrombosis is the formation of a small blood clot or thrombus inside a blood vessel. A blood clot, or any other solid particle floating in the blood stream is known as an embolism.
• Hardening of the arteries: As people get older the elastic and muscle layers of their arteries are gradually replaced by inelastic fibrous tissue. The artery walls become stiff and hard, a condition known as hardening of the arteries, or arteriosclerosis. This condition reduces the flow of blood.
• Atheroma: Blood flow along an artery is sometimes slowed or stopped altogether by a layer of fatty substance called cholesterol, stuck to the artery walls. This type of blockage is called an atheroma. Arteriosclerosis and atheroma are very dangerous when they occur in the heart or brain.
• Heart attacks (heart failures): A heart attack, or heart failure, is the sudden slowing or stoppage of the heart beat. A heart attack occurs when a coronary artery is blocked by a thrombosis or atheroma. Coronary arteries supply heart muscle with food and oxygen. Consequently, when a coronary artery is blocked, a section of heart muscle stops working and eventually dies. If the whole heart is affected, death is instantaneous.
• Angina pectoris: If one or both of the coronary arteries is partly blocked due to atheroma, heart muscle is unable to work properly during exercise. This cause pains in the chest known as angina pectoris.
• Stroke: A stroke, or cerebral thrombosis, is a blood clot in the brain. The blood clot suddenly blocks an artery inside the brain causing the region served by this vessel to stop working, and dies. The results of a stroke depend on the area of the brain affected. Muscles may be paralysed, and speech or memory may be affected. Death occurs if the brain damage is extensive.

Prevention of circulatory diseases:
Studies have shown that these diseases occur far less often among people:-
1. Who never smoke cigarettes.
2. Who take regular exercise (walking, cycling, swimming, active sports, etc.)
3. Who never drink alcohol or drink only moderate amounts.
4. Who eat balanced meals.
5. Who have seven or eight hours sleep a night.