Ques 1: A Mendelian experiment consisted of breeding pea plants bearing violet flowers with pea plants bearing white flowers. What will be the result in F1 progeny?
Ans: The result of F1 progeny will be a Violet Flower as between the two flower colours, violet colour is the dominant character.

Ques 2: Write the energy conversion that takes place in a hydropower plant.
Ans: In hydropower plant, the potential energy stored in water first gets converted to kinetic energy of water which is then used to rotate the turbine to generate electrical energy.

Ques 3: A compound 'X' on heating with excess conc. sulphuric acid at 443 K gives an unsaturated compound 'Y'. 'X' also reacts with sodium metal to evolve a colourless gas 'Z'. Identify 'X', 'Y' and 'Z'. Write the equation of the chemical reaction of formation of 'Y' and also write the role of sulphuric acid in the reaction.
Ans:


X, Y and Z are alcohol, alkene and hydrogen respectively.
Suppose X is ethanol,it gives alkene on reacting with conc. H2SO4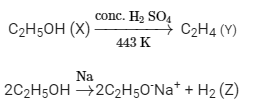 Role of sulphuric acid: It is used as a dehydrating agent in the above reaction.

Ques 4: (a) Name one gustatory receptor and one olfactory receptor present in human beings.
(b) Write a and b in the given flow chart of neuron through which information travels as an electrical impulse.


Ans: (a) The gustatory receptors detect taste and are located at tongue. The olfactory receptors detect smell and are located at nose.
(b) The a and b parts in the given flow chart are as follows:




Ques 5: If the image formed by a spherical mirror for all positions of the object placed in front of it is always erect and diminished, what type of mirror is it? Draw a labelled ray diagram to support your answer.
Ans: Convex mirror always forms an erect and diminished image irrespective of the position of the object placed in front of it.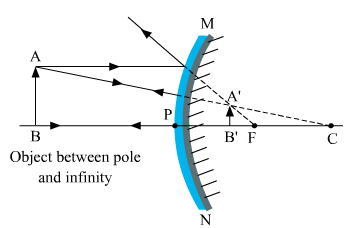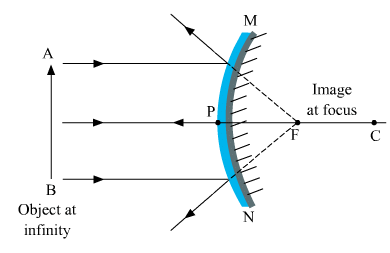 Ques 6: 2 mL of sodium hydroxide solution is added to a few pieces of granulated zinc metal taken in a test tube. When the contents are warmed, a gas evolves which is bubbled through a soap solution before testing. Write the equation of the chemical reaction involved and the test to detect the gas. Name the gas which will be evolved when the same metal reacts with dilute solution of a strong acid.
OR
The pH of a salt used to make tasty and crispy pakoras is 14. Identify the salt and write a chemical equation for its formation. List its two uses.
Ans:

Test for hydrogen: A splint is lit and held near the opening of the tube, then the stopper is removed to expose the splint to the gas. If the gas is flammable, the mixture ignites. This test is most commonly used to identify hydrogen, which ignites with a distinctive 'squeaky pop' sound
Zn + H2SO4 (dil) →→ ZnSO4 + H2
OR
The salt used to make tasty and crispy pakoras are sodium hydrogen carbonate. The chemical formula is NaHCO3.
NaCl + H2O + CO2 + NH3 →NH4Cl + NaHCO3
Two of its uses are:
(i) It is used as an antacid in medicine to remove acidity of the stomach.
(ii) It is also used in fire extinguishers.

Ques 7: (a) Why are most carbon compounds poor conductors of electricity?
(b) Write the name and structure of a saturated compound in which the carbon atoms are arranged in a ring. Give the number of single bonds present in this compound.
Ans: (a) Covalent compounds do not conduct electricity because they do not have free electrons. Current results from the motion of electrons or ions. Also, on dissolving covalent compounds in water they do not form ions. So, covalent compounds are generally poor conductor of electricity.
(b) Cyclohexane is a saturated cyclic hydrocarbon which has 18 single bonds present in it.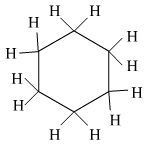 Ques 8: Name the hormones secreted by the following endocrine glands and specify one function of each:
(a) Thyroid
(b) Pituitary
(c) Pancreas
Ans: (a) Thyroid gland releases thyroxine hormone which regulates the metabolism of carbohydrates, proteins and fats in the body.
(b) The pituitary gland secretes various hormones; some common hormones out of these are as follows:
i. Growth hormone : It regulates the growth and development of bones and muscles.
ii. Prolactin hormone : It regulates the function of the mammary glands in females.
iii. Vasopressin hormone : It regulates the water and electrolytic balance in body.
iv. Oxytocin hormone : It regulates the ejection of milk during lactation.
(NOTE: You can mention any one of the given hormones.)
(c) The pancreas releases two main hormones, Glucagon and Insulin.
i. Glucagon helps in increasing sugar level of the body.
ii. Insulin helps in decreasing sugar level of the body.

Ques 9: Write one main difference between asexual and sexual mode of reproduction. Which species is likely to have comparatively better chances of survival – the one reproducing asexually or the one reproducing sexually? Give reason to justify your answer.
Ans: One major point of difference between asexual and sexual reproduction is that in asexual reproduction, a single parent gives rise to the new progenies, whereas in sexual reproduction, two different individuals are involved as parents. Both the parents produce two different kinds of gametes, which fuse to give rise to a new individual. Thus, in asexual reproduction, there is almost negligible or minimal change in the genome of the offsprings, while in sexual reproduction, all new offsprings have different genomes.
Organisms undergoing sexual reproduction are at advantage and have better chances of survival in comparison to the one undergoing asexual reproduction. This is because sexual reproduction involves fusion of two different types of gametes derived from two different individuals. This results in variation in the genome of progenies, leading to greater genetic diversity and thus better chances to adapt, escape or evolve through the selection pressures of the nature.

Ques 10: (a) List the factors on which the resistance of a conductor in the shape of a wire depends.
(b) Why are metals good conductors of electricity whereas glass is a bad conductor of electricity? Give reason?
(c) Why are alloys commonly used in electrical heating devices? Give reason.
Ans: (a) The resistance of a conductor in the shape of a wire depends on the following factors: Length of the conductor
The cross-sectional area of the conductor
The temperature of the conductor
Nature of the material used
(b) For a material to be a conductor, it has to have a reasonable number of free electrons (i.e. electrons that are loosely bound to there atoms).The more the number of free electrons available, the better it is as a conductor.Glass, for all practical purposes, has no free electrons in its crystalline structure, therefore, is an insulator. Whereas, metals have large number of free electrons in room temperature. Thus, metals are good conductors of electricity.
(c) Alloys are commonly used in electrical heating devices because
They have a higher resistivity as compared to pure metals and has high melting point.
They do not burn in oxygen i.e. they don't get oxidized readily at a higher temperature.

Ques 11: Students in a school listened to the news read in the morning assembly that the mountain of garbage in Delhi suddenly exploded and various vehicles got buried under it. Several people were also injured and there was traffic jam all around. In the brain storming session the teacher also discussed this issue and asked the students to find out a solution to the problem of garbage. Finally they arrived at two main points -one is self management of the garbage we produce and the second is to generate less garbage at individual level.
(a) Suggest two measures to manage the garbage we produce.
(b) As an individual, what can we do to generate the least garbage? Give two points.
(c) List two values the teacher instilled in his student in this episode.
Ans: (a) The measures that can be undertaken to manage the garbage we produce are:
Sorting of waste materials as biodegradable and non biodegradable can help in reducing the menace of waste management. Biodegradable materials can be used for making compost, manure etc. while non biodegradable materials may be used in other forms or recycled.
One should follow the principle of 3 R's, which is Reduce, Reuse and Recycle. All the non-biodegradable products that we use should pass through these three stages and only then should go into waste.
(b) As an individual we can help in solving this problem with the help of following steps:
Use of plastic in any form should be discouraged. For example, disposable products like plastic cups, cans, plastic bags, etc. should be used minimally.
Most of the kitchen waste can be used for making compost that can be used in potted plants and fields for increasing the soil fertility.
(c) (i) Through this exercise, the teacher instilled a sense of responsibility towards the environment in the students.
(ii) He also made them aware of how we can handle any environmental issue at an individual as well as community level.

Ques 12: What is a dam? Why do we seek to build large dams? While building large dams, which three main problems should particularly be addressed to maintain peace among local people? Mention them.
Ans: Dams are manmade structures built with aim to control, collect and divert the flow of water in flowing water bodies.
Some of the uses of building large dams are as following:
1) They are useful in flood control and collection of water for large irrigation projects.
2) They can also be used to harness hydroelectric power.
3) They act as reservoirs of water which can be for supplying water during the lean season.
Some of the major hurdles or issues that crop up during the building of large dams include:
1) Submergence of low lying adjoining areas of ecological, cultural and social importance for the local population.
2) Proper rehabilitation of people who have lost there land and livelihood to submergence of their area under the water.
3) Local interest and welfare needs to be taken into consideration while building large dams.

Ques 13: (a) The modern periodic table has been evolved through the early attempts of Dobereiner, Newland and Mendeleev. List one advantage and one limitation or all the three attempts.
(b) Name the scientist who first of all showed that atomic number of an element is a more fundamental property than its atomic mass. State Modern periodic law.
Ans: (a) Dobereiner's triads: Advantage: It made chemists look at elements in terms of groups of elements with similar properties. This led to rigorous classification of elements. Limitation: Dobereiner could identify only three triads from the elements known at that time. Eg: for F, Cl, Br. The atomic mass of Cl is not the arithmetic mean of atomic masses of F and Br.
Newland's Law of Octaves:
Advantage: This law provided a basis for the classification of element into groups of elements having similar properties. Limitation: Newland assumed that only 56 elements existed in nature, and no more elements would be further discovered in the nearer future. But later on several new elements were discovered, whose properties could not be defined as per the Law of Octaves.
Mendeleev's Periodic Table:
Advantage: He correctly predicted the properties of undiscovered elements .e.g. scandium, germanium, gallium. Limitation: Some elements having higher atomic masses were placed before those having lower atomic masses. (Co with higher atomic mass was placed before Ni having lower atomic mass)
(b) Moseley was the first scientist who showed that atomic number of an element is a more fundamental property than its atomic mass.
Modern Periodic Law: It states that "The physical and chemical properties of the elements are a periodic function of their atomic numbers." According to this law, if we arrange the elements on basis of their increasing atomic numbers, we find that the elements with similar physical and chemical behavior will be grouped together after a certain interval of elements.

Ques 14: (a) Write the function of following parts in human female reproductive system :
(i) Ovary
(ii) Oviduct
(iii) Uterus
(b) Describe in brief the structure and function of placenta.
Ans: (a) The functions of given parts of human female reproductive system are as follows:
(i) Ovary: Its major function is to produce female gametes, i.e. ova. Apart from this, it also secretes certain female sex hormones, such as inhibin, which is involved in the feedback control of pituitary FSH production.
(ii) Oviduct: Oviduct or fallopian tube acts as the site for fertilisation of male and female gametes. Once fertilisation is occurs, fertilised ovum travels down to the uterus through the oviduct.
(iii) Uterus: Uterus supports and nourishes the developing foetus with the help of placenta.
(b) The embryo gets its nutrition inside the uterus with the help of a special tissue, called placenta. Placenta is a disc of specialised tissue embedded in the uterine wall and serves as the connecting link between the mother's body and the baby. It contains blood spaces on the mother's side and thousands of villi (small projections) on the foetal side that provide a large surface area required for the exchange of nutrients and oxygen between the mother and the foetus. The wastes produced by the foetus are also removed through the placenta. It also functions as an endocrine gland and secretes hormones necessary for maintaining pregnancy.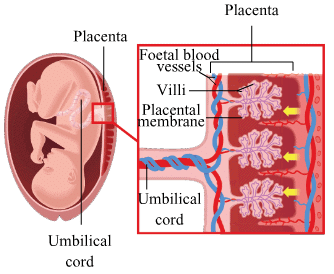 Ques 15: (a) State Fleming's left hand rule.
(b) Write the' principle of working of an electric motor.
(c) Explain the function of the following parts of an electric motor.
(i) Armature
(ii) Brushes
(iii) Split ring
Ans: (a) According to this rule, stretch the thumb, forefinger and middle finger of your left hand such that they are mutually perpendicular. If the first finger points in the direction of magnetic field and the second finger in the direction of the current, then the thumb will point in the direction of motion of the conductor or the force acting on the conductor.
(b) The working principle of an electric motor is based on the magnetic effect of current. A current-carrying loop experiences a force and rotates when placed in a magnetic field. The direction of rotation of the loop is given by Fleming's left-hand rule.
(c) (i) Armature: Armature is a coil which carries current and rotates in the magnetic field.
(ii) Brushes: Brushes are used to make contact with the rotating split-rings so as to supply current to the armature.
(iii) Split ring: Split ring is used for reversing the direction of flow of current through the coil.

Ques 16: A student added few pieces of aluminium metal to two test tubes A and B containing aqueous solutions of iron sulphate and copper sulphate. In the second part of her experiment, she added iron metal to another test tubes C and D containing aqueous solutions of aluminium sulphate and copper sulphate. In which test tube or test tubes will she observe colour change? On the basis of this experiment, state which one is the most reactive metal and why.
Ans: When pieces of aluminium are added to the solution of iron suphate (TEST TUBE A). Aluminium being more reactive than iron, Aluminium will react with ferrous sulphate to form its sulphate and iron is precipitated leaving a colourless solution.
2Al + 2FeSO4 → Al2(SO4)3 + 3Fe
When pieces of aluminium are added to the solution of copper suphate (TEST TUBE B). Aluminium being more reactive than copper, it will displace Cu from CuSO4 and a transparent solution of Al2(SO4)3 is prepared.
2Al + 3CuSO4 →Al2(SO4)3 +3Cu
In the second part, iron metal is added to solution of Al2(SO4)3 (TEST TUBE C) solution remains colorless. Iron being less reactive than aluminium, it cannot displace Al from Al2(SO4)3 solution.
Iron metal is added to solution of copper sulphate (TEST TUBE D) blue colour of CuSO4 changes to light green colored FeSO4. Iron being more reactive than copper, it displaces copper from its solution.
Fe + CuSO4 →Cu + FeSO4
Aluminium is the most reactive metal amongst the all, since it lies in the top of the reactivity series.

Ques 17: What is observed when a solution of sodium sulphate is added to a solution of barium chloride taken in a test tube? Write equation for the chemical reaction involved and name the type of reaction in this case.
Ans: When solutions of barium chloride and sodium sulphate are mixed together, then an insoluble precipitate of barium sulphate and solution of sodium chloride is obtained. Hence, this reaction is a precipitation (a kind of double displacement reaction) reaction. The chemical equation for the reaction between barium chloride and sodium sulphate is represented as follows
BaCl2 + Na2SO4 → BaSO4 + 2NaCl

Ques 18: List the steps of preparation of temporary mount of a leaf peel to observe stomata.
Ans: The steps involved in the preparation of temporary leaf mount to view stomata under the light power microscope are following:
1) Remove a healthy leaf from the potted plant.
2) Remove a part of the peel from the lower surface of the leaf. The peel can be removed by folding the leaf over and gently pulling the peel apart using forceps. Place the peel in a watch glass containing water.
3) Put few drops of safranin stain in the watch glass.
4) After 2-3 minutes, approximately take out the peel and place it on a clean glass slide.
5) Put a drop of glycerin over the peel and place a clean coverslip gently over it with the help of a needle to avoid any kind of air bubbles.
6) Remove the excess stain and glycerin with the help of blotting paper.
7) Observe the slide under the low-power and high-power magnifications of the compound microscope.