COTTON (Gossypium)
India has the largest area (7.89 mha) in the world under cotton cultivation. Cotton is a kharif crop in India. It is an important crop in wheat and coarse grain zones and alternates with wheat, jowar, and bajra.
The conditions favourable for cotton cultivation are:
(i) Uniformly high temperature, between 210C to 300C.
(ii) Moderate rainfall between 50 cm to 75 cm, should not be more than 85 cm for then crop is destroyed, crop is grown both as a dry and wet crop as in Rajasthan, Punjab, west Uttar Pradesh, Maharashtra, Madhya Pradesh and Gujarat.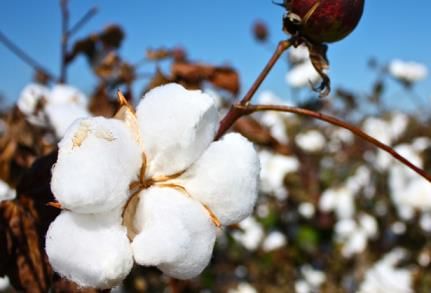 Cotton crop(iii) Grows well in drier parts of black cotton soil or 'regur' of Deccan Plateau in Maharashtra, also grown in mixed red and black soil are in Madhya Pradesh and on alluvial soils of Sutlej-Ganga plain.
(iv) Cheap labour required for sowing as well as picking.
Cotton is mainly cultivated in Maharashtra, Madhya Pradesh, Gujarat, Karnataka, Andhra Pradesh, Tamilnadu and Punjab. Other producers are Rajasthan, Uttar Pradesh and Haryana.

This low yield is because of the fluctuations in rainfall pattern, improper management of resources (like soil, nutrients, water), faulty plant protection techniques and weak extension link denying improved technology and weak extention link denying improved technology to farmers who continue to follow traditional methods.

However, a major breakthrough in cotton yield is visible because of cultivation of new high yielding strains like Hybrid-4, MCU-4, MCU-5, Sujata, CDHB-1, DHB-105, Arogya etc.

Cotton plays a dominant role in Indian agrarian and industrial economy. The crop yields cotton fibre which is indispensable to the cotton textile industry. It accounts for around 70 percent of total fibre consumption in the textile sector, which accounts for nearly 20 percent of India's industrial production, and 38 percent of exports.

Cotton seed is an important source of edible oil mostly used in vanaspati industry. Cotton production accounts for 3.5 percent of the total value of agricultural production, next only to sugarcane and groundnut amongst cash crops.
SUGARCANE (Saccharum officinarium)
India is the largest producer of sugarcane as well as sugar in the world. Sugarcane is the main source of sugar, gur and khandsari and is also consumed in chewing. It accounts for the largest value of production though covering only 1.8 percent of total cropped area of the country.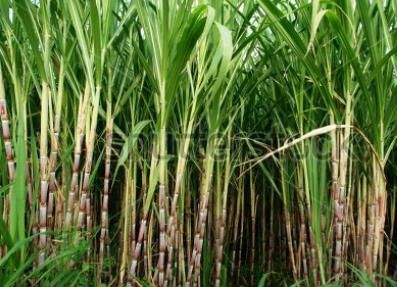 Sugarcane crop
Sugarcane is long-duration crop maturing in 10-18 months and requires hot and humid climate throughout this period. It grows best in areas with 200-260C temperature, temperature above 400C and below 150C is detrimental to crop and frost proves fatal.

It requires 100-150 cm rainfall, well distributed throughout the year. Irrigation is required in areas of lower rainfall and even in areas of heavy rainfall during the long dry spells. Too heavy rainfall produces fibrous crop.

Well manured medium and heavy soils of high fertility are ideal for sugarcane cultivation. The crop can also be grown on lighter soils and heavy clays provided there is adequate irrigation in the former and good drainage in the latter.

In India it is mostly grown on loams or clayey loams in the Great Plains and on black cotton soils, brown or reddish loams and even on laterites in the peninsular areas.

Uttar Pradesh is the leading sugarcane producing state. Other important producers in order of importance are Maharashtra, Andhra Pradesh, Tamilnadu, Karnataka. Haryana, Punjab, Bihar, Gujarat, Orissa and Madhya Pradesh.

Sugarcane cultivation is preferred by farmers because of its higher production per unit area compared to most of the other crops. Now improved varieties of sugarcane such as CO419, CO421, CO449, CO427 and CO313 are widely grown.
TOBACCO (Nicotiana)
India is the third largest producer of tobacco after China and USA and eighth largest exporter of tobacco. Occupying about 0.25 percent of total cropped area, tobacco accounts for about one percent of the total value of Indian agricultural output. It forms an important item in India's exports.
Two main varieties of tobacco are grown in India:
(i) Nicotiana tobacum (97 percent of entire tobacco crop) variety including desi and Virginia tobacco — used for cigarette, cigar, bidis, hookah, chewing and snuff purposes, and
(ii) N. rustica (accounts for 3 percent of tobacco production) including vilayati and kalkatia tobacco — used mainly for hookah, chewing and snuff purposes.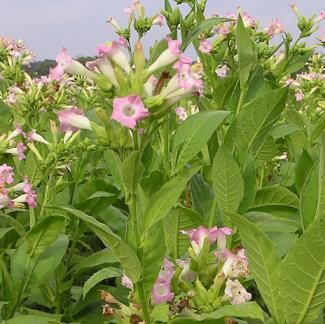 Tobacco cultivation
Tobacco is cultivated under a wide variety of climatic and soil conditions. Good soil and heavy manuring is required for its cultivation. Well drained, friable, sandy loam, not too rich in organic matter but rich in mineral salts, is preferred for its cultivation.

The crop thrives best under a wide range of temperature of 16-400C and moderate to heavy rainfall of 50 cm-100 cm. It is highly susceptible to frost. In low rainfall areas it is an irrigated crop.

Tobacco is mainly a transplanted crop requiring heavy manuring. Topping and suckering is done for improving the quality, size and body of leaves. After harvesting tobacco leaves are cured for getting the required texture, aroma and colour.

Bidi tobacco is sun dried, Virginia tobacco is cured by circulating hot air through iron pipes called flues and hookah and chewing tobacco is ground cured.

Although cultivated widely, Andhra Pradesh and Gujarat are the leading producers of tobacco, followed by Karnataka, Tamilnadu, Bihar, Orissa, West Bengal, Uttar Pradesh, Maharastra, Assam and Rajasthan.
JUTE (Corchorus Capularis)
Jute is the most important fibre yielding crop cultivated in India. It is obtained from the inner bark of two important species of jute — Corchorus capsularis and Corchours olitorus— grown in India. The fibre is cheap and has a commercial demand because of its softness, lustre, strength, length, and uniformity in size. It is used for manufacture of gunny bags, carpets, ropes and strings, rugs and clothes, tarpaulins, upholstery, re-inforced plastic, handicraft, paper pulp, geo-textiles etc. Manufactured jute goods earn much foreign exchange for the country.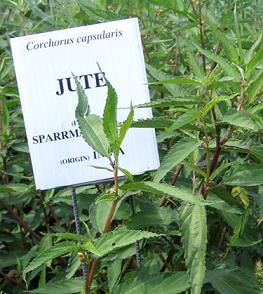 Jute cultivationCultivation of jute requires:
(i) Good alluvial soil.
(ii) Pre-monsoon showers facilitating timely sowing.
(iii) Humid and moist climate with average humidity of 90 percent and annual rainfall of over 150 cm during the main growing season, incessant and untimely rains and prolonged drought are harmful.
(iv) Temperature between, 25C-350C.
(v) Plenty of water not only for growing period but also later for retting.
When the jute plants mature they are cut and put into pools of stagnant water where the high temperature of water causes retting of plant within 20-25 days. After retting is complete bark is peeled from plant and fibre is then removed from pith. Stripping of fibre is done in water which is then dried and pressed into bales.
West Bengal accounts for more than 60 percent of the area and production of jute in the country. Assam, Bihar, orissa, Meghalaya, Tripura and Terai region of Uttar Pradesh account for most of the remaining.
Jute fibre is eco-friendly and biodegradable. In order to produce one tonne of synthetic fibre at least 31 kg of nitrogen dioxide and 12 kg of sulphur dioxide are emitted in air when refined fossil fuel is used; figures may increase even upto 155 kg and 70 kg respectively when crude petroleum is used. Whereas one tonne of jute is produced from only 4 tonnes of friendly biomass and fixes nearly 6 tonnes of carbon dioxide.

MESTA
Mesta fibre, also obtained from two main species Carchorus capsularis and Coliorus, is a close substitute of jute. Besides fibre, mesta is also used in manufacture of paper pulp. Mesta seeds also contain oil which is used for culinary purposes. The oil has good saponification value and hence can be used for soap preparation. Some wild forms of mesta possess fleshy red calyces which are used to prepare jam, jellys and pickles.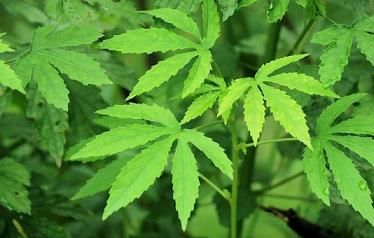 Mesta crop
Mesta is a much hardier crop than jute and is grown almost all over the country. It can tolerate moisture stress and can thrive in drought-prone areas as well as in high rainfall areas, if proper drainage is available. It can also be kept for some time after harvest till retting water is available.

Mesta is cultivated mainly in Andhra Pradesh, Assam, Bihar, Karnataka, Madhya Pradesh, Maharashtra, Meghalaya, Orissa, Rajasthan, Tamil Nadu, Tripura and West Bengal.

Although the crop is grown throughout the country, certain constrains adversely affect its cultivation and yield. Mesta is generally a rainfed crop. The uncertainty in rainfall affects timely sowing and fertiliser application. It is grown in marginal lands.

As mesta varieties are not notified it is difficult to produce certified seeds of high yielding varieties. Good seed is therefore not available to farmers.

In most mesta growing areas retting facilities are not available which results in poor quality of fibre. Lack of marketing facilities discourages most farmers from investing in mesta cultivation.

Mesta is the most important cash crop in developing countries because it is potentially profitable than other crops. It provides raw material for industrialisation.

It can be grown on a variety of soil and climates and provides better cash returns than any other crop from such soils. It requires less labour and can be produced with less care and cheaply.

It has many uses like fibre, oil, paper pulp, jam, jelly and pickles. It produces high biomass.
As the area under jute cannot be increased further because of specific growing conditions, efforts are needed to increase the area under mesta.

OILSEEDS
The bulk of oilseeds production in India is derived from nine varieties of cultivated oilseeds, viz. groundnut, rapeseed, mustard, sesame, nigerseed, soyabean, sunflower, linseed and castor seed. Among these groundnut and rapeseed/mustard together account for 62 percent of total oilseeds production. Soyabean and sunflower of late have emerged as the oilseeds crops having major growth potential.

OilseedsGujarat is the largest producer of kharif oilseeds while Uttar Pradesh is the largest producer of rabi oil-seeds. The other important oilseed producing states are Andhra Pradesh, Madhya Pradesh, Maharashtra, Rajasthan, Karnataka and Tamil Nadu. Various measures are being undertaken to increase the production of oilseeds. They are — the National Oilseed Development Project (NODR), and Oilseed Production Thrust Project (OPTP). In addition, a Technology Mission on Oilseeds, established in 1986, has been working to harness the best of production, processing and management technologies to accelerate self-sufficiency.

RAPESEED (Brassica Compestris Toria) and MUSTARD (B. Compestris juncea)
These produce important edible oils and are also used as condiments for making pickles, for flavouring curries and vegetables. Oilcake of rapeseed is an important cattle-feed. They thrive only in cool climate and area grown as pure rabi crops or mixed with wheat, gram and barley.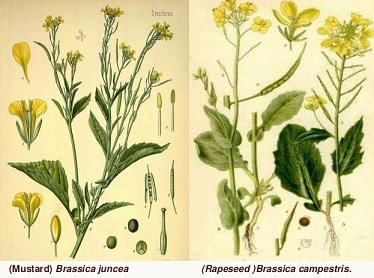 Rapeseed and mustard cropThey are grown on loams; slightly heavier soils favourable for mustard and light ones for rapeseed. India ranks first both in area and production of rapeseed and mustard in the world. In India, the major producer is Uttar Pradesh followed by Rajasthan, Madhya Pradesh, Punjab and Haryana. Assam, Bihar, West Bengal, Orissa, Gujarat and Jammu Kashmir are the other producers.

LINSEED (Linun usitatissimum)
Linseed oil, due to its drying property, is used in paints, varnishes, printing inks, oil and waterproof fabrics.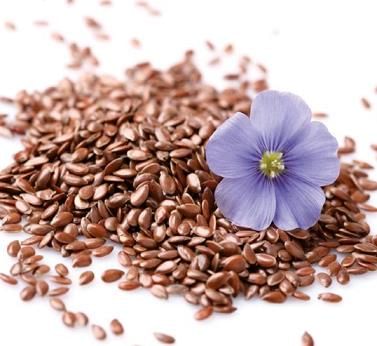 Linseed
It is also used as edible oil. It can be grown in varied physiological conditions although it prefers cool moist climate with 45-75 cm rainfall. It grows best on clay loams and deep black soils of the peninsula and alluvial soils of Great Plains. The leading producers of linseed are Uttar Pradesh and Madhya Pradesh followed by Maharashtra, Bihar, Rajasthan and West Bengal.

SESAMUM (Sesamum indicum)
India is the largest sesamum producing country in the world. Its oil is mainly used for cooking, for the manufacture of perfumery and medicines. It is also eaten in fried form and its oilcake is fed to cattle.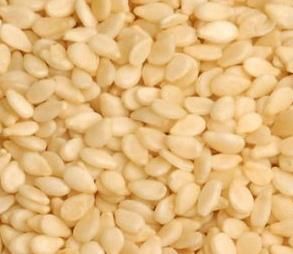 Sesamum
Its cultivation requires a temperature of 210C-230C and a moderate rainfall. It requires well-drained loamy soils. It is widely grown in India, both in Sutlej-Ganga plain and on the Deccan plateau. The important producers are Uttar Pradesh, Rajasthan, Maharashtra, Madhya Pradesh, Orissa, Gujarat, Karnataka, Andhra Pradesh and Tamilnadu.

GROUNDNUT (Arachis hypogaea)
Also known as peanut, contains 42% oil, mainly used for manufacture of hydrogenated oil.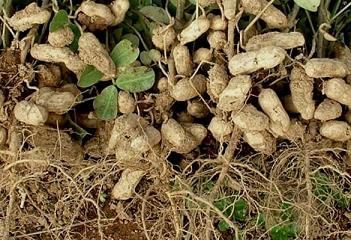 Groundnut
India is the leading producer of groundnut in the world. Its cultivation requires light soil well-drained, sandy loams rich in organic matter, about 75 cm to 85 rainfall, about 200 to 250C temperature and dry weather at the time of ripening. Groundnut is a tropical crop and is extensively grown in peninsular India covering Gujarat, Maharashtra, Tamilnadu, Andhra Pradesh and Karnataka. Rajasthan, Madhya Pradesh, Punjab and Uttar Pradesh are the other producers.

CASTOR SEED (Ricinus Communis)
The oil from castor seed is used for domestic, medicinal and industrial purposes. The oilcake is used as manure and castor leaves are fed to eri-silkworms. It thrives well in warm and relatively dry climate areas with an annual rainfall of 50-75 cm.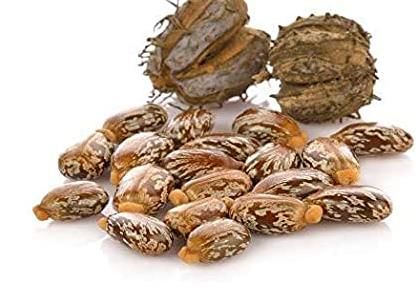 Castor seed
It is usually grown on red sandy loams in peninsular India and on light alluvial soils of Sutlej-Ganga plain. Andhra Pradesh is the largest producer of castor seed, closely followed by Gujarat, Orissa, Karnataka, and Tamilnadu, Madhya Pradesh, Assam and Maharashtra are the other producers.