CHANGES IN ADMINISTRATIVE STRUCTURE
Introduction
Overhauling of the administration of Bengal and foundation of a new system based on English pattern under Warren Hastings and Cornwallis. Three pillars of British administration in India-Civil Service, Army and Police.
Civil Service
Failure of the attempts of Clive and Warren Hastings to put an end to corruption among officials.

Introduction of Civil Service by Cornwallis and his reforms to purify and improve administration.

Establishment of the College at Fort William in Calcutta by Wellesley to train the young Civil Servants, and its replacement by East India College at Haileybury in England.

Discontinuation of the practice of appointing civil servants by the Court of Directors and starting of the practice of selecting civil servants through a competitive exam with the passing of the Charter Act of 1853.

A special feature of Indian Civil Service was the exclusion of Indians from it.
Reasons
The belief that an administration based on British model could be firmly established only by English personnel.

Lack of trust in the ability and integrity of the Indians.

A deliberate policy-because the task of establishing and consolidating British rule in India could not be left to Indians .

The desire of the influential class of British society to preserve the lucrative posts in civil service for their sons.

However, Indians were recruited in large numbers to fill subordinate posts as they were cheaper and much more readily available than Englishmen.

Question:

Who introduced civil services in India?
Army
An instrument to conquer Indian powers.

Defence of British empire in India from foreign rivals.




Safeguarding the British supremacy from the threat of internal revolt.

Employment of large number of Indians as soldiers and appointment of only British as officers as a counter_ weight .
Police
Relieving the zamindars of their police functions and establishment of a regular police force to maintain law and order by Cornwallis.

Modernising the old indian system of thanas

or circles headed by a Daroga and creation of the post of District Superintendent of Police later.
Labour and Trade Union Organisations
Organisations Founder, Year & Place

Bombay Mill and Millhands − N.M. Lokhande, 1880, Bombay Association

Working men's club

−

Sasipada Banerjee, 1870, Calcutta

Printer's Union

−

1905, Calcutta

Railway men's Union

−

1906, Calcutta

Kamgar Hitwardhak Sabha

−

1909, Bombay, S.K. Bole

Social Service League

−

1911, Bombay

Madras Labour Union

−

G. Ramajaulu Naidu and Chalapathi, 1918, Madras.

Amalgamated society of Railway

−

1897, Calcutta servants of India

Ahmedabad Textile Labour

−

Gandhiji, 1920, Ahmedabad Association

All India Trade Union Congress

−

N.M. Joshi & Roy Choudhary, 1920, Bombay. President (aituc) by Lala Lajpat Rai

Bombay Textile Labour Union

−

N.M. Joshi Bombay.

All India Trade Union Federation

−

N.M. Joshi, 1929 (AITUF)

National Federation of Trade Union

−

N.M. Joshi (NFTU)

Hindustan Majdoor Sabha

−

Vallabhabhai Patel, Rajendra Prasad, Kriplani 1938

Indian Federation of Labour

−

N.M. Roy, 1944

Indian National Trade Union

−

Vallabhbhai Patel, 1944 Congress (INTUC)

Jamshedpur Labour Association

−

S.N. Haldar, Recognised under C.F. Andrews in 1925.
Exclusion of Indians from all officer's posts.

Reduction of major crimes, such as decoities, suppression of 'thuggee', prevention of the organisation of large scale conspiracy against foreign control were its achievements.
CHANGES IN POLICIES
Judicial Policy
Civil Courts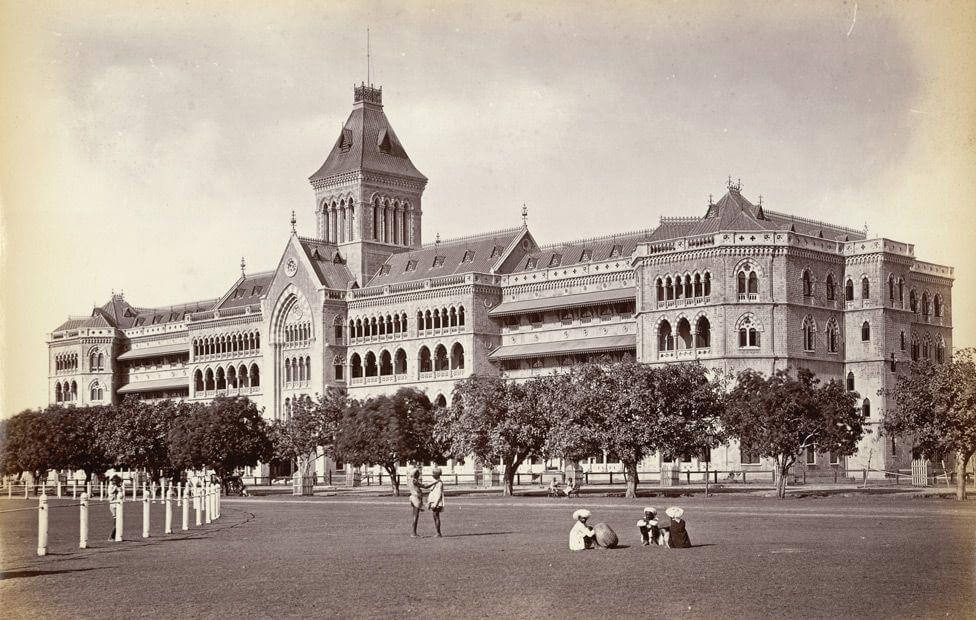 Old Vintage - High Court, Bombay
Subordinate courts (headed by Indian Judges known as Munsifs and Amins).

Registrars Courts (headed by Englishmen).

4 Provincial Courts of Civil Appeal.

Sadar Diwani Adalat.
Criminal Courts
Subordinate Courts presided by Indian magistrates.

4 Courts of Circuit presided over by Civil Servants.

Sadar Nizamat Adalat
Important Battles

Battle of Khed (1707) Sahu defeated Tara Bai

Battle of Palkhed (1728) Baji Rai I defeated the Nizam (Nizam -ul - Mulk)

Battle of Bhopal (1737) Baji Rao I defeated the Nizam

Battle of Udaipur (1760) Marathas defeated the Nizams

Third Battle of Panipat (1761) Ahmed Shah Abadli defeated the Marathas

Battle of Manihari (1756) Siraj-ud-daulah defeated his rival Saukat Jang

Battle of Plassey (June 1757) The English defeated Siraj-ud-daulah

Battle of Bidira (Nov. 1759) The English defeated the Dutch

Battle of Buxar (Oct. 1764) The English defeated the combined forces of Mir Qasim,

Shuja Ud-daulh

and Shah Alam II

First Anglo-Mysore war (1766-69) Fought between Haider Ali and the English Finally peace was restored

Battle of Chiukunali (1771) The Marathas defeated Haider Ali

Second Anglo Mysore war (1780-84) Fought between the English and Haider Ali later carried on by Tipu Sultan

Third Anglo-Mysore war (1789-92) The English defeated Tipu Sultan

Fourth Anglo-Mysore War (1799) The English defeated Tipu Sultan

First Anglo-Sikh War (1845-46) The English defeated the Sikhs

Second Anglo-Sikh War (1848-49) The English defeated the Sikhs and finally annexed Punjab

Battle of Gujarat (1849) The English defeated the Sikhs

Battle of Shakrakhed (1724) The Nizam defeated Mubariz Khan
Bentinck's Reforms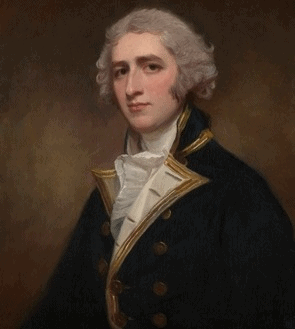 Lord William Bentinck
Abolition of the Provincial Courts of Appeal and Circuit and assignment of their work to Commissioners and later to District Judges and Collectors .

Raising the status and powers of Indians in the judicial service.

Establishment of High Courts by Lord John Lawrence at Calcutta, Madras and Bombay in 1865 to replace the Sadar Courts of Diwani and Nizamat.

Codification of Indian laws by a Law Commission headed by Lord Macaulay - The Charter Act of 1833 conferred law-making powers on the Governor-General-in-Council. Thus, the British established a new system of laws through the process of enactment and codification of old laws.

Introduction of the Rule of Law, i.e., administration in accordance of law.

Introduction of Equality before Law, which meant that in the eyes of law all men are equal
Social Policy
Till 1813 the British followed a policy on non-interference in the religious, social and cultural life of the country, but after 1813 they took active steps to transform Indian society and culture.

Rise of new ideas and new interests in Britain during the 19th century, which ushered in the second stage of colonialism, which in the turn required partial transformation and modernisation of Indian society.

Pressure from the radicals in Britain to introduce modern Western sciences, philosophy and literature to remove the evils in Indian society.

The policy of modernising Indian society and culture was also encouraged by Christian missionaries and religious-minded persons, who wanted to spread Christiantiy in India.

Pressure of Indians like Rammohan Roy and other like-minded Indians, who were sick of caste prejudices and other social evils and who believed that the salvation of India lay in science and humanism.

But the British Government followed a policy of only partial transformation, and gradual and cautious modernisation of Indian society.
Books, Journals & News Papers

Aurobindo — Bhawani Mandir, New Lamps for Old, Doctrine of Passive Resistance, Bande Mataram.

Ambika Charan Mazumdar — Indian National Evolution Annie Besant — New India, and Commonweal

B.C. Horniman — Bombay Chronicle.

Bipin Chndra Pal — New India

Brahmobandhab Upadhyaya — Sandhya and Yugantar

Behramji Malabari — Notes

Bibhuti Bhushan Banerji — Pather Panchali

Bamkim Chandra Chatterji — Ananda Math

Curzon — Problems of the East

C.V. Raman Pillai — Martanda Verma

C.F. Andrews & Girija Mukherji — Rise and Growth of Congress of India

Chander Mohan — Indu Lekha

Dange — The Socialist, Gandhi versus Lenin

Dadabhai Naoroji — Poverty and Un-British Rule in India

Dinshaw Wacha — Shells from the Sand of Bombay

Din Bandhu Mitra — Nil Darpan

Evr Naicker Periyar — Kudi Arasu

Jawahar Lal Nehru — Soviet Russia, Whither India, Discovery of India

Jyotibha Phule — Ghulam Giri

J.P. Narayan — To All Fighters of Freedom, Why Socialism

Khan Abdul Gafar Khan — Pakhtun

K. Ramakrishna Pillai — Swadeshabhimani

Lala Harkrishan Lal — Tribune

Lala Lajpat Rai — The people, The Punjabi, Bande Mataram, Young India, Unhappy India

Gandhi — Hind Swaraj, My Experiments with Truth, the Harijan

G.G. Agarkar — Co-edited with Tilak the Kesari and Maratha, and edited Sudharak
Reasons for this kind of policy
While British interests in India would not be served without some modernisation, full modernisation would generate forces which would go against their interests and would in the long run endanger British supremacy in the country.

Continuous prevalence of the conservative outlook among the British officials in India, who though realised the necessity of introducing some western ideas and practices into India, favoured social stability above all hence opposed any programme of rapid modernisation.
Books, Journals & News Papers

Goverdhan Ram — SaraswatiChandra

Hunter — Indian Mussalmans

Harish Chandra Mukherji — Hindoo Patriot

Indulal Yagnik — Kisan Bulletin

M.N. Roy & Ambani Mukherjee — Indian Transition

Mukund Rao Patil — Din Mitra

Maulana Azad — India Wins Freedom, Al Hilal

Monstrut

Elphinstone

— History of India

Nazrul Islam — Langal (along with Muzafar Ahmad)

Madame Cama — Vande Mataram (Paris)

M.N. Lakhaday — Din Bandhu

Michael Madhusudan Dutt — Meghrabadh

Pandit Ramnarayan — Ratnavali, Kulin Kula, Sarvasa

Rabindra Nath Tagore — Gore, Ghari Baire, Letters from Russia

R.C. Dutt — Peasantry of bengal, Economic History of India

Sachin Sanyal — Bandi Jiban

Satish Chandra Mukherji — Dawn

Surendra Nath Banerji — Bengali

Shyamji Krishna Verma — Indian Sociologist

Sasipada Banerji — Bharat Shramjeevi

Sachidanand Sinha — Indian People

Subhas Chandra Bose — The Indian Struggle

Singaravelu — Labour Kisan Gazette

Vivekananda — Karma yoga, Rajyoga, Bhakti Yoga

W.C. Banerjee — Indian Politics

Zafar Ali Khan — Zamindar
Thus all the British people, whether conservatives or radicals desired most of all the safety and perpetuation of British rule in India. Every other consideration was of a :secondary importance. As a matter of fact, the policy of modernisation was gradually abandoned after 1858 as Indian proved to be opt pupils.
Humanitarian Measures
Sati - A Banned Funeral Custom in India
Prohibition of female infanticide by Bentinck and Hardinge.

Prohibition of human sacrifice by Hardinge.

Passage of the Widow's Remarriage Act by Dalhousie in 1856.

Question:

Gandhiji wasn't associated with which of the following?