Light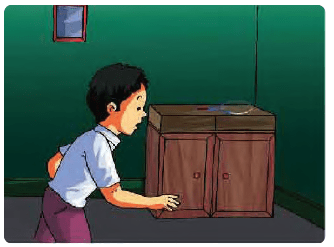 Go to a room. Close all doors and windows. Switch off the light bulbs. Can you see anything? No. We cannot see anything when it is dark. Switch on the light. Now you can see. What do we need to see? We need light. Light helps us to see.
Sources of Light
Things that gives us light are called sources of light.
During day time, the sun gives us light. The sun is the main source of light for us. During night time, moon and stars also give us some light. An insect called glowworm also gives off light. The sun, stars and glowworms are natural sources of light.
How do we see things when we are inside a room where sunlight cannot reach? We need things like glowing electric bulb, burning candle, torch, lamp, etc to see. These things also give us light. The candle and the electric bulb are artificial sources of light. Artificial sources of light are made by humans.
Sources of light are also called luminous objects. A table or a book does not give out light. Objects that do not produce their own light are called non-luminous objects.

Shadow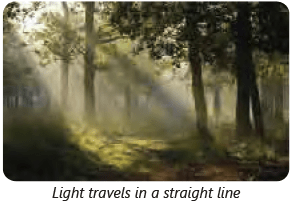 Light travels in a straight line making thin beams of rays. When these rays of light are blocked by any object, a shadow of that object is formed.
When you stand in the sun, you block the path of sunlight. This is why your shadow is formed. Your shadow formed in sunlight looks like you.
Stand in the sun once in morning, once in the afternoon and once in the evening.
Observe your shadow. Shadows are longer in morning and evening. It is small in the afternoon.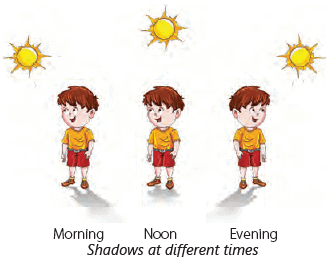 Properties of Shadow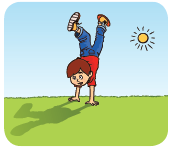 Shape of the shadow is similar to the shape of the object.
The size of the shadow can be smaller or bigger than the object.
Shadows are always black in colour.
Shadow always forms on the opposite side of the source of the light.
Transparent, Translucent And Opaque Objects
We can see through some things clearly. The allow light rays to pass through them. These are called transparent substances. Glass, clear plastic sheet are transparent substances. Clear water is also transparent.
We want sunlight to come in the rooms and kitchen of our house through the windows. We also want to see outside through them. Therefore, we use transparent glass in window panes in the rooms and kitchen. Spectacles are made of transparent glass or plastic so that you can see through them.


We can see through some things only partially. They allow light to pass through them partially. These are called translucent substances. Frosted glass, coloured plastic sheet are translucent substances. Oiled paper, light coloured wet handkerchief also becomes translucent.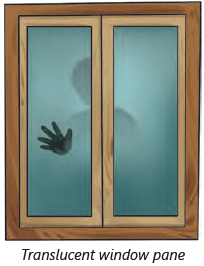 We want the light to enter into our bathrooms. However, we do not want anyone to see inside. Therefore, we use translucent frosted glass in the windowpanes in our bathrooms.
We cannot see through some things at all. They do not allow light to pass through them. These are called opaque substances. Wood, rock, metals are opaque substances.
At night, we switch on the lights in our house. However, we do not want anyone outside to see inside our house. So we use curtains made of opaque material (cloth) to cover the window panes at night.

Sound
We hear sound all around us. We hear people talking, birds chirping, cars honking, and doorbell ringing. We produce sound when we talk, laugh, clap and run. Leaves too make rustling sound when wind blows.
Pleasant and Unpleasant sounds
Some sounds make us happy while some sounds make us irritated.
Sounds which makes us happy or do not irritate us are pleasant sound. Birds chirping, someone singing, clock ticking are some pleasant sounds.
Sounds which irritate us are unpleasant sound. Vehicles honking in traffic, loud music, loud sound from factories are some unpleasant sounds. These sounds are called noise. Noise disturb us and it can make us sick. We can also get headache from noise.


Force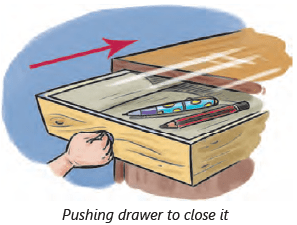 When you have to move something, what do you do?
You either push it or pull it.
When you kick a football, you push it.
When you lift a football with your hands, you pull it towards yourself.
We pull and push all day doing various work.
You pull a drawer to open it.
You push to close it.
You push a cricket ball with your bat.
You pull a book towards yourself, if you want to pick it up.
A push or pull on an object is called force.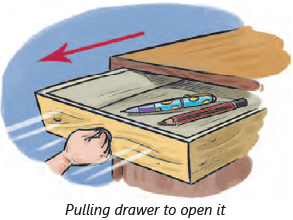 Effects of Force
A force can do many things. It causes change. Objects cannot move untill a force is applied. Force helps us to make an object move, slow down, speed up, stop, and change the direction.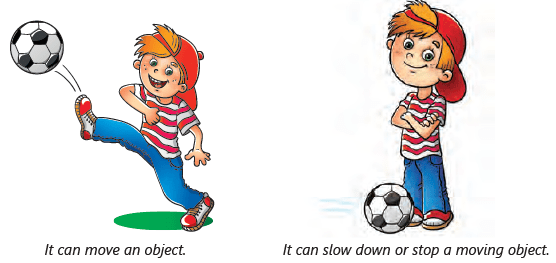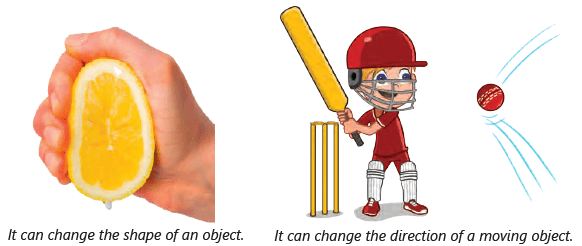 Look at the picture. Rehan is throwing the ball using a force. Akash hits the ball and changes the direction of the moving ball. The ball flies and moves towards Ria. Ria catches the ball. She stops the movement of the ball.