UPSC : Circulatory System - Notes, Biology Notes | EduRev
All you need of UPSC at this link:
UPSC
CIRCULATORY SYSTEM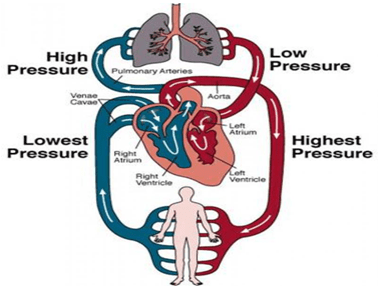 Human Heart
Human Heart and its Functioning;-
Enclosed in a tough, 2 – Layered Connective Tissue Sac, the Pericardium.
Has 4 Chambers : 2 upper Smaller Auricles and 2 Lower Larger Ventricles.
The right auricle receives 2 Large Veins : superior vena cava and inferior vena cava.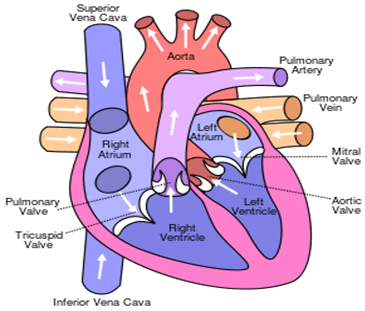 The right auricle opens into right ventricle through tricuspid valve.
The right ventricle gives off a large blood vessel which carries deoxygenated blood to the lungs.
This blood vessel is guarded by semi – lunar valve to prevent backflow of blood into ventricles.
Blood again returns to heart from the lungs in left auricle. Now the blood is oxygenated.
The left auricle opens into left ventricle through a bicuspid valve.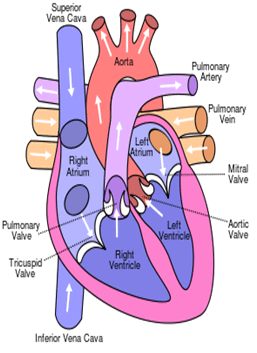 From the left ventricle the blood flows throughout the body through a large blood vessel called aorta.
It is again guarded by semi – lunar valves to prevent back – flow of blood.
To pump – out blood, the heart chambers undergo alternate contraction called systole and relaxation called diastole.
The regular sequence of these systole and diastole causes the heart sound LUBB and DUPP.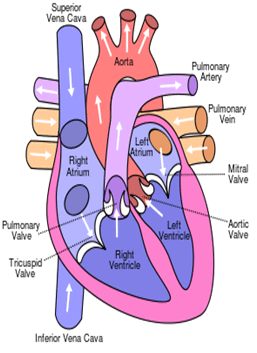 Lubb is produced by the closing of tricuspid and bicuspid valves while dupp is produced by the closing of semi – lunar valves.
Our heart – beat is myogenic in nature ie, it is initiated by a patch of modified heart muscles itself without requiring an external stimulation.
Normal heart beat is 72 /min.
Heart Failure : When S.A. node does not initiate any impulse.
Sphygmomanometer measure the BP. There are 2 limits of BP :
Higher limit is the systolic BP at the time of ventricular systole while lower limit is the diastolic BP at the time of ventricular diastole. BP is 120/80 mm of Hg.
Artery

Vein

Transports Blood away from the Heart.

Transports Blood towards the Heart.

No Semilunar Valves (Except where they Leave Heart).

Semilunar valves at intervals along the length to prevent backflow of
blood.

Pressure of Blood is High and has a Pulse.

Pressure of Blood is Low and no pulse Detectable.

Blood Flow Rapid

Blood Flow Slow

Low Blood Volume

Much higher Blood Volume than Capillaries or Arteries.

Blood Oxygenated except in Pulmonary Artery.

Blood Deoxygenated except in Pulmonary Vein.
Diseases of Heart
Angina pectoris

Pain in Heart Muscles, appearing as Chest Pain. It is caused due to Obstruction in Coronary Artery.

Tachycardia

Increased rate of Heart Beat.

Bradycardia

Decreased rate of Heart Beat.

Heart attack

When symptoms such as breathlessness, palpitations, pain in the chest, unconsciousness appear suddenly. Nitroglycerine is used for the treatment.

Heart block

When heart beat is not passed to the ventricles properly. This is the defect of conducting system of the heart.

Arrythmia

It is irregular heart beat.

Coronary Thrombosis

Due to formation of clot in coronary artery

Atherosclerosis

Thickening of walls of blood vessels due to deposition of fat including cholesterol. Frequently causes Myocardial Ischaemia (inadequate flow of blood to a part of heart) leading to myocardial infarction (death of tissue
due to lack of blood).

Myocardial Infarction

It is the death of a part of heart muscle following cessation of blood supply to it. It is acute heart attack.