Meaning of Citizenship
Constitutional and Statutory basis and citizen's rights:
The population of a state may be classified as citizens and aliens. Aliens may be 'friendly' or 'enemy'.
While citizens enjoy full civil and political rights, aliens do not enjoy all of them. Enemy aliens are further deprived of rights under clauses (1)-(2) of Art. 22.
Citizens are members of the political community to which they belong. They are the people who compose the state.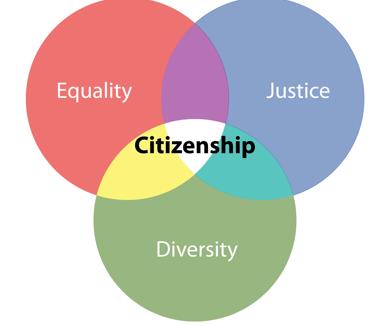 Citizenship
Single Citizenship
Indian citizenship is a single citizenship i.e. citizenship of India. Our Constitution, though a federal one, does not provide for double citizenship. In federal states like the USA and Switzerland, there is dual citizenship, i.e. citizenship of the state to which the person belongs and federal or national citizenship.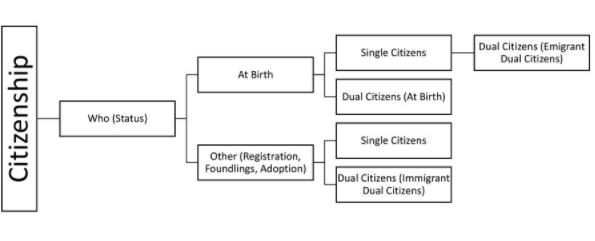 Citizenship as status
Constitutional and Statutory Basis
The Constitution did not wish to lay down permanent law relating to citizenship in India. It simply describes the classes of persons who would be deemed to be citizens of the country on the date when the Constitution commenced. However, Parliament has enacted the Citizenship Act, 1955. Arts. 5-11 of Part II of the Constitution and subsequent amendments provide an elaborate provision for acquisition and termination of citizenship.
Citizens' Rights
Citizens of India have the following rights under the Constitution which aliens shall not have:
(i) Some of the fundamental rights enumerated in part III of the Constitution, e.g. Arts. 15, 16, 19, 29, 30.
(ii) Only citizens are eligible for certain offices such as President [Art. 58 (i) (a)]; Vice President (Art.66); Judge of the Supreme Court (Art.124) or a High Court (Art. 217); Attorney General (Art. 76); Governor of a State (Art. 157), etc.
(iii) The right of suffrage (Art. 326), the right to become a member of Parliament (Art. 84), and of the legislature of a state [Art. 191 (d)]
Citizens on January 26, 1950
Under Arts. 5-8 of the Constitution, the following persons became citizens of India at the commencement of the Constitution:
(i) A person born as well as domiciled in the 'territory of India' [Art. 5(a)].
(ii) A person domiciled in the 'territory of India', either of whose parents was born in the territory of India—irrespective of the nationality of his parents or the place of birth of such person [Art. 5(b)].
(iii) A person who or whose father or mother was not born in India, but who (a) had been ordinarily residing within the territory of India for not less than 5 years immediately preceding the commencement of the Constitution. In this case also, the nationality of the person's parents is immaterial. [Art. 5(c)].
(iv) A person who had migrated from Pakistan, provided
(a) He or either of his parents or grandparents was born in India as defined in the Government of India Act, 1935 (as originally enacted).
(b) If he had migrated before July 19, 1948—he has ordinarily resided within the "territory of India" since the date of such migration (in this case no registration of the immigrant is necessary for citizenship); or if he had migrated on or after July 19, 1948, he further makes an application before the commencement of the Constitution for registering himself as a citizen of India and has resided in the territory of India for at least 6 months before such application [Art.6].
(v) A person who migrated from India to Pakistan after March 1, 1947, but had subsequently returned to India under a permit issued under the authority of the Government of India or provided he gets himself registered in the same manner as under Art. 6(b) (ii) [Art.7].
(vi) A person who, or any of whose parents or grandparents was born in 'India' as defined in the Government of India Act, 1935 (as originally enacted) but who is ordinarily residing in any country outside India (whether before or after the commencement of this Constitution) [Art 8.].
Acquisition of Citizenship
(i) Citizenship by Birth: Every person born in India on or after 26th January 1950 but before 30 June 1987; and those born on or after 1 July 1987 and if either of his parents was a citizen of India at the time of his birth, shall be a citizen of India by birth.
(ii) Citizenship by descent: If a person was born outside India on or after 26 January 1950 and if either of his parents was a citizen of India at the time of person's birth, shall be or deemed to be a citizen of India.
Note: The above two types are natural citizens.
(iii) Citizenship by Registration: If registered under competent authority, the following categories of people can become a citizen of the country :
(a) A person who is of Indian origin (either of his parents/grandparents being born in undivided India) and has been residing in India for five years immediately before the application for registration;
(b) A person of India origin residing outside the country;
(c) A woman married to an India citizen; and
(d) Minor children of Indian citizen parents.

Modes of acquiring Indian citizenship(iv) Citizenship by Naturalisation: A foreigner can acquire Indian citizenship on the application provided he fulfills certain conditions:
(a) He should belong to a country where Indians are granted citizenship.
(b) He should have renounced the citizenship of his country and sent a necessary intimation to the Indian government.
(c) He should be living in India or serving the Government of India for at least ten years preceding the date of application.
(d) He should have a good moral character and working knowledge of an Indian language.
(v) By Incorporation of Territory: If any new territory becomes a part of India, the GOI specifies the persons of that territory who shall be citizens of India.
Amendments of the Citizenship Act
The Citizenship Act, 1955 was amended in 1986 to check the clandestine influx of persons from Bangladesh, Sri Lanka, and many African countries.
The following changes were made:
(i) Citizenship of India by birth can be acquired by a person only if either of his parents was a citizen of India at time of his birth.
(ii) The minimum time required for registration has been increased from six month to five years.
(iii) Woman Marrying Indian citizen must have been resident of India for five years before making an application.
(iv) A person from a non-Commonwealth country should have lived for 10 years in India to apply for grant of a certificate of naturalisation.
Termination of citizenship
The 1955 Act lays down the various ways in which Indian citizenship and its attendant rights may be lost. These are:
(i) Renunciation of citizenship by the voluntary act: If a person acquires the citizenship rights of two nations, he may abjure one of them.
(ii) Termination of citizenship: Termination shall take place by operation of law as soon as a citizen of India voluntarily acquires the citizenship of another country.
(iii) Deprivation of citizenship: This is compulsory termination of the citizenship of India by an order of Government of India if it is satisfied that Indian citizenship has been acquired by a person by fraud means or that he has shown himself to be disloyal or disaffected towards the Constitution of India.
Enforcement of fundamental duties
A duty is an obligation which we owe to others as social beings. What is right with regard to one's self is a duty in regard to others. They are two aspects of same things. Laski describes the relation between the two in following three ways:
(i) It is imperative duty of a citizen to use his rights in such a way as to constitute to social richness;
(ii) The enjoyment of his rights by an individual enjoins on him the duty to let others enjoy the same rights; and
(iii) Since the state protects my rights, therefore, it is my duty to perform my obligations towards it.
Most Western States' (like USA) Constitution give important place to the rights of the citizens but make no mention of his duties. Japan, perhaps, is the only exception which has adopted the Western model of liberal democracy and has also included a number of duties in its Constitution. The Constitution of the socialist states, led by USSR, on the contrary, give equal importance to the rights and the duties of their citizens.
Originally Indian Constitution did not have any chapter on fundamental duties. It was during the period of internal emergency declared in 1975 that need and necessity of fundamental duties was felt and accordingly a committee under Sardar Swaran Singh was appointed which recommended the inclusion of a chapter on fundamental duties in the Constitution so that the people of India became conscious that in addition to rights they also had certain duties to perform as well. As a result 42nd amendment was carried out in 1976 which inserted Part IV A containing Art. 51-A in the Constitution.
Parliamentary Terms
Vote of Credit & Exception Grants: During national emergency, the House might grant lump-sum money without details through a vote of credit. Exception grants are meant for special purpose.
Quorum: The minimum number of members of the legislature must be present to make the proceedings valid. The minimum number of required members for the fulfillment of quorum is equal to the one tenth of the total number of members of the legislature including the speaker or the person acting as such.
Token cut: The amount of demand for grant to be reduced by Rs 100. Most widely used objective is to voice a particular grievance for which the Government of India is responsible. (Cut motion is a device to initiate discussion on demands for grants moved generally by opposition, it has a symbolic value).
Whip: Organizing Secretary of a Parliamentary party, with authority over its members to maintain discipline and secure attendance at Parliamentary debates and voting. Whip also means an order given by such secretary to members of the party of attend a debate and vote.
No Confidence Motion: A resolution introduced by the opposition claiming that the House has lost its confidence in the government.
According to Parliamentry Terms, there are ten fundamental duties of every citizen of India. They are:
(i) To abide by the Constitution and respect the National Flag and the national Anthem.
(ii) To cherish and follow the noble ideals which inspired our national struggle for freedom.
(iii) To protect the sovereignty, unity and integrity of India.
(iv) To defend the Country.
(v) To promote the spirit of common brotherhood amongst all the people of India.
(vi) To preserve the rich heritage of our composite culture.
(vii) To protect and improve the natural environment.
(viii) To develop the scientific temper and spirit of inquiry.
(ix) To safeguard public property.
(x) To strive towards excellence in all spheres of individual and collective activity.
Direct enforcement
There is no provision in the Constitution for direct enforcement of any of these duties nor for any sanction to prevent their violation. But it may be expected that in determining the constitutionality of any law if a court finds that it seeks to give effect to any of these duties, it may consider such law to be 'reasonable' in relation to Art.14 or 19, and thus save such law from unconstitutionality. It would also serve as a warning to reckless citizens against anti-social activities such as burning the Constitution, destroying public property. The Supreme Court has held that since the duties are obligatory for a citizen, it would follow that the State should also strive to achieve the same goal. The court may, therefore, issue suitable directions in these matters, in appropriate cases.