SECTION A — READING
Q.1. Read the following passage carefully :
1. With eager anticipation we awaited the next stage. A tailor was called in to measure us, five boys and one girl, Mary Lila Rao, for the sports kits. I was filled with happiness, just like a child who had been given a bag full of candy After all, I would be fulfilling my dream to wear a blazer with INDIA written on it!
2. A week later, we left for Australia. The night before we left I could not sleep. My small suitcase had been packed with my kit and bedding and I waited for the sun to rise. Excited by the prospect of what lay ahead, we boarded the train to Bombay, the first lap of our long journey across the seas to far-off Australia. When we reached Bombay's Churchgate station, we were taken by bus to the Astoria Hotel. It was the first time that I had seen such a grand place, and I could barely believe my eyes. What was I, a simple village boy doing in such a different world ? While we were at the Astoria, Commander Rekhi, our manager, showed us how to knot a tie and gave us lessons on table manners.
3. When we reached Santa Cruz, the entire atmosphere at the terminal seemed unreal -its bright lights, the strange sounds, the rush of people. Except for Mary Lila Rao, none of us had flown before. I was scared and confused. I had no bedding and no food. Where would I sleep ? What would I eat ? How would the plane take off with so many people, their luggage and other cargo ? Would it crash under so much weight ? I followed my companions towards the huge monster that awaited us, and blindly climbed up the ramp into the cabin. I was asked to fasten my seatbelt, but naturally I did not know what to do and was fumbling with the straps when the the air-hostess kindly helped me.
4. When the plane started to taxi along the runway, I closed my eyes and prayed to my God. I had butterflies in my stomach as the plane ascended. And then we were airborne. When I looked out of the window I saw smoke pouring out of the engines, and raised an alarm, thinking that the plane was on fire. The air-hostess calmed me down, patiently explaining that it was only the fuel burning. I felt very foolish and laughed with relief.
(Adapted from the Autobiography of Milkha Singh)
1.1. Attempt any eight of the following questions on the basis of the passage you have read.
Fill in the blanks:
(i) Milkha Singh could not sleep a night before they left because of ________.
Ans: (i) excitement
(ii) The number of athletes who left with him were__________.
Ans: six
(iii) _____________ had flown earlier.
Ans: Mary Lila Rao
(iv) The huge monster was________.
Ans: the aeroplane
(v) What made the atmosphere of Santa Cruz seem unreal ?
Ans: The atmosphere of Santa Cruz seemed unreal because of the bright lights, the strange sounds and rush of people.
(vi) Give any two reasons responsible for Milklia's worrry or confusion.
Ans: Milkha was worried and confused because he was flying for the first time. He was neither carrying any bedding or food with him.
(vii) Why was he fascinated by the hotel ?
Ans: He was fascinated by the hotel because he had never seen such a grand place before.
(viii) Why did the air-hostess help him ?
Ans: The air-hostess needed to help him because he did not know how to fasten his seat belt.
(ix) Choose the correct option and fill in the blank:
Q. The figure of speech in para 1 is__________.
(a) metaphor
(b) hyperbole
(c) simile
(d) personification
Ans: (c) simile

Q.2. Read the passage given below
1. Rebecca didn't enjoy having long hair. In the swimming pool, her waterlogged hair weighed her head down. If she braided it while it was wet, it took forever to dry. In gymnastics class, it often got in the way. Still, month after month for two and a half years, Rebecca let her hair grow until it nearly reached her waist.
2. Even though Rebecca thought long hair was a bother, the fifth grader had a good reason for letting it grow. At the right time, she would donate her beautiful hair to a group in Palm Springs, Florida called Locks of Love. She would have her hair cut and send it to them as a gift.
3. Rebecca first learned about Locks of Love from a television commercial. Locks of Love is a special organization called a charity. The members of this group work to help others in need. The members make no money. Using the healthy cut hair that Rebecca sends them, they will have a wig made for a child who needs it. After seeing the commercial, Rebecca pondered for a while, and then decided to give away her hair.
4. Children who need wigs are those who lose all their hair because of illness or as a side effect from certain medicines they have to take. Rebecca's hair will be used to help replace the hair that another child has lost. It will also replace some of the bad feelings that child may have from not having hair.
5. Through Locks of Love, kids have the opportunity to help other kids. In fact, about 75 percent of the hair sent to this special charity comes from children. As many as twelve ponytails go into the making of each wig. It takes workers about four months to hand-make each hairpiece. If a family had to buy the hairpiece, it would cost about $3,000.
6. Now with short hair, Rebecca has made another important decision. She has decided to let it grow long again! Again she will give it to Locks of Love. Judging from last time, she predicted it will take about three years. Even though Rebecca no longer has long hair, she certainly has a big heart.
2.1 On the basis of your reading of the passage answer the following questions in 30-40 words:
(a) Why did Rebecca hate having long hair?
Ans: (a) While swimming her waterlogged hair weighed her head down. If she braided it while it was wet, it too k forever to dry. In gymnastics class, it often go t in the way.
(b) How does Locks of Love help children?
Ans: They have a wig made for a child who needs it because of losing hair due lo illness or medicines.
(c) How can wigs help kids?
Ans: They help replace the hair that another child has lost. It will also replace some of the bad feelings that child m ay have from not having hair.
(d) Why does the author say that Rebecca certainly has a big heart?
Ans: He says this because she hates long hair but is willing to grow them for the sake of helping other children.

2.2 State whether True or False:
(i) Locks of love was a profit making organisation.
Ans: False
(ii) Rebecca enjoyed long hair
Ans: False

2.3 Choose the correct option:
(a) commercial (para 3)
i. programme
ii. quiz
iii. advertisement
iv. news
Ans: advertisement
(b) pondered (para 3)
i. thought
ii. sat
iii. cried
iv. slep
Ans: thought
SECTION B — WRITING AND GRAMMAR
Q.3. Write a letter in 100-120 words, to the Editor of The Hindu, Chennai discussing in detail the advantages and disadvantages of ban on crackers. You are Anu/Anuj, 112, Lawrence Road, Kochi.
Ans: 112, Lawrence Road
Kochi
an-u099@yahoo.com
4th Feb., 20.....
To
The Editor
The Hindu
Chennai
Sub: Advantages and disadvantages of banning crackers.
Sir
Come Diwali and streets and houses get illuminated, spreading cheer and joy all around. One of the most awaited Hindu festival, seems incomplete without the bursting of crackers.
Though, I agree the damage they cause to the environment is alarming and should be the concern of responsible Governments and citizens, still Diwali, some what loses its charm, without them. On the other hand, one cannot ignore, the employment this industry gives to millions and also a boost to the economy. The need is to weigh the advantages vis-a-vis the disadvantages. Other than pollution, the narrow bylanes, flanked with houses on both sides, are an open invitation to fire hazards. Moreover, children are exposed to accidents because of throwing caution to the wind. Keeping all the negatives in mind, the balance tilts in favour of banning crackers by individuals and promoting community celebrations.
Thanking you
Yours truly
Anuj
Or
Write an article in 100-120 words on the topic, 'Increasing Population in the Cities'. You are Ram/Rama. You may use the following clues: migration from villages - more jobs - better educational facilities - effect on living conditions - overcrowding - slums - water and power supply - traffic jams.
Ans: Increasing population in the Cities - by Ram
No one can deny that Indian cities lack town planning as a result, over population is making them burst to the seams. Slums are growing at a rapid pace, sanitation, disposal of garbage, water supply, all have taken a big hit. Traffic jams, are a common sight and polluted air, a health hazard. Better educational facilities, employment opportunities, all lure students, skilled and unskilled workers to cities. The Government has to helplessly look the other way with no solution in sight. Needless to say, mass migration from villages and smaller cities has resulted in overcrowding. Cities have their own unique needs, with rapid urbanisation, agencies engaged in developmental works depend on a cheap work force. The whole system is works on demand and supply and migratatory population fills in this gap. Special Economic Zones, with better facilities in remote areas may help resolve this problem, but we need to work fast, time is running out for choked cities, which are becoming gas chambers.

Q.4. Write a story in 150-200 words based on the input given below:
Hints: The train gathered speed — all settled — a group of youngsters punished in — looked threatening — sudden silence.........
Or
Write a short-story in 150-200 words on the basis of the hints provided:
Hints: There was a lot of excitement in the air. The sound of crackers could be heard all around. Manu rushed out...........
Ans: Gradually the train gathered, speed. When all the passengers had settled comfortably a group of four youngsters pushed in. They must have boarded the train when it was moving arid must have been standing near the entrance door. All of them looked threatening. Two of them were bearded youngmen while the other two were clean shaven. One of them carried a bag. Silence prevailed in the compartment as all the passengers were looking apprehensively towards them. Suddenly the man with the bag opened it and took out a gun. Pointing it towards the passengers, he said, "Do as we fell you, and nobody will be harmed. Hand over your jewellery and cash. Nobody will dare to use his mobile." Too frightened to utter a word most of the women began to take off their items of jewellery. The men opened their purses and took out money. Suddenly a man, who had been watching all this from the upper berth, jumped on the gun holder. Seeing him thus taking a bold step, other youngmen also grabbed his companions. Someone pulled the chain. The train's speed decreased. Finding themselves thus overpowered, the terrorists tried to run and jump from the train. Two of them succeeded in this attempt while, the other two were arrested by the police. Everybody praised the youngman who had jumped on the terrorist.
Or
It was evening ."There was a lot of gaiety and excitement in the city. People were taking out a procession to celebrate the victory of their candidate in the election to the Municipal Corporation. At the head of the procession was the victorious candidate. Some people were rushing towards him to garland him. Many others were jostling with one another to shake hands with the winner. Some were exploding crackers while moving along with the procession. Music was also being played. There was a lot of noise and confusion in front of the residence of Manu, a young boy of about 16. He was studying in his room. He felt disturbed by the noise of the crackers. So he rushed out to find out the reason for this noise and excitement. When he came out, he came to know about the victory of Mr Gupta in the election to the Municipal Corporation. He knew that his father had also supported Mr Gupta. Manu also felt happy. He ran to the flower-shop to buy a garland. He bought a garland and rushed to garland Mr Gupta. Mr Gupta recognised him and asked the driver to stop his open jeep in which he was travelling at the head of the procession. The jeep stopped and Mr Gupta came out and hugged Manu. Manu garlanded him and congratulated him on his victory. Mr Gupta thanked him and asked him to convey him gratitude to his father for lending his support to him. Manu came back and the procession moved ahead.

Q.5. Complete the paragraph given below by filling in the blanks choosing the correct option from those that follow:
Delhi (a)_________ the capital of India. People from all parts (b)_______ the country and world come to visit Delhi. There (c)_______many historical buildings here. Last year I, (d)______Delhi.
(a)
(i) was
(ii) is
(iii) are
(iv) being
Ans: (a) (ii)
(b)
(i) of
(ii) from
(iii) for
(iv) at
Ans: (b) (i)
(c)
(i) being
(ii) are
(iii) been
(iv) were
Ans: (c) (ii)
(d)
(i) visit
(ii) visiting
(iii) visited
(iv) will visit
Ans: (d) (iii)

Q.6. In the following paragraph one word has been omitted in each line. Write the missing word along with the word that comes before it and the word that follows it (any four).



Ans:




Q.7. The following paragraph has not been edited. There is one error in each line. Identify the error and write it along with corrections as shown below. Underline the correct word supplied by you.



Ans: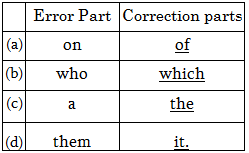 SECTION C — LITERATURE
Q.8. Read the extract given below and answer the questions that follow :
The pirate gaped at Belinda's dragon,
And gulped some grog from his pocket flagon,
He fired two bullets, but they didn't hit,
And Custard gobbled him, every bit.
Questions:
(a) Why did the pirate gape at Belinda's dragon ?
Ans: The pirate gaped at Belinda's dragon because he looked threatening.
(b) The pirate attacked Belinda's dragon by __________at him.
Ans: firing two bullets
(c) How did Custard save Belinda ?
Ans: Custard saved Belinda by hurriedly swallowing the pirate.
(d) Belinda's dragon was______.
(i) a coward
(ii) brave
(iii) stupid
(iv) ferocious
Ans: (ii) brave
OR
"Well, at least," said Peggy gruffly, "1 never did call her a foreigner or make fun of her name. I never thought she had the sense to know we were making fun of her anyway. I thought she was too dumb. And gee, look how she can draw!"
Questions:
(a) Peggy is speaking to ___________.Whom does 'her' refer to ?
Ans: Peggy is speaking tu Maddie. 'Her' refers to Wanda.
(b) What did Peggy say she didn't do ?
Ans: Peggy said that she did not make fun of Wanda on account of her strange name or nationality.
(c) How does she justify her action ?
Ans: (c) Peggy justifies her action of making fun of Wanda by saying that she did so simply because she thought Wanda was dumb.
(d) The meaning of the word ''gruffly' is __________.
(i) softly
(ii) tenderly
(iii) coarsely
(iv) sweetly
Ans: (iii) coarsel

Q.9. Answer the following questions in 30-40 words:
(a) What did Jan Petronski's letter say?
Ans: PROSE - THE HUNDRED DRESSES: II
Jan Petronski, in his letter informed Wanda's teacher that Wanda wont be continuing the school as the family had shifted. He also expressed his annoyance regarding the bullying that his daughter had to face as the other children thought that Wanda had a funny name.
(b) How are Coorgi people described?
Ans: PROSE - GLIMPSES OF INDIA: COORG
Coorgi are more than willing to recount numerous tales of valour related to their sons and fathers. The Coorg Regiment is one of the most decorated and the first Chief of the Indian Army, General Cariappa, was a Coorgi.
(c) What information did Valli collect for her first bus ride?
Ans: Valli gathered information regarding the amount needed for the journey, which was sixty paisa to buy tickets. She even calculated the total duration of the journey that was ninety minutes.
(d) What part of the lawyer's job agitated him the most?
Ans: CHAPTER -THE HACK DRIVER
He was sent, not to prepare legal briefs, but to serve summons, like a cheap private detective. He even had to go to dirty and shadowy corners of the city and was at times beaten by the goons.
(e) What did the Halls see in the scientist's room?
Ans: The Halls saw that the bedclothes were cold, showing that the scientist must have been up for some time; and stranger still, the clothes and bandages that he always wore were lying about the room.

Q.10. What did Valli experience during her first journey by bus ?
Or
What tells you that Mijbil is an intelligent fun loving creature ?
Ans: Valli was an eight years old girl. She was travelling by bus for the first time. She was quite excited and happy. She stood up on her seat to watch the scene outside the bus. She enjoyed the scene. The bus was going along the bank of a canal. There was a deep ditch on the other side. There were fields and mountains that attracted her attention. She was surprised to see the trees. They seemed to run towards the bus. The thing that interested her the most was a young cow. It galloped in the middle of the road. The driver sounded the horn. The cow got frightened. It galloped faster. All this amused Valli very much. Valli clapped cheerfully. Her journey to the town was full of joy.|
Or
Mijbil is an otter and has received his name from the author, his owner. Mij is an intelligent, amiable and fun-loving creature. He is quite friendly. He is fond of the author. Very Often he rubs his nose lovingly against him. When shown love he remains under control.
He is intelligent enough not to run into dangerous things. He is able to jump on to a school wall and gallop the entire length of it. He is fun-loving. He rolls and jumps into water. He invents games for his fun. He keeps the ping-pong ball on the lid of the damaged suitcase which when closed, remains at a slope from one end. Though he scares the passengers by running into the aircraft, he harms none and come back to the author, and remains seated calmly.

Q.11. Answer the following questions in 100-150 words :
Q. Had Matilda been honest and truthful in her life she would not have suffered. Do you agree ?
Ans: Matilda wasn't true to herself and was pretentious. She was poor but declined to accept the truth. She tried to hide her poverty by borrowing a necklace, which she thought was expensive, from her friend, just to attend a party. She lost it but still wasn't ready to tell the truth to her friend. She and her husband slogged for ten long years, to save money, in order to buy the necklace she had borrowed and lost. Had Matilda been satisfied with her life, she would not have felt the need to borrow the necklace. If she had told Mme Forestier the truth, she could have avoided the life of ten years of suffering and drudgery.
Or
Tricki refused his favourite dishes and even did not want to go for walks. Why did Tricki not want to eat and do anything ? What should have been done to make him take interest ?
Ans: Tricki was an overfed dog. He had become lethargic because of eating too much. As a result, he refused his favourite dishes and lost interest in going ont for walks. He also stopped playing around with the other dogs because he had become too obese to even move around. In order to make him healthy, active and alert, Mrs Pumphrey needed to control his diet and give him regular exercise. By pampering Tricki she was actually harming him. Only when Tricki's diet was controlled was he able to move around and started taking an interest in bis surroundings. He also joined the other dogs in fighting for his share of food or hunting rats around. He was then able to enjoy the simple joys of a dog's life.