Class-X
Time: 120 Minutes
M.M: 40
General Instructions:
Read the following instructions very carefully and strictly follow them:
The Question Paper contains THREE sections- READING, WRITING & GRAMMAR and LITERATURE.
Attempt questions based on specific instructions for each part.
Section - A
I. Read the passage given below : [5 Marks]
Technology is making advancements at a rapid rate but at the cost of a valued tradition—the crafts industry. The traditional crafts industry is losing a lot of its trained and skilled craftsmen. With that, the art of embellishing brass and copper utensils with fine engravings is also disappearing. The government has identified around 35 crafts as languishing craft.
The speciality of handcrafted items is its design, an association with long traditions belonging to a specific region. The word 'handcrafted' does not imply the involvement of dexterous human fingers or an agile mind with a moving spirit anymore. Lessening drudgery, increasing production and promoting efficiency have taken precedence. The labour-saving devices are taking the place of handcrafted tools and this has jeopardized the skills of these artisans.
Mechanisation has made its way into everything - cutting, polishing, edging, designing etc. Ideally, the use of machinery should be negligible and the handicrafts should be made purely by hand with a distinguishable artistic appeal. However, with the exception of small-scale industries, the export units are mostly operated by machines. The heavily computerised designs contribute to a faster production at lower costs.
Although mechanization of crafts poses a challenge to safeguarding traditional crafts, the artisans are lured with incentives in order to impart handicrafts training. Some makers do see machines as a time-saving blessing since they are now able to accomplish difficult and demanding tasks with relative ease. These machines might give a better finesse to these products but they don't stand out as handcrafted. Quantity has overtaken quality in this industry.
A need to highlight the importance of the handmade aspect is required by both the government and private sectors, in order to amplify awareness and also support the culture of making handicrafts. A few artisans are still trying their best to rejuvenate and revive their culture and heritage but it's an uphill task competing with the machine-made goods. A multitude of artisans have changed their professions and are encouraging their progeny to follow suit. There are others who have stayed their ground but are clearly inclined towards buying machines.
Nearly two decades ago, there were around 65 lakh artisans in the country. Three years ago, when the government started the process of granting a unique number to the artisans based on the Aadhaar card, 25 lakhs were identified. Loss of traditional crafts is clearly a worrying issue, but it stands to reason that forcing any artisan to follow old ways when concerns of livelihood overrule other considerations, is unfair.
Based on your understanding of the passage, answer ANY FIVE questions from the six given below.
Q.1. What does the writer mean by calling handicrafts a 'valued tradition'?


Q.2. Rewrite the following sentence by replacing the underlined phrase with a word that means the same from lines 4-9.
If it continues, the workcation (work + vacation) trend will be a powerful boost to domestic tourism operators failing to make progress in the economic slump caused due to the pandemic.

Q.3. State any two reasons why artisans are choosing to work via machines rather than handcrafted tools?


Q.4. Why do the artisans need to be 'lured with incentives' to impart handicrafts training?

Q.5. List one likely impact of the support of government and private sectors towards the culture of making handicrafts.


Q.6. How does the writer justify an artist's act of abandoning her/his traditional craft for a more lucrative option?

II. Read the following excerpt from a case study titled Impacts of Festivities on Ecology. [5 Marks]
Festivals are synonymous with celebration, ceremony and joy. However, festivals bring to fore the flip side of celebrations – pollution – air, water, soil and noise. This led to the need of assessing the awareness level among people about ecological pollution during festivals. So, a study was conducted by scholars of an esteemed university in India. This study was titled 'Awareness Towards Impact of Festivals on Ecology'.
There were two main objectives of the study. The first one was to assess the awareness level among people about ecological protection during festivities. Exploring solutions to bring awareness about celebrating festivals without harming ecology was the second objective. The method used to collect data was a simple questionnaire containing 6 questions, shared with 50 respondents across four selected districts of a state in the southern region of India.
The research began by understanding the socio-economic conditions of the respondents before sharing the questionnaire. Once the responses were received, the data collected was tabulated (Table 1), for analysis.
The study recommended the imposition of strict rules and regulations as opposed to a total ban on all festive activities which have a drastic impact on our environment. The researchers believed that such measures would help in harnessing some ill-effects that add to the growing pollution and suggested further studies be taken up across the country to assess awareness about ecological degradation.
The observations made in the study pointed to the environmental groups and eco-clubs fighting a losing battle due to city traffic issues, disposal of plastics, garbage dumping and all sorts of ecological degradation. The researchers stressed that the need of the hour is increasing awareness among people to reduce ecological pollution which can be facilitated by celebrating all festivals in an ecofriendly manner
On the basis of your understanding of the passage, answer ANY FIVE questions from the six given below.
Q.1. Why do the researchers call pollution the 'flip side' of festivals?

Q.2. Comment on the significance of the second objective of the study with reference to lines 6-10.

Q.3. Justify the researchers' recommendation for limiting the drastic impact of festival pollution on the environment with reference to lines 14-17.

Q.4. Why do the researchers feel that environmental groups and eco-clubs are fighting a losing battle in the given scenario?


Q.5. Even though a larger number of people say 'no' to bursting crackers than those who say 'yes', festival pollution persists. How does evidence from Table 1 support this statement?

Q.6. What purpose does the 'Can't Say ' column serve in the questionnaire (table 1)?


Section - B
III. Attempt ANY ONE from (i) and (ii). [5 Marks]
Q.1. As a health conscious person, you have noticed an advertisement in a newspaper on yoga classes in your neighbourhood. Write a letter in 100-120 words to the Organiser, Yoga for Public, R.K. Puram, New Delhi requesting him/her to send you information about the duration of the course and other relevant details. You are Shweta/Srikar of 15, R.K. Puram, New Delhi.
15, R.K Puram

New Delhi
7 August 20××
The Organiser
Yoga For Public
R.K. Puram
New Delhi
Subject : Enquiry About the Courses
Respected Sir
With reference to your advertisement in 'The Times of India' dated 5 August 20xx, I would like to tell you that I wish to join the yoga classes organised by you. Kindly furnish the following details :

Duration of the course
Timings of the classes
No.

of

persons

in

each

batch
Any

special

class

for

girls
Fee

structure

I am awaiting an early reply from your end so that I may join as early as possible.
Thank you
Yours sincerely
Shweta
Q.2. The chart below displays data about the number of digital devices purchased in Rishu nagar across the years 2016-2020. Write a paragraph analyzing the given data.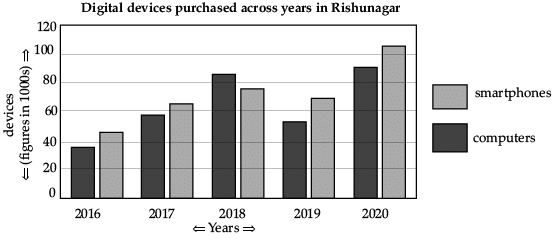 Purchase of Digital Devices
According to the given data, a large number of digital devices was purchased in Rishu Nagar across the years 2016-2020. The data indicates that more smart phones were purchased in 2016 as compared to the computers which numbered approx - 35,000 in 2016. There was a gradual rise in the purchase in 2017 when the number of smart phones rose to 60,000 and computers to 59,000. The trend suddenly changed and a sharp rise was seen us. The purchase of computers in 2018 which again dropped to approx. 45,000 in 2019. The year showed a decline in the purchase of smartphones as well. But the year 2020 brought hope and cheer for the sellers when there was again an upward trend in both smartphones and computers. To sum up it can be said that the purchase of digital devices across these fire years showed the incline of people towards the hi-tech devices.
(IV) The following paragraph has not been edited. There is one error in each line. Identify the error and write its correction against the correct blank number. Remember to underline the correction.


(V) Read the given conversation below and complete the passage that follows.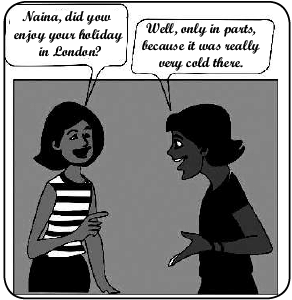 Neha asked Naina ......(a)..... London. Naina replied that she had enjoyed herself only in parts as .....(b)..... there.
(a) if she had enjoyed her holidays in
(b) it had been really very cold
Section - C
(VI) Answer ANY SIX questions in 30-40 words each. (Marks 2 × 6 = 12)
Q.1. What was Valli's favorite past time?
Valli's favourite pastime was to watch the bus that travelled between her village and the nearest town.
Q.2. How did the baker become synonymous with celebrations and occasions in Goa?
The village baker was very important for festive occasions. Marriage gifts were meaningless without the sweet bread known as 'bol'. Sandwiches, cakes and bolinhas were a must for Christmas as well as other festivals. These were made with the bread.
Q.3. Why was Sinclair Lewis beaten up?
He was beaten because he went to serve summons to the victims in dark and shadowy corners of the city to appear as witness in court which they disliked.
Q.4. Do you find 'The Tale of custard the Dragon' to be a serious or a light-hearted comedy? Give reasons to support your answer.
'The Tale of Custard the Dragon' is a humorous, light hearted poem as the characters display behavioural attributes, contrary to their appearance as well as nature. It is extremely funny to imagine a fierce looking dragon crying for a safe cage or mouse raging like a lion.
Q.5. Do you think Bholi's father would have agreed to the match if her mother hadn't insisted upon it? Why/why not?
No, he wouldn't have agreed to it. In the story, Ramlal is shown to be a concerned and loving father who had immense love for his youngest daughter. Even though he confronted his wife and warned her to marrying off Bholi to Bishamber but it was his wife who insisted on her getting married to this old man.
Q.6. How would you characterise the speaker in the poem Amanda!'? List any two qualities, supporting the reason of your choice, with evidence from the poem.
The speaker i.e. Amanda's mother is very caring and concerned towards Amanda. So much so that she has rather become over protective. Amanda's careless attitude has made her worry for her future. She wants to teach Amanda all the rules of proper social conduct lest people should blame her for nagging Amanda.
Q.7. How did Kisa Gotami realize that life and death is a normal process ?
Kisa Gotami's only son had died. She went to Buddha to seek some medicine to revive her son. The Buddha asked her to bring some mustard seeds, from the house where there had been no death ever, but Gotami could not find any such house. Thus she realised that death is inevitable for every mortal being. Cycle of life and death is a normal process.
(VII) Answer ANY TWO of the following in about 120 words each. (Marks 4 × 2 = 8)
Q.1. Natalya and Ivan argued about the ownership of Oxen Meadows and the superiority of their respective dogs in the play, The Proposal.
Imagine yourself as the playwright of the play. Based on your understanding of the personality traits of Natalya and Ivan, write a dialogue based on an imaginary event, showcasing another argument between them.
Natalya: Oh my God! Did I hear you right when you called my mother 'hump backed'?

Lomov: Yes, Of course! She was hump-baked

Natalya: And what do you have to say about your family? It's so mean of you talking like that. Your head is swirling, you're seeing stars in front of your eyes and even then you're talking ill of my family!
Lomov: Don't start another fight. Never mind about me, I'll be all right in some time but your mother wasn't able to do any thing about it.
Natalya: Yo u are getting on my nerves! Ivan. Another word and I will throw you out of the house.

Lomov: It is the only thing I can expect from such an ill-mannered lady like you Hugh!
Q.2. You have been requested to write a brief blog post for a Science blog for kids on the theme 'Science is Real'.
Based on your understanding of the chapter, 'The Making of a Scientist', write the blog highlighting how science pervades every aspect of our lives.
You may begin like this:
Scienceforkidsblogger.com
Monday, October 19, 2021
SCIENCE IS LIFE
_____________________________________________
______________________________________________
Scienceforkidsblogger.com

Monday, October 19, 2021
SCIENCE IS LIFE
It's true that above line is telling us about the significance of Science in our lives. It indeed is our life, the be all and end all of our existence on this very special planet mother earth. Many scientific discoveries and inventions have changed the course of our life, from a food gatherer man became a food producer; it's all thanks to the greatness of Science. It has revolutionised the entire world around. No man is left free without his dependence on scientific inventions and discoveries. So, we can say truly 'Science is life'.
Q.3. What lesson did Kisa Gotami learn the second time that she had failed to learn the first time?
Kisa Gotami was devastated by the death of her only son and wandered door to door, seeking help. Someone directed her to Sakyamuni, the Buddha, who asked her to bring a handful of mustard seeds. This raised a hope in Gotami's heart that her son could be revived. But the condition imposed by Sakyamuni was that the seeds should be from a house where people had not lost a loved one to death. Kisa Gotami's futile search made her realize the bitter truth that sorrows are a part and parcel of life and one can attain peace only by acceptance.
Buddha says that everything in this world is subject to death. He further says that the world is deeply affected by suffering, disease or pain. Inevitably there is death and decay, therefore the wise do not grieve, knowing the terms of the world. Neither from weeping nor from grieving can anyone obtain peace of mind.