Class-X
Time: 120 Minutes
M.M: 40
General Instructions:
Read the following instructions very carefully and strictly follow them:
The Question Paper contains THREE sections- READING, WRITING & GRAMMAR and LITERATURE.
Attempt questions based on specific instructions for each part.
Section - A
I. Read the passage given below : [5 Marks]
Music is perhaps the most popular and widely practised form of fine arts, transcending all kinds of cultural and linguistic barriers. Any form of fine art is difficult to master and almost impossible to perfect and music is no exception.
Nature, it is learnt, has blessed almost two-thirds of the human race with musical ability of some sort. Music has the power to bring out the deepest emotions. In fact, it is a magic medicine and many seek refuge in it when they are depressed or stressed. It is this intimacy that makes us listen to music or even hum or sing sometimes. This singing, or realistically speaking, expressing one's emotion musically sometimes takes a serious turn.
The desire to sing before an audience is innocent and beautiful and indeed it is perfectly alright to have such a genuine desire. But it is also important to understand that singing is an intricate art — a highly refined one at that, which requires systematic, prolonged and strict training, to be acceptable. This is an aspect we forget in our keen desire to reach the stage and perform. It is almost like preparing a formal meal for some specially invited guests, without even having learnt and trained in the basics of cooking.
These days almost everyone sings and it does not stop here. Most of us want to become professional singers. Result: a complete disregard for and ignorance of the training part, as the need is never felt to go through one and the urge to get to the stage and perform overcomes even a little desire to learn, if any. If at all, somewhere along the way one feels the need to gain some knowledge and training, it leads to hurried shortcuts and half-hearted attempts, best described as 'Crash Courses'.
It is observed that those who have attained the so called partial success, suddenly feel that they lack the required knowledge and are not learned enough. But it is too late by then. It should be understood here that the stage or a performance brings in a different mind-set within the artist. It is always recommended and rightly said that while on stage, cover the mistakes and weaknesses if any, and get along. But the contrary is true when it comes to acquiring knowledge and during the learning process. While under training, the student is expected to make mistakes but then rectify those mistakes under the supervision and guidance of the teacher. Therefore, it is good to make mistakes and then be corrected during the process of learning as this subsequently makes one flawless and educated. This is a different mind-set. And these two mind-set discussed above, (those of a performer and that of a student) cannot coexist.
Based on your understanding of the passage, answer ANY FIVE questions from the six given below.
Q.1. What happens when most of us want to become a professional singer?

Such desires result in a complete disregard for and ignorance of the training part.
Q.2. What should one do when on stage?
When on stage, one should cover the mistakes and weaknesses if any and get along.
Q.3. Which two mind-sets are discussed in the last line of the above passage?
One mind-set is that of a performer, who is recommended to cover the mistakes.

Second is of a student, who is expected to make mistakes and then rectify them under proper supervision.
Q.4. How can we say that music is a magic medicine?
Indeed, Music is a magic medicine as it can make one cry or bring smile on one's face.
Q.5. What is best described as Crash Course?
Hurried short cuts and half hearted attempts at learning something are described as crash courses.
Q.6. 'Transcending' in Paragraph 1 means ________ .
Rise above.
II. Read the following excerpt from a case study on being punctual: [5 Marks]
Keep your watch accurate. For some people, moving up the time on their watch will help them get up earlier. For others, they will remember that the time on the watch is wrong and will disregard it altogether. It may be helpful to set your watch just two minutes ahead instead of five or ten.
Keep a clock, phone, computer or anything that displays time in each room of your house. One of the easiest ways to run late is simply by not realising that the time is passing as quickly as it is.
Set all your clocks and watches to the same time. Don't be an optimist. Things usually take longer than what you'd expect, even without major delays. If you have a dinner appointment at 7:30 p.m., don't think you can work till 7 p.m., then take a bath, dress and reach on time. Realistically, calculate the time you will take at each step and then add 10 minutes more to allow for unexpected delays, or you cannot get to your job done in time.
Wake up when you are supposed to wake up. Don't hit the snooze button, keep on lying in bed, and watch TV at the very start of your day. May be you can try even setting your clock 10 minutes earlier than you need. If you have difficulty with this, move your alarm clock to somewhere away from your bed; that way, you will have to get up to turn it off. Commit yourself to being 15 minutes early for everything. If you have to reach your place of work at 8:00, don't even tell yourself this. Just tell yourself (and everyone else who listens — but don't annoy them or make them think that they are late or early!) "I have to be at work at 7:45." If you do this, you will be on time even with little unforeseen delays. You will be on time even with a traffic jam.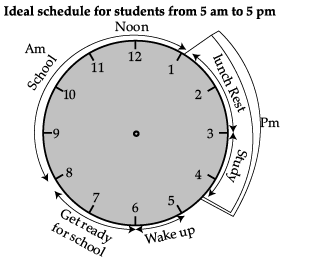 On the basis of your understanding of the passage, answer ANY FIVE questions from the six given below.
Q.1. What should one do to be punctual?
To be punctual one needs to get up at the right time.
Q.2. How can one reach a dinner appointment on time?
One needs to, realistically, calculate the time he/she will take at each step and then add 10 minutes more to allow for unexpected delays.
Q.3. Give atleast two time management tips?
Prioritize your work/set time limit/plan ahead.
Q.4. It is a good habit to _____________ and ____________.
Reach your work place on time and calculate the time before starting any work.
Q.5. Pick the word from Paragraph-1 which means 'correct in all details'?
Accurate.
Q.6. How does setting all clock and watches at the same time help?
Setting all the clocks and watches at the same time helps in saving unexpected delays.
Section - B
III. Attempt ANY ONE from (i) and (ii). [5 Marks]
Q.1. You have lost your original certificates of class X and XII. You want to get their duplicates issued but you do not know the procedure. Write a letter to the Chairman, CBSE, Preet Vihar, enquiring about the fee to be deposited, mode of payment, time taken by the board for issuing duplicate certificates and any other formalities. You are Tarun / Taruna, 7/9, Kunj Apartments, Shimla (100-120 words).
7/9, Kunj Apartments
Shimla
3 April 20××
The Chairman
CBSE
Preet Vihar
Delhi
Subject: Query about issuing the Duplicate Certificates
Respected Sir
Through this letter of mine, I wish to inform you that while travelling in a bus, I left my bag in a bus. The bag contained my original certificates of X and XII. Now I have to apply for a job in a government department.
Please let me know the procedure of issuing the duplicate certificates, time taken by the Board and the fees to be deposited. My registration no. is 4567/897/HP and I have filed an FIR regarding the loss of my bag.
Please do the needful as early as possible as it is a question of my career.
Thank you in anticipation
Yours sincerely
Tarun Kumar
Q.2. The graph below proves that even in the 21st century the status of women is not equal to that of men when it comes to occupying high positions in various occupations. Read the graph carefully and write its interpretation in about 120 words.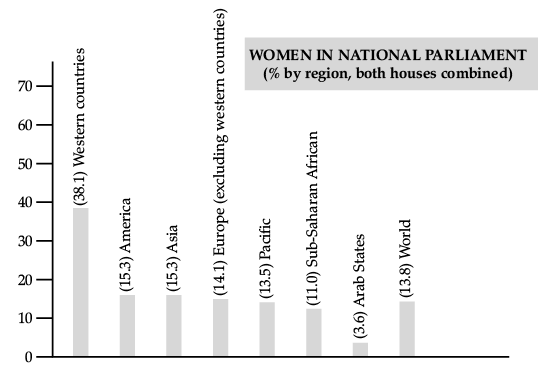 Women in National Parliament
While more women than men are being elected to Parliament around the world, equality is still a long way off, and the current progress is far too slow. The bar graph clearly illustrates that even in the 21st century the status of women is not equal to that of men when it comes to occupying high positions in various occupations. The lowest number of women in National Parliament can be seen in Arab States where it is only 3.6%. The percentage is a bit better in Sub Saharan Africa where it is 11% though it is again very low. The number of women in National Parliament is not very encouraging in the World and Pacific where it is 13.8% and 13.5% respectively. While the percentage in America, Asia and Europe (excluding western countries) is 15.3, 15.3 and 14.1 respectively. It is only the western countries where the graph shows a picture of 38.1% women in the Parliament. Overall, the status of women does not come at par anywhere when it comes to occupying high positions in various occupations.
(IV) The following paragraph has not been edited. There is one error in each line. Identify the error and write its correction against the correct blank number. Remember to underline the correction


(V) Read the given conversation below and complete the passage that follows.

I saw supandi standing in the field. When I .....(a)..... doing there, he .....(b)..... he was trying to win a Nobel prize. I was confused and enquired how standing in the rice field would help him do so.
(a) asked him what he was
(b) replied that
Section - C
(VI) Answer ANY SIX questions in 30-40 words each. (Marks 2 × 6 = 12)
Q.1. Why did Mr. Barua feel surprised?
Mr. Barua was surprised that Rajvir knew so much about tea plantations, despite the fact that it was his first visit to Assam. He appreciated the fact that Rajvir had collected a considerable amount of information before coming.
Q.2. Would you call Amanda a disrespectful child? Provide one reason to justify your opinion.
Amanda was not listening to the speaker. Rather, she was engulfed in her own imagination. Hence, she is regarded as a disrespectful child.
Q.3. Suggest two ways by which you feel scientific temperament can be developed in a child.
Scientific temperament in a child is already there. There is only the need to cultivate scientific attitude in child right from his childhood. His curiosity to know about strange things and will to learn new things should always be encouraged.
Q.4. Ramlal was worried about Bholi as she didn't have good looks. Counter the belief that it is important for a girl to be good looking and give a reason for the same.
Bholi's father was always worried about her because she not only looked ugly due to pock marks, but also stammered while talking. But in today's time it is not that important. Bholi very aptly proved this wrong. Despite her ugly looks, she turned out to be a masterpiece who fought against the evils of the society by refusing to marry Bishamber Nath.
Q.5. Whitman's ode to animals is merely a yearning for a simple life. Do you agree? Justify your answer.
There was a time when both humans and animals possessed noble virtues of love, peace, contentment and simplicity. With passage of time, humans gave up all such token of virtues. The road of noble virtues is still followed by animals. They remind the poet of those qualities and he yearns of a simpler life.
Q.6. Do you think Chubukov is a good father? Justify your opinion based on your reading of the test.
Stephen Stepanovitch Chubukov loves his daughter and plays the role of a good fathers. He is in search of a good match for his daughter. He calls Lomov - my angel, treasure etc., when he comes to know about his proposal. When Chubukov finds Lomov fighting with Natalya, he immediately changes and starts to support his daughter.
Q.7. Inspired by the diversity in the chapter, 'Glimpses of India', you wrote an article for your school magazine on the topic. 'Diversity the uniqueness of India'. Write a paragraph, sharing two key opinions from the article.
Diversity makes India unique. India, is unique country in every possible way and its colourful. Festivals and dressing is one of them. Every culture, religion and custom has its own unique colour, which shows the diversity in one. In India, different people have different culture, speak different languages customs, caste, history, religions, which make India unique.
(VII) Answer ANY TWO of the following in about 120 words each. (Marks 4 × 2 = 8)
Q.1. Though the play revolves around three people, Russian society emerges as an important character through the on goings of the play and the thoughts and interactions of its characters.
Imagine yourself to be a historian who has been invited to speak about nineteenth century upper class Russian society.
Based on your reading of the play, 'The Proposal' how might you describe it? Support your evaluation with instances from the text.
Honourable Ladies and Gentleman

I have been invited here to share with you my views about the nineteenth century upper class Russian society.
Noble titles and land ownership were the main determinants of precise league in 19th century upper class Russian society. Protective of their wealth and precise league, Russian's landed aristocracy was arguably the most conservative force.
I read a story 'the proposal', which belongs to the Russian characters so through the dialogues of the characters, we come to know a lot about Russian man. According to the story the Russians are very particular about their dress and have particular dresses for a special occasion. Secondly, they are hypocrites. They show off to be sweet but the very next moment, they start fighting. As in the story, Chobukov call Lomov 'my angel' but later fought with him. They pretend to be good neighbors but within their heart, they have so many grades. They love to have dogs as a pet and consider their pets better than the other one. All of them are stubborn, short-tempered, quarrelsome and rigid. Such behavior and thought is clearly visible through the interactions of its characters in the story.
Thank you
Q.2. In the chapter, 'A Baker from Goa' the narrator talks about his childhood in Goa and his fond memories. Compare the childhood of Bholi with that of the narrator.
The narrator had pleasant memories of his childhood but Bholi had a very disturbed and depressing formative years. A person's childhood is the most beautiful time of their life, but this was not true with Bholi. Since she was the fourth daughter, her father did not welcome her happily at the time of her birth. Because of her disability, she was despised by all of her family members. Bholi had an unpleasant childhood.
When she was just ten months old, her brain was affected by a fall. She contracted smallpox when she was just two years old, and the disease left her with permanent pockmarks on her body. When chatting, she stammered. As a result, she was a neglected child in her household. Nobody had any high hopes for her. Her parents referred to her as a 'dumb cow' and treated her badly. The old dresses of her sister were passed on to her. No one cared to mend or wash her clothes. New clothes had never been made for Bholi. No one oiled her hair or tried to teach her anything. It was miraculously, that she reached the school which transformed her entirely and she truly proved worthy of her name, 'Sulekha'.
On the contrary, during the narrator's childhood in Goa, the Baker used to be his friend, companion and guide. He used to come at least twice a day. The author and his friends used to climb a bench or the parapet and peep into the basket somehow. The author can still recall the typical fragrance of the leaves. Then he and his friends didn't even care to brush their teeth.
Thus, the narrator had carefree and enjoyable childhood which was full of childish activities whereas Bholi's testing time later paved way for her bright future through education.
Q.3. "You seem to have done your homework before coming." Answer the given question in the light of this statement.
Rajvir seemed to have a lot of information about tea. What all did he tell? What character trait of his is revealed? Is it essential for children?
Rajvir had been invited to spend his vacations with his classmate Pranjol whose father was the manager of a tea estate in Assam. He was quite excited about the trip and had gathered considerable amount of relevant information i.e., where tea originated and how it became such a popular beverage. He informed that about 80 crore cups of tea are consumed daily and that the name 'tea' itself has been originated from Chinese language. He narrated two popular legends about the origin of tea.
Rajvir exhibits an important value trait, that the pre-requisite to gain knowledge–curiosity and eagerness to know. Moreover, he is not a passive learner but is proactive in collecting prior information to any real experience. He likes to do his homework thoroughly before going to a place. This is something very appreciable and children should develop this habit of finding out about the place they are going to visit. These are extremely desirable traits for all learners.