Ques 1: Draw a pen-portrait of Anne Frank. (Diary of a Young Girl)
or
Draw a character sketch of Helen. (The Story of My Life)
Ans: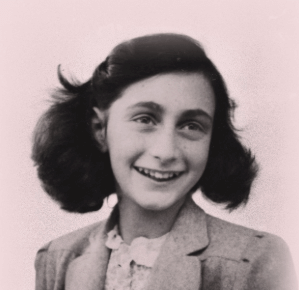 Fig: Anne Frank
Anne is the youngest child of Mr and Mrs Frank. We learn a lot about her through the entries of her diary. In her diary she is precocious, intelligent, charming and even under the worst circumstances, funny. There are a lot of examples to show that she was quite a hopeful child also. The diary shows how the spoilt girl matures into an understanding, introvert, intelligent adolescent who takes hardships in her stride and tries to be cheerful despite the terrible deprivations that she has to suffer in the hideout. She is sometimes confused and certain outbursts are often observed from her side, which is acceptable as they were in hiding.
OR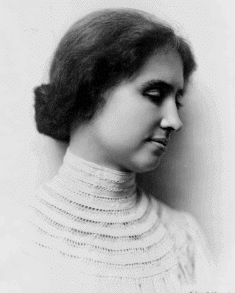 Fig: Helen Keller
Helen was an outstanding person. She was born on 27th June, 1880 in Tuscumbia in Alabama. She was not born as a blind and deaf child. Unfortunately, an illness rendered her blind and deaf when she was 19 months old, but that did not diminish her vigor and zest for life. She evolved her own signs to communicate with others. She was a lively, curious and assertive child. When Miss Sullivan came into her life, everything changed for her. She was amazingly quick to follow whatever she was taught. She learnt individual words and sentences and learnt to read. Through Miss Sullivan she developed a love for nature. Her struggle has made her a role model for people around the world.

Ques 2: A very significant entry in the diary is Anne's description of the anti-Jewish measures introduced by Hitler. Comment. (Diary of a Young Girl)
or
Miss Sullivan's way of teaching is excellent. Elaborate. (The Story of My Life)
Ans: Anne decides to name her diary 'Kitty' and plans to write all kinds of things that lie buried deep in her heart in it. A very significant entry in the diary is Anne's description of the anti-Jewish measures introduced by Hitler, Her uncles had fled to the USA in secret and her grandmother had come to live with them. By 1940, things had become worse with the declaration of the war when Jews had to wear a six pointed yellow star as an identity mark and were denied travel on public transport, could only shop in designated Jewish shops, had curfew imposed on them each night by 8 o'clock and public sports were banned for them.
OR
Miss Sullivan's genius, quick sympathy and loving acts made Helen's education a beautiful experience. She was really a great teacher. She could understand the mind of a child who could not speak or hear, Whenever anything delighted or interested Helen, she talked it over with her just as if she was a little girl herself. Miss Sullivan introduced the dry technicalities of science little by little, making every subject, so real that Helen could not help remembering what she was taught. It was the teacher's genius, her quick sympathy, her loving acts that helped her educate Helen in this way. She seized the right moment to impart knowledge that made it, so pleasant and acceptable to Helen.

Ques 3: As the writer, write an article on the lesson of love, faith and trust that you have learnt from the two young boys of Verona,
or
Describe the circumstances under which Ali, the hunter, becomes the embodiment of love and patience.
Ans: Two Gentlemen of Verona - A Hope for Humanity By AJ Cronin The power of love, faith and trust not only rewards an individual, but the entire human society with optimism, hope and inspiration. I came across two young boys named Nicola and Jacopo on my trip to Verona. I always found them struggling to earn their living by running petty errands. I was told that the boys lost everything in the war. After the war, they found their sister, Lucia, suffering from tuberculosis of the spine. They earned and saved money to keep their sister in a good hospital and get her treated. These small children held on to their values in such difficult circumstances when even adults would often give up or lose hope. Such love, faith and trust are difficult to find in this harsh world today. The boys became my heroes.
OR
Ali's life presents the embodiment of love and patience. Earlier he was only interested in hunting and killing, but when his daughter left him after marriage, he realized the value of family and relations and was totally transformed. He eagerly kept waiting for his daughter's letter for five years, vesting the post office daily to find out if any letter had been received from her. Although people mocked and insulted him, he did not mind, as his daughter's letter was more important to him. Thus the changed circumstances made Ali become the embodiment of love and patience.

Ques 4: Read the given extract carefully and answer the questions that follow. But one night a nightingale In the moonlight cold and pale Perched upon the sumac tree casting forth her melody.
(a) Whom did the sumac tree belong to?
(b) How did the nightingale's song affect the audience?
(c) What does 'casting forth her melody' mean?
Ans: (a) The sumac tree belongs to the creatures of the bog.
(b) They felt very happy.
(c) Spreading sweetness all around with her melodious singing.

Ques 5: Answer the following questions in about 30-40 words.
(a) What lesson does the mirror convey?
(b) What purpose do the statues and monuments serve?
(c) Ali displays qualities of love and patience.' Elaborate.
(d) How does Mrs Slater plan to outshine the Jordans?
What does it reveal about her character?
Ans: (a) The mirror conveys the lesson that we should accept the reality of life happily. The woman in the poem was young, beautiful and charming a few years ago, but now she has lost her beauty as she has grown old. The mirror always gives an exact image of whatever appears before it. It has no preconceptions and personal likes or dislikes. It shows only the truth.
(b) The rich and powerful people believe that the future generations would remember them by these statues and monuments. It is the human tendency to somehow survive even after one's death. Moreover, they are a symbol of magnificence.
(c) It was the intensity of All's" feelings of love for his daughter which helped him reach his destination in the biting cold. This had been his routine for the past five years. He patiently waited for his daughter's letter, not losing hope of receiving it even till his last day.
(d) Mrs Slater plans to outshine the Jordan's by wearing the mourning dress and thinks that Ben and Elizabeth will never have thought about mourning yet. It shows her inhuman character, wanting to outshine her sister even at a sad time.

Ques 6: Rearrange the following words/phrases to form meaningful sentences,
(a) their great/ a lot of/ street boys/ there/ seeing/ luggage/ came over
(b) a man/ used to/ make me/1/ once/ lived/ who/ with/ mad
(c) on my/pride/rather/1/myself/packing
Ans: (a) Seeing their great luggage, a lot of street boys came over there.
(b) Once I lived with a man who used to make me mad.
(c) I rather pride myself on my packing.

Ques 7: In the following passage, there is one missing word in each line. Write the missing word in your answer sheet. Write the word before and the word after alongwith the answer.
Before Missing After
(a) Corvus is the Latin name the crow family.___ ____ ____
(b) I have started calling my pupil this name. ___ ____ ____
(c) At first, he would turn stare at me, ___ ____ ____
(d) now he has begun respond verbally. ___ ____ ____
(e) Corvus learning English now. His training ___ ____ ____
(f) takes place between eight and nine in morning.___ ____ ____
(g) The rest of the time he hangs here, but in the ___ ____ ____
(h) evening he still prefers go back to the mango tree in my garden. ___ ____ ____
Ans: Before Missing After
(a) name of the
(b) pupil by this
(c) turn and stare
(d) begun to respond
(e) Corvus is learning
(f) in the morning
(g) hangs out here
(h) prefers to go

Ques 8: Complete the paragraph that follows by filling up the blanks with grammatically appropriate structures,
Three tourists (a)______ Delhi decided (b)___ visit Goa last year. They went there. While standing (c)_____ the Calangute beach, two of them decided to have (d) ____ dip in the sea. While playing (e)_______the water they (f)_________ swept away by the current.
Ans: (a) from
(b) to
(c) at
(d) a
(e) in
(f) were

Ques 9: Rohit Sharma is the leader of a group of students preparing for a day's 'Field Trip to the Crocodile Farm' to study reptiles. Draft his notice in about 80-100 words giving information to the students about the date, duration, items to be taken and seeking a letter of permission from their parents,
Ans: CONVENT SCHOOL LUDHINA NOTICE 10th June, 20XX Field Trip to the Crocodile Farm This is to inform the students that the 'Young Turks' Society of the school is organizing a day 'Field Trip' to the Crocodile Farm, Phagwara, on 10th June, 20XX. The bus will leave at 8:00 am sharp from the school and return around 5:00 pm the same day. You must carry enough food and water, your school ID card, a notebook and a pen. Interested students must report to their class teachers with a consent letter from their parents before 15th June, 20XX to register their name. Rohit Sharma (In charge/'Organiser)

Ques 10: You are Ranbeer Sharma. You live in a remote village in Meerut. Being quite far away from the main city, the health of the population is suffering, which concerns you a lot. Write a letter in about 120-150 words to the Deputy Commissioner of the area, requesting him to open a dispensary in your village.
Ans: H No 321 Village Meerapur, Tehsil Mawana Distt. Meerut 1Sthjuly,20xx The Deputy Commissioner, Meerut Subject Need for Opening a Dispensary Sir, I am writing this fetter on the behalf of the residents of village Meerapur. For as long as I can remember, I have not seen an operational dispensary in the vicinity of our village. The population of the village is about fifteen thousand. The nearest dispensary is in jabalpur village which is about 20 km away. Whenever we have any kind of medical emergency we face huge difficulty. The rainy season is worst for us. Last month, many persons lost their lives due to lack of proper treatment. Moreover, due to no dispensary being available, unqualified doctors and quacks are having a field day in our village, Despite many protests and complaints, no one has paid heed to our requests. Therefore, with great hope I request you to pay attention towards this matter and open a dispensary in my village immediately.
Yours Faithfully
Ranbeer Sharma

Ques 11: Read the given poem carefully, SONG When I am dead, my dearest, I shall not feel the rain; Sing no sad songs for me; I shall not hear the nightingale Plant thou no roses at my head, Sing on, as if in pain; Nor shady cypress tree; And dreaming through the twilight Be the green grass above me That doth not rise nor set, With showers and dewdrops wet; Haply I may remember, And if thou wilt, remember, And haply may forget. And if thou wilt, forget
I shall not see the shadows, Complete the summary of the above poem in your own words. This poem is about the writer's
(a)______ in the future. She feels that her
(b)______ will live within the hearts of all those she has
(c) _____. Singing for her and planting roses would mean nothing. She is actually telling all her family members and friends not to
(d) ______ her death, but to live on, because she does not know if she will even remember them in heaven, but she'll be
(e) ______ in heaven.
Ans: (a) demise
(b) memory
(c) met
(d) mourn
(e) happy

Ques 12: Read the given passage carefully.
We sat in silence in the dark of the night as the large head appeared from the large foliage. The female was young, healthy and alert. Seconds later, she walked confidently to the edge of a waterhole followed by not one, not two, but three beautiful young cubs. Like works of art on display, all four tigers bent low at the waterhole that had been created for them and for the myriad creatures that shared their troubled kingdom.
The Goshri tigers had come visiting and we watched them with rapt attention on our closed circuit TV screens, in the conservation retreat of Harsh and Poonam Dhanwatey, a husband and wife team whose life had been dedicated to the protection of tigers in and around Maharashtra's Tadoba-Andhari Tiger Reserve.
Their son Nikhil carefully positioned the cameras and cabled them 40 m from their conservation retreat, near the waterhole that had turned into a magnet for every conceivable animal found in the Tiger Reserve itself. We were making preparations to set-up one of the first Community Conservation Reserves in Central India.
Originally into business, the Dhanwateys changed tracks midstream by shutting down a thriving interior design business in response to just one meeting they had with Dr Ullas Karanth and Valmik Thapar, two of India's finest tiger people, in Nagpur.
In their own words "From admirers of wildlife we became passionate defenders and we launched our non-governmental organisation called Tiger Research and Conservation Trust (TRACT)." The Dhanwateys lived for years in a small hut that was their field camp near the famous Tadoba Lake and they discovered the secrets of the forest in the best way possible, by walking its trails and generally learning all they could about the magical mix of life that comprised this tropical, dry deciduous forest.
Complete the statements.
(a) Before taking up the cause of the tigers, the Dhanwateys were .........
(b) The waterhole is referred to as a magnet because .........
(c) The narrator had gone to the Tiger Reserve to .........
(d) The meeting with Dr Ullas Karanth and Valmik Thapar changed the lives of.........
(e) The word in the passage which means the same as 'installed' is ........
Ans: (a) managing an interior design business.
(b) all the animals were-attracted to it.
(c) set-up the first Community Conservation Reserve.
(d) the Dhanwateys.
(e) positioned.

Ques 13: Read the given passage carefully. The world dismisses curiosity by calling it idle or mere idle curiosity even though curious persons are not at all idle. Parents do their best to extinguish curiosity in their children because it makes life difficult to be faced everyday with a string of unanswerable questions about what makes fire hot or why grass grows.
Children whose curiosity survives parental discipline are invited to join our university. With the university they go on asking their questions trying to find the answers. In the eyes of a scholar, that is what a university is for.
Some of the questions which the scholars ask seem to the world to be scarcely worth asking, let alone answering. They ask questions too minute and specialised for me and you to understand without years of explanation.
If the world inquires of one of them why he wants to know the answer to a particular question he may say, especially if he is a scientist, that the answer will in some obscure way make possible a new machine, weapon or gadget. Similarly a historian asked by an outsider why he studies history may come out with the argument that he has learnt to repeat on such occasions, something about knowledge of the past making it possible to understand the present and mould the future.
But if you want to know why a historian studies the past, the answer is much simpler, something happened and he would like to know that.
Choose the most appropriate options from those given below.
(a) According to the passage, children make life difficult for their parents ...............
(i) by their carefree curiosity,
(ii) by continuous bombardment of questions.
(iii) by asking irrelevant questions,
(iv) by posing profound questions.
(b) The common people consider some of the questions that the scholars ask unimportant because
(i) they are too lazy and idle.
(ii) they are too modest.
(iii) it is beyond their comprehension,
(iv) it is considered a waste of time.
(c) A historian really studies the past...............
(i) to understand the present and to think about the future.
(ii) to explain the present and plan the future.
(iii) to understand the present and make the future.
(iv) to understand the present and mould the future.
(d) The word in the passage which means to put out/finish is ...............
(i) extinguish,
(ii) curious,
(iii) answer,
(iv) mould,
(e) Parents do their best to discourage curiosity in their children because ...............
(i) they have no time.
(ii) they have no patience to answer them.
(iii) they feel that their children ask stupid questions.
(iv) they are unable to answer all their questions.
Ans: (a) (ii) by continuous bombardment of questions.
(b) (iii) it is beyond their comprehension.
(c) (iv) to understand the present and mould the future.
(d) (i) extinguish.
(e) (iv) they are unable to answer all their questions.

Ques 14: Read the given, passage carefully.
In this age of spiralling fuel costs and greenhouse emissions, any new way to reduce the environmental and economic burden associated with the use of fossil fuels is welcome. But back in the 1950's, it was another story. It seems that industrial chemist John Andrews created a revolutionary additive for petrol.
He claimed that once this product was added, ordinary tap water could be mixed with petrol and used to run the engine of a car. The mix of water, petrol and additive was, according to Andrews, no less combustible than petrol alone.
Now, if this were true, it means that the cost of a tank of petrol could be cut by more than half and pollution dramatically reduced. Navy officials, on hearing these claims, supposedly went to Andrew's laboratory to see a demonstration of the secret additive, but on arrival found the scientist missing and his laboratory ransacked.
Andrews was never seen again. Stories circulated about how major oil companies were willing to go to any lengths to protect their products from the impact of alternative fuels-lengths that might have included the abduction of Andrews and the destruction of his research data.
That the case came to be discussed in the first place has simply added fuel, so to speak to the conspiracy theory fire.
Choose the most appropriate options from those given below.
(a) John Andrews was a...............
(i) chemist.
(ii) naval officer.
(iii) industrial chemist,
(iv) scientist.
(b) According to John Andrews the mix of water, petrol and additive was ...............
(i) less combustible than petrol alone,
(ii) not at all combustible.
(iii) no less combustible than petrol alone,
(iv) None of these
(c) A conspiracy theory is ...............
(i) a plan to work out theory,
(ii) a belief that others secretly plot together.
(iii) away of designing something,
(iv) a method of finding the truth.
(d) Which statement best sums up the main idea in the first paragraph?
(i) John Andrews went missing and his laboratory was ransacked.
(ii) Oil companies don't like competition.
(iii) John Andrews might have made a useful discovery.
(iv) Environmental issues are important.
(e) The last sentence in the second paragraph means ...............
(i) that fuel is required to keep the home fires burning.
(ii) that fuel is the fire's food.
(iii) to make a big hue and cry about an existing issue.
(iv) None of the above
Ans: (a) (iii) industrial chemist.
(b) (iii) no less combustible than petrol alone.
(c) (ii) a belief that others secretly plot together.
(d) (iii) John Andrews might have made a useful discovery.
(e) (iii) to make a big hue and cry about an existing issue.