Introduction
Anything that exhibits inertia is known as matter. The quantity of matter is its mass. Example: chalk table. In simple language, Anything which has mass and occupies space is called Matter.
Matter can exist in three physical states viz. solid, liquid, and gas.
The constituent particles of matter in these three states can be represented as shown in the figure: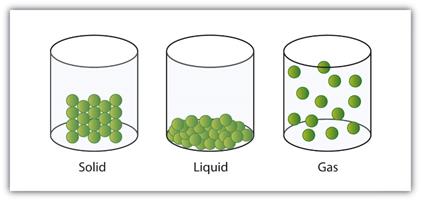 A Representation of the Solid, Liquid, and Gas States
In solids, these particles are held very close to each other in an orderly fashion and there is not much freedom of movement.
In liquids, the particles are close to each other but they can move around.
In gases, the particles are far apart as compared to those present in solid or liquid states and their movement is easy and fast.
Because of such an arrangement of particles, different states of matter exhibit the following characteristics:
Solids have definite volume and definite shape.
Liquids have a definite volume but not a definite shape. They take the shape of the container in which they are placed.
Gases have neither a definite volume nor a definite shape. They completely occupy the container in which they are placed.
These three states of matter are interconvertible by changing the conditions of temperature and pressure.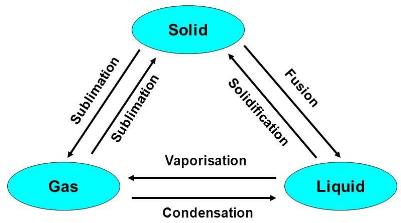 Classification of Matter (At Macroscopic/Bulk Level)
This classification of the matter is based upon the chemical composition of various substances. According to this matter can be further divided into two types, pure substance, and mixture.
Mixtures are also of two types, homogenous mixtures, and heterogeneous mixtures.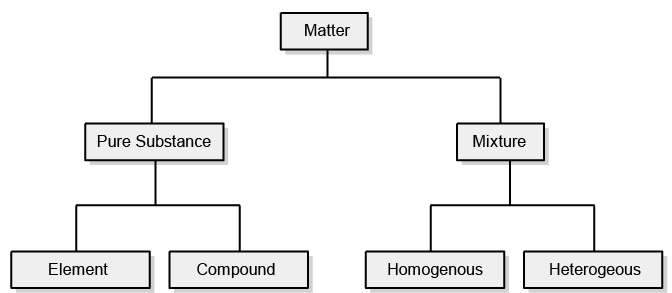 Classification of Matter
➢ Elements

The primary stuff present in all the substances is known as an element, whose smallest unit is known as an atom.
Sodium, copper, silver, hydrogen, oxygen, etc. are some examples of elements. They all contain atoms of one type. However, the atoms of different elements are different in nature.
Total 118 elements are known till date of which 92 are naturally occurring elements rest are results of artificial transmutation. There are 88 metals, 18 nonmetals, and 6 metalloids.

➢ Compound
A non-elemental pure substance is called a compound in which more than one atom of elements are linked by chemical bonds formed due to chemical reaction. The resulting molecule is an electrically neutral particle of constant continuous composition.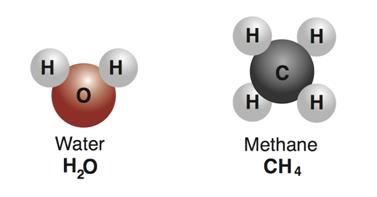 ➢ Mixture
Mixtures are the aggregate of more than one type of pure substance whose chemical identity remains maintained even in mixtures. Their constituent ratio may vary, unlike compound.
Example:
Sugar + Water = Sugar Syrup,
Gun-powder - 75 %, KNO3 - 10%, Sulphur + 15% carbon
There are two types of mixture:
(a) Homogeneous
(b) Heterogenous
Homogeneous mixtures are those whose composition for each part remains constant.
Example: aqueous and gaseous solution.
Heterogeneous mixtures are those whose composition may vary for each and every part.
Example: soil, concrete mixtures.
Table: Comparison between Homogeneous and Heterogeneous mixtures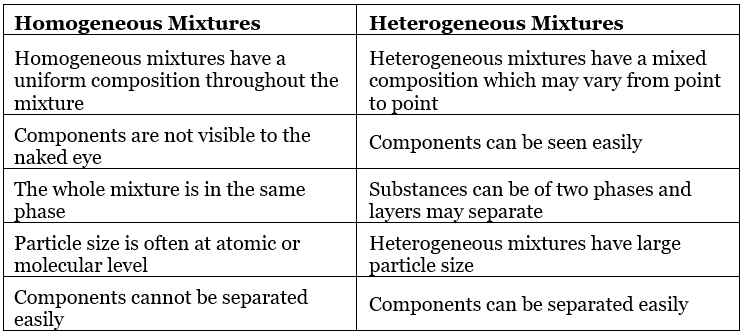 Table: Comparison between Compound and Mixtures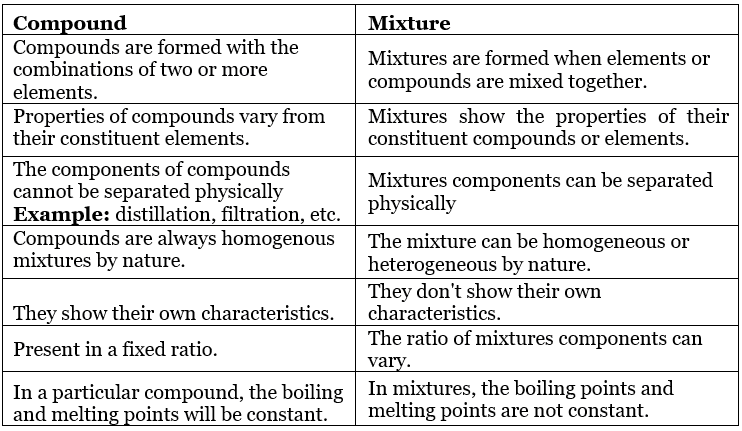 Try Yourself!
Question 1:Which one of the following is not an element?
Question 2:The most abundant element on the earth's crust is
Question 3:Which one of the following is not mixture?
Question 4:Which one if the following is not a metalloid?