PERIODIC PROPERTIES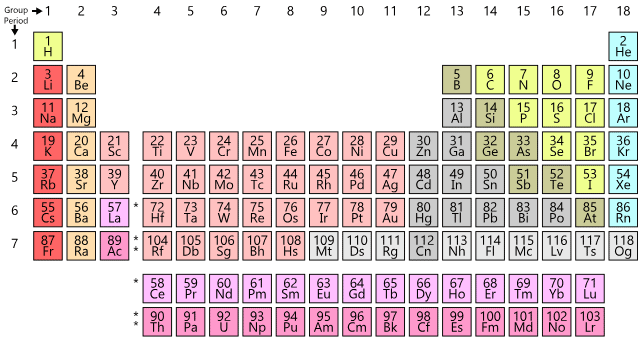 Helium belongs to s-block because last entered electron goes in s-block.
Iridium is the most dense element followed by Osmium.
Note:
(1) Last entered electron (According to Aufbau's Principle) decides the block of the element.
(2). The valence shell determines the period number.
General Properties of Periodic table
(1) There are Seventeen non-metals (including hydrogen) in periodic table.
(2) Five non - metals are solid C, P, S, Se, I
(3) One non - metal is liquid i.e. Br
(4) Eleven non-metals are gaseous.
(5) Six gases are monoatomic (noble gases) i.e. He, Ne, Ar, Kr, Xe, Rn
(6) Five gases are diatomic, they are H, F, N, O, Cl
(7) There are eight metalloids in periodic table like, B, Si, Ge, As, Sb, Te, Po, At
(8) Five elements are liquid at room temperature namely Cs, Fr, Ga, Hg, and Br,
(9) s - Block and p - Block together are called Representative elements.
(10) Five elements are radioactive amongst representative elements. They are Po, At, Rn, Fr and Ra
(11) There are seven periods in long - form of periodic table.
1.Development of modern periodic table
Dobereiner's Triads:
He arranged similar elements in the groups of three elements called as triads, in which the atomic mass of the central element was merely the arithmetic mean of atomic masses of other two elements or all the three elements possessed nearly the same atomic masses

It was restricted to few elements, therefore, discarded

Newland's Law of Octaves:
He was the first to correlate the chemical properties of the elements with their atomic masses.
According to him if the elements are arranged in the order of their increasing atomic masses the eighth element starting from given one is similar in properties to the first one.
This arrangement of elements is called as Newland's law of Octave.

This classification worked quite well for the ligher elements but it failed in case of heavier elements and, therefore, discarded.
Lother Meyer's Classification
He determined the atomic volumes by dividing atomic mass with its density in solid states.
He plotted a graph between atomic masses against their respective atomic volumes for a number of elements. He found the following observations.
(i) Elements with similar properties occupied similar positions on the curve.
(ii) Alkali metals having larger atomic volumes occupied the crests.
(iii) Transitions elements occupied the troughs.
(iv) The halogens occupied the ascending portions of the curve before the inert gases.
(v) Alkaline earth metals occupied the positions at about the mid points of the descending portions of the curve.
On the basis of these observations he concluded that the atomic volumes (a physical property) of the elements are a periodic function of their atomic masses.
It was discarded as it lacks practical utility.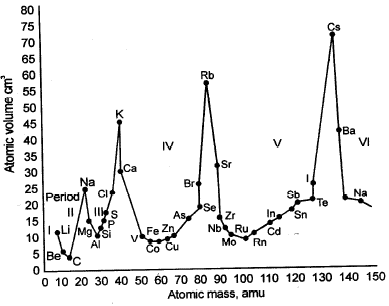 (d) Mendeleev's Periodic Table:
Mendeleev's Periodic's Law
According to him the physical and chemical properties of the elements are a periodic function of their atomic masses. He arranged then known elements in order of their increasing atomic masses considering the facts that elements with similar properties should fall in the same vertical columns and leaving out blank spaces where necessary.
Merits of Mendeleev's Periodic table:
(i) It has simplified and systematised the study of elements and their compounds.
(ii) It has helped in predicting the discovery of new elements on the basis of the blank spaces given in its periodic table.
Mendeleev predicted the properties of those missing elements from the known properties of the other elements in the same group. Eka - Aluminium and Eka-silicon names were given for gallium and germanium (not discovered at the time of Mendeleev). Properties predicted by Mendeleev for these elements and those found experimentally were almost similar.
Property

eka-aluminium(predicted)

gallium

(found)

eka-silicon

(predicted)

germanium

(found)

Atomic Mass

68

70

72

72.6

Density / (g/cm3)

5.9

5.94

5.5

5.36

Melting Point (K)

Low

30.2

High

1231

Formula of Oxide

E2O3

Ga2O3

EO2

GeO2

Formula of Chloride

ECl3

GaCl3

ECl4

GeCl4
(iii) Atomic weights of elements were corrected. Atomic weight of Be was calculated to be 3 × 4.5 = 13.5 by considering its valency 3, was correctly calculated considering its valency 2 (2 × 4.5 = 9)
Demerits In Mendeleev's Periodic Table:
(i) Position of hydrogen is uncertain .It has been placed in group 1 and 17th group because of its resemblance with both the groups.
(ii) No separate positions were given to isotopes.
(iii) Anomalous position of lanthanides and actinides in periodic table.
(iv) Order of increasing atomic weights is not strictly followed in the arrangment of elements in the periodic table. For e.g.-Ar(At.wt.39.94) is placed before K(39.08) and Te (127.6) is placed before I (126.9)
(v) Similar elements were placed in different groups(CuIB and Hg IIB) and the elements with different properties were placed in same groups(alkali metals IA and coinage metals IB)
(vi) It didn't explained the cause of periodicity.