What is Flower?
Flowers are the reproductive part of a plant. They are not only involved in reproduction, but are also a source of food for other living organisms. They are a rich source of nectar.
Flowers can either be
A complete flower is the one that consists of sepals, petals, stamens and pistil. On the contrary, an incomplete flower is the one that lacks one or more of these structures.
A complete flower consists of two different parts:
Vegetative Part
Reproductive Part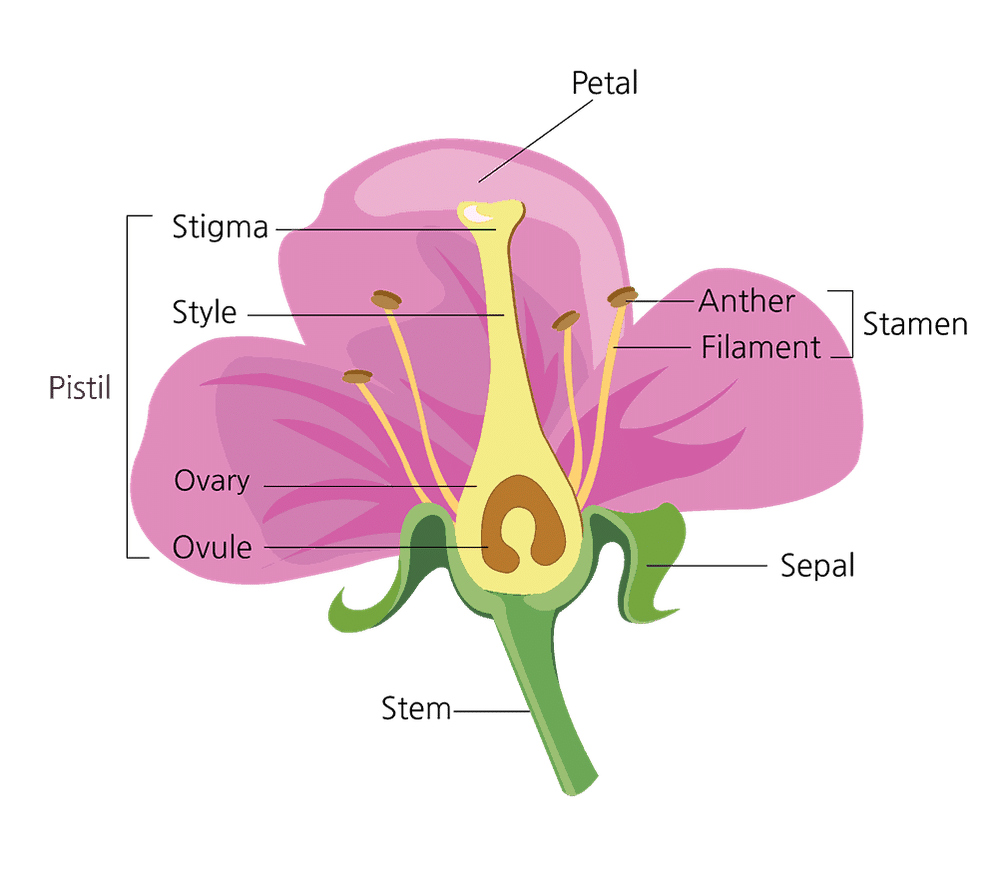 Parts of Flower
Parts of a Flower
The different parts of a flower are mentioned below:
Vegetative Parts of a Flower
The vegetative part of a flower consists of the following:
1. Petals: This is a bright-coloured part that attracts bees, insects, and birds. Colour of petals varies from plant to plant; some are bright while some are pale coloured. Thus, petals help us to differentiate one flower from another.
2. Sepals: Sepal is the green-coloured part beneath the petals to protect rising buds. Some flowers have fused petals-sepals while a few have separated petals-sepals.

Reproductive Parts of a Flower
Flowers contain the plant's reproductive structures
In different plants, the number of petals, sepals, stamens and pistils can vary. The presence of these parts differentiates the flower into complete or incomplete. Apart from these parts, a flower includes reproductive parts – stamen and pistil. A flower may have only female parts, only male parts, or both.
The reproductive parts of a flower consist of the following:
1. Stamen: This is the male reproductive organ and is also known as Androecium. It consists of two parts namely: anther and filaments.
The anther is a yellowish, sac-like structure, involved in producing and storing the pollens.
The filament is a slender, threadlike object, which functions by supporting the anther.
2. Pistil: This is the innermost part and the female reproductive organ of a flower which comprises three parts -stigma, style and ovary. This is collectively known as the pistil.
3. Stigma: It is the topmost part or receptive tip of carpels in the gynoecium of a flower.
Style: It is the long tube-like slender stalk that connects stigma and the ovary.
4. Ovary: It is the ductless reproductive gland th
The part from where flower arises is called bract. Flower is short or long on flower stalk which is called pedicel. The upper part of pedicel is swollen, spherical shaped or conical which is called thalamus/Receptacle.
Floral Leaves
Floral leaves are present on it.
In a flower, there are 4 types of floral leaves.
(1) Sepal
(2) Petal
(3) Stamen
(4) Carpel
Symmetry of Flower
If the floral leaves are cyclic arranged in a flower, then it is called cyclic flower.
If floral leaves are spirally arranged then it is called spiral or acyclic flower.
1. Actinomorphic/Radial/Regular - When flower is divided by any vertical plane into two equal halves, then it is called actinomorphic flower eg. Mustard, China rose, Datura, Chilli
2. Zygomorphic/Bilateral - When the flower is divided into two equal halves only by one vertical plane, then it is called zygomorphic flower. eg. Pea, bean, Gulmohur, Cassia If from median plane, it is divided into two equal halves, then it is called medianly zygomorphic, eg: Ocimum (Tulsi). But if by lateral plane it is divided into two equal halves, then it is called laterally zygomorphic.
3. Asymmetrical/Irregular - When the flower cannot be divided into two equal halves from any plane, then it is called an asymmetrical flower. eg. canna.
NOTE -
(1) Anthophore - Elongated internode between calyx and corolla is called anthopore. Eg. Silene
(2) Androphore - Elongated internode between corolla and androecium is called androphore. Eg. Passiflora.
(3) Gynophore - Elongated internode between androecium and gynoecium is called gynophore. Eg. Capparis.
(4) Gynandrophore or Androgynophore- When both androphore and gynophore conditions are found in same flower then this condition is called gynandrophore or androgynophore Eg. Cleome gynandra.
NOTE -
The part of the flower which lies near to mother axis is posterior part while the part which is far from mother axis is anterior part of flower.
Insertion of Floral Leaves
The relative position of gynoecium changes will respect to floral parts and on this basis it is divided into three parts:
(1) Hypogynous condition - When petals, sepals and stamens are situated below the ovary, the flower is called hypogynous and in this condition ovary will be superior. eg. Mustard, Chinarose, Brinjal.
(2) Perigynous condition - In it thalamus grow upwardly and form a cup shaped structure. On the margin of thalamus floral parts are attached except gynoecium which lie at the basal part. So in this condition gynoecium situated below floral part. But ovary in this condition is said to be half inferior. Eg. Rose, Plum, Peach.
(3) Epigynous condition - When petal, sepals & stamen are situated above the ovary, then the ovary is said to be inferior and rest of the floral parts are superior. Eg. Guava, Apple, Cucumber and the rayflorets of sunflower.
Bracteate - The flower which arises from the axil of bract is called bracteate flower.
Involucre - The whorl of bract surrounding peduncle is called involucre.
Involucel - Group of bracteole is called involucel.
Spathe - When large bract completely encloses whole inflorescence, then it is called spathe - Eg. Banana, Maize Petaloid bract- When the size of bract of flower is greater than size of flower and these are of various coloured then it is called petaloid bract. Eg. Bougainvillea Glumes - Small, dry, scaly bracts are called Glumes. Eg. Wheat, Grass.
Calyx
The Outermost whorl of a flower is called calyx. Each member of this whorl is called sepal when all the sepals are free from each other, then it is called poly-sepalous condition eg. Mustard, Radish. When the sepals are fused each other then it is called gamosepalous condition. Eg. Cotton, Datura, Brinjal.
(1) In calyx of Mussaenda, one of the sepal enlarge and form a leaf like structure. It may be white or brightly coloured. It attracts the insects and thus act as advertisement flag.
(2) In Trapa, calyx is modified into spines and helps in protection of fruit.
(3) In Argemone spines are present on the surface of sepal which protect the flower bud.
(4) In Larkspur and Balsum, the posterior part of sepal is modified into a narrow tube . This structure is called sepal spur. For attraction of insects in it,nectar is stored.
(5) In the family of sunflower, sepals are modified into hairy structure. It is called pappus. The pappus is a modified calyx and helps in dispersal of fruit.
Sepals
(1) Some plants in which sepals fall just at the time of opening of flower bud these are called caducous sepals. Eg. Poppy.
(2) In some plants, sepals fall after pollination then these are called deciduous.
(3) Upto fruit formation, if sepals do not fall and remain attached to fruit, than these are called persistent. Eg. Tomato, Capsicum, Brinjal, Cotton, Datura Sometime below calyx, a whorl similar to sepals is found which is called epicalyx. Eg. in Malvaceae family (China rose)
Corolla
The second whorl of flower is called corolla and each member of it is called petals. corolla lie above calyx. When the shape and size of petals are similar then it is called symmetrical while when they are not similar, then they are asymmetrical. When all the petals are free, then it is called polypetalous while when petals are fused, then called gamopetalous.
Forms of Corolla
A. Polypetalous
(1) Cruciform - In it 4 petals are found. The lower part of petal which is narrow is called claw while the outer broad part is called limb. These petals are arranged crosswise. Eg. Radish, Mustard
(2) Caryophyllaceous - It consists of 5 petals, the claw of petals are short and the limb of petals form right angle to the claw eg. Dianthus, Gypsophylla
(3) Rosaceous - It consists of 5 or more petals. Claws are absent in it and limbs are spread regularly outwards. Eg. Rose, Coconut.
B. Gamopetalous
(i) Campanulate - In this type of corolla 5 gamopetalous petals are present. It's shape is similar to bell. Eg. Tobacco, Raspberry, flowers of Campanula.
(ii) Funnel shaped or infundibuliform or coheel shaped - In this also 5 gamopetalous corolla is found. It's shape is similar to funnel. Eg. Datura, Railway creeper
(iii) Tubular - In it 5 gamopetalous petals are found which form tubular or cylindrical structure. Eg. Disc florets of sunflower. Which are situated in centre
(iv) Rotate - In it 5 gamopetalous petals are found and the fused part formed above small tube and the petals are arranged in a whorl above tube. Eg. Brinjal.
Zygomorphic Polypetalous Corolla
Papilionaceous - In it five petals are found. It's posterior part is largest and is known as standard or vexillum. Vexillum covers two lateral petals which are called as wings and the innermost basal parts are united to form a keel or carina. Both lateral parts covers the keel. Eg. Pea, Gram, Arhar
Zygomorphic Gamopetalous Corolla

(i) Bilabiate - The petal of gamopetalous corolla is divided into two lips. The place between two lips is called corolla mouth Eg. Ocimum
(ii) Personate - In this case also the corolla is bilabiate but the two lips are very close to each other.Eg.Antirrhinum
(iii) Ligulate - The upper part of corolla is long, flattened which is attached with short narrow tube. Eg. ray florets of sunflower.
Aestivation

The mode of arrangement of sepals or petals in floral bud with respect to the other members of the same whorl is known as aestivation. It is of following types :-
(1) Valvate - When the petal of a whorl lie adjacent to other petal and just touches it Eg. Calotropis, Custardapple.
(2) Twisted - In this type one margin of a petal covers adjacent petals and the other margin is covered automatically by posterior petal. One margin of the petal overlaps that of the next one, and the other margin is overlapped by the third one. Eg. Cotton, Ladyfinger, Chinarose.
(3) Imbricate - When both margins of the one petal are covered by the other two petals and both margin of another one, covers other. Rest are arranged in twisted manner. OR If the margins of sepals or petals overlope one another but not in any particular direction.
It is of two types :-
(i) Ascending imbricate :- The posterior petal is innermost i.e., its both margins are overlapped. e.g. Caesalpinaceae such asCassia, Bauhinia, Gulmohur etc.
(ii) Vexillary or Descending imbricate - The posterior petal is outermost & largest. In it standard or vexillum covers two lateral petals. These two laterals covers two anterior ones. Vexillary arrangement is present in pea family. Eg. Pea, Bean.
(4) Quincuncial :- It is a modification of imbricate type. Out of the five petals, two are completely internal, two are completely external and in the remaining petal, one margin is internal and the other margin is external. e.g. Murraya.
Attachment of Filament to Anther Lobe

This attachment of filament to another lobe is of 4 type :
(1) Adnate - Filament runs the whole length of the anther from the base to the apex. Michelia (Champa), Magnolia
(2) Basifixed - Filament is attached to anther by its base. Eg. Datura, Radish, Mustard
(3) Dorsifixed - The filament is attached at the centre to the back of the anther. Eg. Passion flower.
(4) Versatile - Filament is attached to the back of the anther at a point only, so that the anther can swing freely. Eg. Wheat, Grass, Maize.
Cohesion of Stamens
When the floral parts of similar whorl are fused, then it is called cohesion.
When the stamens of an androecium are free from one another, it is called polyandrous condition,
(1) When stamens are united by their filament only, it is called adelphy. It is of foll. Types
(a) Monoadelphous - When all the filaments are united into a single bundle but anthers are free from each other. In this type of cohesion a tube is formed around the gynoecium which is called staminal tube Eg.
Cotton, Hollyhock, Ladyfinger.
(b) Diadelphous - When the filaments are united in two bundles but the anther remains free Eg. Gram, Pea, Bean. In these plants from 10 stamens, 9 stamens are arranged in bundle while 1 remains free.
(c) Polyadelphous - When filaments are united into more then two bundles. Eg. Castor, Citrus.
(2) Synandrous - When anthers as well as filaments of stamens are united through their whole length. Eg. Colocasia, Alocasia, Momordica, Cucurbitaceae family.
(3) Syngenesious - In it only anthers are united in bundle, but filaments remain free eg. Compositae family
Adhesion of Stamens
When the stamens are attached to other parts of flower, then it is called adhesion of stamens.
(1) Epipetalous - When stamens are attached to petals. Eg. Brinjal, Datura, Tobacco, Sunflower, Potato
(2) Epiphyllous - When stamens are attached to tepals. Eg. Onion, Lily.
(3) Gynandrous - When complete stamens or only anther are attached to gynoecium. Eg. Calotropis, Aristolochia
Length of Stamens
(1) Didynamous - When there four stamens are present out of them two are long and two are short, then it is called didynamous. Eg. Lamiaceae/Labiatae family
(2) Tetradynamous - When there are six stamens and they are arranged in two whorls. In outer whorl, there are two short stamens while in inner whorl, there are four long stamens, this condition is called tetradynamous. Eg. Cruciferae family
Some special cases:-
(1) Inserted - When the stamens are smaller than corolla. Eg. Datura
(2) Exserted - Stamens are longer than corolla and are radially outward. Eg. Gulmohar
(3) Diplostemonous - The stamens are double the number of petals and present in two whorls. The outer whorl of stamens is alternating with petals (alternipetalous), while inner whorl is opposite to petals (antipetalous). Eg.Liliaceae family
(4) Obdiplostemonous - It is reverse of diplostemonous. The outer whorl of stamen is opposite to petals, while inner whorl of stamen is alternating with petals. Eg.Caryophyllaceae.
(5) Isostemonous or Haplostemonous - In such type of condition stamens are present in single whorls. No. of stamens is equal to no. of sepals and petals and generally whorl of stamens is alternating with petals.
Note: In some flowers, stamens are without pollengrains and remain sterile throughout life are called staminodes. Eg. Salvia, Verbascum.
Carpels
The carpel is the fourth whorl of the flower present in the centre. The carpels contain the pistil, the female reproductive part of the flower. It comprises the ovary, style, and stigma. The egg or the ovule is present in the ovary. After fertilization, sometimes the ovary turns into the fruit to keep the seed. At the top of the ovary is a vertical structure called style that supports the stigma. The dispersed pollens stick to the stigma and travel down to the ovary through the style.
Functions Of Flower
The important functions of flowers are mentioned below:
Gametophytes develop in the flowers.
The flowers can produce diaspores without fertilization.
After fertilization, the ovary of the flower develops into a fruit containing a seed.
The most important function of flowers is reproduction. They help in the union of male and female gametes.
Flowers provide nectar to certain birds and insects, which in turn help in the transfer of pollen from one flower to the other.
Flowers may promote selfing, i.e., the union of sperms and eggs from the same flower, or cross-fertilization, i.e., the union of sperms and eggs from different flowers.
Pollination
Pollination is the process in which the pollens are transferred from anther to stigma. The process of pollination can occur through a different medium.