Inland Waterways Opportunities, Challenges & Strategies
India has approximately 14,500 km of navigable waterways which comprise of rivers, canals, backwaters, creeks, etc. Navigable waterways are a fuel-efficient, environment friendly and cost-effective mode of transport. Despite the inherent advantages, the share of Inland waterway transport (IWT) in India is currently estimated to be only around 2% in comparison to 35% in Bangladesh and 20% in Germany.
Benefits of Inland Waterways
Reduce Logistics Cost:

According to World Bank, the cost of transporting one tonne freight over 1 km by waterway is Rs 1.19 compared with Rs 2.28 and Rs 1.41 by road and rail, respectively. The inland waterways can reduce the logistics cost (12-14% of GDP) and bring it on par with the global standards (8- 10% of GDP).

Lower Investment:

Development cost of inland waterway is only 5-10% in comparison to road and railways.

Greater Fuel Efficiency:

One litre of fuel moves 24 tonne - km on road, 95 tonne-km on rail and 215 tonne-km on IWT.

Low Maintenance Cost:

30% lower than the railways and 60% lower than road.

Environment friendly:

Fifty percent lower carbon dioxide emissions in comparison to Roads.

Negligible land requirement.

Safe mode for hazardous cargo.

Streamline Infrastructure:

Reduces pressure on Roads and Railways.




Provide for carriage of vehicles in the form of roll-onroll-off mode.




Easy integration of the IWT with the sea transport.




Safe and less risky in comparison to other modes.

Socio-economic development:

IWT provides benefits in terms of trade and access to markets, enhance local community's economic engagement, promote ecotourism and boost employment opportunities. Example, Arth Ganga has potential to promote sustainable development with a focus on economic activities along river Ganga.
Initiatives for Boosting Inland Waterways
Inland Waterways Authority of India (IWAI):

Statutory authority created under the Inland Waterways Authority of India (IWAI) Act, 1985 for regulation and development of Inland Waterways.

National Inland Navigation Institute (NINI):

Setup by IWAI to develop human resources for Inland Water Transport sector

National Waterways Act, 2016:

Under this act, Parliament has declared 111 National Waterways which cover a total length of 20300 Kms and spread across 24 States.

Sagarmala Program:

Promote port-led development through 14,500 km of potentially navigable waterways

Jal Marg Vikas Project (JMVP):

Capacity augmentation of navigation on National Waterway-1with the technical and financial assistance of the World Bank.

Arth Ganga for holistic and sustainable development of National Waterways-1 for freight, passenger movement and recreation purpose.

Central Road and Infrastructure Fund (CRIF):

Set up under the CRIF Act, 2000 and administered by Finance Ministry. The money for this fund is raised through the cess on petrol and high-speed diesel. The fund can be used for various social and physical infrastructure projects, including inland water transport.

Inland Vessels Act, 2021:

Replace separate rules framed by states with a uniform regulatory framework for inland vessel navigation. It calls for maintaining centralised record of data on inland vessels, which will include all information about registration of vessels, vessel crew and certificates issued.

Promoting private participation in terminal operations and maintenance.

International Cooperation such as Kaladan Multimodal Transit Transport Project, Treaty of Transit between India and Nepal, agreement between India and Bangladesh for use Chaogram and Mongla Ports for transit movement of Indian Goods.
Constraints and Strategies
India has increased the modal share of cargo from 0.5% to 2% and has witnessed 20% year-on-year growth in cargo volumes over the last 5 years. However, the share of IWT has remained quite lower at 2% in comparison to 35% in Bangladesh and 20% in Germany.
The inland waterways are cost-effective, fuel-efficient, and safe and secure mode of transportation for goods and passenger. Going forward, Government's initiatives must be implemented efficiently to realise full potential of Inland water transport.
Price Support Vs Income Support: Way Forward for Agriculture?
The recent demand of farmers for the legalization of MSP has been turned down on account of being financially imprudent and hurting the long-term interests of the farmers and Indian agriculture. In this regard, different alternatives have been proposed, which mainly center around either Price Deficiency payment mechanism or Income support mechanism. Some of the economists have highlighted that the Government can compensate the farmers through direct benefits transfer if they sell agricultural produce below the MSP. This is like Price deficiency Payment system (PDPS) which is a component of PM-AASHA scheme. On the other hand, certain economists have highlighted that Price Deficiency payment mechanism has number of inherent flaws and instead adopt income support mechanism such as PM-KISAN.
In this regard, we will focus on the following on the following dimensions:
Critical Analysis of PM-AASHA- Features, Benefits and Challenges

Challenges with Price Deficiency Payment mechanism

Way forward ABOUT PM-AASHA SCHEME The PM-AASHA scheme aims to incentivize the farmers to produce oilseeds, pulses, and Copra by offering them remunerative prices on these crops.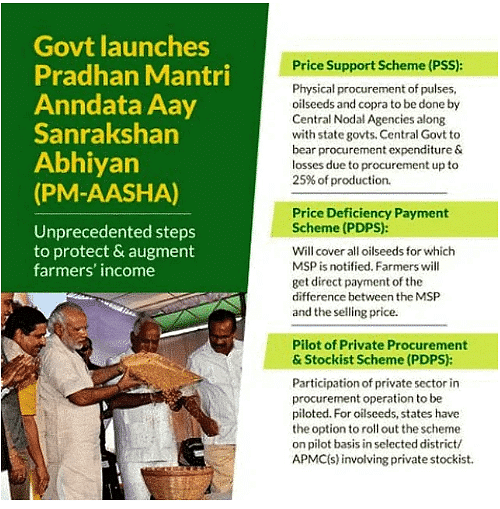 PM-AASHA
Is It Feasible to Provide for Price Deficiency Payment System (PDPS) In Place of Legalization of MSP?
Price Deficiency Payment System (PDPS) can address some of the distortions created by the MSP regime. Some of the benefits include:
Encourage farmers to undertake agricultural diversification towards other crops such as Oilseeds and Pulses.

Benefit even the small and marginal farmers throughout India

Reduce the need to undertake physical procurement and hence reduce transportation and storage costs.

Reduce burgeoning food subsidy bill. Because of these benefits, the NITI Aayog's 3-year Action Agenda (2017-2020) argued in favour of PDPS. However, PDPS would face number of constraints and challenges: Does not address the core problem of mismatch between MSP and Market Price: Presently, the MSP is determined based upon factors of production i.e. A2 + FL approach. This approach considers various input costs such as Seeds, fertilizers, Labour etc. as well as implied cost of family labour. However, the market price of the commodities is based upon the demand and supply. Because of this, there is mismatch between MSP and Market prices.

Issue in Price Deficiency Payment System (PDPS): As seen, such a scheme has already failed in MP on account of low registration of farmers, delays in transfer of money and unfair collusion between farmers and traders. Several economists have highlighted that such a mechanism would end up benefitting the traders more than the farmers. Financial Burden: According to a study conducted by ICRIER in 2018, implementation of PDPS at national level would need around Rs 1.6 lakh crores on an annual basis. Does not address structural problems of Indian Agriculture i.e., poor marketing infrastructure.
Violation of WTO Agreement on Agriculture (AoA): PDPS would further violate the limit on the subsidies under Agreement on Agriculture (AoA) and it can be challenged by other countries. India's quest for Permanent solution on public stockholding could be in jeopardy.
Way Forward
Indian agriculture needs income support rather than price support. Price support to the farmers in the form of MSP ends up distorting the market. Hence, the Government should focus on providing higher income support to the farmers in the form of PM-KISAN Scheme. The higher income support would help us reduce the input costs in agriculture, enhance productivity and hence double farmers' income.
Zero Budget Natural Farming (ZBNF): A Game Changer for Doubling Farmers' Income?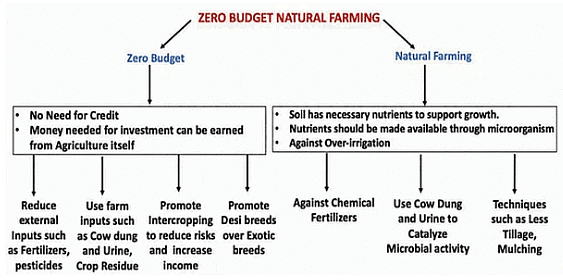 Soil has all the necessary nutrients which could be made available through the intermediation of microorganisms; Against chemical fertilizers; low cost, low level of inputs and limited reliance on externally purchased inputs.
Four Pillars of ZBNF
Jivamrita/jeevamrutha: Fermented microbial culture prepared using cow dung and urine to provides nutrients to the soil, acts as a catalytic agent to promote the activity of microorganisms in the soil.
Bijamrita/beejamrutha: Protection of the young roots from various diseases through cow dung and urine.
Acchadana: Mulching: Less Tilling; Covering soil surface with Crop residue
Whapasa (Moisture): It challenges the basic notion that plants need more amount of water and instead focuses on conservation of soil moisture and promoting less irrigation.

Other important pillars are- Intercropping, Rainwater harvesting, Revival of the soils through earthworms etc.
Government's Initiatives to Promote ZBNF
Under the RKVY-RAFTAAR and Paramparagat Krishi Vikas Yojana, States have been allowed to use certain percentage of funds to promote the ZBNF.
Benefits of Zero Budget Natural Farming
Reduce the input costs responsible for present agrarian distress.

Reduce the dependence of the farmers on the credit responsible for the debt trap.

Enhancement in the soil fertility.

Optimum utilization of water and reduce water consumption (85%)

Promote diversification of the agriculture- towards other crops and towards livestock rearing. This can also lead to reduction in the risks and enhance nonfarm income.

Enhance the farmers' income in the long term.
Challenges and Concerns
A group of agricultural experts from the National Academy of agricultural sciences (NAAS) have questioned ZBNF on multiple grounds.
Awareness among Farmers:

ZBNF is knowledge intensive and hence requires training.

Lack of Empirical Evidence:

Lack of independent and scientific studies to validate the claim that the yields through the ZBNF are much higher.

Based on Unscientific Premise

Against High yielding Seed Varieties (B) Assumes that the soils have all the necessary ingredients and

Cow dung and Urine can provide necessary nutrients.

One-Size fits all approach: In some regions of the country, the soils are either acidic or saline and, in some regions, the fertility of the soil has reduced due to heavy metal pollution.
Previous Experiences: Farmers in Sikkim switching back to Conventional Farming as the yield in the initial years is lower; Recent Experience of Sri Lanka of promoting Organic Farming which led to Food crisis. According to experts, replacing all farming with ZBNF could decrease crop production by 50% and thus severely affect both food security as well as income of farmers. Hence, the Government must adopt evidence-based approach and must not hastily promote ZBNF without multi-agroclimatic location studies, and scientific validation of long-term impact and viability of ZBNF.
Scheduled Bank Status for Paytm
The RBI has recently decided to give status of Scheduled Bank to Paytm payment bank. With the Scheduled Bank status, Paytm payment bank would be allowed to directly borrow money from the RBI.
Definition of Scheduled Bank
Definition of the Scheduled Bank has been provided under the RBI Act, 1934. According to RBI act, a scheduled Bank is one which is:
Included in the second schedule of the RBI Act.

Has a paid-up capital of not less than 5 lakhs.

Satisfies that its affairs are not being conducted in a manner which is detrimental to the interests of the depositors. It includes different categories such as Scheduled commercial Banks, Public Sector Banks, Cooperative Banks, Regional Rural Banks etc. Note: The RBI usually comes out with detailed policy guidelines for the issuance of Banking Licenses.

For example, the RBI has stipulated the minimum capital requirement of Rs 500 crores for the issuance of new banking licenses. Further, to be eligible to get a Banking license, an entity should have successful track record of running its business for at least 10 years. These requirements are in addition to the requirements mentioned in the RBI Act, 1934. Based upon fulfilment of these requirements, in 2016, the RBI had given approval for 2 new Banks- IDFC and Bandhan Bank.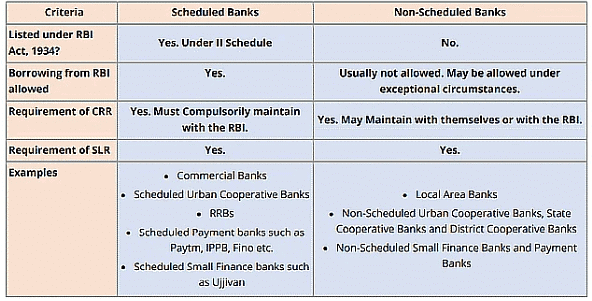 MGNREGA:
Context: As per the latest economic survey:
Demand for work under MGNREGA scheme has dropped from the peak of the first lockdown, but is still higher than pre-COVID levels.

The highest demand for work under the scheme was seen in States which are usually the destination of migrant workers, rather than source States.
What's the issue?
Advocates for rural workers have argued that the drop in demand is due to funding constraints, and urged a significant increase in allocations for the scheme in Union budget.

The Centre had infused ₹40,000 crore worth of additional funding early in the first lockdown.

However, additional funding was not available until late in the year when many States had already run out of money, forcing an artificial suppression in demand on the ground.
About MGNREGA: The scheme was introduced in 2005 as a social measure that guarantees "the right to work".
Key objectives:
Generation of paid rural employment of not less than 100 days for each worker who volunteers for unskilled labour.

Proactively ensuring social inclusion by strengthening the livelihood base of rural poor.

Creation of durable assets in rural areas such as wells, ponds, roads and canals.

Reduce urban migration from rural areas.

Create rural infrastructure by using untapped rural labour.
The following are the eligibility criteria for receiving the benefits under MGNREGA scheme:
Must be Citizen of India to seek MGNREGA benefits.

Job seeker has completed 18 years of age at the time of application.

The applicant must be part of a local household (i.e. application must be made with local Gram Panchayat).

Applicants must volunteer for unskilled labour.
Implementation of the scheme:
Within 15 days of submitting the application or from the day work is demanded, wage employment will be provided to the applicant.

Right to get unemployment allowance in case employment is not provided within fifteen days of submitting the application or from the date when work is sought.

Social Audit of MGNREGA works is mandatory, which lends to accountability and transparency.

The Gram Sabha is the principal forum for wage seekers to raise their voices and make demands.

It is the Gram Sabha and the Gram Panchayat which approves the shelf of works under MGNREGA and fix their priority.
Highlights of the Union Budget 2022
Finance minister Nirmala Sitharaman on February 1 presented a budget worth Rs 39.45 lakh crore with massive push to infrastructure spending.
Note: Know about budget, what it means, related constitutional provisions and presentation stages here.
Now, highlights of the 2022 budget: Total spending and Focus:
To enhance job creation and boost economic activity.
Total government spending will be 4.6 per cent more than the current year and additional support of Rs 1 lakh crore to states has been announced.
The total expenditure in 2022-23 is estimated at Rs 39.45 lakh crore, while the total receipts other than borrowings are estimated at Rs 22.84 lakh crore.
The outlay for capital expenditure is once again being stepped up sharply by 35.4 per cent from Rs 5.54 lakh crore in the current year to Rs 7.50 lakh c

rore in 2022-23.
Few observations about the State of the economy:
The government projects India's economy to grow by 9.2 per cent in the current fiscal year.

India's gross domestic product (GDP) in dollar terms has already crossed $3 trillion.

Fiscal deficit is projected to be higher at 6.9 per cent this fiscal as against 6.8 per cent estimated earlier. The fiscal deficit of the government for 2022-23 is estimated to be Rs 16,61,196 crore.

Soaring inflation levels continue to be a cause of concern for the economy.

Foreign exchange reserves stood at $634.287 billion on January 21, providing a cover equivalent to 13 months of imports projected for 2021-22.
What's in the budget for infrastructure development?
PM GatiShakti National Master Plan will encompass the seven engines for economic transformation, seamless multimodal connectivity and logistics efficiency.

The seven engines include roads, railways, airports, ports, mass transport, waterways, and logistics infrastructure. All seven engines will pull forward the economy in unison.

400 new Vande Bharat trains will be introduced and the Railways will also develop new products for small farmers and MSMEs.

Integration of postal and railways network facilitating parcel movement was announced.

Master plan has been formulated for highways, targets to complete 25,000 km national highways in 2022- 23.

Sovereign Green Bonds to be issued for mobilizing resources for green infrastructure.

Data Centres and Energy Storage Systems to be given infrastructure status.
Agriculture and food processing:
Budget allocation for the ministry of agriculture and farmers' welfare: Rs 1,32,513 crore for 2022-23 fiscal.

'Kisan Drones' to be promoted for crop assessment, digitisation of land records and spraying of insecticides.

A fund with blended capital raised under the co-investment model through Nabard will be set up to finance startups and rural enterprises working in agri-space.

Zero-budget natural farming: The agriculture universities in the country will be encouraged to include these areas in their syllabus.
Education
Digital University would be established to provide access to students across the country for world-class quality universal education.

One class one TV channel programme to be expanded to 200 TV channels.

Virtual labs and skilling e-labs will be established to promote critical thinking skills and simulated learning environment.

The Digital Ecosystem for Skilling and Livelihood - the DESH-Stack e-portal would be launched.
Healthcare
The health sector has been allocated Rs 86,200.65 crore in the Union Budget.
A National Tele Mental Health Programme will be launched to improve access to quality mental health counselling and care services.

An open platform for National Digital Health Ecosystem will also be rolled out.

For the National Health Mission, the budget allocation increased from Rs 36,576 crore in 2021-22 to Rs 37,000 crore in 2022-23.
Tax proposals
Taxpayers have been allowed a one-time window to correct omissions in income tax returns (ITR). They can file the updated returns within 2 years from the assessment year.

30 per cent tax on income from transfer of virtual digital assets has been proposed.

One per cent tax deducted at source (TDS) on transfer of virtual assets above a threshold, gifts would be taxed.

Government will soon roll out digital rupee based on blockchain technology.
Boost for MSMEs
A Raising and Accelerating MSME Performance (RAMP) programme will be rolled out with a Rs 6,000 crore outlay spread over 5 years for MSMEs.

The Emergency Credit Line Guarantee Scheme (ECLGS) that provided much needed additional credit to over 1.3 crore MSMEs will be extended till March 2023 with its guarantee cover expanded by Rs 50,000 crore to Rs 5 lakh crore.
Prime Minister's Development Initiative for North-East (PM-DevINE)
New scheme PM-DevINE launched to fund infrastructure and social development projects in the North-East.

An initial allocation of Rs. 1,500 crore made to enable livelihood activities for youth and women under the scheme.
SWAMITVA scheme
Context: The government has said that it plans to prepare digital maps of all its 6,00,000 villages and pan-India 3D maps will be prepared for 100 cities under SVAMITVA scheme.
So far drone surveys have covered close to 1,00,000 villages and maps of 77,527 villages had been handed over to states.

Property cards had been distributed to around 27,000 villages.

Overview and key features of the SVAMITVA (Survey of Villages and Mapping with Improvised Technology in Village Areas) Yojana': Launched on Panchayati Raj Diwas (April 24th, 2020). Last year, it was extended to all states. Earlier, it was launched only for 9 states.

The scheme seeks to map residential land ownership in the rural sector using modern technology like the use of drones.

The scheme aims to revolutionize property record maintenance in India.

The scheme is piloted by the Panchayati Raj ministry.

Under the scheme, residential land in villages will be measured using drones to create a non-disputable record.

Property card for every property in the village will be prepared by states using accurate measurements delivered by drone-mapping. These cards will be given to property owners and will be recognised by the land revenue records department.
Benefits of the scheme:
The delivery of property rights through an official document will enable villagers to access bank finance using their property as collateral.

The property records for a village will also be maintained at the Panchayat level, allowing for the collection of associated taxes from the owners. The money generated from these local taxes will be used to build rural infrastructure and facilities.

Freeing the residential properties including land of title disputes and the creation of an official record is likely to result in appreciation in the market value of the properties.

The accurate property records can be used for facilitating tax collection, new building and structure plan, issuing of permits and for thwarting attempts at property grabbing. Need for and significance of the scheme: The need for this Yojana was felt since several villagers in the rural areas don't have papers proving ownership of their land. In most states, survey and measurement of the populated areas in the villages has not been done for the purpose of attestation/verification of properties. The new scheme is likely to become a tool for empowerment and entitlement, reducing social strife on account of discord over properties.
World Food Programme
Context: India signed an agreement with the United Nation's World Food Programme (WFP) for the distribution of 50,000 MT of wheat that it has committed to sending Afghanistan as part of a humanitarian assistance.
According to the MoU, the wheat will be taken through Pakistan to the Afghan border crossing and handed over to WFP officials in Kandahar beginning February 22.

The wheat will eventually be divided into five batches of 10,000 MT, to be distributed across the country on approximately 200 trucks that are run by WFP.
What is UN WFP?
The World Food Programme (WFP) is the food assistance branch of the United Nations and the world's largest humanitarian organization addressing hunger and promoting food security. Born in 1961, the WFP strives to eradicate hunger and malnutrition, with the ultimate goal in mind of eliminating the need for food aid itself. It is a member of the United Nations Development Group and part of its Executive Committee.
WFP food aid is also directed to fight micronutrient deficiencies, reduce child mortality, improve maternal health, and combat disease, including HIV and AIDS.

What is "World Hunger Map"?

Alibaba Cloud, the cloud computing arm of Alibaba is working with WFP to develop digital "World Hunger Map".

The map will help to monitor global hunger and operations to end scourge by 2030 which is one of UN's key Sustainable Development goals.

It also aims to boost efficiency of interventions and shorten emergency response times
Pradhan Mantri Fasal Bima Yojana
Context: The Pradhan Mantri Fasal Bima Yojana (PMFBY) has successfully entered its seventh year of implementation with the upcoming Kharif 2022 season, completing six years of its implementation since its announcement on 18 February 2016.
Meri Policy Mere Hath to be launched:
As part of the celebrations, the Govt. has launched a doorstep distribution drive to deliver crop insurance policies to the farmers 'Meri Policy Mere Hath' in all implementing States.

The campaign aims to ensure all farmers are well aware and equipped with all information on their policies, land records, the process of claim and grievance redressal under PMFBY.
Performance of PMFBY:
Till date, the scheme has insured over 30 crore farmer applications (5.5 crore farmer applications on year-on-year basis).

Over the period of 5 years, more than 8.3 crore farmer applications have benefited from the scheme.

Moreover, Rs.95,000 crores claims have been paid as against Rs. 20,000 crore farmers share.
About Pradhan Mantri Fasal Bima Yojana:
It is in line with the One Nation – One Scheme theme- It replaced National Agricultural Insurance Scheme (NAIS) and Modified National Agricultural Insurance Scheme (MNAIS).

Launched in 2016.

Coverage: All food & oilseed crops and annual commercial/horticultural crops for which past yield data is available.
Premium: The prescribed premium is 2% to be paid by farmers for all Kharif crops and 1.5% for all rabi crops. In the case of annual commercial and horticultural crops, the premium is 5%.
Objectives:
To provide insurance coverage and financial support to the farmers in the event of failure of any of the notified crops as a result of natural calamities, pests & diseases.

To estabilise the income of farmers to ensure their continuance in farming.

To encourage farmers to adopt innovative and modern agricultural practices.

To ensure flow of credit to the agriculture sector. Coverage: The Scheme covers all Food & Oilseeds crops and Annual Commercial/Horticultural Crops for which past yield data is available and for which requisite number of Crop Cutting Experiments (CCEs) are being conducted under General Crop Estimation Survey (GCES).
PMFBY to PMFBY 2.0 (overhauled PMFBY)
Completely Voluntary:

It has been decided to make enrolment 100% voluntary for all farmers from 2020 Kharif.

Limit to Central Subsidy:

The Cabinet has decided to cap the Centre's premium subsidy under these schemes for premium rates up to 30% for unirrigated areas/crops and 25% for irrigated areas/crops.

More Flexibility to States:

The government has given the flexibility to states/UTs to implement PMFBY and given them the option to select any number of additional risk covers/features like prevented sowing, localised calamity, mid-season adversity, and post-harvest losses.

Penalising the Pendency:

In the revamped PMFBY, a provision has been incorporated wherein if states don't release their share before March 31 for the Kharif season and September 30 for rabi, they would not be allowed to participate in the scheme in subsequent seasons.

Investing in ICE Activities:

Insurance companies have to now spend 0.5% of the total premium collected on information, education and communication (IEC) activities.
UPI123Pay and Digisaathi
Why in News
The Reserve Bank of India (RBI) has launched new UPI services for feature phones called UPI123Pay for non internet users to make digital payments, also launched a 24x7 helpline for digital payments called 'Digisaathi'.
'Digisaathi' has also been set up by the

National Payments Corporation of India (NPCI)

to provide users with automated responses on information related to digital payment products and services. Presently it is available in English and Hindi language.
What is Unified Payments Interface (UPI)?
It is an

advanced version of Immediate Payment Service (IMPS)

- round–the-clock funds transfer service to make cashless payments faster, easier and smoother.

UPI is a system that powers multiple bank accounts into a single mobile application (of any participating bank), merging several banking features, seamless fund routing & merchant payments into one hood.

UPI is currently the biggest among the

National Payments Corporation of India (NPCI)

operated systems including National Automated Clearing House (NACH), Immediate Payment Service (IMPS), Aadhaar enabled Payment System (AePS), Bharat Bill Payment System (BBPS), RuPay etc.

The top UPI apps today include PhonePe, Paytm, Google Pay, Amazon Pay and BHIM, the latter being the Government offering.
What is UPI 123 Pay?
About
It will work on simple phones that do not have an internet connection.

The UPI service for feature phones will leverage the RBI's regulatory Sandbox on Retail Payments.

A regulatory sandbox usually refers to live testing of new products or services in a controlled/test regulatory environment for which regulators may permit certain regulatory relaxations for the limited purpose of the testing.

The UPI service will enable digital transactions through a mechanism of 'on-device' wallet in UPI applications."

The users will be able to undertake a host of transactions based on four technology alternatives including- IVR (interactive voice response) number, missed call-based approach, app functionality in feature phones and proximity sound-based payments.
Benefits
The new service for feature phones will enable individuals to make direct payments to others without smartphones and internet.

Users can initiate payments to friends and family, pay utility bills, recharge the FAST Tags of their vehicles, pay mobile bills and also allow users to check account balances.

It will allow customers to use feature phones for almost all transactions except scan and pay.

UPI123Pay will benefit an estimated 40 crore feature phone users and enable them to undertake digital payments in a secure manner. This will bring non-smartphone users under the digital payment system.