INTRODUCTION
Electromagnetism is a science of the combination of electrical and magnetic phenomenon. Electromagnetism can be divided into 2 parts:
1. Electrostatics: It deals with the study of charges at rest.
2. Electrodynamics: It deals with the study of charges in motion (discusses magnetic phenomenon).
In this chapter, we will be dealing with charges at rest i.e. electrostatics.

STRUCTURE OF ATOM
An atom consists of two parts:
(i) nucleus
(ii) extra nuclear part
Nucleus consists of neutrons and protons and extranuclear part has electrons revolving around nucleus.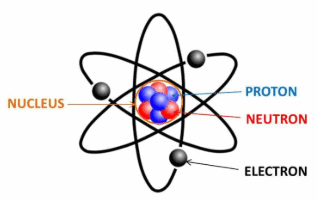 Fig: Structure of atom
In a neutral atom,
number of electrons = number of protons.
charge of electrons = charge of protons = 1.602 × 10-19 coulomb.
Normally positive charges are positron, proton and positive ions. In nature practically free existing positive charge are positive ions and negative charges are electrons.

ELECTRIC CHARGE
Charge of a material body or particle is the property (acquired or natural) due to which it produces and experiences electrical and magnetic effects. Some of naturally charged particles are electron, proton, α-particle etc.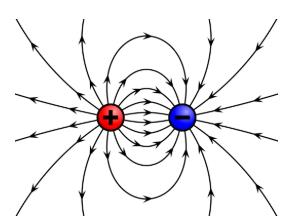 Fig: Electric field lines
TYPES OF CHARGE
(i) Positive charge: It is a deficiency of electrons compared to protons.
(ii) Negative charge: It is the excess of electrons compared to protons.
Units of Charge
A charge is a derived physical quantity. The charge is measured in coulomb in S.I. unit. In practice we use
mC (10-3C),
μC (10 -6 C),
nC (10-9C) etc.
C.G.S unit of charge = electrostatic unit = esu.
1 coulomb = 3 × 109 esu of charge
Dimensional formula of charge = [M°L°T1I1]

PROPERTIES OF CHARGE
(i) Charge is a scalar quantity: It adds algebraically and represents excess, or deficiency of electrons.
(ii) A charge is transferable: Charging a body implies a transfer of charge (electrons) from one body to another. Positively charged body means loss of electrons, i.e. deficiency of electrons. Negatively charged body means an excess of electrons. This also shows that mass of a negatively charged body > mass of a positively charged identical body.
(iii) A charge is conserved: In an isolated system, the total charge (sum of positive and negative) remains constant whatever change takes place in that system.


Fig: Conservation of charge(iv) The charge is quantized: Charge on anybody always exists in integral multiples of a fundamental unit of electric charge. This unit is equal to the magnitude of charge on an electron (1e = 1.6 × 10-19 coulomb). So charge on anybody Q = ± ne, where n is an integer and e is the charge of the electron. Millikan's oil drop experiment proved the quantization of charge or atomicity of charge.
Recently, the existence of particles of charge ± and ± has been postulated. These particles are called quarks but still this is not considered as the quantum of charge because these are unstable (They have very short span of life.)
(v) Like point charges repel each other while unlike point charges attract each other.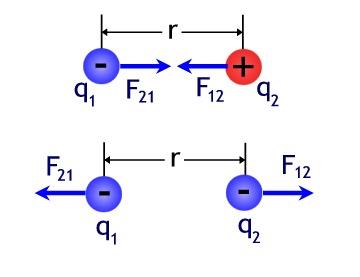 Fig: Forces between charges(vi) Charge is always associated with mass, i.e., charge can not exist without mass though mass can exist without charge. The particle such as a photon or neutrino which have no (rest) mass can never have a charge.
(vii) Charge is relativistically invariant: This means that charge is independent of frame of reference, i.e., charge on a body does not change whatever be its speed. This property is worth mentioning as in contrast to charge, the mass of a body depends on its speed and increases with increase in speed.
(viii) A charge at rest produces only electric field around itself: a charge having uniform motion produces electric as well as magnetic field around itself while a charge having accelerated motion emits electromagnetic radiation.

SOLVED QUESTIONS ELECTRIC CHARGE
Ques 1: What happens
(i) when two like charges are brought together?
(ii) when two unlike charges are brought together?
Ans:
(i) When two like charges are brought together they attract.
(ii) When two unlike charges are brought together they repel.
Ques 2: What does neutral in electric charge mean?
Ans: Neutral does not refer to the third type of charge, but it is a region between the positive and negative charges.
Ques 3: Does the mass of the body get affected while charging?
Ans: Yes, the mass of the body gets affected because electrons have a definite mass so the mass of the body slightly increases when it gains electrons while the mass decreases when it loses electrons.
Ques 4: Two identical metallic spheres of exactly equal masses are taken. One is given positive charge q coulombs and other an equal negative charge. Are their masses after charging equal?
Ans: No. A body is positively charged due to the deficit of electrons while the negative charge is due to a surplus of electrons. Hence, the mass of the negatively charged sphere will be slightly more than that of the positively charged spheres.
Ques 5: During a nuclear reaction, what happens to electric charge?
Ans: In the event of a nuclear reaction, the electric charge is conserved considering an isolated system. This is true for any nuclear or chemical reaction, where the net electric charge stays constant. To be precise, the algebraic quantity of the essential charges stays the same.
Ques 6: Explain the statement: 'For a body, an electric charge is quantized'.
Ans: Considering a particular body, 'electric charge is quantized' refers to the fundamental number of electrons which can be transferred from that body to another. It should be noted that charges don't get transported infractions. Therefore, the overall charge controlled by a body is simply the fundamental multiples of electric charge.