India is a land of diversification. Every state has its unique art, culture, and tradition. The one thing that is common for all states is the celebration of individual culture and tradition.
Indians celebrate their beliefs, culture, and tradition in the form of festivals. Every festival has its own specific characteristics. Festivals in India are celebrated season-wise and state-wise.

Famous Festivals in India: Diwali, Holi, Dussehra, Eid-Ul-Fitr, Raksha Bandhan, Gurupurab, Christmas, Pongal, Onam, Bihu, Hemis, Maha Shivratri, Ganesh Chaturthi, Chhath Puja, Bhai Dooj.
List of Indian Festivals
State-Specific
1. Andhra Pradesh: Dasara, Ugadi, Deccan Festival, Brahmotsavam
2. Arunachal Pradesh: Reh, Boori Boot, Myoko, Dree, Pongtu, Losar, Murung, Solang, Mopin, Monpa festival
3. Assam: Ambubachi, Bhogali Bihu, Baishagu, Dehing Patkai
4. Bihar: Chhath Puja, Bihula
5. Chhattisgarh: Maghi Purnima, Bastar Dussehra
6. Goa: Sunburn festival, Ladain, Mando
7. Gujarat: Navratri, Janmashtami, Kutch Utsav, Uttarayana
8. Himachal Pradesh: Rakhadumni, Gochi Festival
9. Haryana: Baisakhi
10. Jammu and Kashmir: Har Navami, Chhari, Bahu Mela, Dosmoche,
11. Jharkhand: Karam Utsav, Holi, Rohini, Tusu
12. Karnatka: Mysore Dasara, Ugadi
13. Kerla: Onam, Vishu
14. Madhya Pradesh: Lok-rang Utsav, Tejaji, Khujaraho festival
15. Meghalaya: Nongkrem festival, Khasis festival, Wangla, Sajibu Cheiraoba
16. Maharashtra: Ganesh Utsav, Gudi Padva
17. Manipur: Yaoshang, Porag, Chavang Kut
18. Mizoram: Chapcharkut Festival
19. Nagaland: Hornbill festival, Moatsu Festival
20. Odisha: Rath Yatra, Raja Parba, Nukahai
21. Punjab: Lohri, Baisakhi
22. Rajasthan: Gangaur, Teej, Bundi
23. Sikkim: Losar, Saga Dawa
24. Tamil Nadu: Pongal, Thaipusam, Natyanjali Festival
25. Telangana: Bonalu, Bathukamma
26. Tripura: Kharchi Puja
27. West Bengal: Durga Puja
28.Uttranchal: Ganga Dussehra
29. Uttar Pradesh: Ram Navmi, Ganga Mahotsav, Navaratri, Khichdi
Season-Specific
1. North-India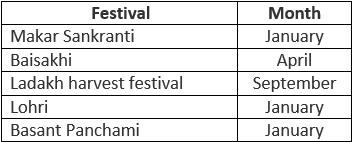 2. South-India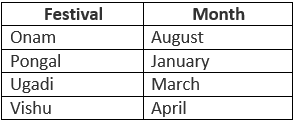 3. East & West India