Different types of fire extinguishers generally used are:
Household fire extinguishers.
(a) Dry powder extinguishers.
(b) Baking soda, sulphuric acid-type fire extinguishers.
Foamite fire extinguishers.
Pyrene fire extinguishers
Household fire extinguishers:

Fig. Household Fire ExtinguishersAir containing about 16% of carbon dioxide does not support combustion. Carbon dioxide is, therefore, used for extinguishing fire.
(a) Dry powder fire extinguishers: These contain sand and baking soda which is thrown over burning fire where it is decomposed by heat and carbon dioxide is liberated.
As the percentage of carbon dioxide in air surrounding the burning object increases, the burning decreases. It is extinguished completely when the percentage of carbon dioxide in the surrounding air reaches 15%.
(b) Baking soda, sulphuric acid type fire extinguishers: It contains a bottle of sulphuric acid supported in a metallic container filled with strong baking soda solution. On striking the knob, the acid bottle breaks and carbon dioxide is liberated by the action of acid on baking soda. As more and more of carbon dioxide is produced, its percentage in air surrounding the burning object increases and brings the fire under control.
Foamite fire extinguishers
Fig. Foamite Fire Extinguisher
In this type of fire extinguisher, sulphuric acid is replaced by aluminium sulphate and licorice extract.
Pyrene fire extinguishers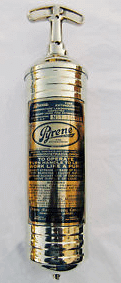 Fig. Pyrene Fire ExtinguisherPyrene is a carbon tetra-chloride and its vapours do not catch fire, i.e., it is inflammable. It is, therefore, used as a fire extinguisher. When pyrene is thrown along with water on the burning object, carbon tetrachloride vapours surround the fire and thus cut-off the supply of air. The fire is thus extinguished. It is an ideal fire extinguisher for extinguishing fire is an electrical equipment.
Building Materials and Glass:
Portland Cement
Portland cement is in the form of finely divided grey powder composed of lime, alumina, silica and iron oxide. Small amounts of magnesia, sodium, potassium and sulphur are also present. Manufacturing of cement lies in mixing all its components thoroughly and then is heated to near fusion points, i.e., 1400°C. The clinker obtained is mixed with 2 to 3% gypsum and then finely pulverized.
Mortar: These are the mixtures of cement and sand and occasionally other fine aggregates. They are used for bonding in masonry and as surface covering also.
Concrete: It is mixture of cement, sand and coarse aggregates. The mixture is made into a solid mass. The size of the coarse aggregate varies with the purpose for which the concrete is required.
Reinforced Concrete: Reinforced concrete is an ordinary concrete, reinforced with steel rods or heavy wire mesh. Concrete is poured around steel rods or heavy wire mesh. On settling, the concrete adheres very strongly to the reinforcements. The reinforced concrete can withstand not only high tensile strength but also high compressive stresses.
Lime: Lime is calcium oxide which is used as mortar, plaster or insecticides in refractory bricks in metallurgy as flux, in paper as sizing material, in water softening and as a fertiliser for liming soil.
Plasters of Paris: Chemically it is a calcined gypsum. Plaster of paris is obtained from gypsum heating upto the temperature 120°C-160°C. Plaster of Paris finds its uses in decoration, dentists use it for making impressions for dentures, for making wall plasters, structural tiles, etc.
Glass
It is a ceramic material consisting of a uniformly dispersed mixture of silica, i.e. sand (75%), soda (20%), and lime (5%), often combined with such metallic oxides as those of calcium, lead, lithium, ceranium, etc., depending on the specific properties desired. The blend is heated to fusion temperature (about 700-800°C) and then gradually cooled (annealed) to a rigid, friable state, often referred to as vitreous. Technically glass is an amorphous, under-cooled liquid of extremely high viscosity which has all appearances of solid.
Types of Glasses
Glass ceramic: A devitrified or crystallized form of glass whose properties can be made to vary over a wide range. It has specific gravity of 2.5, thermal shock resistance 800°C.
Derivation: A standard glass formula to which a nucleating agent such as titania has been added, is melted, rolled into sheet and cooled. It is then heated to the temperature at which nucleation occurs.
Uses: Laboratory bench tops, architectural panels, restaurant heating and warming equipment, telescopic mirror.
Glass Fibre: These are special quality glass, having specific gravity 2.54 and softens above 815°C.
Uses: As thermal, caustic and electrical insulation, decorative and utility fabrics, table linen, fire-cord, as belt between tread and car case.
Glass Metallic: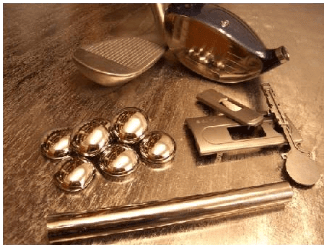 Fig. Metallic glass products Metal alloys having an amorphous atomic structure similar to that of silica glass, achieved by cooling of the molten alloy so rapidly that no crystalline structure is formed. Such alloys are said to be harder than their crystalline counterparts and are more resistant to corrosion.
Glass Optical: The optical glass is that glass which has definite optical characteristics so that it can be used in optical instruments.
The Glass have very low viscosity so that it becomes free from bubbles in molten condition. The material used for the batch is free from impurities like iron, etc. The optical glass takes up desired polish on grinding and polishing.
Safety Glass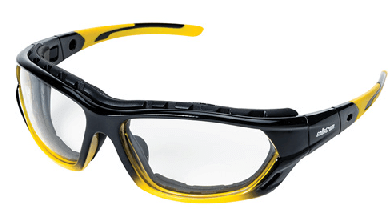 Fig. Sealed safety glassIt is glass which on breaking does not allow its broken pieces to fly apart and causes injury to the people around.
There are two types of safety glasses:
(a) Laminated Safety Glass,
(b) Heat Tempered Glass
In the laminated safety glass, two sheets of glass are pasted by means of plastic adhesives to two sides of plastic sheet, so the plastic sheet is sandwiched in between the two glass sheets.
The plastic and glass sheets are pressed together under heat to seal the edges. Then the glass is subjected to high temperatures and pressure in an autoclave so that the inner layers come into close contact. Then the edges of the combined sheets are sealed with a water resistant compound.