REPRODUCTIVE SYSTEM :
I. Male Reproductive System :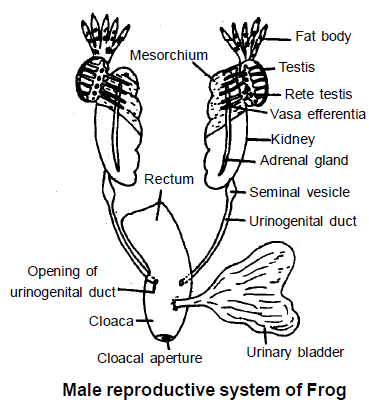 One pair of testis are attached to the upper part of kidney by the help of membrane mesorchium. Sperms are formed in testis by spermatogenesis. At the time of copulation, this sperm enter into bidder canal from the testis by 10 to 12 small ducts. These ducts are called Vasa-efferentia. This bidder canal opens into cloaca through the urinogenital duct. Sperms are ejected out through the cloacal aperture.
II. Female Reproductive System :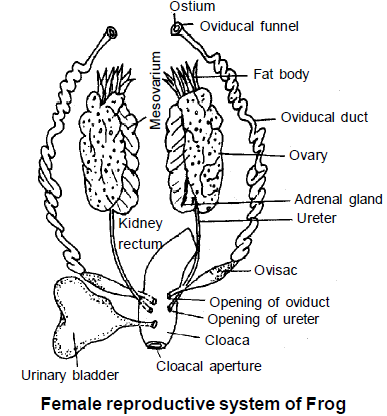 One pair of ovaries are present on the upper pole of kidney & it opens into cloaca by a separate duct that is called oviduct, so, there is no connection between the ovaries & kidney.
Mature female can lay 2500 – 3000 ova at a time. At a time only one ovary eject ova. Fertilization is external. Its larva is called tadpole. Tadpole undergoes metamorphosis to form the adult.