Transition Elements:
Definition: They are often called "transition elements" because their position in the periodic table is between s-block and p-block elements.
Typically, the transition elements have an incompletely filled d-level. Since Zn group has d10 configuration and are not considered as transition elements but they are d-block elements.
General Characteristics:
(i) Metallic character: They are all metals and good conductors of heat & electricity.
(ii) Electronic configuration: (n – 1)d1– 10ns1–2

(iii) M.P.

(iv) Variation in atomic radius:

(v) Variable oxidation states possible: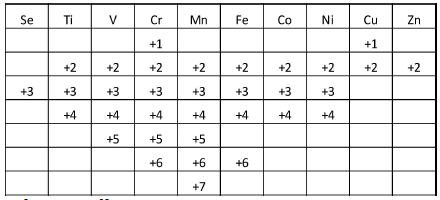 | | |
| --- | --- |
| Colour : (aquated) | Colour : (aquated) |
| Sc3+ → colourless | Ti4+ → colourless |
| Ti3+ → purple | V4+ → blue |
| V3+ → green | V2+ → violet |
| Cr2+ → blue | Cr3+ → green |
| Mn3+ violet | Mn2+ → light pink |
| Fe2+ → light green | Fe3+ yellow |
| Co2+ → pink | Ni2+ → green |
| Cu2+ → blue | Zn2+ → colourless |
CHROMATE - DICHROMATE:
Preparation:

[Lime (CaO) added with Na2CO3 which keeps the mass porous so that air has access to all parts and prevents fusion.]
Then,


NaCl crystallises out first and filtered off. Then K2Cr2O7 crystallised out on cooling
Other props & test of CrO42– & Cr2O72– : Already discussed
Similarities between hexavalent Cr & S–compounds.



Ques: In laboratory K2Cr2O7 is used mainly not Na2Cr2O7. Why?
Ans: Na2Cr2O7 is deliquescent enough and changes its concentration and cannot be taken as primary standard solution whereas K2Cr2O7 has no water of crystallisation and is not deliquescent.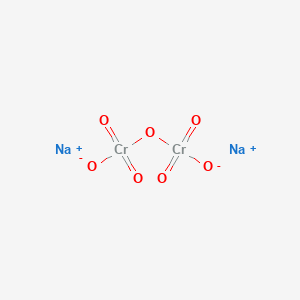 Fig: Structure of Na2Cr2O7
Ques: How to standardise Na2S2O3 solution in iodometry?
Ans: K2Cr2O7 is the primary standard ⇒ strength is known by weighing the salt in chemical balance and dissolving in measured amount of water.
Then in acidic solution, add KI
Cr2O72- + 14 H+ + 6I- → 2Cr3+ + 3I2 + 7H2O
This I2 is liberated can be estimated with S2O32-.