Growing importance of Ports
The Indian coastline which is 7516.6 km long covers 6100 km of mainland coastline along with the Andaman, Nicobar, and the Lakshadweep islands.
The coastline of India touches 13 states and Union Territories. The western coastal plains are along the Arabian Sea whereas the eastern coastal plains are located along the Bay of Bengal. 20% of India's population lives in coastal areas.
The contribution of maritime states to India's GDP is approximately 60%. The big and small ports along the Indian coastlines help in carrying out trade.
There are 13 major ports and 200 minor ports.
95% of India's foreign trade and 70% of the value is trade takes place through seaways.
Over 7500 kilometers of coastline with 13 major and 60 operational non-major ports.
90% of the country's trade by volume and 70% by value are moved through maritime transport.
There are 13 major ports in India that handle approximately 58% of cargo traffic.
Cargo handled at major ports is bulk (44% – iron ore, coal, and fertilizer), liquid (33% petrol, oil, and lubricants), and container (23%).
Water transport has been playing an important role in the Indian economy since time immemorial. It is an easy, cheap, and energy-efficient means of exports and imports of heavy items. In this context role of ports become all the more important.
Besides foreign trade, ports play an important role in internal trade. Many rivers are linked with major ports. These rivers carry important goods from ports to the hinterland to facilitate the transportation of these goods inside the country.
Of the total sea-based trade of India, more than 85% is shared by Bombay, Calcutta, Cochin, Madras, and Vishakhapatnam due to both geographical and historical reasons. Mumbai, Chennai, Kolkata have been centers of administration for a long time.
With the increase in the population of these cities commercial and industrial activities also increase. During the later half of the 19th century, railways lines were constructed, consequently, from political centers they developed into great ports.
Rationale for Sagarmala Project
Sagarmala project is for promoting port-led direct and indirect development and to provide infrastructure to transport goods to and from ports quickly, efficiently, and cost-effectively.
No cohesive institutional arrangement: There is the involvement of multiple agencies in the development of infrastructure in coastal areas which causes policy failure and ambiguity in the implementation of projects.
Weak infrastructure at ports and beyond: Limited mechanization, lack of scale, deep draft, and other facilities at various ports in India is not up to the mark, which causes hurdles in port-led development in India.
Lack of requisite infrastructure: For evacuation of goods from major and non-major ports to hinterland there is a lack of modal and mix modal transportation facilities.
Limited hinterland linkages: Lack of infrastructure facilities mentioned above has led to the increase in the cost of transportation and cargo movement, limiting the hinterland linkages required for the development of coastal regions.
Limited development of centers for manufacturing and economic activities in the hinterland also mandated an integrated project for port-led development.
Objectives of Sagarmala Project
Port Led Development: It involves the development of Coastal Economic Zones with projects like port-based industrialization, coastal tourism, Logistics parks, warehousing, fisheries, etc.
Port Infrastructure Enhancement: It includes the action points on transforming existing ports into world-class ports by developing deep drafts, mechanization of existing berths, creation of new capacity & greenfield ports.
Efficient Evacuation: It includes expansion of rail/road network/inland waterways connected to ports & identification of congested routes.
Sagarmala Vision
Sagarmala project aims to develop access to new development regions with intermodal solutions and promotion of the optimum modal split, enhanced connectivity with main economic centers and beyond through expansion of rail, inland water, coastal, and road services.
Some of the visions of the project is mentioned below.
Changing the way how India moves logistically

The project aims to increase the competitiveness of core industry and manufacturing by savings the input cost of power and steel by up to 5% through modernization of port infrastructure.
Utilization of National resources by the increasing volume of trade by inland waterways and coastal shipping by 50 MTPA.
The project aims to implement the IT-enabled National multimodal logistics to plan to streamline the implementation process of the Sagarmala project.
The project also aims to construct the coastal roads through the maritime state, connecting them with at least two-lane Highways.

Creating world-class port institutions

Sagamala Development Company: The Sagarmala Development Company Limited (SDCL) has been incorporated (on 31st August 2016) under the Companies Act, 2013. The Objectives of SDCL are:
(i) Develop & formulate projects emanating from the National Perspective Plan (NPP)
(ii) Assist project SPVs set up by Central Line Ministries / State Governments/State Maritime Boards/Ports etc. for projects in alignment with Sagarmala objectives
(iii) Provide funding window for residual projects that cannot be funded by any other means/mode
(iv) Prepare the Detailed Master Plans for the Coastal Economic Zones (CEZs) identified as part of the National Perspective Plan
(v) Raise funds from multi-lateral and bilateral agencies as debt/equity (as long term capital), as per the project requirements
Sagarmala Coordination and Steering Committee
(i) At the national level, the government will constitute a Sagarmala Coordination and Steering Committee (SCSC) under Cabinet Secretary with Secretaries of the Ministries of Shipping, Road Transport and Highways, Tourism, Defence, Home Affairs, Environment, Forest & Climate Change, Departments of Revenue, Expenditure, Industrial Policy, and Promotion, Chairman, Railway Board and CEO, NITI Aayog as members.
(ii) This committee would provide coordination between various ministries, state governments, and agencies connected with implementation and review the progress of implementation of the National Perspective Plan, Detailed Master Plans, and individual projects
The project aims to implement a World-class PPP program in port, waterways, and connectivity projects that will attract the best domestic and international investors.
Maritime services clusters will be set up for boosting port infrastructure, for e.g. construction of facilities for shipbuilding.

Boosting development through ports & shipping

For the establishment of 2-3 port-based smart cities & marine clusters/Coastal Economic Zones, over 10,000 acres of land will be accrued which will help in creating 50,000 direct jobs.
Launching of 100 Early bird projects (including PPP) with Rs. 100,000 crores of investment.
The addition of a port capacity of 1200-1500 MTPA will be done by strengthening existing ports and by launching 3-4 new mega ports.
The establishment of a world-class transshipment port will be done under the project.

Empower coastal communities

Skill development in coastal communities will be carried out under the project (e.g., fisheries) which will help in creating 20 million jobs in maritime states.
Comprehensive coastal community development potential from tourism in islands, lighthouses & cruises would increase the GDP contribution of maritime states and sectors in the Indian economy.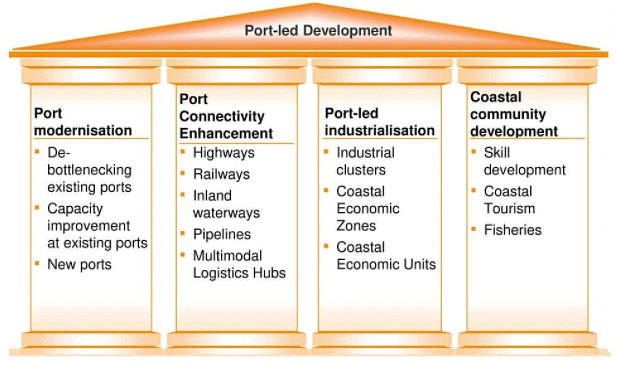 Potential Benefits of Sagarmala Project
Under this port-led development framework government hopes to increase its cargo traffic three-fold in the next 5 years. It will benefit around 14 percent of the country's overall population from at least 13 States and Union Territories.
The project will be integrating the coastal economy with the ports through the development of Coastal Economic Regions & projects with synergies to coastal Industrial Corridors.
The project will be led to the development of port-based smart cities and other urban infrastructure to improve standards of living.
There will be the implementation of skill development/livelihood generation projects for coastal community development through the Sagamala project.
Modernization/capacity expansion of existing ports and the creation of Greenfield ports will reduce the bottlenecks for future growth.
Development of port evacuation (road/rail/inland waterways) and logistics infrastructure will reduce the overall logistic cost and will increase cargo movement to-and-from the hinterland.
The project will help in the development of the maritime sector leading to new economic activity in the region – E.g. Ship Building and Repair Cluster.
Easing of policy and institutional bottlenecks for obtaining project approvals, accessing project funding and implementation partners will help in proper Project implementation and monitoring.
Some other benefits
(i) It will help in ease of doing business.
(ii) It will reduce farm to factory timing of the products as well as raw materials.
(iii) It will lead to employment generation.
(iv) In the future, India may become the major destination of port-led trade among major economies of east and west.
Six mega ports are planned under Sagarmala project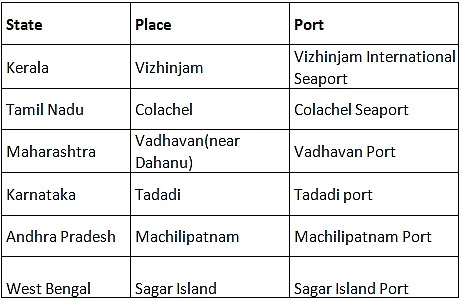 Coastal Economic Zones
Coastal Economic Zone (CEZ) refers to designated coastal areas with special economic regulations such as tax incentives and lower tariffs to make it friendly for foreign direct investment.
It is similar to Special Economic Zone (SEZ) but focuses on coastal development projects such as the development of port-proximate industrial clusters, promoting port-led development, reduction of logistics cost, and time for movement of goods.
CEZ will be developed as part of the plan for developing 14 such industrial clusters to spur manufacturing and generate jobs. The plan envisages a total investment of Rs 15,000 crore in the first phase and the creation of more than 1.5 lakh jobs.
Coastal Economic Zones Planned under Sagarmala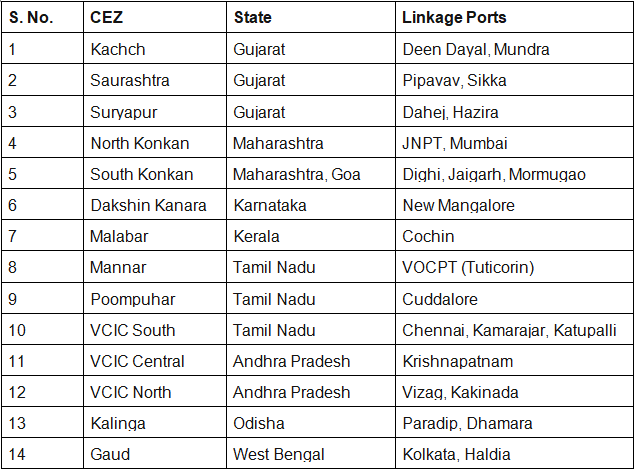 Airways
Airways play a vital role as modern means of transportation. It is very important for the growth of trade and commerce.
Rapid speed is the most peculiar feature of Air Transport. The aircrafts can fly at a speed of 500 km/h without any difficulty. Some planes can fly at a supersonic speed. No other means of transport can move at such speed
Indian holds 9th position in the world in civil aviation market.
The supreme advantage of air transport is its high speed. It is the fastest mode of transport and thus it is the most suitable mean where time is an important factor.
The significance of aviation sector also increases because of size of India which makes aviation sector indispensible for faster communication.
Aircrafts are capable of making their access everywhere. It has no physical barriers as in the case of other mode of transport. No roads, no railways, no Ships can cross the world's great mountain ranges. The inaccessible, remote locations can be easily accessed through airways. E.g. deserts of Rajasthan, high altitude regions of Leh, forested regions of North East India.
Aviation plays an important role in international travel and transport.
The significance of airways multiplies during war time situation and disaster management, natural calamities.
The cargo (freight) services are based mainly on aviation sector.
Airway is the index of modernity of a region.
Air ways are free gift of nature and no capital is spent in their construction or maintenance
Aviation sector provides employment to 7 million people directly and indirectly.
Air services promote tourism and to cater to the needs of tourists, basic infrastructure i.e. roads, transportation also gets the boost.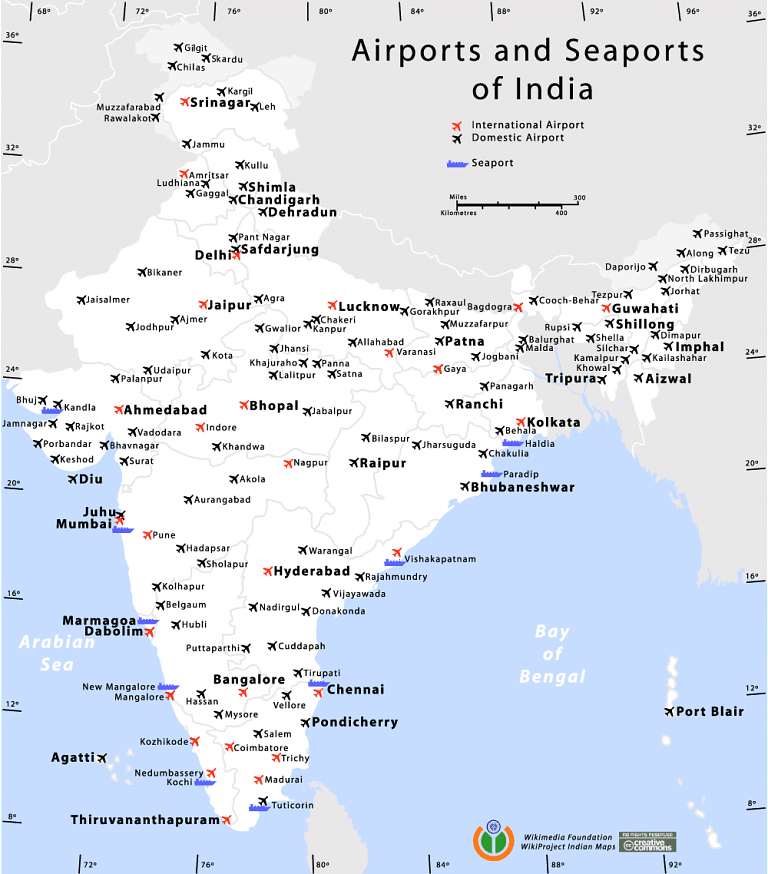 Factors for development of air transport in India
The weather conditions in India are also quite congenial to air transport. Poor visibility due to clouds, fog and mist hinders air transport but India is lucky to have clear weather for most part of the year except for a short duration in rainy season.
The central location of India which has Europe West Asia on the western side and South East Asia and East Asia on the Eastern side.
India has extensive plains which provide suitable landing sites in India.
The need of airways is high due to the larger size of India.
Growth and development of aviation sector in India
The humble beginning of the aviation sector started in 1911 when air mail operation started between Allahabad and Naini.
British, French, and Dutch carried forward the aviation set up of India between 1920 and 1930.
Indian National Airways was formed in 1933. By the end of World War II the major cities were connected with air services.
After independence lot of companies came into the field of aviation and changes the face of whole aviation sector.
In 1953 Indian Airlines Corporation was formed was domestic aviation services. Air India International was formed in the same year for international services.
Vayudoot was set up in 1981 to augment the air transport in the country.
Pawan Hans Limited was established in 1985. It provides helicopter services to the petroleum sector including ONGC, Oil India Ltd. and Enron Oil and Gas, Mumbai High and connects remote and inaccessible areas.
International Airports Authority of India and National Airports Authority were merged on 1 April, 1995 to form Airports Authority of India (AAI). This authority is responsible for providing safe an efficient air traffic services and aeronautical communication services for effective control of air traffic in the Indian air space.
Today lot of private players like Spice Jet, Indigo, Jet Airways have entered into the aviation sector providing quality services to passengers.
The Ministry of Civil Aviation is the nodal ministry that oversees the aviation sector in India.
Role in regional development
According to ICAO if we invest one dollar in the aviation sector then we will get the return of three dollars in the regional economy.
Aviation sector acts as a hub of various activities. Airports function as a growth pole, which propels the growth in the region by way of spillover effect and trickledown effect.
The Air services promote tourism and to cater to the needs of tourists, basic infrastructure i.e. roads, transportation also gets the boost.
To cater to the demands of tourist's market places, shops, restaurants, hotels, and other amenities also get developed.
In addition to these, the local skills get thrust, the diffusion of information by way of exchange of views between tourists & locals, further create new avenues.
Local handicraft is promoted so giving economic benefit along with preserving cultural heritage.
There will be diffusion of local ideas and innovation with the increase in tourism.
Increased contact of the outsider with locals also help's in highlighting the local issues/problems and these issues get proper notice of national govt. thus extreme regionalism can be prevented.
Challenges of aviation sector
The rates and fare charged by airlines are substantially higher than that of Railways/Roadways. It is a class transport rather than mass transport.
There is the problem of last-mile connectivity with airways. It can only be provided by Railways/Roadways.
Air transport is not fit for carrying heavyweight cargo, which can only be transported by Railways/Roadways/Shipping.
Bad weather caused by storms, rains, fog restricts the flight of an aircraft.
Most accidents are fatal, where chances of survival are less.
Airports cannot be made everywhere, the geography of a place plays important role in the construction of the airport.
India specific challenges

India imports carrier aircrafts had has not the domestic base.
The taxes related to Air Turbine Fuel are very high in India.
The maintenance, Repair, and Overhaul (MRO) industry is not well developed in India.
Less people prefer air transport than other means of transport.
Aviation sector is highly capital intensive. Expansion of Airports is also very difficult.
Competition: The arrivals of LCCs (Low-cost carriers) lead to wearing down the market share of the premium airlines. To moderate the decline in market share, the premium airlines were forced to reduce their fares and this, in the long run, lead to a pricing war amongst the airlines with potentially affecting the financial viability of the carriers.
Financial Health: Though India is among the fastest-growing aviation markets in the world, its airlines have been gripped in losses. The Centre for Asia Pacific Aviation predicts expects India's consolidated airline industry to post a loss of $1.65 billion to
Prospects in Indian Aviation sector
There is a need for the increase in Air Traffic Density
Rising GDP and Per Capita Income which has led to the expansion of the middle class is heading towards increasing the customer base in the aviation sector
Rising urban population is also increasing the prospects of growth of the aviation sector.
Government's efforts by launching various schemes are also set to provide Phillip to the aviation sector in India.
Flights have become low-cost, as compared to luxury classes in railways.
Modernization activities of airports by private companies through PPP model (GMR for Delhi Airport) have added to the prospects of the aviation sector in India.
Greenfield air projects of Hyderabad, Bangalore are increasing the world-class airport infrastructure in India.
5/20 Requirement for International Operations: NCAP has allowed all domestic airline operators to fly international routes provided that they deploy 20 aircrafts or 20% of their total capacity (determined in terms of the average number of seats on all departures), whichever is higher for domestic operations.
Aviation sector under make in India
Aviation sector is one of the 25 sectors which has been there under the Make in India scheme. Some of the highlights for the aviation sector under make in India scheme is as under:
Freight traffic on Indian airports is expected to cross 11.4 MT by 2032. India is the fastest-growing aviation market and as per IATA, the Country is expected to cater to 520 mn passengers by 2037.
100% FDI allowed under automatic route for both greenfields as well as brownfield projects.
As per Boeing, Indian Carriers plan to increase their fleet size by 2020 to around 1,200 aircraft.
For the development of the aviation industry in the North-East States, AAI plans to develop Guwahati as an inter-regional hub. It also plans to develop Agartala, Imphal, and Dibrugarh as intra-regional hubs.
Indian airports are emulating the Special Economic Zone (SEZ) Aerotropolis model to enhance revenues. The model focuses on revenues from retail, advertising, vehicle parking, security equipment, and services.
Current Schemes related to aviation sector
GPS-Aided Geo Augmented Navigation (GAGAN)

GPS-Aided Geo Augmented Navigation (GAGAN) is India's first Satellite-based Augmentation System.
It provides additional accuracy for safety in civil aviation and has expansion capability for seamless navigation services across geographies.

No Objection Certificate Application System (NOCAS)

No Objection Certificate Application System (NOCAS) streamlines the online process of timely NOC for height clearances of buildings around airports.

eGCA

The function & process of the Directorate General of Civil Aviation (DGCA) is being moved to an online platform to provide faster delivery of services & regulation oversight.
The e-GCA was initiated on 14th May 2019. The first module on pilot licensing shall be launched in November 2019.

DigiSky

DigiSky online portal has been launched to meet the requirement laid down by the CAR for flying Civil Drones.
The Beta version of DigiSky is available and captures the entire gamut of activities relating to drones viz. registration of drones and pilots, approval of flight path, post flight analysis, etc. based on the distinctive features of No Permission No Takeoff (NPNT).

e-sahaj

100% of security clearances pertaining to the Ministry have been made online on e-sahaj online portal launched by the Ministry of Civil Aviation.
The portal is operational for granting clearances in respect of 24 categories.

Regional Connectivity Scheme – UDAN

Under RCS plans are to connect underserved airports to key airports through flights that will cost Rs 2,500 for per hour flight. RCS envisages providing subsidies to airlines to offer these fares.
The regional connectivity scheme will be applicable on route length between 200 to 800 km with no lower limit set for the hilly, remote, island, and security sensitive regions.
Viability gap funding (VGF) will be provided to the selected airline operators from RCF, and state governments will be required to reimburse the applicable share. VGF will be provided for three years from the date of commencement of operations of such RCS flights.
The Central government will provide concessions to the tune of 2 percent excise on Value Added Tax (VAT) and service tax at 1/10th the rate and liberal code sharing for regional connectivity scheme airports.
A Regional Connectivity Fund (RCF) will be created to fund the scheme via a levy on certain flights. States are expected to contribute 20 percent to the fund
For balanced regional growth, allocations will be spread equitably across 5 regions – North, West, South, East, and North East with a cap of 25 percent.
Market-based reverse bidding mechanism to determine least VGF to select the airline operator with the right to match to the initial proposer. The government said VGF will be reduced if the passenger load factor remains high and will be discontinued after 3 years when the route becomes self sustainable.
Integrated National Civil Aviation Policy 2016
Vision
To create an ecosystem to make flying affordable for the masses and to enable 30 crore domestic ticketing by 2022 and 50 crore by 2027, and international ticketing to increase to 20 crore by 2027.
Similarly, cargo volumes should increase to 10 million tonnes by 2027.
Mission
Provide safe, secure, affordable and sustainable air travel for passengers and air transportation of cargo with access to various parts of India and the world.
Objectives
Establish an integrated ecosystem which will lead to significant growth of civil aviation sector, which in turn would promote tourism, increase employment and lead to a balanced regional growth.
Ensure safety, security and sustainability of aviation sector through the use of technology and effective monitoring.
Enhance regional connectivity through fiscal support and infrastructure development.
Enhance ease of doing business through deregulation, simplified procedures and e-governance.
Promote the entire aviation sector chain in a harmonised manner covering cargo, MRO, general aviation, aerospace manufacturing and skill development.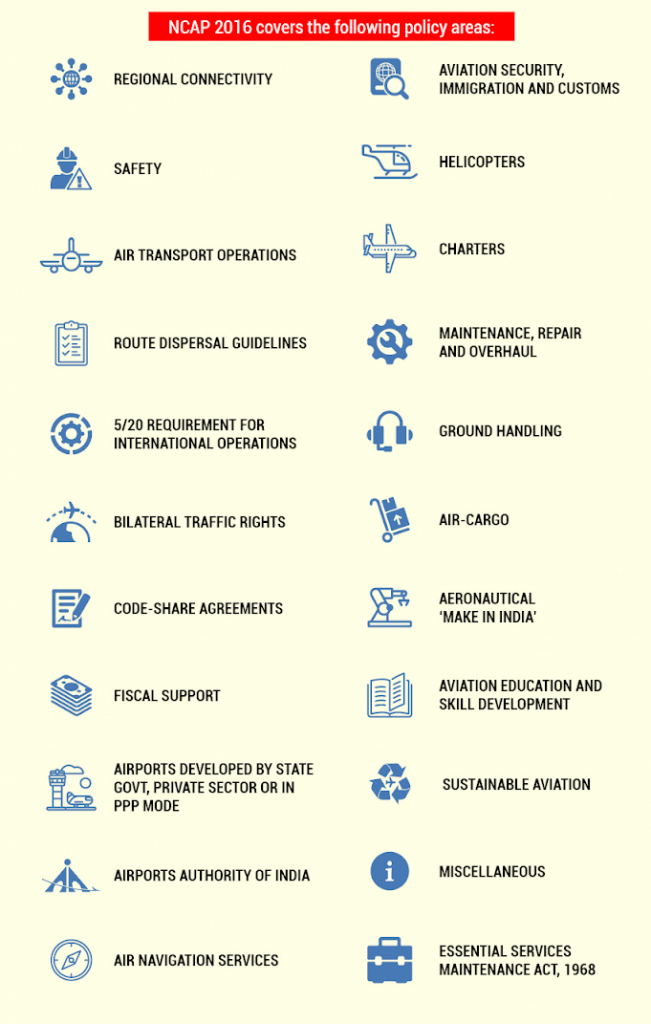 National Civil Aviation Policy Highlights
1. Bilateral traffic rights
According to the civil aviation policy, the Government of India will enter into an 'Open Sky' ASA (Air services agreement) on a reciprocal basis with SAARC countries and countries with territory located entirely beyond a 5000 km radius from New Delhi.
Unlimited flights above the existing bilateral rights will be allowed directly to and from major international airports within the country as notified by MoCA from time to time.
Under the present policy, India signs bilateral air services agreements (ASAs) with other countries. These agreements specify where all carriers from a particular country land in India, how many seats they can offer each week and some other similar specifications.
2. Regional Connectivity
The centerpiece of the policy is regional connectivity, and the objective of the Narendra Modi Government is to connect the unconnected- so under this new policy, the Govt. is saying that for 1 hour flights to Tier 2, Tier 3 cities, or from Tier 2/Tier 3 cities to Metro cities, there is a fare cap of Rs. 2500/- per hour of flying. This is an effort to make these sectors affordable. The Govt. also plans to develop 50 airports in the next 3 years- these airports are existing airports that will be revived at the cost of 50-100 crores. These plans were also announced by the Finance Minister during his budget presentation. The Govt's objective is to raise the domestic ticketing levels from 8 Crores in 2015 to 30 Crores, annually.
Now, if the airlines are plying to Tier 1 and Tier 2 cities, then they may be suffering some losses, so to cover that the Government has made it clear that it would provide these airlines a host of tax benefits. These benefits range from lower VAT, lower excise duty and Viability Gap Funding (VGF).
3. Safety
The focus will be on pre-empting and preventing accidents/ incidents. Safety violations will be treated with zero-tolerance.
Steps to be taken:
DGCA will be given administrative and financial autonomy for an effective aviation safety oversight system.
DGCA will strive to create a single-window system for all aviation-related transactions, queries and complaints.
DGCA will ensure real-time safety tracking and prompt incident reporting.
The Aircraft Accident and Incident Investigation Bureau (AAIIB) will be further strengthened with manpower on contract basis, if necessary, in order to undertake speedy, independent, professional and effective investigations.
A consultative group of industry experts will be created at DGCA level to meet once every quarter and identify areas of improvement in various aspects of Civil Aviation.
4. Airports Developed by State Governments, Private sector or in PPP mode
Ministry of Civil Aviation (MoCA) will continue to encourage the development of airports by the State Governments or the private sector or in PPP mode.
MoCA will also encourage the State Governments to develop new airports in their State by forming SPV with Airport Authority of India or with other interested Public Sector Undertakings/ Industry in order to create stake and ownership.
MoCA will endeavour that the future airport projects in India, both greenfield and brownfield, have cost-efficient functionality with no compromise on safety, security and efficiency.
5. Aviation Security, Immigration and Customs
Government will develop performance norms for these agencies in terms of speed of passenger processing and grievance handling.
Global best practices in IT, passenger check-in, baggage handling, mobile phone-based boarding passes, security checking procedures, immigration and customs etc will be introduced.
The Government will encourage the use of private security agencies at airports for non-core security functions which will be decided in consultation with MHA.
6. Air Navigation Services (ANS)
Upgradation and modernisation of ANS in India are in line with global trends. With the launch of GAGAN, India has become the fourth country in the world to use satellite-based navigation system.
AAI will provide a fully harmonised Air Navigation System considering ICAO's Global Air Navigation Plan.
ANS' training institute – CATC Allahabad – will be developed into a world-class training centre for ANS professionals for the Indian and global market.
All aircraft being registered in India from 1st Jan 2019 will mandatorily have to be GAGAN enabled.
7. Helicopters
Helicopters play a key role in remote area connectivity, intra-city movement, tourism, law enforcement, disaster relief, search and rescue, emergency medical evacuation, etc. India currently has less than 300 civilian helicopters which is very low as compared to other developing nations. Promoting Helicopter usage will be done in the following way:
The government will facilitate the development of at least four heli-hubs initially, across the country to promote regional connectivity.
DGCA will bring out regulations exclusively for Helicopter Emergency Medical Services (HEMS). This will stipulate that helicopters under HEMS operations shall not be used for any other purpose.
8. Maintenance, Repair and Overhaul (MRO)
The MRO business of Indian carriers is around Rs 5000 crore, 90% of which is currently spent outside India – in Sri Lanka, Singapore, Malaysia, UAE etc. Given our technology and skill base, the government is keen to develop India as an MRO hub in Asia, attracting business from foreign airlines.
The Civil Aviation Policy 2016 aims to give this sector a much-needed fillip. Initiatives to be taken range from
exempting customs duty on the tools and tool-kits used by the MRO,
allowing foreign aircraft brought to India for MRO work to be allowed to stay for the entire period of maintenance or up to 6 months, whichever is lesser (provided it takes no commercial flights during the stay period),
Prompt issue of visas to foreign MRO/OEM experts, etc.
Provision for adequate land for MRO service providers will be made in all future airport/heliport projects where the potential for such MRO services exists.
MoCA will persuade State Governments to make VAT zero-rated on MRO activities.
9. Ground handling
Existing Ground Handling Policy Regulations will be replaced by a new framework which aims at directing
airport operators to ensure that there will be three Ground Handling Agencies (GHA), including Air India's subsidiary/JV at all major airports
Non-major airports to be exempted from a minimum number of ground handlers
All domestic scheduled airline operators including helicopter operators will be free to carry out self-handling at all airports. Self-handling includes the ground handling services of its own aircraft operations, using equipment owned or taken on lease.
Hiring of employees through manpower suppliers will not be permitted.
10. Air Cargo
The promotion of both domestic and international Air cargo and express delivery services is a key objective of the government, given its importance from a 'Make in India', e-Commerce and exports perspective. Domestic Air cargo has a high employment potential, especially for semi-skilled workers.
The below framework is to be taken to ensure the growth of the air cargo business:
Ensuring that Cargo facilities co-located at an airport are covered under the 'Harmonised List of Infrastructure and will get the benefit of 'infrastructure' sector.
The government will streamline and simplify Customs procedures and ensure a shift to paper-less air-cargo processing through the use of digital signatures for transmission of messages.
Advance Cargo Information (ACI) system will be implemented in a phased manner.
The government will endeavour that all relevant central government authorities are available through a single window at the cargo terminals. These include Customs, wildlife clearance, Drug Controller, Plant and Animal Quarantine, FSSAI, Archaeological Survey of India, DGCI etc. Clearances will be given promptly and online after necessary checks through a Single Window System.
MoCA will encourage the development of cargo-villages near airports.
The Air Cargo Logistics Promotion Board (ACLPB) will propose specific action steps to promote trans-shipment at Indian airports and the same will be monitored by MoCA. Free Trade and Warehousing Zones will be set up to facilitate transhipment cargo.
ACLPB will promote global good practices like Free-Trade Warehousing Zones (FTWZ), Air Freight Stations, Bonded trucking, dedicated cargo airports etc.
11. Aviation education and skill-building
The Government will create the necessary ecosystem and architecture for ensuring full utilisation of the skill development capacities of institutes providing aviation education and training, which will attempt to bring down the cost of skill development on a self-sustaining basis without converting these institutes into commercial centres with a profit motive.
MoCA will develop a scheme for providing financial support for Type-rating of Pilots.
12. Miscellaneous Initiatives
The Government will promote the use of seaplanes for the growth of tourism and regional connectivity along India's 7,500 km coastline.
MOCA will promote the growth of General Aviation and Aero-sports activities.
The Government will issue suitable guidelines for the operation of Remotely Piloted Aircraft Systems (RPAS) and their use for civil operations.
Pipelines
Pipelines are the most convenient and suitable mode of transportation for petroleum products and gases in bulk for longer distances.
The products which can be transported through pipelines are

Petroleum products- Crude oil, jet fuel
Liquid products- Water, Anhydrous Ammonia
Gases- Natural Gas, LPG, butane
Solid products- Coal, mineral, solid wastes,
Advantages and disadvantages of Pipelines
Advantages
Pipelines consume very little energy in comparison to another mode of transportation
Transit losses are minimal in transportation through pipelines.
The running cost of the materials through pipelines is very low. It is less than 10 times than surface transportation.
The wastage of the transportation material is very less. E.g. slurry of coal and iron ore
Pipelines can be laid through difficult terrains as well as underwater which is not possible in another mode of transportation.
Pipelines are not affected by seasonal variations and climatic hostilities like a flood, snowfall, rainfall, etc.
Examples:
(i) Bailadila produces high-grade ore which was exported through Vishakhapatnam Port. Now a 270 km long slurry pipeline is constructed to bring the ore from the Bailadila mine to Vizag Steel Plant
(ii) At Kudremukh iron ore is mined on large scale for export, which is exported from New Mangalore port, where it is transported through 70 km slurry pipelines.
(iii) Rock phosphate concentration from Maltos mines to Debari smelter plant in Rajasthan is transported through the slurry pipeline.
Pipelines are safe, accident-free, and environmentally friendly.
It brings about industrial development in adjoining areas. E.g. establishment of fertilizer industries at the places of gas pipeline (Jagdishpur, Shahjahapur, etc).
Disadvantages
Pipelines are prone to distortions in case of earthquakes. It is very difficult to find leakages and cracks in case of distortions.
The initial cost of lying of pipelines is very high. Though the cost of maintenance is low.
The Pipelines face security threats from terrorist organizations, which could jeopardize a country's economy, especially in the case of Transboundary pipeline like the TAPI pipeline which was recently in news faced threats from Pakistan and Afghanistan based terrorist groups, the oil pipelines in the northeast are often blasted by anti-nationalist elements.
The capacity cannot be increased once the pipelines are laid. For increasing the capacity the new pipelines need to be laid.
The repair of pipelines is also very difficult, particularly in case of leakages; detection of leakages is quite difficult.
Major pipelines of India
1. Naharkatia-Nunmati-Barauni Pipeline
This was the first pipeline constructed in India to bring crude oil from Naharkatia oilfield to Nunmati. It was constructed by Oil India limited for transporting crude oil from Naharkatia oil field in Assam to Barauni refinery via Noonamati oil refinery
It also has a number of subsidiary pipelines to increase capacity which are given below:

Nunmati-Siliguri pipeline transport oil from Nunmati (Guwahati) in Assam to Siliguri in West Bengal.
Lakwa-Rudrasagar-Barauni pipeline has been constructed to carry crude oil from Lakwa and Rudrasagar to oil refinery at Barauni.
Barauni-Haldia pipeline, completed in 1966, transports refined petroleum products to Haldia port and bring back crude oil to Barauni refinery. We again sen refined product to Haldia from where it is exported.
Barauni-Kanpur pipeline carries refined petroleum products from Barauni to Kanpur.
Nunmati-Bangaigaon section of this pipe is used to transport raw materials for the Bongaigaon petrochemical complex.
Haldia-Rajbandh-Maurigram pipeline has been constructed to meet the requirements of the southern part of West Bengal.


This is a 210 km long double-pipeline that connects Mumbai with Mumbai High. It provides facilities for transporting crude oil and natural gas.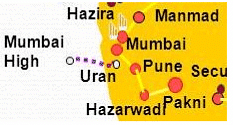 2. Ankleshwar-Kayoli Pipeline
Ankleshwar-Koyali pipeline was completed in 1965. It transports crude oil from Ankleshwar oilfield to Koyali refinery.

3. Salaya-Koyali-Mathura Pipeline
An important pipeline has been laid from Salaya in Gujarat to Mathura in U.P. via Viramgram.
This is a 1,256 km long pipeline which supplies crude oil to refineries at Koyali and Mathura. From Mathura, it has been extended to the oil refinery at Panipat in Haryana and further to Jalandhar in Punjab. It has an offshore terminal for imported crude oil.

4. Mathura-Delhi-Panipat-Ambala-Jalandhar pipeline
It transports refined products of Mathura & Panipat refineries to market centers of N.W India.

5. Haldia-Kolkata pipeline
It transports refined petroleum products to Kolkata.
6. Hazira-Bijaypur-Jagdishpur (HBJ) gas pipeline
This is the longest gas pipeline of India. It is a 1750 km long gas pipeline that passes through Hazira, Kawas (both in Gujrat), Bijapur (M.P), Auriya (UP), Jagdishpur (U.P), Saharanpur (U.P), Aonla (UP), Babrala (U.P), Anta (Rajasthan), Sawai Madhopur (Rajasthan), Kota(Rajasthan).
It carries 18 million cubic meters of gas every day to three powerhouses at Kawas (Gujarat), Anta (Rajasthan), and Auraiya (U.P.) and to six fertilizer plants at Bijapur, Sawai Madhopur,. Jagdishpur, Shahjahanpur, Aonla, and Babrala.
Each of the fertilizer plants has a capacity of producing 1,350 tonnes of ammonia per day. The construction of this pipeline is a unique engineering feat and has been completed at an estimated cost of over Rs. 1,700 crore. The pipeline passes through 343.7 km long rocky area, 56.3 km long forest area, besides crossing 29 railway crossings and 75 big and small rivers.
This is the world's largest underground pipeline and has brought about a big transformation in the economy of Gujarat, Madhya Pradesh, Rajasthan, and Uttar Pradesh. It has been extended up to Delhi so that enough gas is made available to meet the growing demand of the capital city.
Jamnagar-Loni LPG Pipeline
This 1,269 km-long pipeline has been constructed by the Gas Authority of India Limited (GAIL). It connects Jamnagar in Gujarat to Loni near Delhi in U.P. and passes through the states of Gujarat, Rajasthan, Haryana, and U.P. This is the longest LPG pipeline in the world.
It is like transporting 3.5 lakh LPG gas cylinders across 1,269 km every day and its capacity is being increased to 5.0 lakh cylinder per day. It will result in a net saving of Rs. 500 crore per year by eliminating road tanker movement and lead to the reduction of about 10,000 tonnes of pollutant emission per year.
This is the first time that a cross-country pipeline has been used to transport LPG adding to the availability of supplies, safety in transportation, and wider distribution. LPG is received at various points along the route for bottling in Ajmer and Jaipur (Rajasthan), Piyala (Haryana), Madanpur Khadar (Delhi), and Loni (U.P.). Phase-I of the pipeline was completed in 2001 and Phase-II was completed in 2003.
Kandla-Bhatinda Pipeline
This 1,331 km long pipeline is proposed to be constructed for transporting crude oil to the proposed refinery at Bhatinda. It is to be constructed by IOC at the estimated cost of Rs. 690 crore.
Role of pipeline in regional development
Pipelines are the best means for industrial dispersal in backward and depressed regions. It acts as a growth pole giving rise to immense horizontal industrial clustering by attracting various petrochemical and fertilizer industries. The development of the HBJ gas pipeline has given rise to the construction of three power plants at kawas (Guj), Anta (Raj), and Auraiya (U.P), and Six fertilizer plants namely Bijapur (M.P), Sawai Madhopur (Raj), Jagadishpur, Shahjahanpur, Aonla, Babrala(UP).
The pipelines also link the geography of production with the geography of consumption, thereby leading to economic development and regional growth. The location of oil refineries and petrochemical complex's in economically backward regions like Barauni, Mathura, etc. has also been possible because of the pipeline transport.
List of Refineries in India