Subhas Chandra Bose
In order to commemorate the 125th birth anniversary of freedom fighter Netaji Subhas Chandra Bose, the government has decided to install his statue at India Gate.

Born in 1897 in Cuttack, Bose was an Indian nationalist in the era of British colonialism.

After completing his education in India, Bose left for London to prepare for the Indian Civil Services exam and cleared it.

He had mixed feelings about working under the British, and eventually resigned in 1921 as a symbol of boycotting the British after the incident of the Jallianwala Bagh massacre.

Role in Freedom Struggle After returning to India, Bose joined the Indian National Congress (INC) under the influence of Mahatma Gandhi and started the newspaper "Swaraj".

In the year 1923, he became the President of the All India Youth Congress and became the editor of the newspaper "Forward" started by C.R. Das.

In 1928, Motilal Nehru Committee demanded Dominion Status in India but Bose along with Jawaharlal Nehru demanded complete independence of India from the British.

He was sent to jail in 1930 during Civil Disobedience movement and was released along with other prominent leaders in the year 1931 when the Gandhi-Irwin pact was signed.

In 1938, he was elected as President at the Haripura session of the INC. After re-elected as President in 1939, differences arose between him and Gandhi.

The senior leadership in the Congress supported Gandhi, and Bose resigned as president and formed another group called the Forward Bloc.

He started a mass movement against using Indian men in the wars of foreign countries which received immense support and which led him to be put under house arrest in Calcutta but he left the house in disguise in January 1941 and reached Germany.

His attempts to get rid of the British with the help of the Nazi party and Imperial Japan during the time of the second world war left him a troubled legacy.

In July 1943, he arrived in Singapore and took over the reins of the Indian Independence Movement started by Rash Behari Bose and organized the Azad Hind Fauj also known as the Indian National Army (INA).

The INA liberated the Andaman and Nicobar islands but when it reached Burma, bad weather conditions, as well as the defeat of Japan and Germany in the Second World War, forced him to retreat.

He died in a plane crash in Taipei, Taiwan in 1945.

In honour of his contribution to the freedom struggle his birthday anniversary is celebrated as Parakram Diwas. Parakram means Courage.

125TH Birth Anniversary of Subhash Chandra Bose
Durga Puja in Unesco's Intangible Cultural Heritage
UNESCO's Intergovernmental Committee for the Safeguarding of the Intangible Cultural Heritage has put "Durga Puja in Kolkata" on the Representative List of the Intangible Cultural Heritage of Humanity.
About Durga Puja
Durga Puja is celebrated during the autumn. It is the most important socio-cultural and religious event in the Bengali festival calendar.

Area of influence: West Bengal, Bihar (Biharis), Odisha (Oriyas) and Assam (Ahomiyas) as well as in other states of India where Bengali community reside. This festival is also celebrated by Bengali Diaspora outside India.

Objective: To propitiate the Goddess Durga for her blessings as also celebrate her victory over the demon Mahishasur.

Durga Puja is a ten-day festival, usually in October, which starts from Mahalaya, the inaugural day of the event. Mahalaya is celebrated by Agomoni or songs of welcome.

On the tenth day, or Bijoya Dashami, the Goddess is borne away to the sounds of the dhak, or traditional drum for immersion in nearby rivers or water bodies.

The makeshift structures, as well as the image of the Goddess are adorned with meticulous artwork and stylistic themes made with local craft materials such as shola or pith, coloured jute, woven brocades, imitation jewellery, clay and terracotta ornamentation.

Durga Puja is seen as the best instance of the public performance of religion and art, and as a thriving ground for collaborative artists and designers.
About Intangible Cultural Heritage
According to UNESCO, "cultural heritage does not end at monuments and collections of objects", but "also includes traditions or living expressions inherited from our ancestors and passed on to our descendants, such as oral traditions, performing arts, social practices, rituals, festive events, knowledge and practices concerning nature and the universe or the knowledge and skills to produce traditional crafts".

Intangible cultural heritage, according to UNESCO, is "traditional, contemporary and living at the same time", "inclusive", "representative", and "community based". It is "an important factor in maintaining cultural diversity in the face of growing globalisation" — and "an understanding of the intangible cultural heritage of different communities helps with intercultural dialogue and encourages mutual respect for other ways of life"
Importance of Intangible Cultural Heritage
The term 'cultural heritage' has changed content considerably in recent decades, partially owing to the instruments developed by UNESCO.

Cultural heritage does not end at monuments and collections of objects and includes traditions or living expressions inherited from our ancestors and passed on to our descendants, such as oral traditions, performing arts, social practices, rituals, festive events, knowledge and practices concerning nature and the universe or the knowledge and skills to produce traditional crafts.

While fragile, intangible cultural heritage is an important factor in maintaining cultural diversity in the face of growing globalization. An understanding of the intangible cultural heritage of different communities helps with inter-cultural dialogue and encourages mutual respect for other ways of life.

The importance of intangible cultural heritage lies in the wealth of knowledge and skills that is transmitted across generations.

The social and economic value of this transmission of knowledge is relevant for minority groups and for mainstream social groups within a State and is as important for developing States as for developed ones
Salient Features of Intangible Cultural Heritage
Traditional, contemporary and living at the same time: intangible cultural heritage does not only represent inherited traditions from the past but also contemporary rural and urban practices in which diverse cultural groups take part.

Inclusive, Social Cohesion & Identity:

Intangible Cultural Heritage have been passed from one generation to another, have evolved in response to their environments and contribute to giving us a sense of identity and continuity, providing a link from our past, through the present, and into our future. It contributes to social cohesion, encouraging a sense of identity and responsibility which helps individuals to feel part of one or different communities within the society.

Representative:

intangible cultural heritage is not merely valued as a cultural good, on a comparative basis, for its exclusivity or its exceptional value. It thrives on its basis in communities and depends on those whose knowledge of traditions, skills and customs are passed on to the rest of the community, from generation to generation, or to other communities.

Community-based:

intangible cultural heritage can only be heritage when it is recognized as such by the communities, groups or individuals that create, maintain and transmit it. Without their recognition, nobody else can decide for them that a given expression or practice is their heritage.
Cultural Elements from India Included in UNESCO's Intangible Heritage List
Kutiyattam, Sanskrit theatre

The tradition of Vedic chanting

Ramlila, the traditional performance of the Ramayana

Ramman, religious festival and ritual theatre of the Garhwal Himalayas, India

Chhau dance

Kalbelia folk songs and dances of Rajasthan

Mudiyettu, ritual theatre and dance drama of Kerala

Durga Puja in Kolkata

Buddhist chanting of Ladakh: recitation of sacred Buddhist texts in the trans-Himalayan Ladakh region, Jammu and Kashmir, India

Sankirtana, ritual singing, drumming and dancing of Manipur 11. Traditional brass and copper craft of utensil making among the Thatheras of Jandiala Guru, Punjab, India

Nowroz

Yoga

Kumbh Mela

Durga Puja
Shivaji Jayanti 2022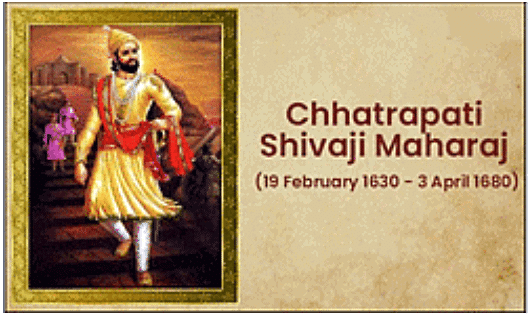 Why in News?
Chhatrapati Shivaji Maharaj Jayanti is celebrated each year on 19th February to remember and praise his courage, warfare tactics and administrative skills.
He carved an enclave from the declining Adilshahi sultanate of Bijapur that formed the genesis of the Maratha Kingdom.

In 1870, social reformer Mahatma Jyotirao Phule initiated the celebration Shiv Jayanti in Pune which is now known as Chhatrapati Shivaji Maharaj Jayanti.
What are the Key Points Related to Chhatrapati Shivaji Maharaj ?
1. Birth
He was born on 19th February, 1630 at Shivneri Fort in District Pune in the present-day state of Maharashtra. He was born to Shahaji Bhonsle, a Maratha general who held the jagirs of Pune and Supe under the Bijapur Sultanate and Jijabai, a pious woman whose religious qualities had a profound influence on him.
2. Early Life
He displayed his military zeal for the first time in 1645 when as a teenager, he successfully got control of the Torna Fort which was under Bijapur. He also acquired the Kondana Fort. Both these forts were under Adil Shah of Bijapur.
3. Important Battles:
(i) Battle of Pratapgad, 1659
Fought at the fort of Pratapgad near the town of Satara, Maharashtra, between the forces of the Maratha king Chhatrapati Shivaji Maharaj and the Adilshahi general Afzal Khan.
(ii) Battle of Pavan Khind, 1660
Fought at a mountain pass in the vicinity of fort Vishalgad, near the city of Kolhapur, Maharashtra, between the Maratha Sardar Baji Prabhu Deshpande and Siddi Masud of Adilshahi.
(iii) Sacking of Surat, 1664
Fought near the city of Surat, Gujarat, between Chhatrapati Shivaji Maharaj and Inayat Khan, a Mughal captain.
(iv) Battle of Purandar, 1665
(v) Battle of Sinhagad, 1670
Fought on the fort of Sinhagad near the city of Pune, Maharashtra between Tanaji Malusare, a commander of Maratha ruler Shivaji Maharaj and Udaybhan Rathod, fortkeeper under Jai Singh I who was a Mughal Army Chief.
(vi) Battle of Kalyan, 1682-83
(vii) Battle of Sangamner, 1679
Fought between the Mughal Empire and Maratha Empire. This was the last battle in which the Maratha King Shivaji fought.

Conflict with Mughals:

He raided Mughal territory near Ahmednagar and in Junnar, 1657. Aurangzeb responded to the raids by sending Nasiri Khan, who defeated the forces of Shivaji at Ahmednagar. Shivaji defeated a large force of Shaista Khan (Aurangzeb's maternal uncle) and the Bijapur army in Pune,1659.




In 1664, the wealthy Mughal trading port of Surat was sacked by Shivaji. In June 1665, the Treaty of Purandar was signed between Shivaji and Raja Jai Singh I (representing Aurangzeb).

As per this treaty, many forts were relinquished to the Mughals and it was agreed that Shivaji would meet Aurangzeb at Agra. Shivaji also agreed to send his son Sambhaji as well.
Arrest of Shivaji
When Shivaji went to meet the Mughal emperor at Agra in 1666, the Maratha warrior felt he was insulted by Aurangzeb and stormed out of the court. He was arrested and kept prisoner. The clever escape of Shivaji and his son from imprisonment in disguise out of Agra is legendary today.

After that there was peace between the Marathas and the Mughals until 1670.

The jagir of Berar which was granted to Sambhaji by the Mughals was taken back from him. Shivaji in response attacked and recovered many territories from the Mughals in a short span of four months.

Through his military tactics, Shivaji acquired a large part of the land in the Deccan and western India.
4. Granted Title
He took on the titles of Chhatrapati, Shakakarta, Kshatriya Kulavantas and Haindava Dharma Dharak. The Maratha Kingdom founded by Shivaji grew larger over time and became the dominant Indian power in the early 18th century.
5. Death
How was the Administration under Shivaji ?
1. Central Administration
It was founded by Shivaji for the sound system of administration which was greatly inspired from the Deccan style of administration.

Most of the administrative reforms were inspired from Malik Amber reforms in Ahmednagar.

The King was the supreme head of state who was assisted by a group of eight ministers known as the 'Ashtapradhan'.

The peshwa, also known as the mukhya pradhan, originally headed the advisory council of the raja Shivaji.
2. Revenue Administration
Shivaji abolished the Jagirdari System and replaced it with Ryotwari System, and changes in the position of hereditary revenue officials which was popularly known as Deshmukhs, Deshpande, Patils and Kulkarnis. Shivaji strictly supervised the Mirasdars who had hereditary rights in land.
The revenue system was patterned on the Kathi system of Malik Amber in which every piece of land was measured by Rod or Kathi. Chauth and Sardeshmukhi were other sources of income.
Chauth amounted to 1/4th of the standard which was paid to Marathas as a safeguard against Shivaji's forces raiding Non-Maratha territories.

Sardeshmukhi was an additional levy of 10% demanded from areas outside of the kingdom.
Military Administration
Shivaji organized a disciplined and efficient army. The ordinary soldiers were paid in cash, but the chief and military commander were paid through jagir grants (Saranjam or Mokasa). The army consists of Infantry i.e. Mavali foot soldiers, Cavalry i.e. Horse riders and equipment holders, Navy.
Veer Savarkar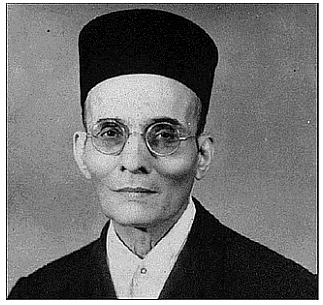 Why in News?
Recently, the Prime Minister has paid tributes to freedom fighter Veer Savarkar on his Punya tithi (26th February).
Who was Veer Savarkar?
1. Birth
2. Related Organisations and Work
Founded a secret society called Abhinav Bharat Society. Went to the United Kingdom and was involved with organizations such as India House and the Free India Society. He was the president of Hindu Mahasabha from 1937 to 1943. Savarkar wrote a book titled 'The History of the

War of Indian Independence' in which he wrote about the guerilla warfare tricks used in 1857 Sepoy Mutiny. He also wrote the book 'Hindutva: who is hindu?'.
3. Trial and Sentences
Arrested in 1909 on charges of plotting an armed revolt against the Morley-Minto reform (Indian Councils Act 1909). Arrested in 1910 for his connections with the revolutionary group India House. One of the charges on Savarkar was abetment to murder of Nashik Collector Jackson and the second was waging a conspiracy under Indian Penal Code 121-A against the King emperor.

Following the two trials, Savarkar was convicted and sentenced to 50-years imprisonment also known as Kala Pani and transported in 1911 to the Cellular Jail in the Andaman and Nicobar Islands.
4. Death
Maharishi Dayanand Saraswati Jayanti
Why in News?
Maharishi Dayanand Saraswati Jayanti is celebrated every year to mark the birth anniversary of the Maharishi Dayanand Saraswati.
This year, the day will be celebrated on 26th February.

As per the traditional Hindu calendar, Dayanand Saraswati was born on the Dashami Tithi of Phalguna Krishna Paksha.
Who was Maharishi Dayanand Saraswati?
1. Birth
Swami Dayanand Saraswati was born on 12th February 1824 in Tankara, Gujarat in a Brahmin family. His parents, Lalji Tiwari and Yashodhabai were orthodox Brahmin. He was earlier named Mool Shankar Tiwari as he was born during Mool Nakshatra.

He wandered as an ascetic for fifteen years (1845 - 60) in search of truth.

Dayananda's views were published in his famous work, Satyarth Prakash (The True Exposition).
2. Contribution to the Society
He was an Indian philosopher, social leader and founder of the Arya Samaj.
Arya Samaj is a reform movement of Vedic dharma and he was the first to give the call for Swaraj as "India for Indian" in 1876. He was a self-taught man and a great leader of India leaving a significant impact on Indian society. During his life, he made a prominent name for himself and was known among a wide array of Prices and the public. The first Arya Samaj unit was formally set up by him at Mumbai (then Bombay) in 1875 and later the headquarters of the Samaj were established at Lahore.

His vision of India included a classless and casteless society, a united India (religiously, socially and nationally), and an India free from foreign rule, with Aryan religion being the common religion of all. He took inspiration from the Vedas and considered them to be 'India's Rock of Ages', the infallible and the true original seed of Hinduism. He gave the slogan "Back to the Vedas".

He subscribed to the Vedic notion of chaturvarna system in which a person was not born in any caste but was identified as a brahmin, kshatriya, vaishya or shudra according to the occupation the person followed.
3. Contribution to the Education System
He introduced a complete overhaul of the education system and is often considered as one of the visionaries of modern India. The DAV (Dayanand Anglo Vedic) schools came into existence in 1886 to realize the vision of Swami Dayanand Saraswati. The first DAV School was established at Lahore with Mahatma Hansarj as the headmaster.
What is Arya Samaj?
It aims to reestablish the Vedas, the earliest Hindu scriptures, as revealed truth. He rejected all later accretions to the Vedas as degenerate but, in his own interpretation, included much post-Vedic thought. During the 1920s and early 1930s tension grew around a number of issues. Muslims were angered by "music-before-mosque", by the cow protection movement, and by the efforts of the Arya Samaj to bring back to the Hindu fold (shuddhi) those who had recently converted to Islam.

The Arya Samaj has always had its largest following in western and northern India.

The Samaj opposes worship of murtis (images), animal sacrifice, shraddha (rituals on behalf of ancestors), basing caste upon birth rather than upon merit, untouchability, child marriage, pilgrimages, priestly craft, and temple offerings.

It upholds the infallibility of the Vedas, the doctrines of karma (the accumulated effect of past deeds) and samsara (the process of death and rebirth), the sanctity of the cow, the importance of the samskaras (individual sacraments), the efficacy of Vedic oblations to the fire, and programs of social reform.

It has worked to further female education and intercaste marriage; has built missions, orphanages, and homes for widows; has established a network of schools and colleges; and has undertaken famine relief and medical work.
Statehood Day of Arunachal Pradesh
Why in News?
Recently, the Prime Minister of India extended his wishes to the people of Arunachal Pradesh on its 36th Statehood Day.
Through the 55th amendment to the Indian Constitution in 1986, Arunachal Pradesh became the 24th state of the Indian Union on 20th February, 1987.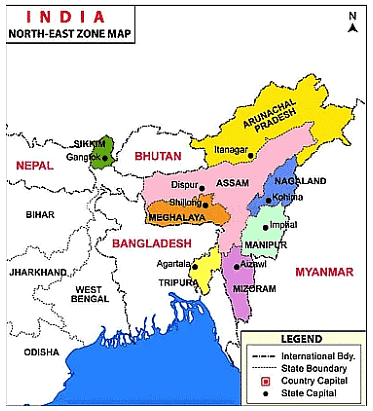 What do we Know about Arunachal Pradesh?
Historical Background:

During the British Colonial Rule, until 1972, the state was named as the NorthEast Frontier Agency (NEFA). On 20th January, 1972, it became a Union Territory and was named Arunachal Pradesh. It was granted statehood by the State of Arunachal Pradesh Act, 1986.

Geographical location:

The state was formed out of Assam in the year 1987. In the west, Arunachal Pradesh is bordered by Bhutan and in the north falls the Tibetan region of China. In the Southeastern region falls Nagaland and Myanmar and to the southwestern region falls Assam.

Demography:

The capital of Arunachal Pradesh is Itanagar. The total literacy rate of the state (as per Census 2011) is 65.38% with male literacy rate being 72.55% and for females, it is 57.70%. The Sex Ratio of the states is 938 female per 1000 male (National: 943). The state is home to 26 major tribes, there are more than 100 sub-tribes, many of them are still unexplored. About 65% of the population of the state is tribals.

Occupation:

Mostly the population of the state depends on Agriculture, mainly Jhum cultivation (slash and burn cultivation). Other cultivation of cash crops is also done like potatoes. Horticulture crops such as pineapple, apple, oranges, etc are also done.

Biodiversity




(i) State Animal:

Mithun (also known as Gayal)




(ii) State Bird:

Hornbill




It is also home to the Dihang Dibang Biosphere Reserve.

Protected Areas




(i)

Namdapha National Park




(ii)

Mouling National Park




(iii)

Sessa Orchid Sanctuary




(iv)

Dibang Wildlife Sanctuary




(v)

Pakke Tiger Reserve

Tribals of Arunachal:

The significant tribal groups include Monpas, Nyishis, Apatanis, Noctes and Sherdukpens.

Monpas:

They are believed to be the only nomadic tribe of northeast, inhabit the West Kameng and Tawang districts, are essentially Buddhists who follow the Mahayana sect.

Apatanis:

They practice pre-Aryan beliefs, which is evident from their worship of trees, rocks and plants amongst other things. They mainly practise bamboo cultivation.

Noctes:

Found in the Tirap district, they follow Theravada Buddhism and Animism.

Sherdukpens:

A small tribal group, they are one of the most progressive tribes that can be found in Arunachal Pradesh practising agriculture, fishing and rearing of livestock. Although they have adopted Buddhism, most of their practices still remain pre-Buddhist and more Animistic.

Nyishis:

They are the most populous tribe of Arunachal Pradesh and are mainly involved in shifting cultivation and produce rice, millet, cucumber, etc.
Statehood Day of Mizoram
Why in News?
Recently, the Prime Minister of India extended his wishes to the people of Mizoram on its 36th Statehood Day (20th February).
The formalization of Mizoram State took place on 20th February, 1987 after the 53rd Amendment of the Indian Constitution, 1986.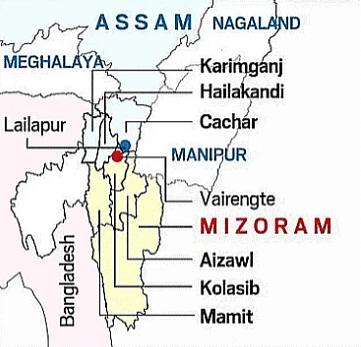 What do we know about Mizoram?
Historical background:

The Mizo hills area became the Lushai Hills district within Assam at the time of independence. Further, in 1954 it was renamed the Mizo Hills District of Assam. Mizoram was granted the status of a Union Territory in 1972 after signing an accord with the moderates of the Mizo National Front (MNF). The Union Territory of Mizoram was conferred the status of a full state in 1986 after signing of a memorandum of settlement (Mizoram Peace Accord) between the Central government and the MNF

Geographical Location




(i) International Border:

Myanmar and Bangladesh




(ii) State Border:

Tripura (northwest), Assam (north) and Manipur (northeast).

Demography:

Mizoram population in 2022 is estimated to be 1.27 Million and is the second least populous state in India after Sikkim.

The Sex Ratio is 975 female per 1000 male (National: 943). The Literacy rate of the state is 91.58 % (National: 74.04%).

Biodiversity:

According to India State of Forest Report (ISFR), 2021 Mizoram has the maximum forest cover as a percentage of their own geographical area at (84.53%) from the North eastern region of the country.




(i) State Animal:

Saza (serow)




(ii) State Bird:

Vavu (Hume Bartailed Pheasant).

Protected Areas:




(i)

Dampa Tiger Reserve




(ii)

Murlen National Park




(iii)

Phawngpui National Park




(iv)

Ngengpui Wildlife Sanctuary




(v)

Tawi Wildlife Sanctuary

Tribals:

It has the highest concentration (percentage) of tribal population among the north-eastern states of India. Mizos consisting of 5 major and 11 minor tribes known as Awzia. The 5 major tribes include: Lushei, Ralte, Hmar, Paihte and Pawi. The Mizos are a close- knit society with no class distinction and discrimination on grounds of sex, status or religion.




Mizos are agriculturists, practise "Jhum Cultivation" or slash- and- burn system of cultivation.

Festivals and Dance:

The Mizos have two main festivals- Mim Kut and Chapchar Kut.




(i) Mim Kut:

It is a Maize festival that is celebrated during the months of August and September, after the harvest of maize.




(ii) Chapchar Kut:

It is a Spring Festival, most popular and celebrated after completion of the task of jungle clearing for "jhum" operations.

The most colourful and distinctive dance of the Mizo is called Cheraw. Long bamboo staves are used for this dance, therefore many people call it 'Bamboo Dance'.
Goa's Liberation Struggle
Why in News
Recently, the liberation of Goa became a controversial topic during the political campaign in the election of Goa.
In 1962, Goa was liberated from Portuguese rule, 15 years after India attained freedom in 1947. Goa, not becoming independent immediately after independence was because of a variety of complex factors.

Goa was liberated on 19th December 1961 (Statehood Day of Goa) by swift Indian military action that lasted less than two days.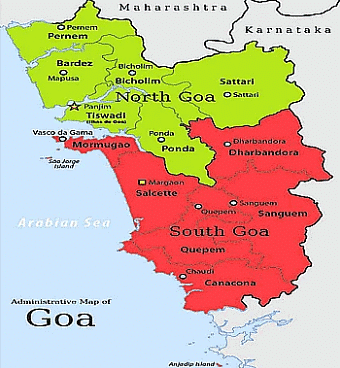 What is the Timeline of Integration of Goa into the Indian Union?
Relations between India and Portugal began amicably in 1947 after India's independence and diplomatic relations were established in 1949

Bilateral relations however went into decline after 1950 over Portugal's refusal to surrender its enclaves of Goa, Daman and Diu and Dadra and Nagar Haveli on India's west coast. Daman & Diu and Dadra and Nagar Haveli were integrated into India in 1961.

Portugal had changed its constitution in 1951 to claim Goa not as a colonial possession, but as an overseas province.

The move was apparently aimed at making Goa a part of the newly formed North Atlantic Treaty Organisation (NATO) military alliance. It was intended to invoke the collective security clause of the treaty, in the event of an attack by India.

By 1955, the two nations had cut off diplomatic relations, triggering a crisis which precipitated the liberation of Goa by Indian military forces, ending Portuguese rule over Indian enclaves in 1961.

In 1961, after the failure of diplomatic efforts with the Portuguese, the Indian Government launched Operation Vijay and annexed Daman and Diu and Goa with the Indian mainland on 19th December.

It brought an end to 451 years of Portuguese overseas provincial governance in Goa.
What is the History of Goa's Freedom Movement?
Goa became a Portuguese colony in 1510, when Admiral Afonso de Albuquerque defeated the forces of the sultan of Bjiapur, Yusuf Adil Shah.

By the turn of the twentieth century, Goa had started to witness an upsurge of nationalist sentiment opposed to Portugal's colonial rule, in sync with the anti-British nationalist movement in the rest of India.

Stalwarts such Tristão de Bragança Cunha, celebrated as the father of Goan nationalism, founded the Goa National Congress at the Calcutta session of the Indian National Congress in 1928.

In 1946, the socialist leader Ram Manohar Lohia led a historic rally in Goa that gave a call for civil liberties and freedom, and eventual integration with India, which became a watershed moment in Goa's freedom struggle.

At the same time, there was a thinking that civil liberties could not be won by peaceful methods, and a more aggressive armed struggle was needed. This was the view of the Azad Gomantak Dal (AGD).

As India moved towards independence, however, it became clear that Goa would not be free any time soon, because of a variety of complex factors like:




(i)

Trauma of Partition




(ii)

Experience of War with Pakistan




(iii)

India wanted to showcase itself as a peace-abiding nation.
Portugal being member of NATO
These factors kept the Government of India from opening another front in which the international community could get involved.

Besides, it was Mahatma Gandhi's opinion that a lot of groundwork was still needed in Goa to raise the consciousness of the people, and the diverse political voices emerging within should be brought under a common umbrella first.

The dichotomies within the groups fighting (Satyagraha vs Military Action) for freedom in Goa, also led to delay in liberation of Goa. The idea of satyagraha emphasised the power of truth and the need to search for truth. It suggested that if the cause was true, if the struggle was against injustice, then physical force was not necessary to fight the oppressor.
What are the Salient Features of Goa's Geography?
1. About
2. Capital: Panji.
3. Official Language: Konkani which is one of the 22 languages from the Eight Schedule.
4. Borders: It is surrounded by Maharashtra to the north and Karnataka to the east and south, with the Arabian Sea forming its western coast.
5. Geography: The highest point of Goa is Sonsogor. Goa's seven major rivers are the Zuari, Mandovi, Terekhol, Chapora, Galgibag, Kumbarjua canal, Talpona and the Sal. Most of Goa's soil cover is made up of laterites.
6. Wildlife Sanctuaries and National Parks:
(i) Dr. Salim Ali Bird Sanctuary
(ii) Mhadei Wildlife Sanctuary
(iii) Netravali Wildlife Sanctuary
(iv) Cotigao Wildlife Sanctuary
(v) Bhagwan Mahaveer Sanctuary
(vi) Mollem National Park